The Toronto Raptors have locked up the No. 1 seed in the Eastern Conference, but that doesn't make them immune from some pre-playoff nitpicking.
Four of the five Toronto starters are established veterans, with Kyle Lowry, DeMar DeRozan, Serge Ibaka and Jonas Valanciunas no stranger to the bright lights of April and May. But the final spot belongs to unproven rookie OG Anunoby, who, offensively, was a black hole as recently as a couple weeks ago.
The starting small forward spot is undoubtedly Casey's biggest question mark heading into the post-season, and while all signs point to Anunoby taking his usual spot in the lineup this weekend, a poor performance or two could force Dwane Casey to bring out a quick hook. Keeping the "Bench Mob" together has been an emphasis for the coaching staff all season, but strategies can change on a game-by-game basis at this time of year.
Here are the candidates to start at the three-spot for the Raptors this spring:
Anunoby took everyone by surprise when he recovered from an ACL injury well ahead of schedule and found himself in the Raptors' starting lineup just 13 games into his NBA career. The rookie took the starting small forward gig and ran with it, shooting a scorching 45 per cent from three-point range in November and December while playing strong defence against the opposition's best wing player.
The 23rd overall pick in the 2017 draft hit a bit of a rookie wall once the calendar flipped to 2018, connecting on just 19 per cent of his triples in January. He didn't look as confident in his shooting stroke or his decision-making as the season wore on, seeing his minutes drop in February and March.
Toronto stuck with Anunoby in the starting lineup, allowing him to play through his struggles and learn from the experience. He's regained his effectiveness down the stretch, making seven of his past 12 three-point attempts. His 21 points against the Orlando Magic on April 8 represented a career-high.
While Anunoby seems to be coming around at the perfect time, it's always a question mark as to how a first-year player will fare in his first taste of the post-season. With teams likely to load up on DeMar DeRozan and Kyle Lowry, it will be crucial for Anunoby to knock down his open looks. If he becomes an offensive liability, Casey will need to have a short leash on the former Indiana Hoosier.
[snippet id=3360195]
The Raptors' starting small forward at the beginning of the season, Powell went down to injury after just 12 games, opening the door for Anunoby. Powell was rewarded with a four-year extension in the off-season, betting that the 24-year-old was ready to truly break out.
That hasn't been the case, as Powell has averaged just 5.6 points per game this season and has seen his minutes decrease from 2016-17. His three-point woes have been a major issue as the third-year man has registered a 29 per cent clip from beyond the arc.
Despite the struggles, Powell has proven himself to be able to step up in big moments. He provided one of the most iconic moments in Raptors playoff history in Game 5 against the Indiana Pacers in 2016 with a crucial fourth-quarter steal and dunk to help swing that series back in Toronto's favour. The next year, with the Raptors trailing their first-round series against the Milwaukee Bucks, Casey inserted Powell into the starting lineup for Game 4. Toronto then won three straight games to avoid the upset.
Even coming off a down season, it wouldn't come as much of a surprise if Powell were to rise to the occasion once again.
Miles was brought to Toronto to be a sharpshooter, and he's lived up to that billing for much of the season. He hoists up 6.5 threes per game, knocking down 2.4. Miles can get his shot off from seemingly any angle due to his quick release and can single-handedly change a game if he's on a hot streak.
While he's capable of catching fire at any moment, Miles has been mired in a shooting slump since the middle of March, making just 17 of his past 71 triples (24 per cent). He has also consistently struggled from long range during the playoffs, shooting just 27 per cent from deep in 34 career games.
The troubles are certainly concerning, but having Miles on the court at least gives opposing defences another person to think about. As long as he's out there, you have to respect the threat of the three, which isn't the case if Anunoby is labouring.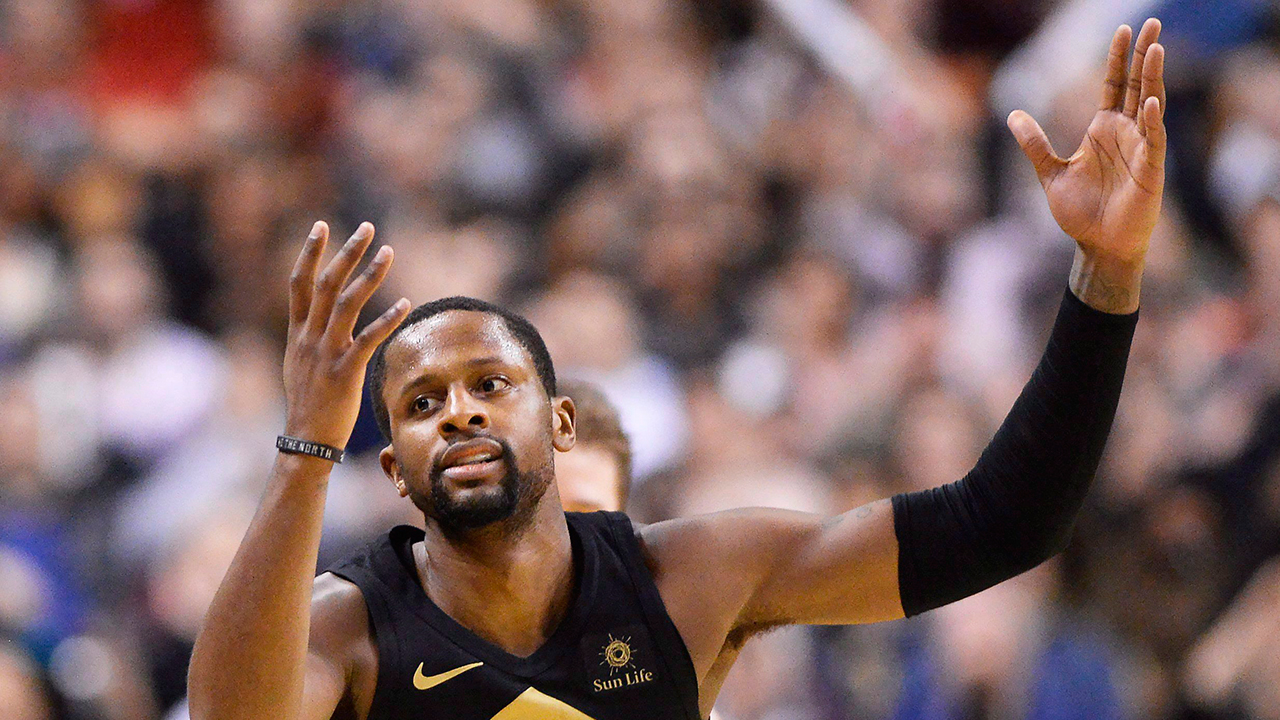 Finally, the Raptors could elect to promote one of their reserve point guards and start either VanVleet or Wright, shifting DeRozan to small forward.
VanVleet has emerged as one of Toronto's most consistent players and is often used alongside the starters to close games. He has a knack for coming up with big shots and is a hound on the defensive end. His impressive 41 per cent mark from three-point distance would help space the floor for the likes of DeRozan, Lowry and Valanciunas. If Casey is looking for an instant spark the start games, "Steady Freddie" could be an option.
Alternatively, the Raptors could turn to Wright to bring an extra ball-handler into the starting unit and provide some offensive versatility. At six-foot-five, Wright could also hold his own guarding wing players.
[relatedlinks]