The Toronto Raptors are two wins away from their first-ever NBA championship after a 123-109, wire-to-wire victory over the Golden State Warriors Wednesday evening in Game 3 of the NBA Finals.
Yes, there were a few of caveats you can point to that may have played a role in Toronto's big road win, with none bigger than the last-minute announcement that all-star shooting guard and perimeter defensive stud Klay Thompson would miss the game in addition to Kevin Durant still being sidelined.
This, essentially, left Stephen Curry on an island to carry the offensive load — something he did very admirably in scoring 47 points, going 6-for-14 from deep and handing out seven assists — but it simply wasn't enough.
So, yeah, the Warriors suffered with two of their best players unavailable and the Raptors took full advantage, as they should have.
That doesn't take away anything from another impressive performance by the Raptors against the two-time defending champs as they extend their 2018-19 record against them to 4-1, if you include the regular season.
This was a complete performance by Toronto as it managed to take firm control of the game from the outset and snuff out any fires that popped up with poise and timely shot-making.
Here's a look at three plays the Raptors made that illustrate how they managed to take a 2-1 Finals lead:
KLOE (Kyle Lowry Over Everything): Finals Edition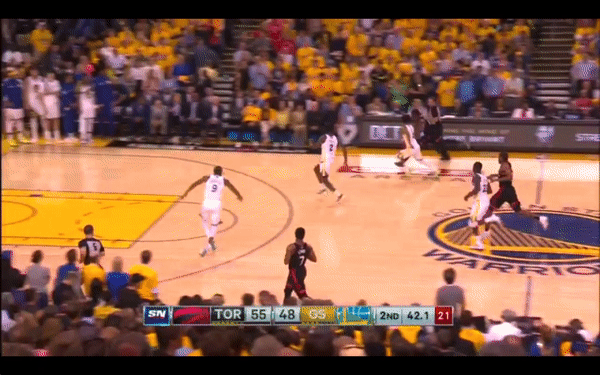 It's been a rough Finals so far for Kyle Lowry, who came into Game 3 having committed more personal fouls (11) than made field goals (six).
The longest-serving Raptor bounced back in a big way Wednesday, scoring 23 points on 8-of-16 shooting while dropping nine dimes.
Most importantly, Lowry appeared to rediscover his three-point stroke (he was 5-for-9 from behind the arc) and did so with assassin-like timeliness.
A great example of this is what you see in that clip above from the second quarter. After a bizarre three-minute, 21-second scoreless period that saw that saw the Raptors leading 52-38, Warriors star forward Draymond Green finally made a layup to begin a mini 4-0 spurt before Lowry stepped into an open three to stop the bleeding a bit.
This would only last for so long, though, as the Warriors just kept coming, extending that small burst into a full-fledged 10-3 run to cut the Raptors lead down to seven, and looking for more to end the half.
Then, with about 40 seconds left to play in the second quarter, the Raptors got out in transition leading to Serge Ibaka finding an open Lowry along the left wing, who was calling for the ball.
Bucket from deep. Warriors momentum halted.
This was just one example of something Lowry was doing seemingly the entire night. Just as it looked like Golden State was about to break lose, Lowry would shut the door on them with a shot that felt way more valuable than the two or three points it was actually worth.
When Lowry is playing at his best, he really does stand over everything.
Finals Danny is definitely here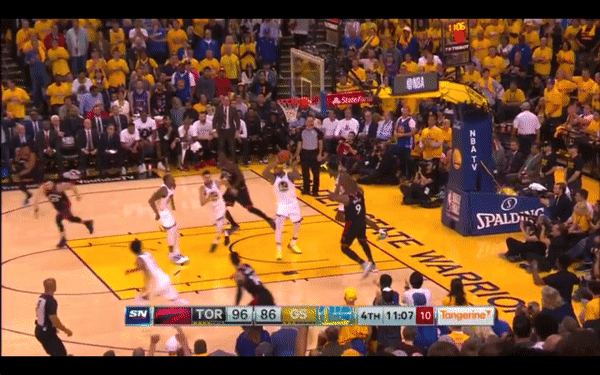 Danny Green semi broke out of a dreadful shooting slump from the Eastern Conference Finals in Game 1, then appeared to regress back in Game 2 and then in Game 3, really busted that slump with a three-point stroke hotter than the sun.
Finishing with 18 points on 6-of-10 shooting off of looks exclusively from deep, Green's excellent track record in Finals games continued from outside as he's now 47-of-95 (49.5 per cent) from the three-point line across the 15 championship games he's had the opportunity to play in.
So then, why is the clip above a defensive play and not one of those triples he sank on Wednesday?
Green is a 3-and-D player and one aspect of his game will inevitably fuel the other.
This chase-down block on Quinn Cook was a capper on an all-around excellent game for the Raptors shooting guard who not only repeatedly punished the Warriors with his outside stroke, but also took the reins of the Curry matchup in the fourth quarter and limited the two-time MVP to his lowest-scoring frame all game.
Simply put, the Raptors probably don't win if not for Green's complete play.
Kawhi's impossible find, VanVleet's improbable shot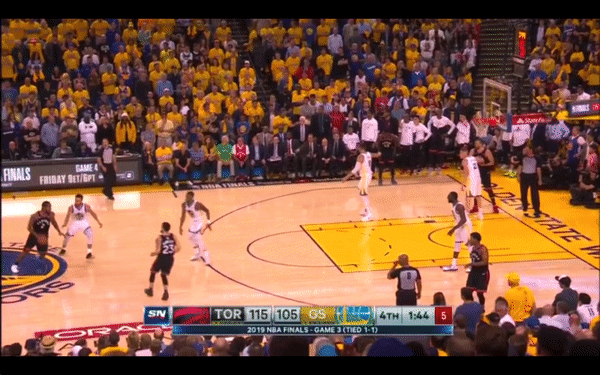 Kawhi Leonard scored 21 of his 30 points in the second half, including 15 in the third quarter alone, but what might be more impressive is that he managed to do that while keeping up this run of high-level playmaking at the same time.
Leonard recorded six assists on Wednesday, making this the fourth game out of his last five (going back to the last two contests against Milwaukee) that he's had five or more helpers in a game.
None of Leonard's assists were more dramatic, nor more impactful in Game 3, than his sixth and final one to Fred VanVleet with the shot clock running down and under two minutes to play, with the Warriors getting Toronto's lead back down to 10.
As the clip shows, Leonard appeared to be trapped above the break, picked up his dribble and spun through to find VanVleet who hit a rainbow triple from the right wing above the outstretched arm of the Warriors' Green.
We'll get to VanVleet's incredible shot in just a moment, but just to address the elephant in the room. Did Leonard travel? Probably, but it wasn't called so, officially speaking, he didn't.
Back to VanVleet, not only did he get that shot off with less than a second on the shot clock, but he was also bumped by Green after hoisting it up, so he probably should've been shooting a free throw afterwards — call it the make-up non-call for the previous Leonard transgression.
Like the dime Leonard dropped to him, this miraculous shot by VanVleet continues a trend that's seen the 25-year-old go from shooting 19.5 per cent from three over the first 15 games of these playoffs to a scorching 57.1 per cent over his last six games including Wednesday's contest.
VanVleet's rediscovered shooting stroke has completely changed the Raptors' playoff outlook and in Game 3 it helped put it on ice for Toronto.