TORONTO — The chess match is on.
As much as the Raptors signalled convincingly that they were the better team in their series opener against the Philadelphia 76ers, there was no chance they were going to get out of Game 2 of their second-round series at Scotiabank Arena without having to survive an attack on the proverbial Queen.
The Sixers weren't going to allow their King to be tipped over without dipping into a bag of trick defences and calculated gambles designed to make the Raptors less comfortable at the very least.
That's how playoff basketball works. If the regular season is high-paced checkers played while bleary-eyed from hopping through time zones and with lineups that shift nightly, the post-season brings rest, consistency and time for each coaching staff to cycle through options and consequences as if they're a team of Grand Masters playing IBM's Deep Blue.
It figured Kawhi Leonard would be a focal point of the Sixers big moves, given how he went legend (a career playoff-high 45 points) against Philly in Game 1. But can Leonard be fooled at this stage? And if a team is going to overcommit to slow him down, what is going to be left open?
The answer is no, not really. Leonard can't be fooled and perhaps he can't be stopped. The Sixers decided to cover the Raptors star with their athletic 6-foot-10 point guard Ben Simmons based on his relative success in Game 1. It didn't matter much although Leonard did have to work harder for his 35 points, seven rebounds and six assists. The performance gave him a two-game Raptors playoff record of 80 points.
But there wasn't a lot of shot-making going on beyond Leonard and the 76ers Jimmy Butler, their version of an all-NBA quality closer.
It was an ugly game, right out of 1995 — minus the flagrant fouls — with smart, well-designed defence beating offence time and time again.
But in winning time, the 76ers scored just enough as they blunted a Raptors comeback from down 11 with 5:19 left in the fourth and down 19 just before halftime. It was Butler who dragged his team past Leonard and the Raptors for the 94-89 win as he scored eight of his Sixers-high 30 points the final three minutes to hold off the Leonard, who scored nine of his game-high total in the fourth.
"This was James Butler," said Sixers head coach Brett Brown. "He was the adult in the gym."
Said Butler: "My name isn't James. Literally, it's Jimmy."
Like we said, the guy couldn't miss down the stretch.
The Raptors couldn't make a meaningful three-pointer for most of the game until Pascal Siakam hit one and Kyle Lowry hit two in the last 2:41 to eventually cut the Sixers lead to one with 46.7 seconds left. But a pair of wide-open misses from deep by the usually reliable Danny Green – the last with 10 seconds left on a perfect kickout by Leonard — prevented the Raptors from forcing overtime.
It was one of the storylines of the night as the Raptors shot a miserable 10-of-37 from deep even after their late flurry. They gave themselves a chance because even as their offence ran dry their defence remained stalwart, holding Philadelphia to 39.5 per cent shooting, although the Sixers returned the favour, limiting Toronto to 36.3 per cent.
"It was a fist-fight, a grind, the whole game," said Brown.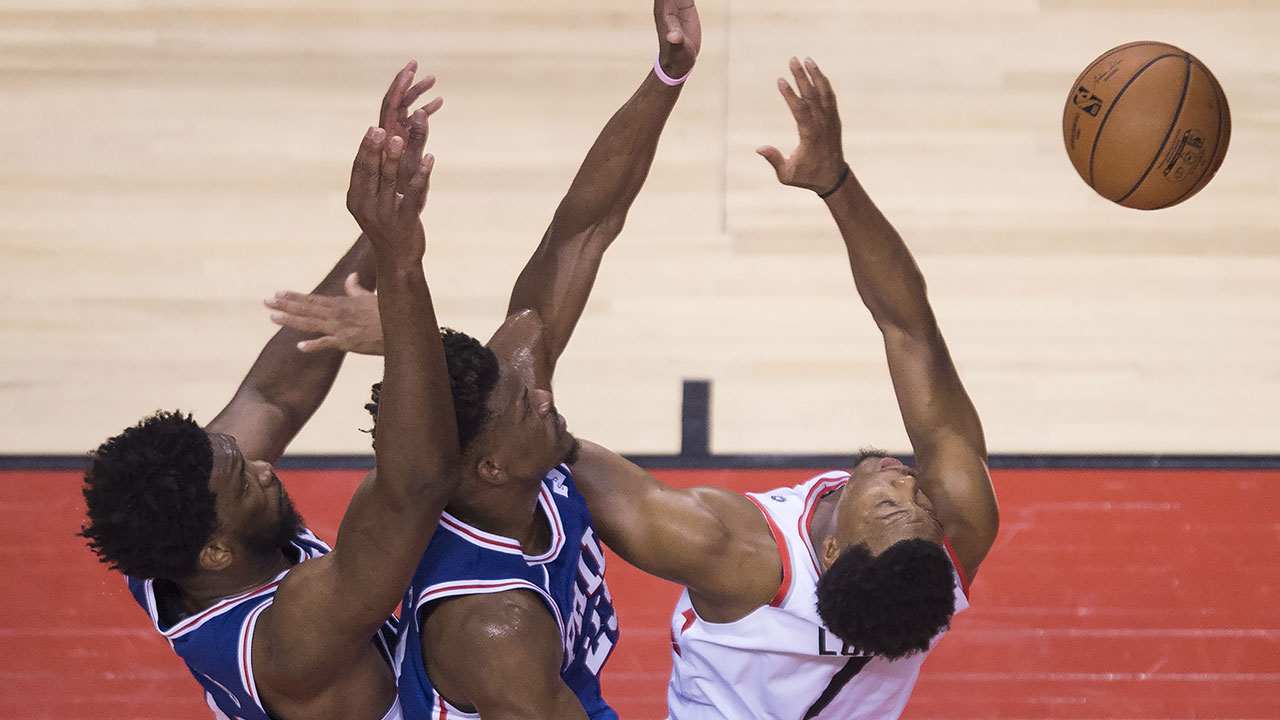 The Raptors struggles were largely connected to strategic moves made by Philadelphia, which was desperate to go home for Game 3 on Thursday with a split in the series.
The Raptors knew the adjustments were coming. The question was if they were going to make the first move or stick with what worked in Game 1 and wait until the Sixers showed their hand.
The Sixers didn't mess around. Right out of the gate they changed their defensive matchups so Simmons would cover Leonard, who had obliterated both Butler and Tobias Harris in Game 1 but was a tolerable 4-of-9 (from the Philly point of view) against the quick feet and hands of Simmons.
They also decided to cover Siakam with fellow Cameroonian Joel Embiid. Although having the 7-foot, 300-pound Embiid on the slippery 6-9 Siakam might have seemed odd at first glance, the logic was clear: under no circumstances was Siakam going to get the easy looks at the rim or in the paint he had when we was 12-of-15 in the series opener. And if that meant surrendering the odd wide-open three to Siakam, so be it.
It paid off as Siakam was 2-of-7 from deep on the night, though he did come alive in the fourth with seven of 21 points in the final five minutes.
"Obviously, it was difficult for us to handle just by looking at the numbers," said Raptors coach Nick Nurse. "I think Pascal had a low shooting percentage tonight, a lot of those were trying to take on Embiid at the rim and take advantage of the threes that were open … so, yeah, obviously it was difficult for us."
It also put some bait on the hook: With Gasol covered primarily by the smaller Harris, would the Raptors be tempted to begin going to the big Spaniard in the post? It would be the obvious basketball play, but foreign to how the Raptors have been playing all season.
Stream all Sportsnet games of the NBA Finals as the Toronto Raptors take on the Golden State Warriors for the Larry O'Brien Trophy. Plus, get the Stanley Cup Final, MLB, IndyCar and more.
The Raptors finally began using Gasol on the block early in the third quarter against some mismatches and got some activity from cutters after Philadelphia sent help. But the bigger issue is if Gasol is going to be left open on top of the circle as Philadelphia focusses on Leonard and Siakam he's going to have to look for and take more shots: Him going 1-of-6 in 35 minutes when the 76ers are daring him to score probably won't cut it.
Meanwhile, Siakam was clearly bothered by Embiid, who loomed like a cliff every time Siakam tried to score near the basket – his bread-and-butter. The exception was a fantastic shake-and-bake move ending in a left-handed spin over Embiid that wowed the Scotiabank Arena crowd in the first quarter for good reason. But mainly the strategy was to leave Siakam largely unguarded on the perimeter and the Raptors second-leading playoff scorer couldn't make them pay. After 19 minutes in the first half, Siakam was 3-of-11 from the floor and 0-of-2 from three.
Embiid was a game-time decision after a bout of intestinal distress. He was taking fluids by an IV solution right up until it was time for warmups.
"If you had the s—- before you would know how it feels," he laughed. He finished with just 12 points on 2-of-7 shooting, but scored a gorgeous spinning layup in the final minute to help seal the win. "But these are my guys and I want to show up every night and play hard."
The Sixers not only played hard, they played smart. They made life more difficult for Siakam and Leonard and they did it without getting burned by the likes of Green or Gasol and were able to salvage a critical split on the road.
The Raptors weren't doing themselves any favours. They were crushed on the glass as the Sixers held a 53-36 rebounding edge and there were plenty of mental mistakes – three times Serge Ibaka bit on an Embiid pump fake on jump shots. Lowry lost track of sharp-shooter J.J. Redick on the weakside, giving up an open three while Norm Powell fell down another time. To add salt to the wound, the Sixers bench – thought to be a glaring weak spot – badly outplayed their Raptors counterparts, with former Raptor Greg Monroe's 10 points in the first half doubling what Toronto's subs could offer.
But it began with some smart coaching.
"It was a good adjustment by them. It was a game plan adjustment by them," said Lowry. "But they came out more aggressive than us. We didn't come out aggressively enough. We didn't come out with a super sense of urgency. We didn't play well tonight and they did. The played really desperate and super hard and they got a victory.
The Sixers put the Raptors in check, and now head home determined to seize control of the board and the series.
It's Toronto's move.