The Toronto Raptors were flummoxed by the Philadelphia 76ers' defence Monday night only managing 89 points on 36.3 per cent shooting.
While it may be true that the Raptors missed a lot of wide-open looks – particularly from three-point range – it doesn't mean you should discredit the job Brett Brown did in making the right defensive adjustments to give his team a chance to ultimately win the game.
Try looking at the brick house the Raptors erected from deep in Game 2 as something more akin to a reward for the job Philadelphia did on defence, especially in the first half.
The Sixers held Toronto to only 15-of-46 shooting in the opening two quarters, including 7-of-24 in the first, as Brown's new defensive look for Toronto managed to effectively disrupt its offensive rhythm just enough to pave a small path to Philadelphia's series-tying victory.
Here's a closer look at how changed coverages from Brown managed to do this.
Keeping Siakam at the top of the key
The most notable change Brown made to his defence was swapping Tobias Harris and Joel Embiid's respective matchups and placing Embiid on rising Raptors star Pascal Siakam.
An odd choice in theory when you consider Siakam most definitely has the quickness advantage on Embiid, but in seeing how the Sixers positioned Embiid, it made far more sense.
As the clips below show, Embiid would sag back into the paint on Siakam daring him to shoot lest he attempt to drive by a prepared Embiid whose length was able to bother Siakam's short-range hook and lay-up attempts.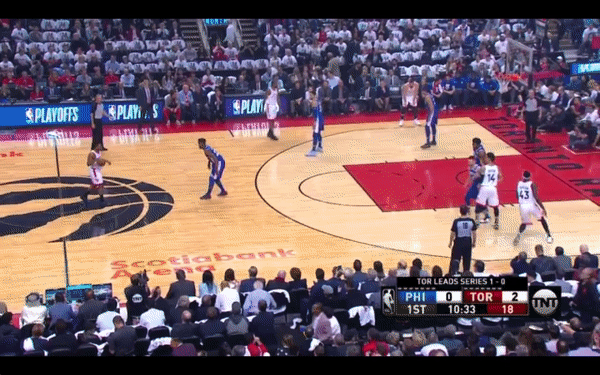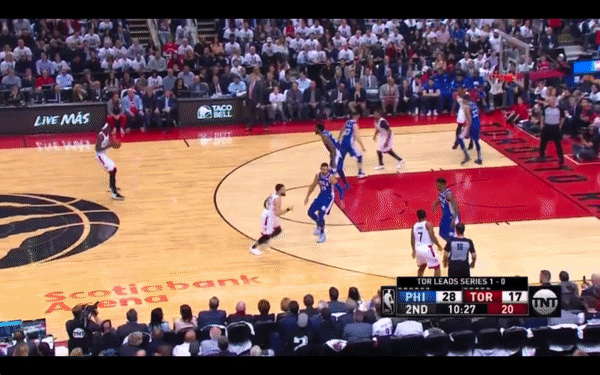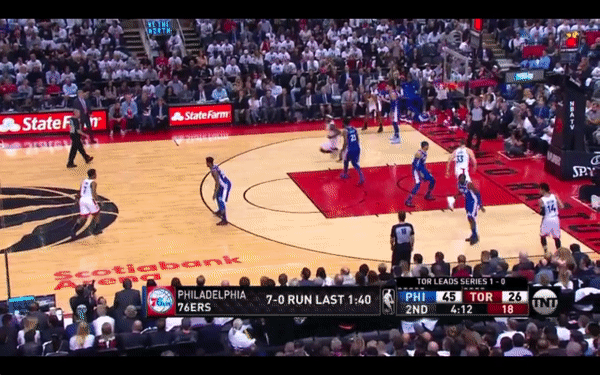 The reason why this worked is because of the work Brown and his coaching staff did in identifying one of the glaring weaknesses in Siakam's game: His poor shooting ability from around the top of the key.
Take a look at these two missed triples from Siakam. Embiid is nowhere near him because he has no fear of Siakam sinking these: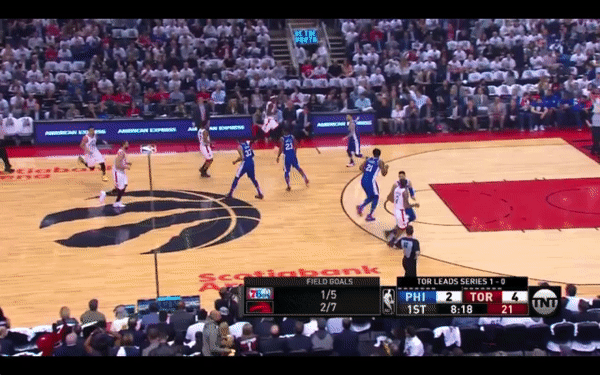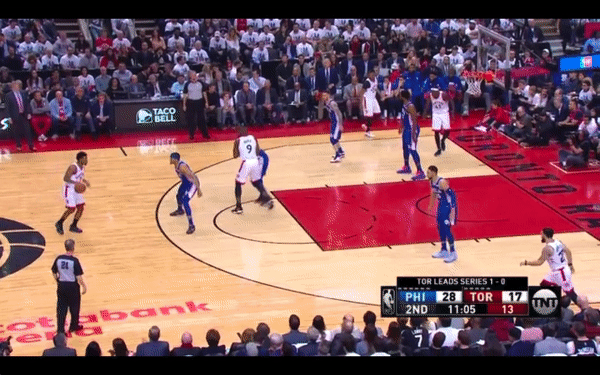 For better perspective of this, take into consideration that even though Siakam shot an above-league-average 36.9 per cent from three in the regular season, the vast majority of the triples he took were from the corners – the left one in particular. He hardly took any attempts from the very top of the arc and the wing areas, and even fewer shots put up from the mid-range spots on the floor.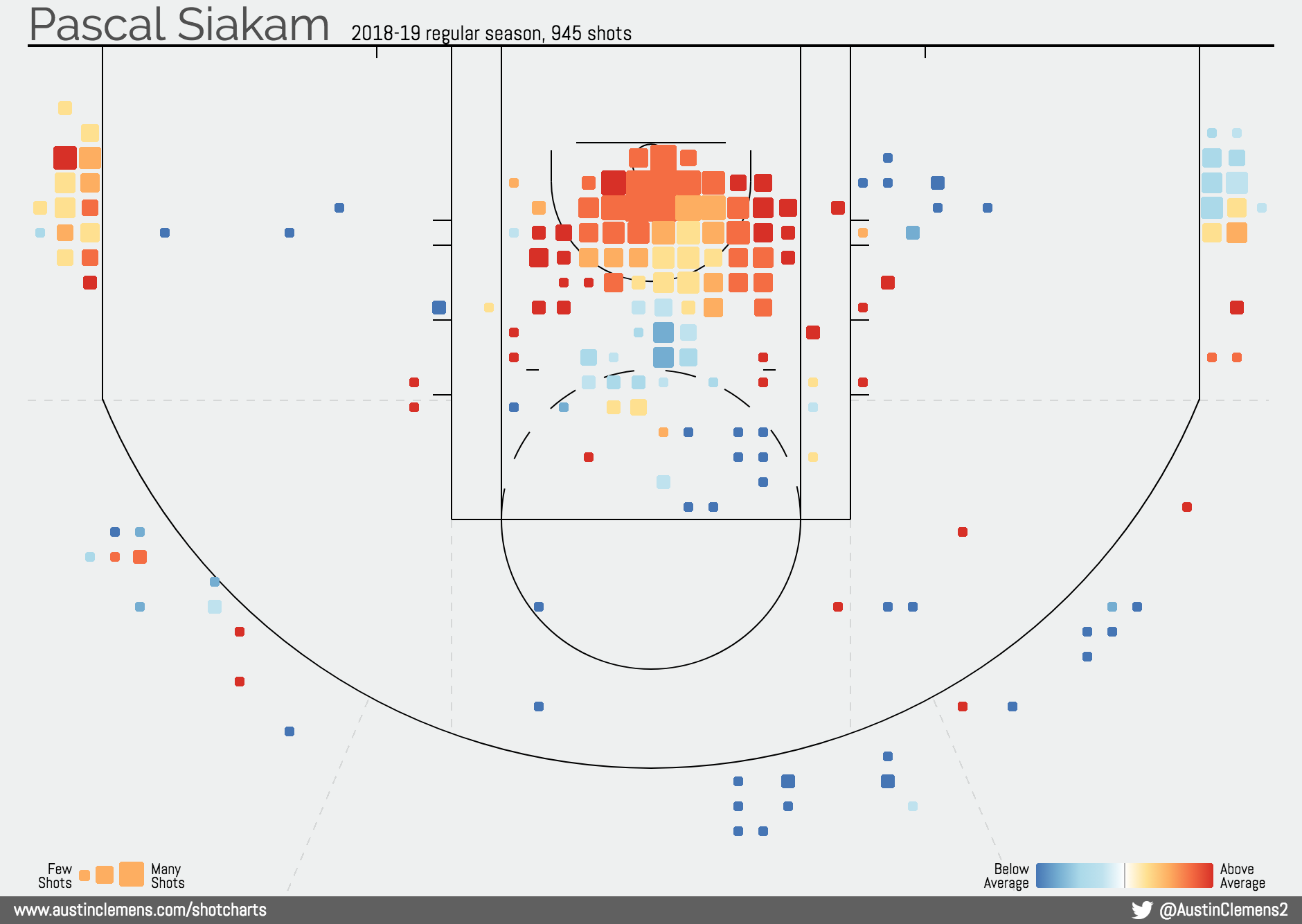 Simply put, the positioning of Embiid clogging up the paint baited Siakam into taking good-looking, wide-open shots from spots he's not yet used to. Something that broke his rhythm to the point where even when he did get free looks from his favoured left-corner three area, he was way off the mark.
Gambling on mismatches
This is a by-product of the key matchup swap Brown made with Embiid on Siakam. In trying to adjust to this new-look defence, the Raptors tried to exploit some apparent mismatches that presented themselves while falling into a 76ers trap.
With the exception of Kawhi Leonard, the Raptors don't have a lot of great one-on-one players and are at their best when both the ball and people are moving to find their best shots. In the first half of Game 2, Brown dangled carrots in front of the Raptors that were just too good to resist in the form of one-on-one mismatches.
These include Marc Gasol in the post against Harris: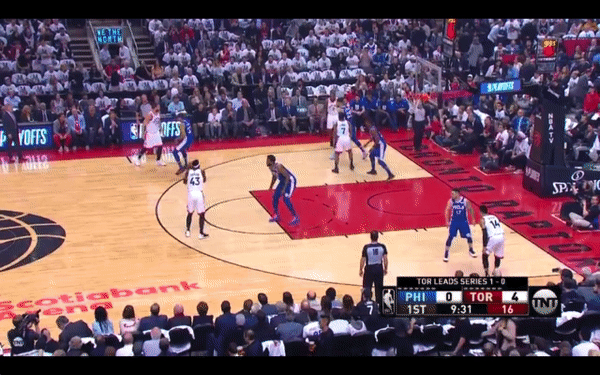 Siakam, finally unshackled from Embiid's clutches, trying to attack Greg Monroe and perhaps rushing things a bit: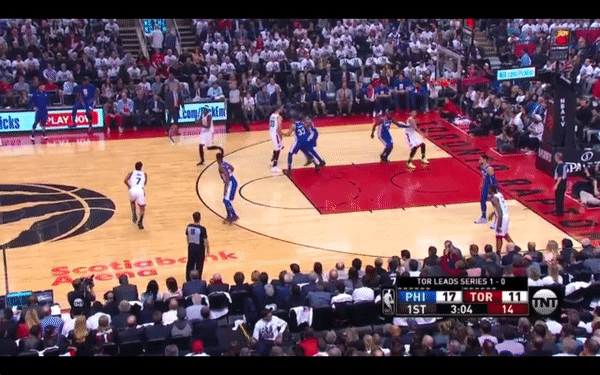 And Norman Powell all too pleased to see J.J. Redick picking him up and going to a little crossover move to free up space for a mid-range jumper:
In each of these cases, a Raptor rightly identifies a mismatch in front of him and tries to take advantage but comes up short. It seems like a good basketball play, but when you consider that each of these plays, with the exception of Powell, features enough time still on the shot clock to try to run one more action or make one more pass you begin to see the fallacy of some of these looks.
A player going one-on-one means the other four teammates on the floor are just standing around watching, an offensive look that's much easier to defend. Addtionally, these players going one-on-one aren't necessarily used to doing so the way Leonard has been with Toronto this season, so by handing the Raptors mismatches, the 76ers also took Toronto out of its comfort level.
It was a risky gambit by Brown to concede these kinds of mismatches to Toronto, but it was a different enough look that it was able to work just enough.
Only Kawhi
As part of his Game 2 plan, Brown seemed content with acknowledging that there's very little you can do about a player like Leonard when he's rolling the way he has been in this post-season so far.
This isn't to say that Brown completely started waving the white flag in regards to Leonard as Ben Simmons did an admirable job, but when a guy is hitting off-balance fadeaway jumpers and drilling threes with hands in his face, all you can do is tip your hat.
As such, Brown shifted his attention to all the guys not named Leonard and tried to ensure they wouldn't get going. The best example of this is the job Philadelphia did on Siakam, but in that first quarter the team also made a concerted effort to close out on the Raptors' three-point shooters and contest hard to make sure they can't get hot.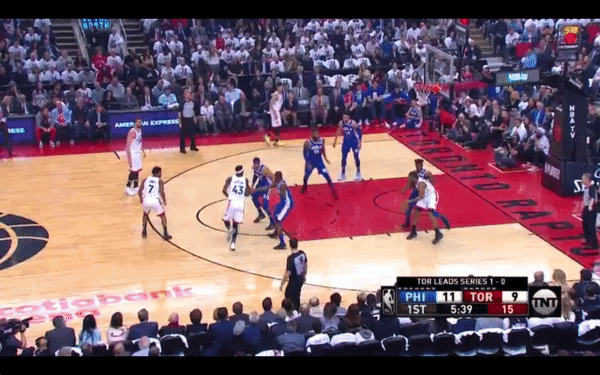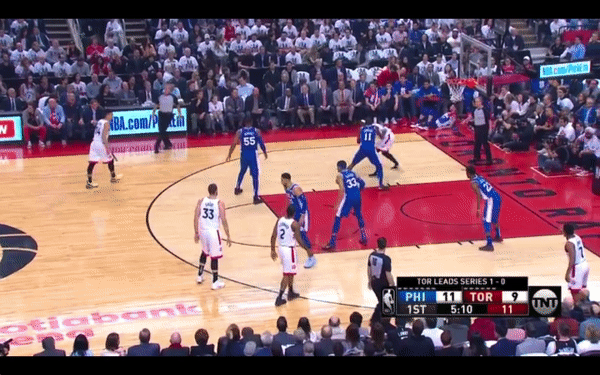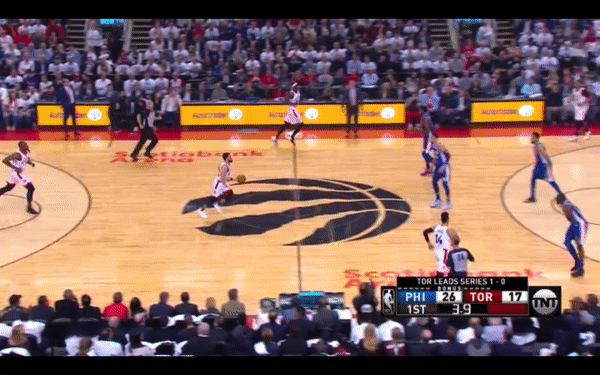 None of these defensive plays looked like much at the time, but as was the case of the Sixers' entire defensive effort Monday night, these were just small parts of an overall defensive game plan that held strong enough to give Philly home-court advantage against Toronto.