This story has been updated and re-published since the Toronto Raptors lost to the Cleveland Cavaliers in the 2017 NBA playoffs.
Kyle Lowry is unequivocally the Toronto Raptors most valuable player.
Just as clear even to the most avid Raptors supporter is the fact that the Toronto Raptors are clearly not at the Cleveland Cavaliers level. The defending champions swept the Raptors and won by an average of 15 points. In yet another postseason the talk about Kyle Lowry was about his injuries, shooting accuracy and attitude and not about his positive play.
Kyle Lowry indicated during his postseason availability that he's opting out of his contract and becoming a unrestricted free agent.
As I've said on the Free Association podcast, a strong case can be made that the Raptors would be better off moving on from him this summer. At the recent Sloan Sports Analytics Conference, Raptors president Masai Ujiri mentioned a GM's job is all about taking risk. A Lowry-free future would be a risk, but so too would be doing the same thing expecting different results.
No matter if Toronto attempts to solve the championship riddle by retooling or tanking, it doesn't make sense for Lowry to be part of that equation.
Here are nine reasons why the Raptors should explore a sign-and-trade this summer for the impending free agent.
1. THEY HAVE INTERNAL OPTIONS
What the Cory Joseph, Delon Wright, Fred VanVleet trio has proven is that none of them are as spectacular as Lowry. However, the team isn't utterly lost with these three running the point either.
Per 100 possessions this season Joseph averaged 18.7 points, 6.7 assists and 6.0 rebounds. In his short career Delon Wright is averaging 19.1 points, 6.4 rebounds, 6.7 assists and 2.6 steals per 100 possessions. VanVleet per 100 is averaging 18.4 points, 7.2 rebounds, 6.0 assists and 2.9 steals.
The question isn't whether Lowry will be more productive next year than whatever alternatives general manager Jeff Weltman cobbles together. The question is whether they'll be appreciably better relative to how much they're going to cost. And even if Lowry is appreciably better than the alternatives, the next question is, for how long? The Raptors can make do with 48 replacement minutes of point guard play a night.
2. LOOK AT RECENT RAPTORS PRECEDENT
Look at the decision the Raptors made to give playing time to Lucas Nogueira and draft and develop Jakob Poeltl instead of paying Bismack Biyombo $72 million. When the playoffs ended last year, many thought Toronto had to re-sign Biyombo. Although Biyombo was an on-court and cultural fit, the numbers didn't make sense. You can apply similar logic to Lowry. Given the going rate for free agents, I'm not saying Kyle Lowry doesn't deserve to get max money. I am saying it may not be prudent for Toronto to give it to him.
3. YOU DON'T NEED AN ALL-STAR GUARD TO WIN
Back in 2004, the Dallas Mavericks were faced with a similar decision and let Steve Nash walk, in part due to concerns about his back. Nash of course went on to win two MVPs but it was the Mavericks who won a championship by spreading the money around.
When presented with a choice, the Mavericks kept the star player that could score in isolation: Dirk Nowitzki. For the Raptors that player is DeMar DeRozan. Of the 25 most recent NBA champions, only three featured an all-star point guard and none of those were on max deals.
4. LOWRY ISN'T GETTING ANY YOUNGER, KEEPS GETTING HURT
The list of point guards who continue to play at an elite level after the age of 31–Lowry's age at the start of the 2017-18 season–is a short one.
Chauncey Billups is a commonly cited comp for Lowry. In his age 31 season, Billups played 78 games, averaging 17 points and 6.8 assists while shooting 44.8 per cent from the floor and 40.1 per cent from three. However, by the age of 35, Billups had played for three different teams and just 20 games because of an Achilles injury.
John Stockton played well into his 40s as a small guard, but unlike Lowry, he enjoyed incredible health throughout his career. The freak that is Stockton played in every regular season game in all but two of his 18 seasons. Lowry has played a full 82 games just once during his 11-year career. Assuming Lowry misses the rest of the regular season, his games played as a Raptor by season will be 68, 79, 70, 77 and 56 this year.
A year ago, Lowry hurt his elbow in January and carried the injury until banging it on the floor in March. It eventually needed to be drained but the inflammation bothered him and affected his shot during the first two rounds of the playoffs. In 2014 a mixture of back, hand, hamstring injuries and a bruised shin made him a shell of his all-star self as the Raptors were swept by the Wizards despite having home court advantage.
This year a wrist injury that went undiagnosed for a week during the all-star break forced him to miss 21 games during the regular season after requiring surgery.
Then a high ankle sprain forced him to leave game two versus the Cavs and miss the last two playoff games of the season.
His inability to navigate a regular season without missing time and be healthy when the games matter most, the playoffs, are reason enough to move on.
Free Association
Raps-Cavs recap, off-season look ahead
May 08 2017
5. HIS POOR PLAYOFF NUMBERS
Another troubling aspect of Lowry's injury history is that it keeps leaving him at a disadvantage when the games matter the most. In 52 career playoff games, Lowry is averaging 14.9 points and 4.8 assists per game on 39.4 per cent shooting from the floor and 31.4 per cent from three. Until he raised his average with a strong Eastern Conference Final last year, Lowry and Lindsey Hunter shared the honour of being the only NBA players to have a post-season field goal percentage below 35 per cent while having taken at least 350 or more shots.This season Lowry averaged just 15.8 points and 5.9 assists after averaging 22.4 points and 7.0 rebounds in the regular season.
6. OVER-SATURATED POINT GUARD MARKET
As good as Lowry has been, we are living in a point guard rich generation.
Half of the league now enjoys high-end point guard play on a nightly basis. Stephen Curry (24.6 PER), Russell Westbrook (30.6 PER), James Harden (27.3 PER) Chris Paul (26.2 PER) and Isaiah Thomas (26.5 PER), John Wall (23.2) Damian Lillard (24.1), Mike Conley (23.2) and Kyrie Irving (23.09 PER) superior numbers to Lowry's (22.9 PER). If win shares is your preferred metric all of the above except Wall, Irving and Conley register higher than Lowry's 10.1 in that category.
Even the likes of Kemba Walker (21.41 PER), Eric Bledsoe (20.56 PER) and Goran Dragic (19.84 PER) and impending free agent George Hill (19.38 PER) have put up numbers in striking distance of Kyle's career best production.
7. THEY NEED SALARY CAP SPACE
A huge consideration will be this year's $102 million salary cap and $122 million luxury-tax projections. That's down from an original estimate of $107 million and with a luxury-tax threshold of $127 million to according to ESPN.com's Brian Windhorst.
Toronto has $65.6 million tied up in DeMar DeRozan, Jonas Valanciunas, DeMarre Carroll and Cory Joseph alone. All but DeMar would be tough to move in a trade without taking salty back.
Toronto's guaranteed salary number is $76,812,631.
Once they guarantee the contracts of Norman Powell and Fred VanVleet, and add the salary of their first-round pick, the Raptors payroll will be around $81 million.
And that's before adding the current salaries for impending free agents Serge Ibaka ($18.4 million), Kyle Lowry ($18 million), Patrick Patterson ($9.1 million) and P.J. Tucker ($10.1 million), each of whom will be seeking a raise.
The Raptors figure to exceed the salary-cap threshold if they re-sign Lowry to a five-year max deal and you shouldn't expect Lowry to take a penny less than the five-year, $153 million Mike Conley got from the Memphis Grizzlies. Ibaka, although not a better individual player than Lowry, has a more rare skillset. Ibaka is a stretch-four that can play the five while both defending the rim and providing space offensively.
Kristaps Porzingis and Brook Lopez are the only players other than Ibaka averaging one three-point make per game with a block rate better than four. Only 12 players have ever had over 100 blocks and 100 three pointers in a season. In 2016-17 Serge Ibaka is already one of them.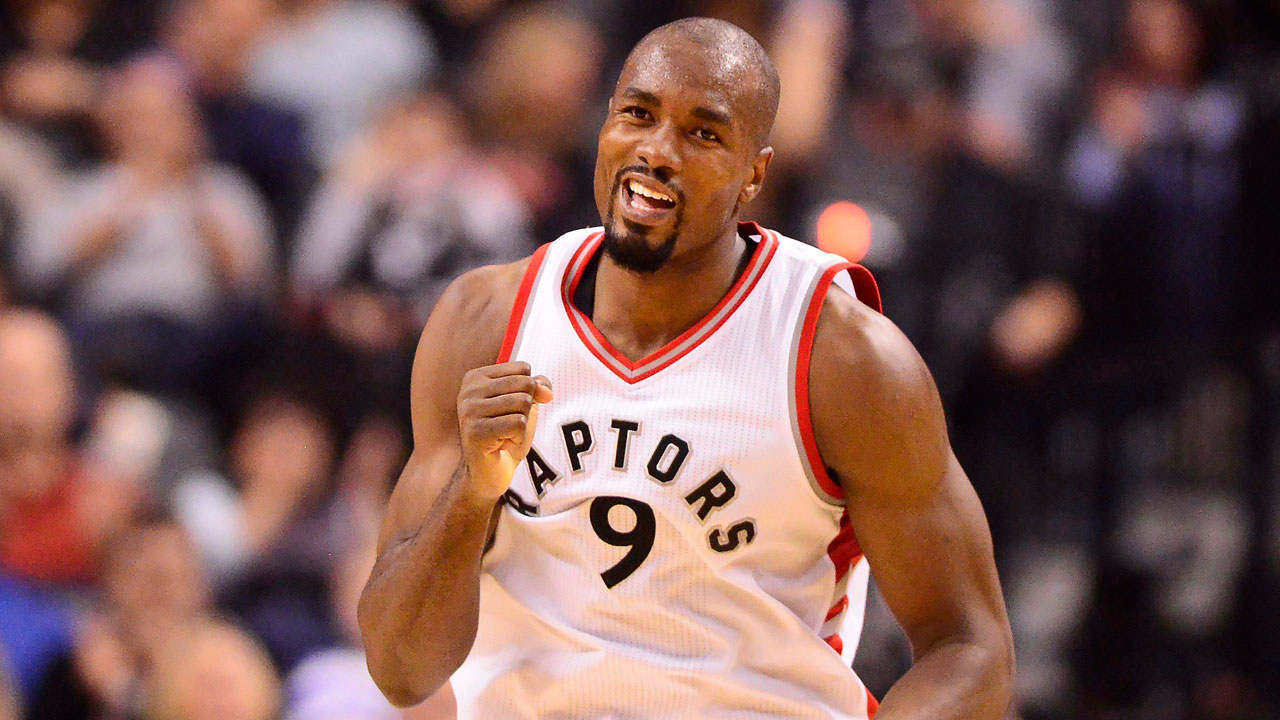 Given the multiple needs and current cap situation there is no math that makes sense to give Lowry a five year deal starting at around $35 million where he'll be making around $45 million in the final season.
8. CHEAPER OPTIONS ARE AVAILABLE
Part of this is supply and demand. The 2017 off-season is a unique opportunity featuring a draft class loaded with talented players, especially point guards. There are three big point-guard prospects projected to go near the top of the draft. Washington's Markelle Fultz, UCLA's Lonzo Ball and N.C. State's Dennis Smith Jr. look like all-star level players.
Does it make more sense to pay a top level young point guard $3-5 million a year on a rookie deal or Lowry ten times that?
9. THERE COULD BE A WILLING TRADE PARTNER
The Philadelphia 76ers are rumoured to be interested in making a move for Lowry this summer.
They'll have some competition.
"Somewhere on the summer market—Philadelphia, New York, perhaps the Clippers, should they lose [Chris] Paul—there will be an offer in the neighbourhood of a max deal for him," claimed Adrian Wojnarowski.
If Philadelphia secures a high pick in the draft lottery on May 16, they can draft for Toronto in exchange for the ability to trade for Lowry and obtain his Bird rights.
Philadelphia president and general manager Bryan Colangelo made the trade to bring Lowry to Toronto. The Sixers don't need more young talent, so would Colangelo trade a lottery pick for a known commodity in Lowry?
It's worth remembering Colangelo and Ujiri have a relationship from their time working together in Toronto.
Even if Toronto had to throw in its own first round pick to sweeten the deal it would still be worth it for the Raptors. The opportunity to acquire the next potential franchise player at a low salary can't be easily overlooked.
Plus there are the rumours Lowry would fancy playing in the Western conference.
A team desperate to improve like Denver or desperate to win now like Minnesoota would be good fit. A trade in exchange for for one of their young Canadians (Jamal Murray an Andrew Wiggins) or they upcoming lottery picks could be mutually beneficial.
Sign and trades are less prevalent since 2011 because the difference in money now isn't as great but they still remain a viable option especially if Lowry's desired destination doesn't have enough cap space to sign him on their own. Lowry wouldn't be able to cash in on an extra year from Toronto in this scenario as he could not be traded for six month if he is signed for the max of five years by Toronto. Lowry's claim that a "ring" is his sole motivation may have him intrigued to teams who need Toronto to sign him on their books first before acquiring him.
IN CONCLUSION
Lowry is the team's best player while averaging a career-high 22.9 points on 46.4 percent from the field (41.2 per cent from three) and 4.8 rebounds.
In the East, only Gianni Antetokounmpo, Jimmy Butler and LeBron James have added more value to their team, according to NBA Math's Total Points Added.
The chances are Lowry is a Raptor next season because it's an easy fit for both parties. But the Raptors have never been a luxury tax team, and even if they are going forward, it's not going to be a reckless decision.
Kyle Lowry's injury and the team's performance without him is merely proving that life without Lowry next season may not be that bad.