What: Foot Locker Three-Point Contest
Where & When: Feb. 13, Air Canada Centre
Rosters/Participants: Stephen Curry (Golden State Warriors), Klay Thompson (Golden State Warriors), J.J. Redick (L.A. Clippers), Khris Middleton (Milwaukee Bucks), James Harden (Houston Rockets), C.J. McCollum (Portland Trail Blazers, replacing Chris Bosh), Kyle Lowry (Toronto Raptors), Devin Booker (Phoenix Suns)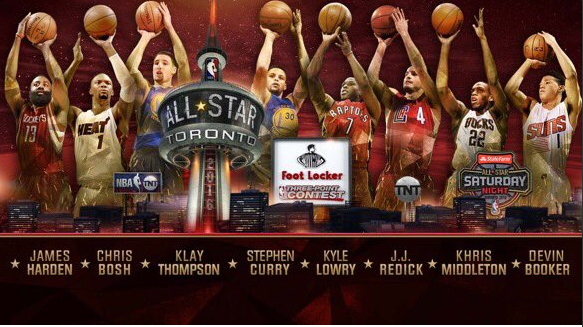 Thing to Watch No. 1: Will Curry repeat? After the Golden State Warriors star dominated the event last year, it will be fun to see how Stephen Curry fares in Toronto. Curry, one of the greatest shooters in NBA history, drilled 13 in a row in an insane championship round effort to hold off Kyrie Irving and teammate Klay Thompson in last year's event.
Curry is certainly the favourite heading into the contest as he is the league-leader in three-pointers made this season, and is 77 long balls ahead of Thompson, who is sitting in second place.
Thing to Watch No. 2: Can Lowry make a push? Lowry will have the support of the hometown crowd as the Toronto Raptors point guard makes his first-ever appearance in a highly-contested three point contest. Lowry is a streaky shooter that can be electric when he gets hot. As of Tuesday, he is fifth in the NBA in three-pointers made while shooting a career-best .397 percentage from beyond the stripe.
Thing to Watch No. 3: Will McCollum pull off the Cinderella story? When Bosh dropped out of the weekend's events the NBA called upon standout youngster C.J. McCollum to fill the void in the three-point shootout. It would appear the league has made a wise decision as the Blazers guard ranks ninth in three-pointers made, and leads his team with a 39 per cent clip from beyond the arc in the regular season.
McCollum will have the opportunity to take home some serious hardware Saturday night as he is slated to participate in the Skills Challenge as well. All that's missing is a cameo in the Slam Dunk Contest to complete the trifecta.
Prediction: Thought about taking J.J. Redick but I can't go against Curry. He even spent signifcant time as a youngster shooting on the ACC nets so he's got a bit of a home court advantage. It's boring but how do you pick against him?