It doesn't take much to get Greivis Vasquez worked up. Just ask him about Amir Johnson and his face lights up immediately. "Amir is the classic case of that guy who really leads by example," Vasquez begins. He's resting against a wall at the Air Canada Centre after a late-season practice, but as he settles into his subject—"Amir does things that get guys open"—his words carry him up and onto his feet. Pretty soon he's shuffling from left to right and bouncing in place. "He's the guy who sets the hard screen," Vasquez continues, setting a solid pick on an imaginary defender, shoulders back and chest out in his best imitation of his six-foot-nine, 215-lb. teammate, "and then holds his guy back so his teammates can get free."
Vasquez finishes the demonstration, taking the contact and hooking an arm around the back of his invisible foe. Then he collects a breath. "Amir does the little things that nobody sees on the stat sheets. You need a guy like that to win."
That's the most common takeaway from watching Johnson play. How else do you explain why a guy who doesn't average double figures in scoring and isn't a top-50 rebounder can play major minutes on a team that's won two straight division titles? Or the way his teammates gush over him—how they maintain that the team wouldn't be where it is today if not for their veteran sparkplug? No, the stat sheet won't explain it, and that's why numbers only tell part of the story. When the post-season comes around, Johnson might hold the key to the Raptors' success.
---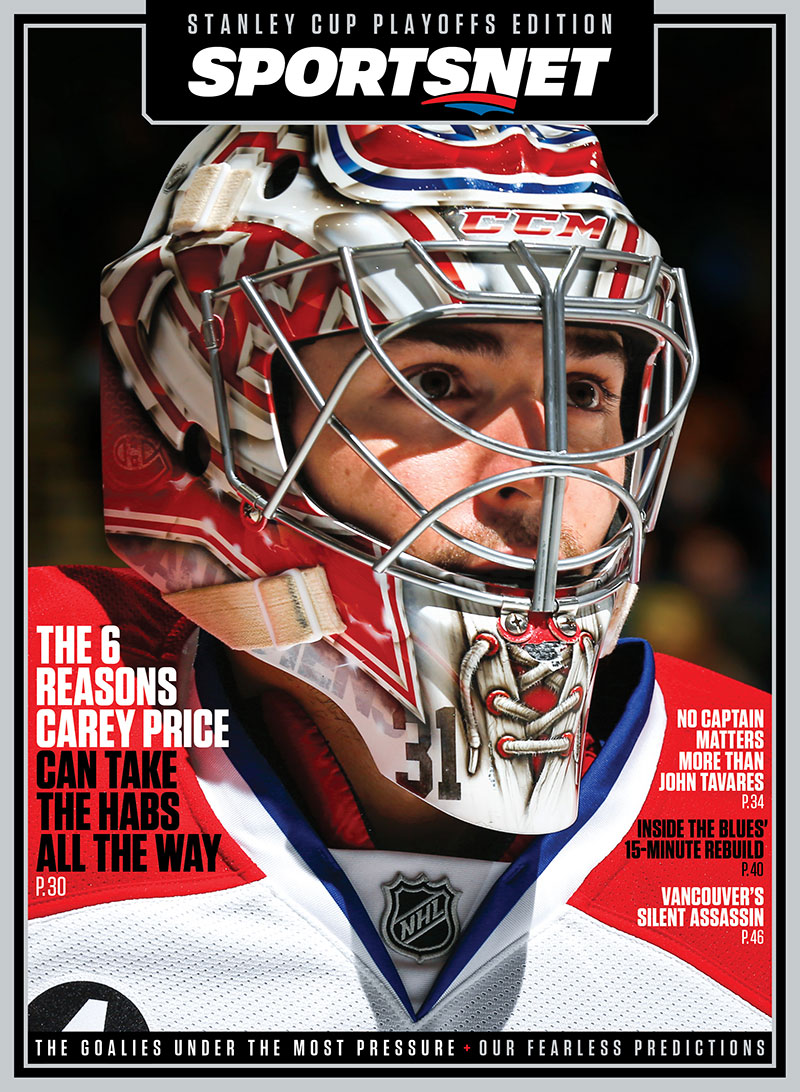 Sportsnet Magazine Stanley Cup Playoffs Edition: The six reasons why Carey Price can take the Montreal Canadiens all the way. Download it right now on your iOS or Android device, free to Sportsnet ONE subscribers.
---
At 28, Johnson isn't your typical veteran. Prior to last season's first-round exit, his playoff experience amounted to just 11 games early in his career. He spent those glued to the Pistons' bench, but he made the most of the opportunity, soaking in whatever he could from veterans like Chauncey Billups and Rasheed Wallace. "I lead with my energy on the floor," he says, an approach he learned from the champions who surrounded him in Detroit. "It gets everybody going, gets the guys running and hopefully picks up our level of play."
That Johnson lets his actions and effort speak for him is clear in the Raptors' locker room, where most of the talking tends to be done by Chuck Hayes, Kyle Lowry, Lou Williams and DeMar DeRozan. Johnson picks his spots."He tends to ask questions more than anything," says Hayes, who, at 30, is the team's elder statesmen. "He's still trying to soak up some things. And so when he does talk, it carries a lot of weight, because it means he has a lot built up."
One of Johnson's more vocal nights came last season in his hometown of Los Angeles. News that the Raptors had traded Rudy Gay after a horrid start to the 2013–14 campaign had just broken, and Johnson rallied his undermanned team before the game. Then he went out and backed it up, putting up a career-best 32 points on 14-of-17 shooting to go along with 10 rebounds.
Regardless of their frequency, Johnson's words wouldn't hold the same clout if it weren't for what he sacrifices for the team: his body. He missed three games earlier this season due to foot and ankle pain, which also sidelined him down the stretch, but his ability to persevere has had a major impact on his teammates. The next time you watch a Raptors game, keep a running tally of how many times Johnson hits the deck. If it was a drinking game, it would swiftly be outlawed due to the acute risk of liver failure. "He has this mentality to go out there, game in and game out, whether he has a nagging injury or he's seriously hurting," says Patrick Patterson. "He puts all that aside for the greater good of the team, and that speaks volumes to the rest of the room."
Johnson downplays this aspect of his show-don't-tell ethos: "I've been [playing hurt] for a while," he admits. "But you just gotta keep playing. This is what we do. We play in the NBA! It's one of the greatest jobs in one of the greatest leagues. So you play through it. Besides, at this time of year, practically everyone is dealing with injuries of some kind. I'm no different."
Hayes begs to differ. "He gets dinged up a lot. He hits the ground so many times during a game, diving down for loose balls or getting nicked and crashing down. I've never seen anything like it," he says. "I tease him all the time: 'Eventually you're going to have to work on your balance, because for a guy your height, that's a long drop.'"
Johnson continues to take the bumps and has even found a way to draw strength from them: "If you play through it, you feel like you can get through anything," he says.
It's a mindset his team is rallying around. "We like to see toughness from our players, especially our leaders," says Vasquez. "So when you see somebody like Amir playing through pain, it makes you sit up and think: 'Why can't I?' That's leadership, right there."
The next two months are critical for both the Raptors and their well-worn forward. Another first-round exit, and the successes of this season will be forgotten as tough questions arise about this team and its core. One of the biggest will be about Johnson, whose contract expires at season's end. After killing himself for years on a losing team, Johnson has finally helped the Raptors build a foundation. He played through the dark and cloudy days until the light finally shone through. With the playoffs here, everything is on the line for both player and team. "Honestly, thinking about that kind of stuff will affect your play," he says. "When you're focused on winning, that's all you have time to think about. We play this game for that one reason, so you put all your effort into reaching that goal. What comes after that is exactly that—afterwards. Everything else will come in due time. But winning comes first."
That's leadership. Right there.
This story appears in the April 20, 2015 issue of Sportsnet magazine.