Cory Joseph understands basketball – Toronto basketball – better than anyone, arguably.
The Toronto Raptors point guard is a Raptors baby; part of the first generation of players who grew up around the city being wowed by Vince Carter, getting swept up in the emergence of their hometown as a basketball city.
He'd watch games with his brother Devoe and then head out to their driveway hoop in Pickering, Ont., to re-enact them.
Not too many years later Joseph will be helping lead the Raptors into Game 3 of their first-round series against the Indiana Pacers at Bankers Life Fieldhouse Thursday night; the local kid helping the team he grew up cheering for navigate the perilous waters of the franchise's playoff history.
But he took a detour on his way to this moment, and it's paying dividends for the Raptors.
It had been 11 years since a Canadian had been a first-round pick in the NBA draft when Tristan Thompson – Joseph's childhood hoops rival and later his high school, college and national team teammate – was taken No. 4 overall by the Cleveland Cavaliers. Joseph surprised many when he declared for the draft after his first year at Texas. He was rated to go in the second round, if at all. But the San Antonio Spurs chose him with the 30th pick and like almost everything the Spurs touch, they knew what they were doing.
And Joseph? The former Spur signed to a four-year, $30-million contract this past summer and has proven that he was paying attention as the Spurs went about their business as perhaps the most consistently excellent team in the history of professional sports.
"Going there has heightened my knowledge," said Joseph. "And being able to see people go through it and have guys like Timmy (Duncan), Tony (Parker), Manu (Ginobili) lead by example helped me so much more. No matter what the circumstances, I always felt like I was going to play hard but just understanding the difference between the season and the playoffs, they really helped me a lot."

Cory Joseph and Raptors teammate Kyle Lowry celebrate in Game 2. (Frank Gunn/CP)
Every night at the Air Canada Centre Joseph has a healthy crowd of friends and family waiting to visit with him after games. He knows the franchise's history well enough to recognize that when the home fans get restless, it's not just the Raptors' playoff failings a year ago that are bubbling up, but years and years of missed opportunities.
But none of the Raptors' playoff history has rubbed off on Joseph. After Jonas Valanciunas, he's arguably been the Raptors' best player against the Pacers. In his first two playoff appearances at the ACC Joseph is averaging 17 points and three assists in 24 minutes, while shooting 11-of-14 from the field.
It's by far the most minutes he's ever had in the playoffs, but he was locked in during the 41 playoff appearances he made in his four seasons in San Antonio where he earned a championship ring in 2014.
The key insight he gained from being around the Spurs' 'Big Three,' who have won a combined 13 titles and have more games as teammates than any other trio in NBA history?
"Consistency is key," says Joseph. "Everything they do through the year is building up towards the playoffs and then when you're in the playoffs, obviously you have to have things go your way, God forbid you have any injuries and you have to be in a rhythm at the right time and a lot of things have to fall into place, but just to see the consistency and the routine helps a lot."
If you wondered how Joseph would respond in his first chance to be an impact player in the post-season after years of playing limited minutes – he averaged nine minutes a game in 2012-13 when the Spurs lost in the NBA Finals and just five minutes a game in the playoffs the past two seasons – then maybe you don't know Joseph very well.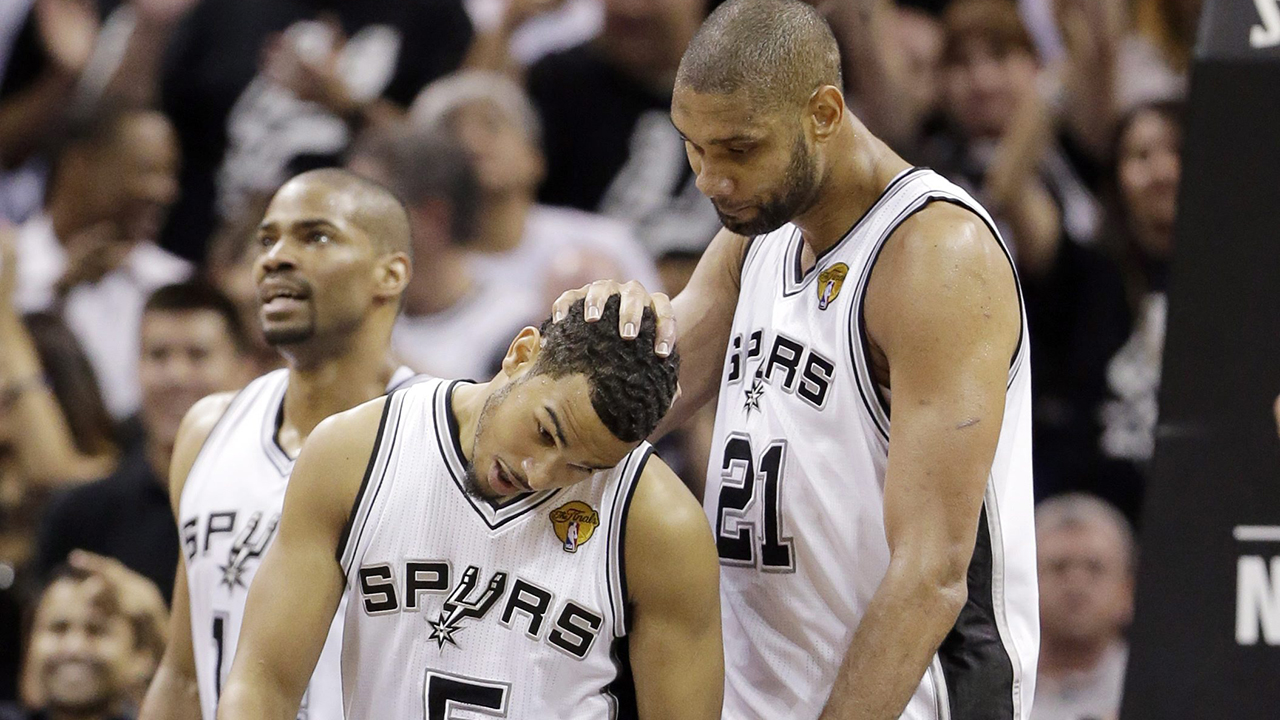 Cory Joseph with Tim Duncan in 2013. (Eric Gay/AP)
The man himself claims to have been worried not at all about how he would handle the spotlight and the pressure because his approach to the game hasn't changed since he was a kid: Play hard and walk away satisfied, whatever the outcome.
It's simple and it's brilliant and Joseph lives it.
"I don't worry about (how I will perform)," he said. "I really don't. I don't worry about doing well or doing bad or anything. If the opportunity is given I go out there and play hard. It's very simple. It's not like we're going to war; we're not in the army. It's basketball. You go out there, you play hard and you can be satisfied with yourself."
It's a steadiness that long ago this season earned him the respect of his teammates and the affection of his coach — Dwane Casey calls Joseph his warm blanket. Joseph has emerged as a leader among a deep Raptors bench, and his point of view in that regard comes straight from the San Antonio handbook of team building.
"You have to have chemistry and you have to know your role, you know?" he says of the way the Raptors have become more than a sum or their parts this season. "This is the NBA, everyone can't go out there with the same role, it's not going to work. You have to adapt and you have to adapt each game. You have to know your role, your part on the team and that builds chemistry."
Joseph is a big part of that; his San Antonio lessons being successfully transferred.
The Toronto son had to leave home to start his basketball journey, but he went to the right spot. The experiences he gained could be instrumental in his hometown team reaching heights they never managed when he was just a kid.