Last week when talking about the chemistry of his young team and how quickly they have come together in the Eastern Conference, Raptors head coach Dwane Casey made loose comparisons between Toronto and the early 2000's Pistons.
Detroit was a squad compromised of good but not great players that came together in the right system at the right time. Guys like Chauncey Billups, Richard Hamilton, Ben Wallace and Rasheed Wallace became household names after spending most of their earlier career years in relative anonymity.
Bolstered by a strong supporting cast,  including versatile youngster Tayshaun Prince, the Pistons became NBA champions and perennial post-season and championship threats. They could beat you at either end of the floor and they knew it.
---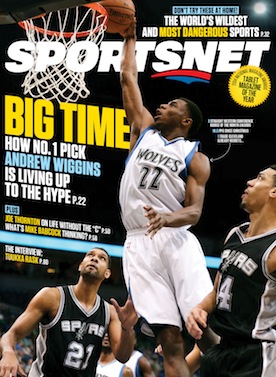 ATTENTION Rogers and Shaw customers.
Already enjoying Sportsnet ONE? Now get access to digital editions of Sportsnet magazine at no extra cost.
---
Detroit was what Casey wants his Raptors to be right now, and Billups believes Toronto has what it takes to get there.
"There are some similarities in our teams," he said. "One, they have a very strong leader with the ball in his hands in Kyle (Lowry). DeMar (DeRozan); fortunately he's back going and getting himself back together. They got two guys that can close games.
"Defensively, they communicate, they talk (and) the effort's there so they do it. They have a very good nucleus. They've got something beautiful going on."
Billups knows from experience that a championship run won't happen overnight. It's a process. But if the right pieces are in place and the ultimate X-factor — gelling — happens quicker than expected, anything is possible.
"I really believe in that team," said Billups. "I believe in great leadership, I believe in talent, and (the Raptors) have both."
For Toronto, that leadership stems from Lowry. His growth, maturity and sheer talent has helped vault the Raptors into the upper tier in the East. But his path wasn't always clear, something Billups can relate to.
"It's been a process with Kyle; his career has kind of resembled mine a little bit early on, him kind of moving around not finding his spot, his niche," said Billups. "Now he's there and I'm happy. I'm proud of him."
Billups and Lowry spend large chunks of the off-season working out together. The game and the fraternity (and agent Andy Miller) have brought them together and Billups speaks with great pride when mentioning anything about his "little brother," Lowry. But just as any big brother would do, Billups is always ready with tough love and honesty as well.
"I'm never going to let off the throttle on him," he said. "I keep a lot of pressure on him because I believe in him."