MONTREAL – Chris Boucher was born in the tiny Caribbean country of Saint Lucia, but the island of Montreal has been home since he came with his mother to make a life here at five months old. He's 25 now and basketball has taken him all over North America but he doesn't feel like a stranger yet.
"I know everything about Montreal," he says.
But he's never arrived home like this: on a private jet, staying at the finest downtown hotel, getting ready to play in an NBA game (albeit an exhibition) at a sold-out Bell Centre on Wednesday night.
"Obviously coming back as an NBA player feels good," he said, estimating that he's arranged tickets for about 100 family and friends in advance of the game. "It's truly a blessing to play in front of my family and friends [I'm] definitely going to enjoy the experience."
He was asked if he would be playing tour guide for his Raptors teammates. He said no – it's a one-night business trip, after all – but if he did, what would he show them?
The St-Hubert restaurant he worked at, grilling chicken, after he dropped out of high school, broke and with no academic prospects at age 16?
The bus he would sometimes ride through the night when he didn't feel comfortable at either his father's or mother's home, and there was no friend's couch to stretch his spindly six-foot-10 frame out on?
The parks and rec centres in Montreal-Nord which provided the extent of his basketball 'training' before he wowed some local coaches – 'who was this mysterious 19-year-old no one had ever heard of?' — with a high-energy, 44-point outing as a fill in against an elite club in one of the few 'real' games he did play, earning a spot at Alma Academy, a fledgling basketball academy nearly five hours outside the city?
Boucher's Montreal isn't on any tourism videos, and his path to the cusp of the NBA wasn't for the faint of heart.
But the beanpole who can run for miles and jump for days and confidently step into open three-pointers has plenty of heart. That's how he earned his way to the Raptors training camp and how he's earned the respect of his veteran peers as he tries to crack one of the NBA's deepest rosters.
"He surprises people every day," said 13-year veteran C.J. Miles. "I mean I didn't know him [before training camp] – but the first couple of days obviously, I noticed he's mobile for his size, he runs the floor, he blocks shots and then he starts making threes … he has a chip on his shoulder and he plays hard. That's the biggest thing. He competes. You can see it in his face and in his demeanour when he turns the switch on."
Says point guard Fred VanVleet: "He's good, man. He's got a chance to be really good …. he may not always do it right but he busts his ass and gets the job done."
Against considerable odds and through the slimmest of windows.
Boucher translated one year at Alma Academy into two years of junior college in the US, split between stops in New Mexico and Wyoming. But given a chance he has always shone. As a junior college all-American he earned a scholarship to the University of Oregon where he played two seasons and forced his way onto the NBA radar with his unique ability to run the floor, block shots, rebound and make threes outweighing concerns about his rail thin frame, on which his listed weight of 200 pounds is very likely generously rounded up.
"As a member of the skinny community I can definitely say he needs to bulk up a little bit," says Pascal Siakam, whose high-energy style could well be an NBA model for Boucher. "I'm like JV [Raptors big man Jonas Valanciunas] to him, or [Oklahoma City strongman] Steven Adams. But I like the way he plays … he's a good player. "
A late-season knee injury in his last year at Oregon contributed to Boucher going undrafted, but his potential was enough for the Golden State Warriors to sign him to a two-way contract, allowing him to train and practice with the league's defending champions and even earning a late-season NBA call up, making his NBA debut with a 1:19 of floor time against the Los Angeles Lakers on March 14th.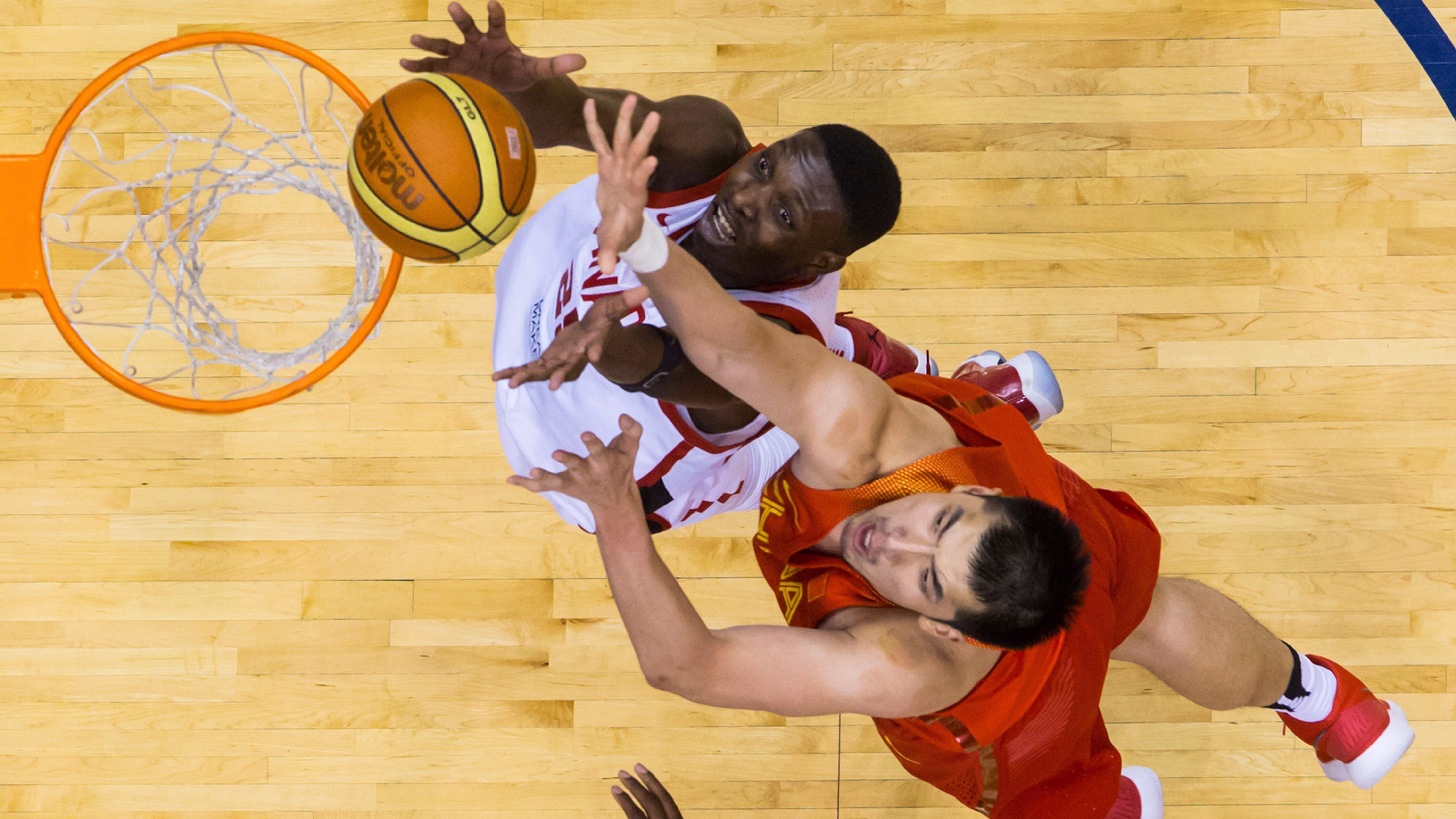 In the end the Warriors didn't have room for him as they began their run for their fourth title in five years in 2018-19 but Boucher was undeterred. Spending a season with the best convinced Boucher that he was closer to his goal than ever.
"Seeing guys like [Kevin Durant] and Steph [Curry] in the gym every day, it made me want to get better and it made me realize that how they got better was being in the gym and taking care of their bodies, that really helped me out," he said. "I learned a lot. I'm a better player now, for sure … I feel like I've grown so much mentally that when I got healthy it was easier to do what I wanted to do."
What he wants to do – badly – is complete his unlikely journey from the streets of Montreal to an NBA roster. The Raptors offer both opportunity and obstacles. They have a proven track record of player development as they've leveraged the proximity of Raptors 905, their G-League franchise, but with a veteran lineup with 13 players under contract and a 14th – Lorenzo Brown – with a half-season guaranteed, there are more bodies than opportunities.
He remains confident.
"I feel like I have a place here," Boucher says. "Some stuff takes time, but if you really want it you can get there."
Realistically Boucher is one of five players competing for one remaining two-way deal, an arrangement that would seem him split time between the 905 and the big club. With only two exhibition games left the opportunities for Boucher to show out are limited.
But he's faced longer odds. He's heading home to Montreal but he's confident he'll be staying in Toronto, and in the NBA.
"I feel like I can show a lot of people, a lot of kids, that it's possible to make it," he said. "A lot of young kids want to make it, you know, and seeing a guy that's actually playing and can give them hope and inspiration."