This story originally appeared in the March 24, 2014 issue of Sportsnet magazine.
BRAMPTON, ON & SYRACUSE, NY- It was the kind of moment every kid rehearses alone on the driveway, over and over again: 4.4 seconds to go in a nationally televised game, the Syracuse Orange—on the road, but with the ball in their possession—trailing the University of Pittsburgh Panthers by one in front of a crowd seemingly hungry for blood.
Out of the time out, the play is drawn for SU senior C.J. Fair, but, as it has been all season, the final call is left to the freshman point guard who receives the ball on the inbounds. With the double-team on its way, he looks down the court and sees Fair covered. Plan B. He takes both defenders with him past half-court, quickly but calmly controlling the ball, head up the whole time, steady as a marksman's finger on the trigger.
The six-foot-three teenager from Brampton says Pitt is the toughest environment he's played in. Tougher than Duke and their Cameron Crazies, tougher than any court overseas or the AAU gyms he's lit up representing his hometown. But, as is often the case with Tyler Ennis, you wouldn't know it by looking at him.
Unflappable. Poised. Confident. Call it whatever you want, but Ennis always seems to play with an almost eerie calm as it gets closer to the wire. The defenders close in. He pulls up from 40 feet, raises the ball to his shoulder and lets it fly.
Long before that half-court heave, Ennis knew. His family, who are at the foreground of the basketball movement in Canada, knew. Syracuse head coach Jim Boeheim knew. So did Andrew Wiggins, LeBron James, Tristan Thompson and a host of other stars. What they all knew was that Ennis, arguably the most important player heading into the NCAA tournament, would be a bona fide pro prospect and one of the top players in the country this season—in any class. Come tourney time, the rest of the world will know it, too.
The clock turns red as the shot falls through the net, extending then No. 1–ranked Syracuse's perfect record to 24-0 and shutting up the crowd in an instant. After the game, Ennis is doing an interview with ESPN when his phone starts ringing. "Who do you think that is?" the producer asks. "That's definitely my dad." It is. Vice-President Joe Biden's call won't come until later. "Well," Pops begins, knowing the answer but unable to resist the question, "did you guys win?" All Ennis can do is laugh.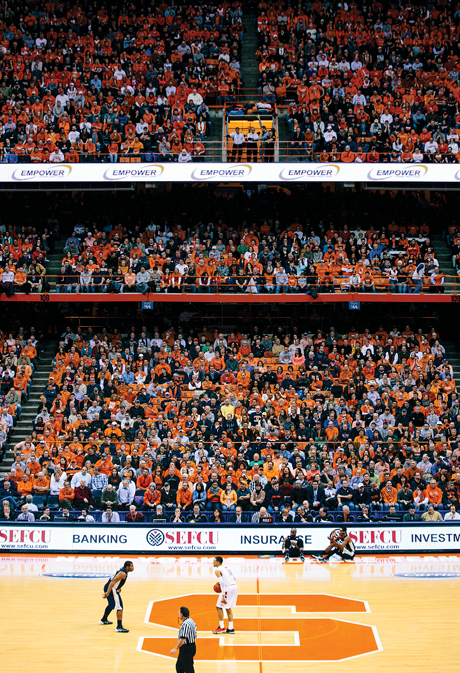 Tony McIntyre pulls out a picture book, professionally bound, with "Tyler Ennis-McIntyre" printed across the front. He has one for each of his three eldest sons, all basketball players—Brandon, who just graduated college, Dylan, currently a guard at Villanova, and Tyler. He starts leafing through the photos. They show Ennis at tournaments as a kid, tagging along with his older brothers, goofing around with friends and teammates and looking the same as he does today, only without the patch of hair on his chin. "There's Tristan and Anthony," McIntyre says, pointing out Thompson and Bennett, "There's Wiggs—those two love each other."
Seven years ago, McIntyre, an operations manager at a pharmaceutical company, co-founded the wildly successful AAU program CIA Bounce, where he coached his sons along with a cast of characters that featured many of Canada's brightest stars.
From here in the basement of the family home in Brampton, surrounded by a small museum's worth of trophies, medals and press clippings, you don't have to be Sherlock Holmes to figure out that the Ennis-McIntyre clan has had much time and success in basketball. Tony pulls a trophy made of shimmering glass out of its case, takes a proud look, and sets it on a table for all to see. "I don't know why we had kept that in the box," he casually remarks. Across the hall, in the bedroom that Tyler shares with Dylan, box upon box of sneakers are stacked beside the bunk bed. Most are never worn—including a pair of Spike Lee Jordans given out at the Jordan Invitational and custom KDs with "St. Benedict," the New Jersey prep school where Ennis earned player-of-the-state honours last season, etched into the heels.
That the family home would be buried in hoops memorabilia is fitting because, between his dad and older brothers, Ennis has never been far from the game. The family, who still all call each other daily, always travelled together to games and tournaments, bringing Ennis along whenever his brothers played.
When a CIA Bounce team featuring Brandon travelled to France for their first tournament outside North America years ago, a 12-year-old Tyler went along for the ride. The tourney featured a mini-all-star weekend: dunk and three-point contests and a two-on-two component in which countries were paired at random, each sending one representative. Not wanting his players hurt with a real game around the corner, McIntyre had an easy solution: He sent Tyler out, four or five years younger than the competition, hair braided with an oversized jersey hanging off his wire-thin frame. The Canadian team was paired with Lithuania, who sent out their best player: Jonas Valanciunas. "I don't know if he remembers me," says Ennis, "but I definitely remember being a little kid and playing with him. He was a really nice guy and he talked to me after."
With Ennis running the pick and roll, comfortably hanging with older players—a common sight in Brampton and something Ennis calls key to his development—he and the future Raptors starter went deep in the tournament. "I think we put him in the three-point contest, too," says McIntyre.
Success came at home, too. After two years at Father Henry Carr high school in Etobicoke, Ont.—where Ennis's teams lost one game total—he went to St. Benedict, following the GTA-to-prep-school route taken by many of the guys he grew up playing with. "Brampton played a big role," Ennis says of his progression. "Looking at the past few years, the most successful players from Canada all came from generally the same area. I was able to learn from guys like Tristan Thompson, Anthony Bennett and a bunch of others. Growing up and seeing how successful they were opened the doors and motivated kids around my age group to do better."
His CIA Bounce team, considered perhaps the strongest in AAU history, featured Wiggins, Xavier Rathan-Mayes and a host of other Div. I scholarship players. In 2012, they finished first at the Nike EYBL, the top AAU circuit, adding to an already-impressive resumé that included two-straight state titles in high school and a strong showing at last summer's U-19 World Championships, where Ennis led the tournament in scoring.
His AAU and prep school experience was more than enough to get him looks from the top programs in the country—among them Arizona and Louisville—but Ennis had already made up his mind.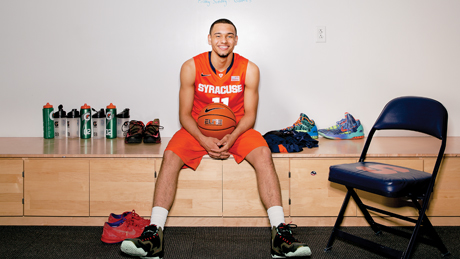 Ennis was five years old the first time he visited the Carrier Dome in Syracuse, tagging along for one of his brother's tournaments. At 10, he made his own debut on the iconic court. On the drive home, he announced to his family that he was going to grow up and play for the Orange. Seven years later, on his mom, Suzette's, birthday, he announced it to the world.
Syracuse was the perfect fit for Ennis. Jim Boeheim was a respected coach and the campus was close enough for his parents to make it to his games (they have yet to miss one at home). Ennis also wanted to start, and after watching freshman point guard, Michael Carter-Williams lead his team to the Final Four before heading to the 2013 NBA Draft, Boeheim was looking for a floor general who could come in and handle major minutes right away. It was a dual commitment, and the coach's words to the Ennis camp were, well, to the point: "He better be motherf—ing ready."
For those who'd watched him over the years, that was never in doubt. But heading into this season, Ennis's profile wasn't near that of fellow freshmen like Wiggins and Duke's Jabari Parker. That can be attributed to a few different factors, but chief among them was the fact that Ennis committed to Syracuse as a high school junior, one year earlier than most of the marquee names. Though the decision spoke to his maturity and decisiveness, qualities that translate directly onto the court, it also took his name out of 2012–13's endless "Where will they sign?" conversation. McIntyre admits the lack of attention in his senior year was disconcerting. "At the time you question it," he says, "I know he's good, and Syracuse knows what they're getting. But when [are] other people going to know?"
Across the room in the basement, a tape with "Basketball 3" scrawled on white tape along its spine sticks out from the VCR. Like the shoes in the bedroom, the boxes of tape are plentiful, stacked floor to ceiling under the stairwell. From haircuts to family dinners to, of course, basketball games, Suzette always has a camera ready. As a kid, Tyler would come home after games and break down the film. Then he'd do the same for his brothers' games.
The tapes show a smaller version of the player Tyler is today—the one-man fast breaks, athletic drives, deft passing and decision-making, opportunistic defence and excellent shot selection. They help explain why Ennis's transition to Syracuse has been so seamless: He hasn't had to change a thing about his game.
Ennis had watched as Brandon's Div. II school converted him from a guard to a power forward and the Wildcats asked Dylan to play the two after he was recruited as a pure point guard. Both brothers managed the adjustments, but it was a shame they had to make them at all.
Under Boeheim, Tyler can be Tyler. And you can't argue with the results. Or, at least, not until recently.
Following Ennis's heroics in Pittsburgh, the Orange lost four of seven games to finish the regular season 27-4. That fall back to Earth will hurt their seeding in the NCAA tournament, but throughout the slide Ennis's play didn't falter, even as injuries to key players and a slumping supporting cast turned Syracuse into the Ennis and Fair Show. Heading into March Madness—with his team struggling while his draft stock continues to rise (some scouts have him going as high as No. 7)—Ennis has emerged as one of college basketball's most compelling and crucial players. How he'll perform isn't in doubt, but Syracuse's fate may be decided more by what he's able to do off the court than on it.
Perhaps the most critical aspect will be Ennis's ability to elevate the players around him, to become the sun around which they orbit. Fortunately for the 'Cuse faithful, the ability to make basketball fun and bring his teammates together is something Ennis has had since he was a kid. Another aspect of his game he hasn't had to change.
There's a story McIntyre likes to recall about how Wiggins came to join Ennis's CIA Bounce team in the first place. It was at a tourney in Orlando, and Wiggins was playing with a team of older boys and spending most of his time after games in his hotel room. One night, Ennis invited Wiggins to hang out at the condo where his team was staying, and he ended up sleeping over, comfortable with the point guard and his teammates. The next day, Ennis's group was heading to the pool and Wiggins asked if he could tag along. McIntyre has it all on tape: Ennis and his friends goofing around, playing volleyball and just being kids—what McIntyre insists they'll remember most from those trips. Wiggins is in the pool, guys jumping off his shoulders. With a big smile, he looks straight to the camera and—at home in this environment, his true personality exploding out of its shell—yells. "CAN WE GO GET SOME ICE CREAM, PLEASE?!" He joined Ennis's team that day, and the two former and future teammates (on the national team) remain in touch every day.
"That's what Tyler brings with him."