If you enjoy drama, the NBA is the professional sports league for you.
Case in point: What took place Wednesday after Minnesota Timberwolves star Jimmy Butler reportedly asked for a trade with training camp set to begin next week.
After The Athletic's Shams Charania dropped the bomb, one Nick Wiggins, older brother of Timberwolves swingman Andrew Wiggins, quote tweeted the Charania tweet with the comment "Hallelujah." He quickly deleted the tweet, but not before just about everyone who follows the NBA saw it.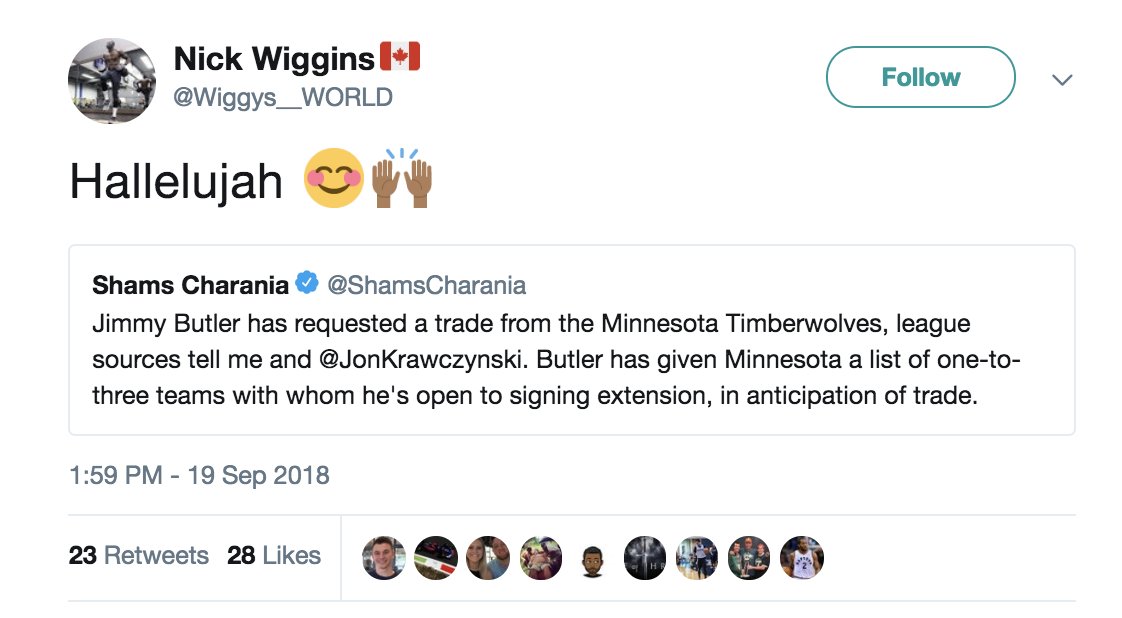 Of the many people who saw the tweet, Butler was definitely one of them. So the disgruntled Timberwolves all-star decided to troll Nick on his Instagram story with a "Hallelujah" of his own.
So, Jimmy Butler just posted this to his Instagram story pic.twitter.com/fW4Od9QZrG

— Sports Illustrated (@SInow) September 20, 2018
Then, for some inexplicable reason, retired NBA player Stephen Jackson felt he should chime in, coming to Butler's defence by taking a shot at Andrew's work ethic in an Instagram video where Jackson acts out a fake conversation between the two Wiggins brothers.
12k Likes, 1,210 Comments – Stephen Jackson (@_stak5_) on Instagram: " my bad y'all don't like the truth. I'm going to bed. Got 6am and . Love to all…"
"Say big bro, I don't think you should've sent that tweet out," Jackson said, mocking Andrew's work ethic. "Why do you say that? [Because] Jimmy Butler man, he plays with a lot of heart. He plays hard. He plays with a lot of heart, and I ain't got no heart."
Needless to say, Andrew also saw this strange blast from Jackson, and he decided to respond with a message of his own on his Instagram story.
Andrew Wiggins just posted this on Instagram pic.twitter.com/wn6e8EoXx8

— jace frederick (@JaceFrederick) September 20, 2018
And in case anyone was unsure he was, in fact, talking about Jackson, Wiggins made sure there would be no confusion in a later correction to his post.
I like the clarification in the edited and reissued statement, making it clear that this is about Stephen Jackson

what a Bad Timberwolves Day pic.twitter.com/oIG8ylHAJS

— Hanif Abdurraqib (@NifMuhammad) September 20, 2018
Of course, Captain Jack clapped right back with a second video message that equally praises Andrew's basketball ability, while continuing to pile onto the perception that the Vaughan, Ont., native and 2014 No. 1 overall pick just doesn't want it bad enough – and appears to warn Andrew if they ever cross paths in the future.
"You've got a lot of talent kid. You've got a lot of talent. I hope you have a good year and I hope you can find some heart and find some passion for the game and have a good year. I really wish you the best," Jackson said.
"I'm just saying man, make sure your head's on straight when you see me bro. I'm pretty sure you know who I am. Make sure your head's on straight. Just focus on finding some heart and having a good year, I wish you the best. You've got a lot of talent, just find that. Please don't try to do that with me bro. … I'll catch you in traffic."
Finally, as a coup de grace of sorts, Jackson posted a picture of his career stats showing why he was an NBA champion at one point in his career.
13.3k Likes, 1,427 Comments – Stephen Jackson (@_stak5_) on Instagram: "Kold ass bum with a chip. Crickets u shall hear. Love to all GN World. #TruthHurts"
Thus far, there's been no further response.
Timberwolves Media Day is on Monday.