The Toronto Raptors' 2018 Summer League experience is over with the club falling to – who else? – the Cleveland Cavaliers in the tournament quarter-finals.
Thus ending a two-week span where the only real notable news from a Raptors perspective on the court was the re-affirmation that OG Anunoby can, indeed, play as well as the first look at undrafted rookie Rawle Alkins.
More interesting from Toronto, however, is what we saw off the court when new Raptors head coach Nick Nurse publicly challenged four-time all-star guard DeMar DeRozan to become "more focused, defensively," and that during the season he will consider "maybe instead of hiding him in a regular-season game on a poor offensive player in December, maybe we're gonna throw him on an all-star."
These were fairly revelatory comments from Nurse to a fan base that has, essentially, just grown to accept DeRozan's perceived defensive deficiencies.
"DeRozan checking fellow all-star wings? Impossible!"
But is it really that unimaginable? We took a deeper look to try to find out.
Here's the case for and against DeRozan being able to meet the challenge his coach has set out for him.
The case for DeRozan being able to defend all-star wings
DeRozan's difficulties on defence are nothing new, so it's not like the skepticism towards him being able to check elite wing players is unwarranted.
However, what's also true is the fact DeRozan, throughout his nine-season career thus far, has never failed to return from an off-season without something new in his game.
Of the many talents he possesses, what has stood out the most about DeRozan is his undeniable work ethic, and the fact he's been able to mould himself into an all-star after being drafted as a skinny kid who could jump high with no jumper is a testament to this.
DeRozan is what you might define as a genius of hard work.
And while working on defence is likely a change of pace for DeRozan, given how he's constantly improved, how can you doubt he'll return from the summer without having sharpened that portion of his game at least a little?
And it's not like he's a complete defensive sieve like some like to describe him. Just take a look at how he listens to teammate Kyle Lowry's cry for help and recognizes Bradley Beal is about to be wide-open for three until DeRozan shuts that down by quickly rotating over and contesting the shot during Game 6 of the Raptors' first-round series with the Washington Wizards this past spring.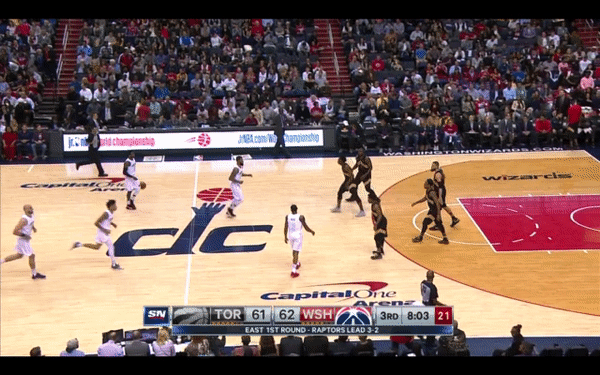 Or like in this clip when he picks up a driving Giannis Antetokounmpo in transition – one of the scariest sights in basketball –and forces the Greek superstar into a contested lay-up without fouling.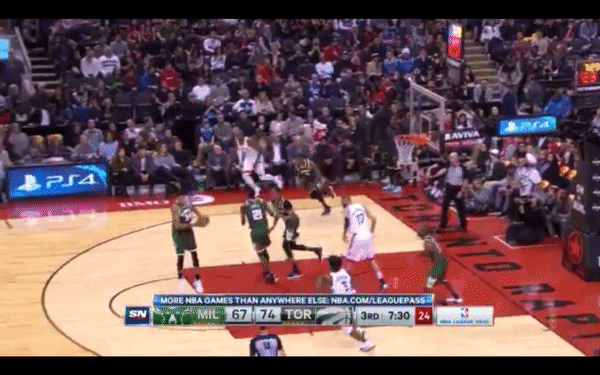 And this fine defensive possession from Game 3 against the Cleveland Cavaliers in the playoffs when DeRozan got into stance, stayed in front of LeBron James and forced the four-time NBA MVP into his help that resulted in a slight bobble before James tried to put up again only to see his attempt get swatted from behind by a recovering DeRozan.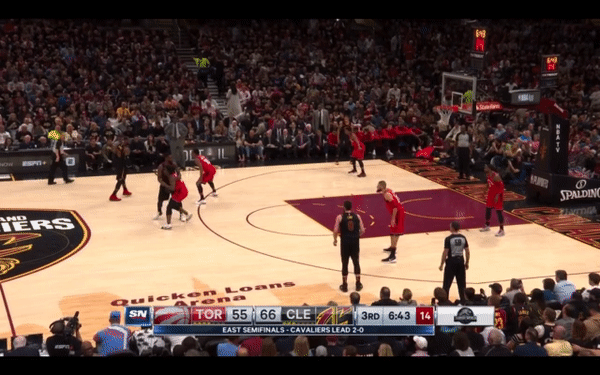 These three examples certainly don't paint a big enough picture and shouldn't be taken as definitive proof that DeRozan can defend all-star player like himself, but what they do show is that he definitely has the potential to become a good defender should he work at it.
The first clip with Beal shows DeRozan listens on defence and understands how to defend within the team concept, instantly recognizing where he has to rotate to.
The second one with Antetokounmpo, illustrates DeRozan's potential to be a smart defender by cutting off the Milwaukee Bucks star's angle of attack and then showing he has the ability to contest at the rim without fouling.
Finally, the last GIF proves DeRozan's strength and athleticism isn't just good for scoring. Up against the best player in the world, DeRozan effectively kept James in front of him, guiding him towards the middle of the paint where more of his teammates can collapse, with the big block at the end just the cherry at the top of an excellent defensive effort.
And really that's what it comes down to: Effort.
DeRozan has all the potential in the world to become a strong defensive player, as long as he applies himself to the task.
A challenge from his new coach should be more than enough motivation for him.
The case against DeRozan being able to defend all-star wings
Theory is all well and good, but at the end of the day, that's all it is.
So while it's nice to believe DeRozan – remarkable work ethic and all – can easily apply himself this summer and come back a new and improved, lockdown defender, the reality is he's already had eight summers to improve on that end of the floor and it's never really happened.
Since the 2012-13 season, DeRozan has hovered around as an average defender with an individual defensive rating around the 102 and 107 ranges. So this isn't to say he's an outright disaster defensively, but he could stand to be a lot better, particularly because, as Nurse alluded to, he's consistently being hid on defence, getting assigned lesser matchups.
This is most easily seen by taking a glance at the number of possessions he lined up on defence against this past season.
DeMar DeRozan defensive matchups

Player
Team
Possessions
Bojan Bogdanovic
Indiana Pacers
174
Robert Covington
Philadelphia 76ers
155
Otto Porter Jr.
Washington Wizards
142
Jaylen Brown
Boston Celtics
127
Khris Middleton
Milwaukee Bucks
118
Justin Holiday
Chicago Bulls
110
Courtney Lee
New York Knicks
106
Kent Bazemore
Atlanta Hawks
101
Marvin Williams
Charotte Hornets
98
Joe Ingles
Utah Jazz
91
The above only show DeRozan's 10 most frequent assignments, but it still makes the point rather clear when you see that DeRozan was most often matched up against good role players, but not guys who you would call all-star level, with the exception maybe of Jaylen Brown and Khris Middleton.
Keep in mind it is rather common for teams to give their top offensive options breaks on defence, so it's not as if it's DeRozan's fault he was defending Bojan Bogdanovic so much, but, looking ahead to next season, the sample size seen against Brown doesn't bode well for DeRozan meeting Nurse's challenge.
In the 127 possessions DeRozan was matched up against Brown, the Boston Celtics super sophomore burned the Raptors star for 32 points on 61.9 per cent shooting, including a devastating 4-for-6 mark from three-point range.
Here are a couple examples of just how silly Brown made DeRozan look at times last season.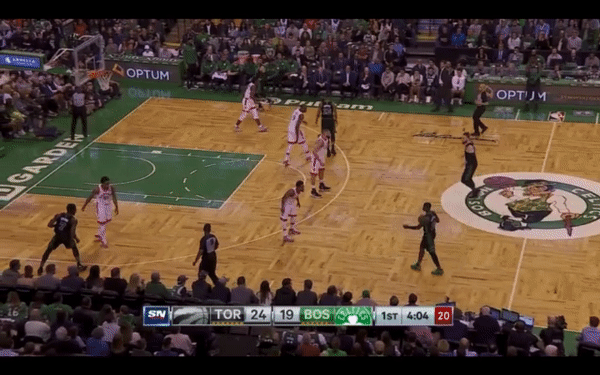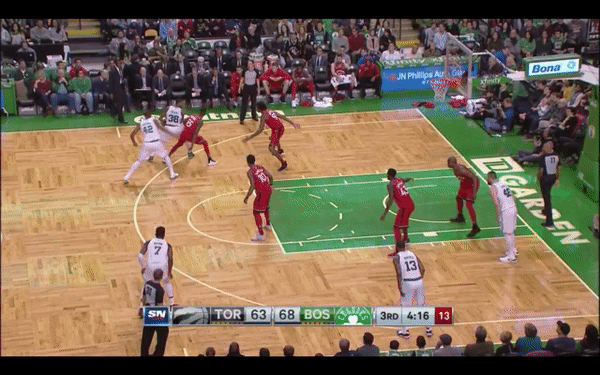 The way Brown was able to work DeRozan is indicative of how he faired against top wing players last season.
When matched up against wings who have been all-stars within the last three seasons and young players with all-star potential (like Brown), DeRozan gave up 183 points on 52.4 per cent shooting and a 56.2 per cent clip from deep. A pretty ugly look, especially when you take into consideration he's more often than not just defending jumpers.
Some particularly bad matchups that stood out were ones against the Oklahoma City Thunder's Paul George and Golden State Warriors' Klay Thompson. In 46 possessions against George, DeRozan gave up 17 points on 6-for-6 shooting, including 3-for-3 from three. Meanwhile, against Thompson, DeRozan surrendered 19 points on 8-for-11 shooting over 58 possessions.
These are the kind of players DeRozan will be expected to defend and, by the looks of things, DeRozan simply can't.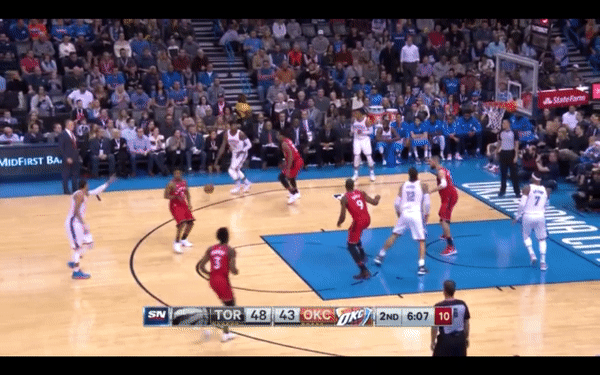 The final verdict
So then, will DeRozan actually be able to live up to the lofty expectations Nurse is laying on him?
It's tough to say definitively, but when it comes down to it both history and data says he will not.
With that said, DeRozan has made a career out of proving his naysayers wrong, so maybe this is just another chance for him to #ProveEm.