Chicago Bulls (48-34, Fourth Seed)
Points For: 93.7 (League Rank: 30)
Points Against: 91.8 (1)
Starting Five: Kirk Hinrich, Jimmy Butler, Mike Dunleavy, Carlos Boozer, Joakim Noah
Leaders:
Points: Boozer 13.7 (87)
Rebounds: Noah 11.3 (6)
Assists: Noah 5.4 (33)
PER: Noah 20.06 (T-29)
Playoff Experience on the Roster: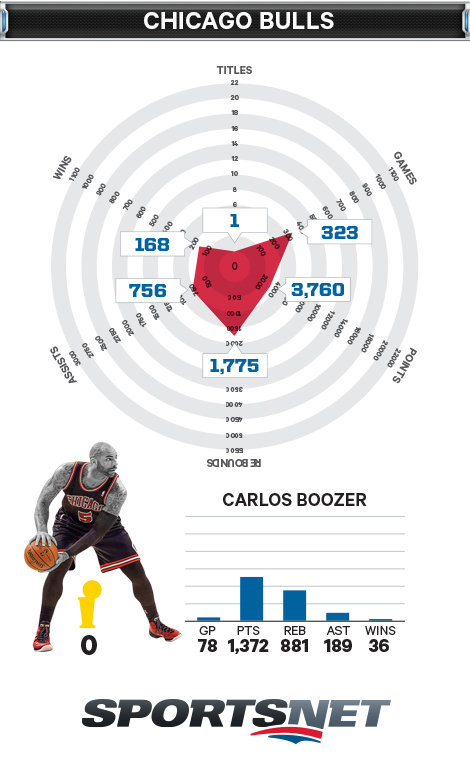 Key Reserve: D.J. Augustin. Chicago isn't exactly stacked on the offensive end. The Bulls rank dead last league-wide in field-goal percentage (43.2%) and points per game, and aren't much better in the advanced categories (third-lowest offensive rating and fourth-lowest true shooting percentage). Since coming over from Toronto in December, Augustin has averaged 14.9 points a night (tops on the team with Luol Deng gone and Derrick Rose out) and he's also the team's best perimeter facilitator, dishing out five dimes a game (second to Naoh's ridiculous 5.4). Oh, and he poured in 25 against Washington the last time the two clubs met.
X-Factor: Three-point shooting. Augustin's 25 came on a 6-of-11 shooting night from downtown and when he hung 16 on the Wiz in a Jan. 17 loss, he was 4-of-6 from the land beyond. As a team, the Bulls have averaged more threes per game against Washington (22.7, making nine) than any team other than OKC. So, if they make their deep looks, they'll win, right? Not necessarily. The Bulls actually shot slightly better from deep over their two losses to the Wizards than they did in their lone win (40% and 39.1%, respectively). The real difference? Noah, who had just five looks from the field in each loss, before going for 21 points and 12 boards on 13 attempts in the April win. Take your threes, sure, but get Noah the ball inside.
Breakout Candidate: Boozer. A bit of an afterthought compared to his days in Utah competing with Deron Williams for who could turn up with the strangest hairline, Boozer has beaten up the Wizards this year, averaging 15.7 points per game on 55.6 percent shooting. Keeping that up in the first round won't hurt Chicago's chances of advancing.
Washington Wizards (44-38, Fifth Seed)
Points For: 100.7 (16)
Points Against: 99.4 (T-8)
Starting Five: John Wall, Bradley Beal, Trevor Ariza, Trevor Booker, Marcin Gortat
Leaders:
Points: Wall 19.3 (23)
Rebounds: Gortat 9.5 (T-17)
Assists: Wall 8.8 (T-3)
PER: Wall 19.61 (35)
Playoff Experience on the Roster: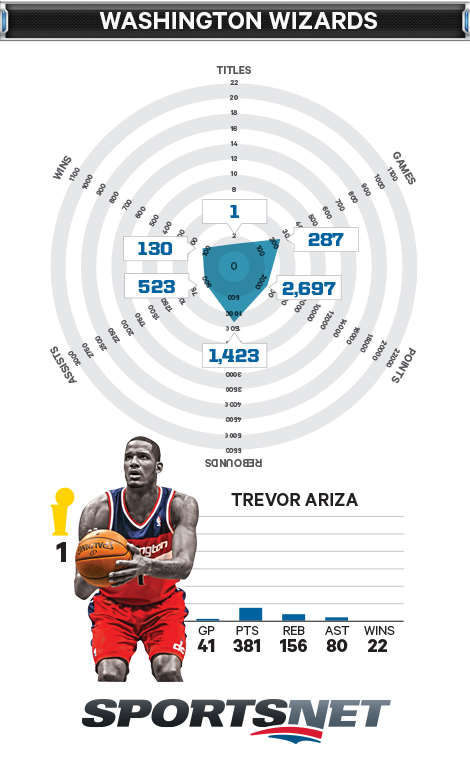 Key Reserve: Andre Miller. In terms of straight production, Martell Webster and Nene will be big names off the bench, but in the playoffs, veteran savvy goes a long way and few have more of it than the Professor. He's also found the perfect play for circumventing Chicago's killer half-court D.
X-Factor: Nene. Washington's sole loss to the Bulls this season came while Nene was sidelined with a sprained right MCL. The Brazilian big man returned to action Apr. 9 and has looked ferocious in his four games back, averaging 15.7 points in just 22.2 minutes a night and shooting 69 percent.
Breakout Candidate: Wall. Believe it or not, there are people in this world who still don't understand how good John Wall really is. A top-25 scorer and top-five facilitator in his fourth season, he'll have a chance—in his first playoff appearance—to show them.
Marquee Matchup 1: Butler vs. Wall/Beal
Butler was terrible on the offensive end against Washington this year, shooting just 28.6 percent from the floor, but he remains Chicago's premiere perimeter defender and watching him go toe-to-toe with the Wizards' high-intensity backcourt will be sweet. Kirk Hinrich's no slouch on the defensive end, but Butler will draw whichever of Wall and Beal is hotter. Given that both Washington guards shot 50 percent from the floor against Chicago this season, he should have his work cut out for him.
Marquee Matchup 2: Noah vs. Gortat
Many thought that Gortat's numbers would fall off a cliff without Steve Nash serving him buckets on a platter—that simply hasn't been the case. Averaging 13.2 points and 9.5 boards this season, the Polish Hammer has been a stat-stuffing beast inside this season. He's also shot a presentable 58.6 percent against Chicago. Noah, for his part, is a legit contender for the other-than-KD-and-LeBron MVP, should be a lock for Defensive Player of the Year and, despite the Bulls haemorrhaging talent all season, has carried Chicago to a 21-9 record since the all-star break (the third-best mark in the league over that span).
Season Series: 2-1 Washington
Prediction:
Underestimating Wall is a dangerous thing to do. He could put Washington on his back and single-handedly swing a couple of games, but with a balanced (if not particularly explosive) attack (boasting six double-digit scorers) and the league's best defence, Chicago is the perfect playoff grinder. Bulls in six.