TORONTO – With the holidays approaching Anthony Bennett couldn't have been happier to be playing a game in his hometown.
His Brooklyn Nets were routinely handled 116-104 by the Toronto Raptors, but Bennett wasn't dwelling on it afterwards. He had 40 friends and family waiting to mingle with him with the holidays approaching and he couldn't wait to get out and visit them in the stands at the Air Canada Centre.
"I'm always excited to come back to the city that raised me," said Bennett who started playing his basketball at community centres in Jane and Finch before getting more serious about the sport in the hoops hotbed of Brampton. "I have a lot of people here; I can't wait to see them."
In a perfect world he would have given them an early Christmas present. If not helping deliver the beleaguered Nets (7-20) a win over the surging Raptors (20-8), at least a signature performance against the team he grew up watching, was thrilled to join last season and which ended up waiving him on March 1, giving up on the ideal of repatriating the potential of the No. 1 overall pick of the 2014 draft after less than one full season.
But the world rarely presents real-life, perfectly wrapped with bows.
On the bright side Bennett played 21 minutes off the bench for the Nets — the eighth time in nine games he's played double figures minutes as he tries to find a steady niche with a franchise that is short on draft picks so is trying to find young talent anywhere they can find it.
And he grabbed 10 rebounds.
But on the downside, he made just two of his eight shots and hit just one triple in four attempts — in line with his career average of 26 per cent — and was on the wrong side of one sequence in the third quarter that his doubters could point to a synopsis of why an athlete of his talent has been traded, bought out and waived by three organizations in three years.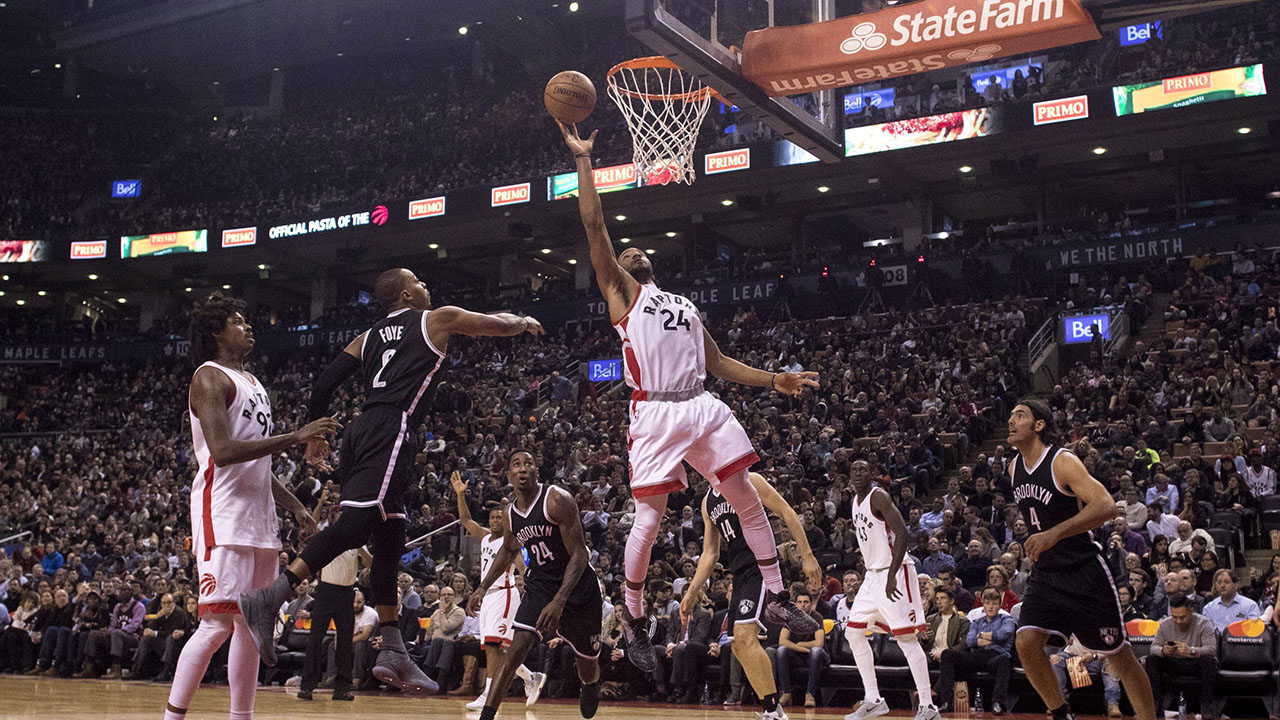 Raptors guard Norman Powell scores on Tuesday. (Chris Young/CP)
Raptors super-sub Norman Powell stepped in front of a snoozing Bennett on an inbounds play with three minutes left in the third quarter and took it the other way for a dunk. A moment later Bennett tried a jump hook in the post but his timing was off and he ended up flat on his butt in the paint. He then had his shot blocked by Lucas Nogueira and was victimized for a three-point play when guarding Powell again as the Raptors finished the quarter leading by 19 and never looked back.
But in the big picture Bennett sees plenty to be positive about. On a one-year veteran minimum deal with a team option for next season he's got nothing to lose and everything to gain and seems to be embracing the challenge of fighting for his NBA life at age 23.
"It's good fit," he said of his match with the Nets, who worked him out for three weeks in Brooklyn in the summer before deciding to sign him. "A lot of great teammates and the coaching staff as well. They push me along the way and push me through the mistakes. In the past I never really had that chance and it's definitely a cool feeling to go out there and play with a clear mind."
He's slowly earning their trust, something that was difficult to do on a veteran team in Toronto that had plans to win now.
"He was out of the rotation at the beginning of the year," said Nets head coach Kenny Atkinson, who first became impressed with Bennett when he saw him play for Canada at the Olympic qualifying tournament in Mexico City in 2015. "But I feel he's been improving. He helps us with his athleticism. He's a dynamic roller, he's long. He can switch pick-and-rolls, he's versatile. The big thing with him is confidence. The more he plays, the more comfortable he is."
And Bennett has the benefit of former Raptors teammate Luis Scola, who is in his 20th professional season at age 36 and with the Nets also. Scola tried to help Bennett through his struggles last year when he seemed to let the frustration over his lack of playing time creep into his preparation which contributed to the Raptors waiving him March 1, but finds a more willing acolyte this year.
"I see him more mature," said Scola, who got a rare start for the Nets. "I try to talk to him — everybody tried to talk to him — but what I try to tell him is that being No. 1, being in Minnesota, all those kinds of things, they are in the past. This is a fresh start for you. You take that [load] off your shoulder and things are going to be better. And I think he understands that and he comes to work and he feels to be enjoying it a lot more than when he was in Toronto with me. He's getting better. He's playing well, he's had a lot of great games and he's getting into the rotation.
"I think there is a future ahead of him. He needs to believe in that, that's the important thing. He's going to have a great career, that's the important thing."
Bennett seems to be buying in.
"That's the big vet," he said of Scola. "Every time something happens, something bad or good he's talking in my ear, pretty much encouraging me the whole time. He was doing it last year, doing this year. He's a real cool guy. I'm going to keep working, day-to-day and see how that goes. But so far I've been giving it pretty much my all every day."
Bennett was a rare miss in the mostly successful model the Raptors have developed for nurturing young talent.
It was fitting that Bennett's third quarter's woes came due to the efforts of Nogueira and Powell, who started last season behind Bennett on the Raptors depth chart.
Each has proven in their own way that the path to a spot in an NBA rotation is hard-earned and arrives unpredictably. Like Bennett, Nogueira's entry to the NBA was his potential rather than his accomplishment prior to being drafted. He spent his first two seasons not playing at all before becoming an important tool for Raptors head coach Dwane Casey to use off the bench in his third year. His slightly flaky brand of persistence and the Raptors' not always comfortable patience has proven well worthwhile.
He finished with six points, six rebounds and four blocked shots in 21 minutes against the Nets.
Powell is the opposite — the four-year college senior slipped into the second round of the draft in 2015 and never for a second has stopped trying to prove to the world they had him all wrong.
He embarrassed the 45 teams that passed on him in 2015 yet again on Tuesday night as he scored 21 points in his 26 minutes off the bench, adding five steals.
Powell and Nogueira are proof that patience can pay off.
The Nets can only hope that Bennett follows their path.
"Every time I got on the floor I do what I can in those minutes whether it's rebounding, getting people open, just running, defending," Bennett said before heading out to visit his friends and family. "Whatever I had to and it got me here and now I have to keep working."