The secret to Kevin Pangos' success at the highest level of European basketball is a simple one, because the problem itself is simple.
The job is all encompassing, requiring a similar approach.
"You have to love it," the 25-year-old point guard says over the phone from his flat in Kaunas, Lithuania. "It's a pretty simple lifestyle. I wake up, eat, go to the gym and do some shooting to get myself moving, eat, have a nap, go to practice at night, eat and do it again. Pretty much everything I do revolves around basketball or taking care of myself for basketball. I'm glad I love it because if you didn't it could be a grind."
Keeping it simple has worked out wonderfully for Pangos who is finishing up one of the most accomplished seasons a Canadian has ever had in Europe.
In just his third season as a professional after a decorated four-year career at Gonzaga, Pangos led underdog Zalgiris Kaunas to a sixth-place finish in EuroLeague – the 16-team competition that brings together the best clubs in Europe. They then qualified for the Final Four for the first time in 19 seasons where they earned a bronze medal with a win over powerhouse CKSA Moscow – this after finishing last in their division prior to Pangos' arrival. They improved to 10th overall in his first season before finishing the regular season on an 11-1 tear to rocket up the standings this past year.
An impressive feat for a club operating on a budget about one-third to one-quarter of clubs like CKSA or Real Madrid, the eventual EuroLeague champions.
"For a club like ours who is a huge underdog in terms of budget, it was a huge accomplishment," said Pangos.
It's the kind of upward mobility that gets noticed. Pangos will be a free agent once his season is over – Kaunas is will be competing for its 20th Lithuanian league championship well into June – and the playmaking point guard with the elite three-point range is almost certain to score a lucrative offer from one of EuroLeague's richer clubs.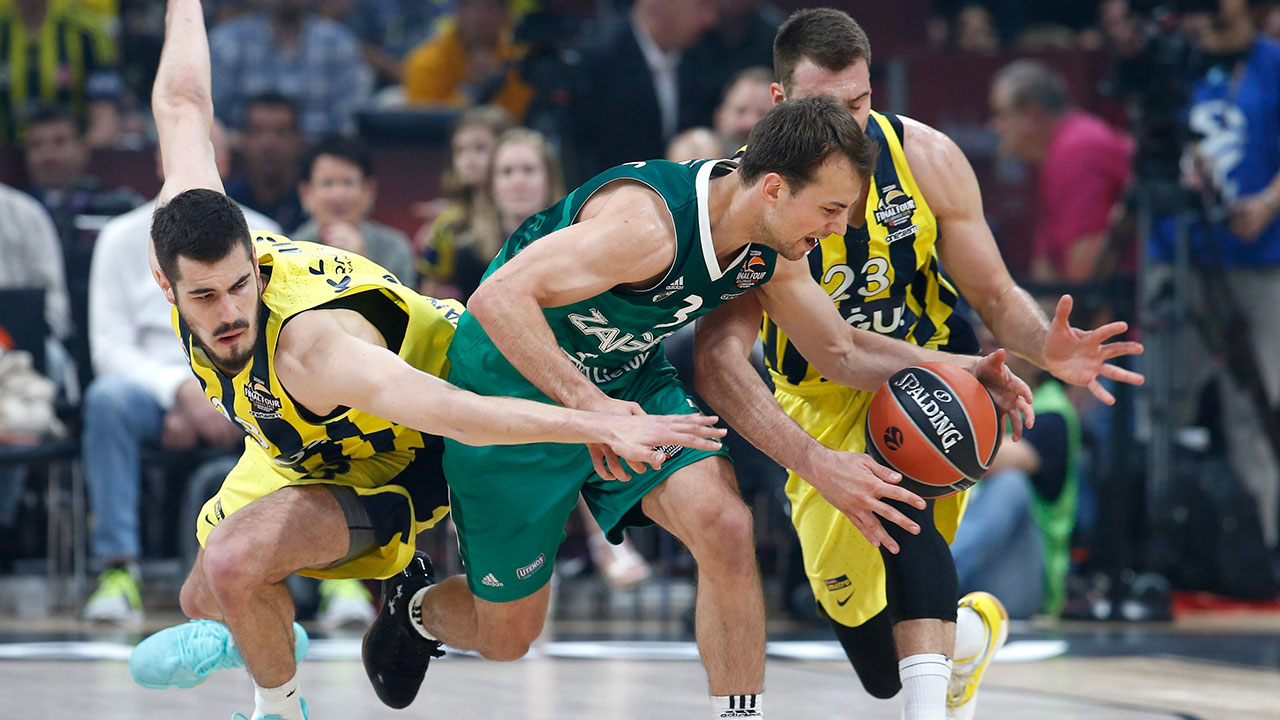 "I can't remember a Canadian player getting to this level in this length of time," said Maurizio Gherardini, the general manager of EuroLeague power Fenerbahce.
Gherardini was a vice-president and assistant general manager with the Toronto Raptors under Bryan Colangelo and remains involved as an advisor with Canada Basketball, a role he held when Pangos made his senior national team debut at age 16.
"He has a chance to have a brilliant European career," Gherardini added.
Pangos was undrafted by the NBA out of college but has played in the Las Vegas Summer League for the past three years without getting a commitment that would convince him to give up guaranteed deals in Europe.
He's now in a position where he may have effectively priced himself out of the league where his college teammates Kelly Olynyk and Damantas Sabonis have established themselves and countless peers from his basketball travels and various edition of the Canadian national team program have made their way.
It's expected Pangos will command offers in Europe for U.S. $1 million after taxes and living expenses – typically covered by the club in Europe – which would mean an NBA team would have to guarantee a deal in the range of $2 million per season to match what he can earn overseas. That may be more than clubs might want to risk on a guard who has been passed over previously – even if he is shooting 47.3 per cent from three this season with an assist-to-turnover ratio of nearly 3-to-1.
But as Gherardini points out – while stressing that his club Fenerbahce is not in the running for Pangos – it's the Canadian guard's secondary traits that may be just as important.
"People love his way of fighting, he never gives up," says Gherardini, who first met Pangos at age 15. "But people love that he's just a normal guy. He in the EuroLeague like Steve Nash was in the NBA – a really good player who people could find a connection with. His teammates love him, fans across Europe are knowing who he is, but he's the same Kevin."
Pangos describes his upcoming contract decision as "a good problem to have … I'm open to offers from everyone and anyone."
Even as he may be carving himself a comfortable niche at the upper echelons of European basketball he's still got an eye on the NBA, but only on his terms.
"It's definitely something I always think about and strive for but I'll get to it when the time is right," he said. "What it will come down to is how interested teams are in me."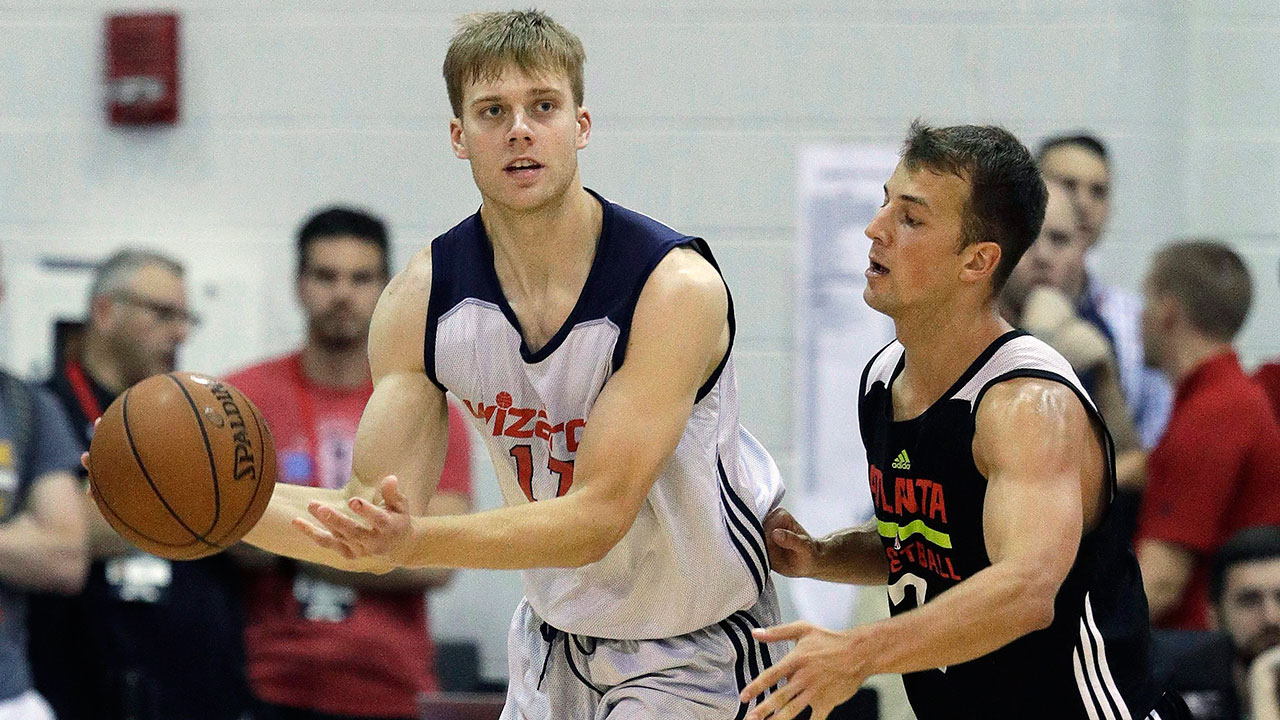 In the meantime, playing in Europe has served him well. After a rookie year on Gran Canaria a smaller club playing in the highly regarded Spanish league – which came with a bonus of living year-round on a tropical island paradise – he made the leap to Kaunas to showcase himself in EuroLeague.
Competitively he doesn't feel like he's missing much. The training facilities in Kaunas are among the best in Europe, he says, and the team they flies privately. Additionally, he's routinely competing against former NBA players or players who have turned down NBA opportunities for more lucrative ones in Europe.
He's matched up several times with 19-year-old Real Madrid sensation Luka Doncic, widely expected to be a top-three pick in the NBA draft later this month after leading Real Madrid to a EuroLeague championship and earning league and Final Four MVP honours en route – unprecedented for a player his age.
"I think he's the real deal," said Pangos. "I think he's great. He'll need to adjust to NBA rules but he's a really good, really big guard. I hope he excels, I'm rooting for him."
One team interested in Pangos is the Canadian senior men's team who put him on their list of invitees for this summer's FIBA World Cup qualifying games in Toronto and Ottawa on June 29 and July 2, respectively.
The interest is mutual, but the timing may not be right. His season in Kaunas goes until mid-June, marking 10-months of competitive basketball. Moreover, he's a free agent and likely won't get his contract status firmed up until later this summer and he's planning a late July wedding to his long-time fiancé – Kate Pennington, a former soccer player at Gonzaga studying nursing.
But if there's a way to make it happen, he wants to be there this summer and beyond, says Pangos, a point guard on the Canadian under-16 team featuring first overall NBA picks Andrew Wiggins and Anthony Bennett that won bronze at the world championships in 2010 and the under-19 entry as well.
"It's something I really, really want to do," he said. "It's amazing to see all of the talent out of Canada now. Years ago we kind of forecast it, I want to be a part of it."
More basketball? No problem.
Pangos hasn't changed much since he was a teenager tearing up the high school scene against over-matched competition in Holland Landing, north of Toronto. He loved to play, loved to work on his skill and was eager for the next challenge.
It's a formula that's never let him down even as his passport fills and his profile grows.