It's after 10 p.m. where Natalie Achonwa currently lives, in Changzhou, China. And while she's more than 11,000 kilometres away from her WNBA home in Indianapolis and she's not even sure what day it is in the city she actually calls home, the Toronto-born basketball star does know that a record number of women were elected to U.S. Congress recently.
"Was that yesterday?" Achonwa asks. She's not sure. (It was two days ago, for anyone keeping count.)
"Either way," Achonwa continues, "we're at a point where — and I think women are across the U.S. — that we want to be more than grateful. Why are we limited to just being grateful? Why can't we be better. Why can't we demand more? We're just not accepting the status quo. We're challenging it."
That's why, earlier this month, the WNBA Players' Association announced it would be opting out of its Collective Bargaining Agreement, in search of a better deal, in search of more. Signed in 2014, the CBA was set to expire after the 2021 season, and while opting out won't affect the 2019 campaign, players will face a lockout in 2020 if a new agreement isn't reached before opening day of that season.
While Achonwa is a long way away from her home base with the Indiana Fever, the 25-year-old forward is the team's player rep in the WNBPA, and she's been a big part of the discussions leading to the opt-out. She's currently in China because she's making six times her WNBA salary (roughly $50,000) with the Jiangsu Phoenix of the Women's Chinese National Basketball Association. Her salary in China blows the WNBA's maximum base salary of $115,500 straight out of the water.
[relatedlinks]
Not surprisingly, increasing WNBA salaries is something players such as Achonwa hope to achieve in their next deal.
Still, Achonwa stresses, "it's not all about the money." What the players would really like to increase is transparency. They believe they can help affect change in the league if they can see the league's finances and therefore know what they're working with.
"We want an overall better experience for the players, but we need information," says Achonwa, a power forward who made history with Team Canada when she became the youngest-ever player selected for the team, at 16. "We need the information to be able to negotiate. We want to actually have a seat at the table with the WNBA. Instead we're waiting on a lot of info. We're kind of in the dark on a lot of stuff.
"People are saying, 'Oh well, the WNBA's losing money, they have losses' — we don't know that," Achonwa says. "We can hear that, but unless we see the numbers or have that information from the league, we don't know that."
During a Nov. 1 appearance on ESPN's Outside the Lines, NBA deputy commissioner and WNBA interim president Mark Tatum said the league has in fact shared its financials with the players.
"They have access to that," Tatum told ESPN. "We've shared it with them, and what we are looking forward to doing is having a fully open, transparent and engaging discussion around the business realities that exist in the league. But the Players' Association has all those financials. We've made everything available to them and will continue to operate in a very transparent manner.
What players do know is the G League — the NBA's official minor league — will begin offering "select contracts" worth $125,000 next year to elite prospects who are not yet eligible for the NBA.
It was an announcement that doesn't sit well with many in the WNBA, Achonwa included.
"I'm kind of shocked and upset," she says. "It's hard to see where they place their value. And when I say 'they,' I mean the NBA, because the WNBA is the sister organization of the NBA. You call that an investment in the G League, but when we ask for more media attention, when we ask for more investment in marketing, it's not seen with the same financial backing or enthusiasm. It's tough to swallow."
Kia Nurse was a rookie last season with the New York Liberty, so the 22-year-old has only played four months in the WNBA — her team didn't make the playoffs, and the season was condensed because of world championships. Still, she can see what players would be seeking in a new CBA, and she's well aware what's on the line.
"From what I've understood and what I've been learning, there's a lot of different things that need to happen," says Nurse, who's currently playing her first overseas pro season in Australia, where she and the Canberra Capitals are 4-1. She's averaging a team-leading 19.4 PPG.
"Money is one of them, but people tend to misunderstand when we talk about the money and the CBA. We're not asking for exactly what the NBA players make. We're asking for a bigger piece of the percentage within our CBA."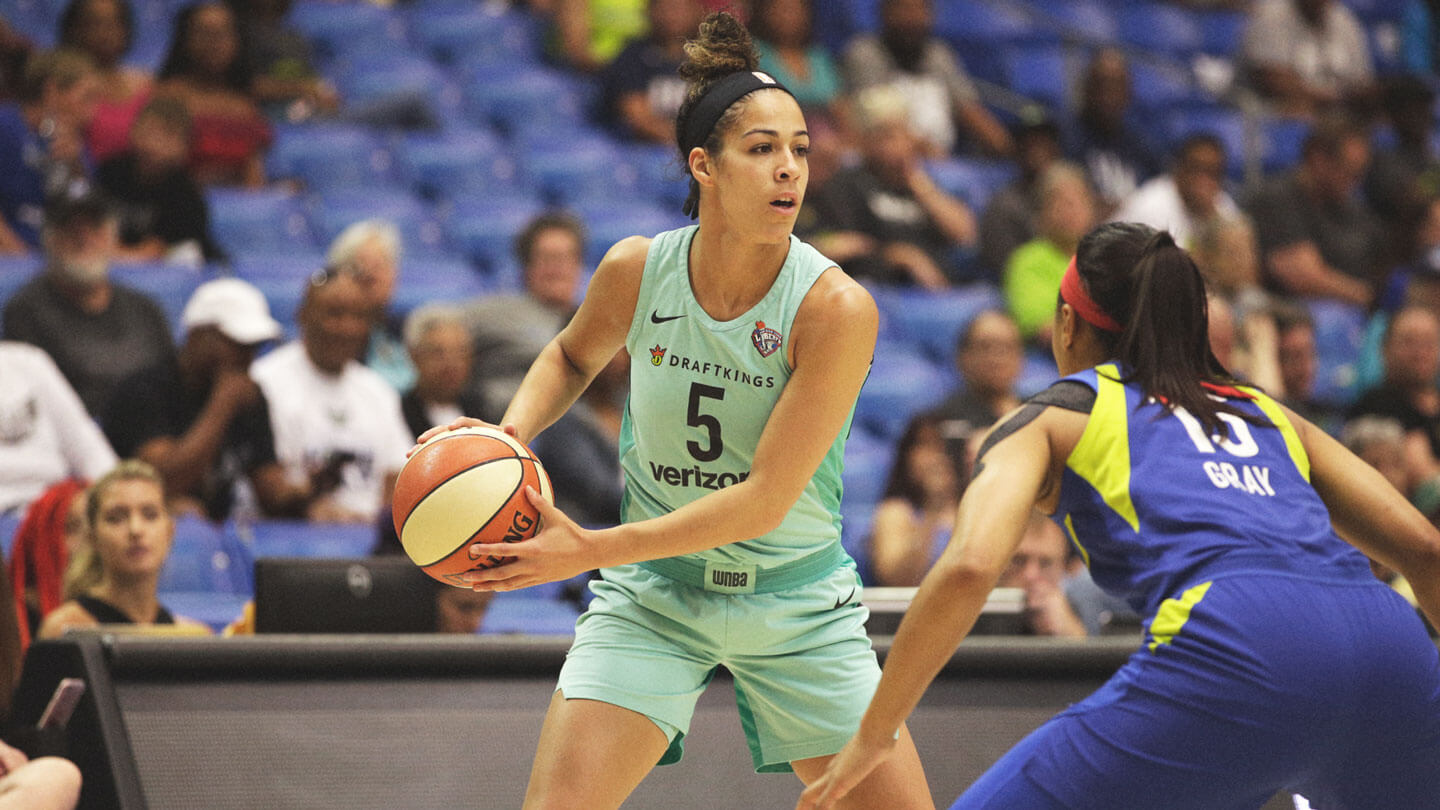 The women say WNBA players get some 25 per cent of that pie generated by the CBA, whereas NBA players get closer to 50 per cent. It's not necessarily 50 per cent that WNBA players are seeking, however.
"If we find out 50 per cent is going to ruin our league? Boom – of course we don't want 50 per cent," Achonwa says. "But we don't have those numbers, so we can't make informed decisions. And you have to remember, I'm pretty sure we have the most educated pro sports league in the world – you can't play in the WNBA unless you're turning 22 the year of the draft or you have graduated from college. We're not out here just shooting bricks. Everyone knows what they're talking about and everyone is invested in bettering our league. We don't claim to know everything, but we're working towards knowing what we don't know."
Among the other items on the players' wish list are improved support for maternity leaves and benefits for players with children, and improved travel conditions. Achonwa takes her rewards and points "very seriously," she says, and usually manages an upgrade, but one of her veteran teammates pays for an upgrade on every flight. This past season, the Las Vegas Aces were on the road for 24 hours straight because of flight delays and cancellations, and the team's request for a charter was denied by the league, which led to the cancellation of a game.
"You have a six-foot-nine player, an all-star, Brittney Griner, sitting in an economy seat and her knees are up to her chest, and she's expected to play at the highest level the next night?" Achonwa asks. "There's situations like that we feel could be better. That's safety, that's a value thing. That's part of the overall experience."
Some teams, like the Fever, play in the same facility as their NBA partner. Others, like Nurse's New York Liberty, spent last season in a tiny stadium in Westchester, N.Y., which looks better suited for a school dance. It's what you'd call "charming."
"I don't know if charming is what you want to go for in the WNBA – we're the best athletes in the world. It's the best league in the world," Achonwa says. "You wouldn't put a college team in that gym."
While finding a new home for the Liberty is among a number of priorities, for Nurse, it's not the most important. No. 1 for the star guard is visibility, and getting more WNBA games on TV.
"We can't grow the game if nobody can see what we're doing," she says.
Becoming better-educated on how players can help grow and promote the league is a big reason why Nurse has thrown her support behind the decision to opt out of the CBA, risky as it may be.
"We took a chance on ourselves and our league and our fans and the people who continue to support us, and we're asking people to take a chance to invest in us, to give us the chance to show them the potential of women's basketball and women's sport," Nurse says. "Some people are like, 'Why am I going to risk investing in a league like this? Well, you take a risk on it, we'll show you why. We'll help you make it pay off."
"Invest," Achonwa says. "Value. Prioritize. Fight for. We've proven time and time again that we deserve a seat at the table."
Just before Achonwa hangs up the phone and starts packing for a road trip elsewhere in China–although she's not even sure where she's headed– she adds: "Believe in us. Believe that we're worth it. And put your money where your mouth is."
Editor's Note: An earlier version of this article included a quote from Achonwa as follows: "If the scenario allows the possibility for us to have 35 per cent, of course we'd go for that."
The quote was removed because that number is not endorsed by the players' union that Achonwa represents.