The glory, by and large, will go to Kawhi Leonard, and rightfully so. What he did throughout a remarkable playoff run, in helping the Toronto Raptors hoist the Larry O'Brien Trophy as NBA champions for the first time, is the stuff of lore. Whether he stays or goes, Leonard will forever be a giant in Toronto's afflicted sporting landscape. Rarely do the type of bets Masai Ujiri made in acquiring him pay off in this way. If this is it, well, everyone definitely maxed out.
Still, let's make sure to acknowledge that none of this happens, none of this is possible without Kyle Lowry.
At a time when there was no blueprint for a franchise badly cracked by the bitter parting with Vince Carter and subsequent flight of Chris Bosh, the brooding point guard with the malcontent rep drew up the plans, found a crew and against-the-odds and set a foundation. He poured his heart-and-soul into the Raptors, even if at times the commitment wasn't necessarily fully reciprocal, joining DeMar DeRozan in seeing where things were headed and refusing to go out like that.
In realizing his best self here, he willed an organization continually undercut by factors both in and out of its control, to elite status with him.
A truly just ending would have been for that buzzer-beater at the end of Game 5 to have soared past Draymond Green's outstretched fingers and right through the mesh to trigger bedlam at Scotiabank Arena. But he's getting a ring after helping oust the Golden State Warriors with 26 points, 10 assists and seven rebounds in a white-knuckle 114-110 Game 6 win. And as much as that's thanks to Leonard, it will always be thanks to Lowry, too, which makes his place in the Toronto athlete pantheon so interesting.
There's no signature moment like Joe Carter's World-Series clinching homer, Roberto Alomar's demon-killing drive off Dennis Eckersley, or Jose Bautista's bat flip, although scoring 11 points in the first 2.5 minutes of the title clincher is now atop his resume. As a facilitator, Lowry underpinned the success of others the way Doug Gilmour did with the Toronto Maple Leafs, but the diminutive centre will always have the enduring wizardry of that wraparound overtime winner against the St. Louis Blues. Unlike Tracy McGrady and Vince Carter and Chris Bosh, he stayed. Like Wendel Clark, Lowry provided his team with a heartbeat. And like Mats Sundin, he's been seen for what he isn't nearly as often as appreciated for what he is.
No matter how you view it though, he's a champion. Give the man his props. Now and forever.
"Words can't explain how I feel," Lowry said up at the podium in the aftermath. "It's been a long, long time, 13 years of NBA basketball. Couple years of college. A couple years of high school basketball. And to be able to say I'm a world champion, it makes me feel great. And to do it with the group of guys that we did it with is amazing, like it's just kind of still surreal.
"I'm still in this moment of just like, is this real yet? I work extremely hard on my game. I work extremely hard on myself. And I am extremely hard on myself. I'm happy to be able to say I'm a champion. It's been a long time coming."
Still, if we're going to be real, it's not a stretch to call the most successful period in Raptors history – six straight post-season appearances, four consecutive 50-win seasons, and finally, a title – a happy accident. Had the New York Knicks not walked away from an agreed upon deal for Lowry in December 2013, everything unravels before it even starts. A full rebuild would have ensued. Who knows what would have followed?
Instead, Lowry remained, he and DeRozan believed, and they started building what few thought they could. As he wrote in the Players Tribune in July 2017, "We took a look around at the group that we had, and we said, you know, as a team, as a franchise, as a city – we can make this into a contender, into a place where hoops really matters, if we just see it through."
A few months after the failed trade to the Knicks, Lowry and Ujiri took a chance on each other when they agreed on a $48-million, four-year deal. The Raptors took off. But during the playoff disappointments to come, Lowry often took an unfair share of the blame.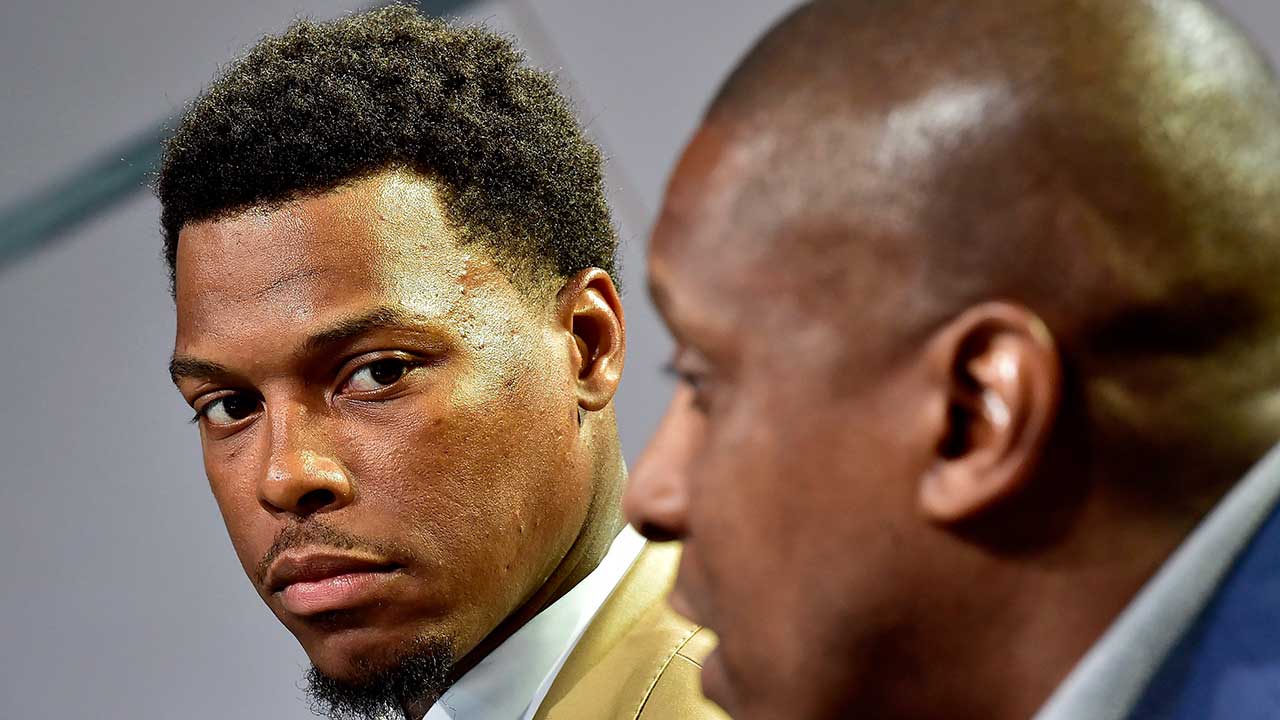 In 2014, it was his shot at the buzzer in Game 7 against the Brooklyn Nets that Paul Pierce swatted away. The next year, when Pierce again haunted the Raptors with his infamous proclamation that they didn't have "it," Lowry was square in the cross-hairs, his relationship with then coach Dwayne Casey and leadership coming into question.
"People got their own opinions. They can say what they want to say. They always have," Lowry said. "I hear them, I listen, but they don't affect my life. I go out there and I do my job to the best of my abilities. And the people that know, my teammates, the organization, they know what I bring to the table, and they appreciate what I do and what I've done. I score zero points, people blah, blah, blah, I do this, I don't score. I understand what people say, I hear them. But if we win a game and we win as a group, then that's all that matters. Winning is all that matters to me."
In 2017, after the second of three consecutive playoff losses to LeBron James and the Cleveland Cavaliers, Lowry and the Raptors again found themselves at a crossroads as he opted into free agency and Ujiri memorably said the team needed "a culture reset." The choices then were, reunite and keep trying with the core already in place, or part ways and try to beat the James Boss Monster another way.
Eventually, Lowry came back, agreeing to a $100-million, three-year deal that runs through next season. The market for his services wasn't as fevered as expected. The Raptors didn't have a better path forward. But while DeRozan largely – and deservedly – became known for his commitment to the franchise and love for the city, it was noteworthy that in the Players Tribune piece revealing his return, Lowry said the decision to come back was "easy," that all the roads he travelled in his mind "led me back to Toronto."
Yet even after the second extension, things haven't been easy.
Lowry's relationship with Ujiri ruptured when DeRozan, his best friend, was the price paid to the San Antonio Spurs for Leonard in a gutsy, let's-go-for-it-all play. He made no bones about it during an interview with ESPN's Rachel Nichols last December, saying "I felt betrayed because (DeRozan) felt betrayed," and described his relationship with Ujiri as "he's the president of basketball operations, and that's it."
At the trade deadline, rumours emerged involving Lowry. That led to a heart-to-heart between him and Ujiri. They laid their cards on the table. They decided they would do this together.
"We have had our ups and downs," Ujiri acknowledged before the Finals. "We sat down and we really talked about what we wanted to accomplish, and it's a tough conversation but these are conversations that you have to have. I did understand how Kyle felt when we made the trade and it was tough. DeMar is his best friend. I do understand that completely. That's the toughest part of the business that we all talk about. But in terms of Kyle, I've seen him grow, I've seen him grow as a person, as a leader on our team, and he can only get better from here."
Said Lowry: "Just kind of get on the same page, understanding that what they wanted, what he wanted from me, what he expected from me. Just kind of being on the same page. It wasn't anything negative. It was just, let's get on the same page so we can make this run. Because he believed in what we could do as a team."
A few months later, they were showered in confetti and champagne, celebrating a title that interrupted one of the NBA's greatest dynasties in the Golden State Warriors, winners of back-to-back titles and three championships in four years.
Lowry's dominant opening set the tone for the Raptors in the clincher, and he played smart and efficient the whole night. He shot 9-of-16 from the field, including 4-of-7 from three, and complemented his performance with three steals, and a plus-16 rating.
During the Larry O'Brien Trophy presentation, Serge Ibaka grabbed the prize and passed it to Lowry, who gazed upon it, kissed it, hugged it as if it was a small child and then hoisted it up in the air in ecstasy as his teammates hooted and hollered.
"They killed my man all the time in the playoffs," fellow point guard Fred VanVleet said later in turning a joke question posed to him at the podium by Lowry serious. "He gets more slandered than anybody I've ever seen in the league. To have him be able to hold that trophy, that's what means the most for us."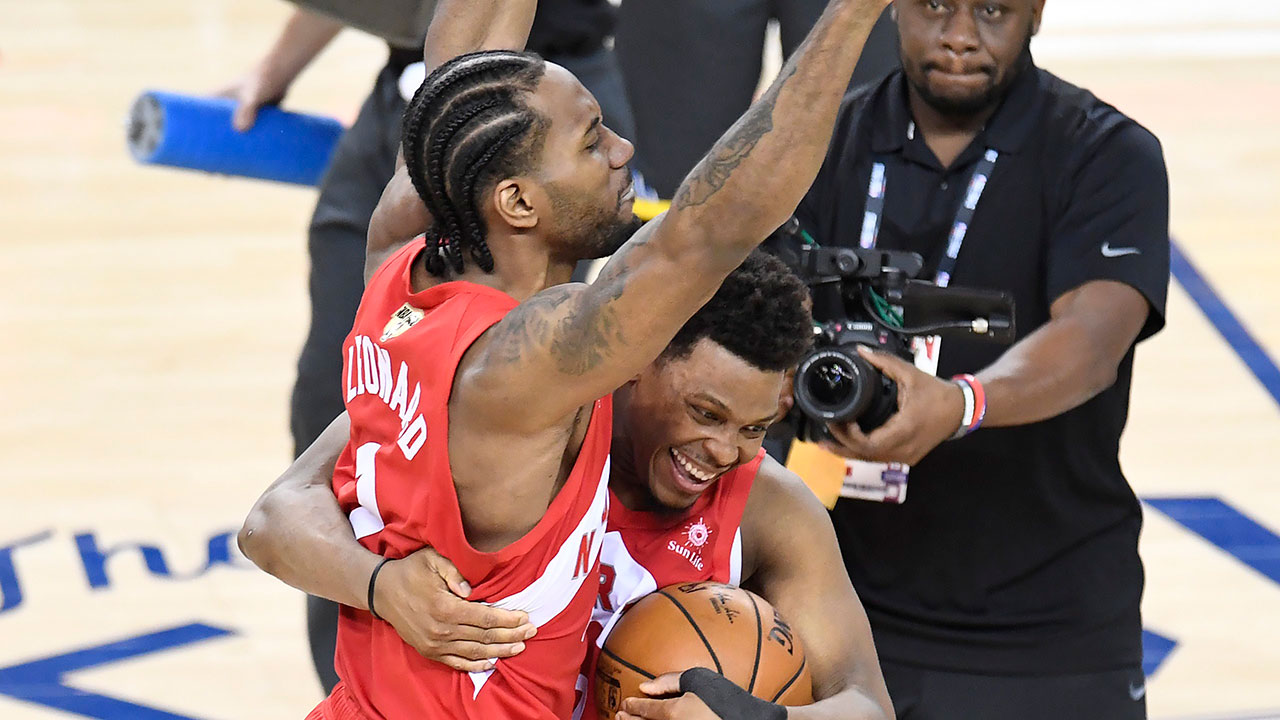 The moment was one of deliverance from a hard-knock childhood that made him wary of others to the giving leader who transformed a franchise by transforming himself. In a frank and deeply reflective Players Tribune piece from February 2016, Lowry detailed how he refused to listen to head coach Kevin McHale when they were together with the Houston Rockets, and how years later during a free-agent visit, he apologized for that. He talked about the trust issues that were a byproduct of how he grew up.
"I was still living by the rules of the neighborhood, and that doesn't work once you're in the NBA," he wrote. "To be a great player, I had to grow up and be more mature. Understand not everyone was out to get me, and just listen to my coach and teammates and my organization. I had to learn to be the face of a franchise. To be a leader. To be that guy."
Leonard revealed that shortly after his trade to the Raptors, he sent Lowry a text that read, "'Let's go out and do something special. I know your best friend left, I know you're mad, but let's make this thing work out.' And we are here today."
Said Lowry: "It was a quick text and just showed the type of person he is. Willing to reach out, understanding that this situation was a little bit sensitive. But he knew that he felt something could be done special with our group."
Leonard may have been that guy in this season, in these playoffs. But for a long star-crossed franchise savouring a championship moment 24 seasons in the making, Lowry was every bit that guy, too.