TORONTO – Stephen Curry started directing traffic with about 23 seconds left on the shot clock just inside the timeline, his feet tucked neatly underneath the red "Scotiabank Arena" lettering on the floor.
When he finally saw what he liked about five seconds later, he took one quick dribble and delivered a one-handed pass to Draymond Green, who was coming up from the top of the key, and immediately made his move.
Darting toward the paint with Fred VanVleet in tow, Curry lulled his defender by moving a little slower as he navigated his way through the key and then, after emerging out the other side, put on the jets knowing his teammate, DeMarcus Cousins, would screen and ward off VanVleet just enough to give him room to receive a pass from Andre Iguodala, who received a dribble hand-off from Green, right at the left wing about 23 feet out from the basket.
Splash! Curry hit the triple to tie the game up at 103-103 with 1:22 left to play, sparking the Golden State Warriors to a gutsy 106-105 victory over the Toronto Raptors in a do-or-die Game 5 on Monday night.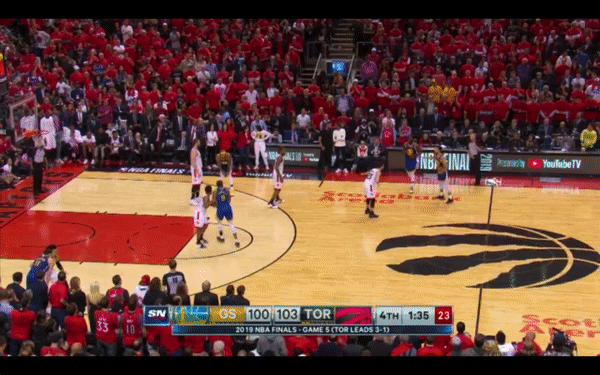 It's fitting it was Curry who would be the man to hit that shot, in that moment. Though he didn't have a night like he did in his 47-point Game 3 masterpiece, Curry's game-high 31-point, seven-assist Game 5 should go down as one of his finest moments during his illustrious playoff career.
Kevin Durant's return and subsequent terrible Achilles injury is the biggest storyline around the Warriors at the moment, it's because of Curry that Golden State managed to even reflect on Durant's situation. If not for its two-time MVP, all anyone would be talking about is Toronto's championship celebration.
If there is a podcasting odd couple, this might be it. Donnovan Bennett and JD Bunkis don't agree on much, but you'll agree this is the best Toronto Raptors podcast going.
Game 5 was a Chef Curry special, and he managed to accomplish it by mostly victimizing his counterparts at guard on the Raptors.
Doing the majority of his cooking in the first half, when he scored 23 points on 7-of-11 shooting, including a wicked 14-point first quarter, Curry abused any matchup the Raptors threw at him. In particular, Curry finally got some sweet revenge against thorn-in-his-side VanVleet.
Coming into Monday's affair, no Raptors player has been as effective defending Curry as VanVleet, who held the Warriors superstar to 8-of-26 shooting from the field and 3-for-14 from outside the arc in 132 possessions.
Curry must've been tired of hearing how well this undrafted backup point has been checking him, because in Game 5 he torched VanVleet for 11 points on 26 possessions when they were matched up, including that game-defining three described earlier.
"He's gonna get his points. I've said that the entire time and it's just about trying to make it tough on him," said VanVleet of Curry's Game 5. "He had a great game tonight and we've gotta look at it and see how we can try to limit him a little bit more in Game 6."
Stream all Sportsnet games of the NBA Finals as the Toronto Raptors take on the Golden State Warriors for the Larry O'Brien Trophy. Plus, get the Stanley Cup Final, MLB, IndyCar and more.
A big part of that, VanVleet notes, will be preventing Curry from getting free-throw opportunities.
"I fouled him way too much, and I fouled him a couple times on stupid plays."
VanVleet only picked up three fouls the entire game, but they all came in the first half while he was trying to keep up with Curry, with most leading to him committing the cardinal sin of fouling on a three-point attempt.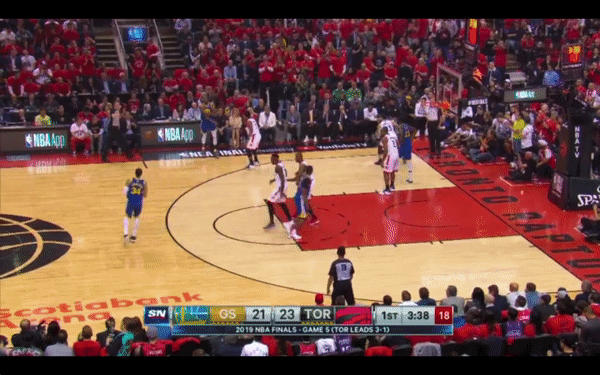 Keeping Curry off the line is but one adjustment the Raptors will need to make against Curry in time for Thursday. The bigger one would probably be limiting his number of three-point attempts.
Curry hoisted up 14 three-pointers in Game 5 – and Klay Thompson 13. Only five made their mark, but the fact remains that when Curry is able to take that many looks from outside, it usually means he's in for a good night.
"I think the fact that Steph and Klay were able to get off 14 and 13 threes is too many," said Raptors point guard Kyle Lowry, who only saw Curry on seven possessions, but still got baked for six points in them.
"They got off way too many threes. For guys like them, you give them that many threes, they're going to make some."
Of those 14 attempts from deep, 10 of them came with VanVleet and Danny Green trying to defend Curry.
Green actually saw Curry the most, checking him on 27 possessions and getting lit up for 12 points. Like VanVleet, Green simply couldn't keep up with Curry's screen usage – which includes using Raptors players – on and off the ball and was victimized as a result.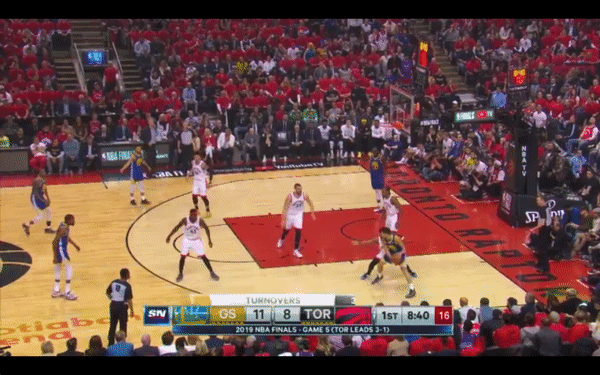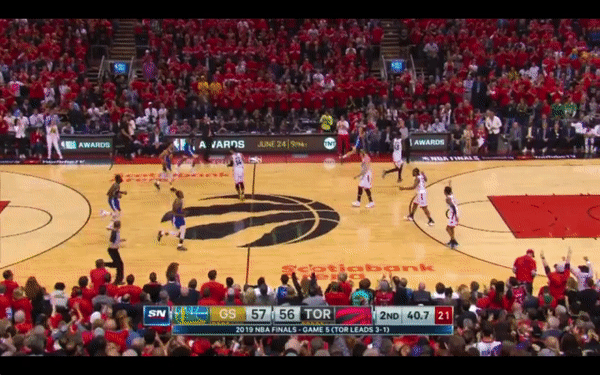 And even more concerning than Curry's scoring is that neither Green nor VanVleet could do much to limit Curry's playmaking, particularly in the second half when he dropped four of his seven dimes after he realized his hot first half wasn't carrying over.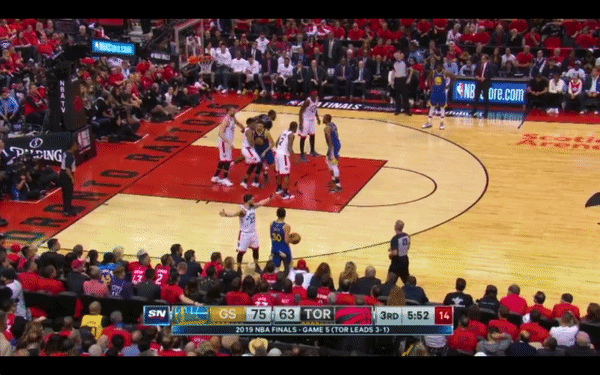 In short, Curry just flat out demolished the Raptors guards and in the process not only rescued the Warriors' season, but appeared to carry on the heroic essence of Durant's lay-everything-on-the-line effort.
"Sometimes the spirit tells you what to do," said Curry of walking with Durant into the tunnel after the two-time Finals MVP's horrific injury. "You don't really make decisions, you just act on
it."
Curry acted with compassion with his ailing teammate and then as a cold-blooded assassin when he re-emerged against the Raptors.