A year from now the NBA will be bringing its party north to Toronto. It will be the first time all-star weekend will be held outside the U.S. and thanks to the frigid weather in New York this year, there is little chance that anyone will be able to complain about the climate.
But this weekend already has a distinctly Canadian flavour, Arctic air masses aside. Andrew Wiggins earned the MVP of the Rising Stars Challenge on Friday night, leading the World team to a win over Team USA and promptly declared that the trophy was for the fans back home. He also said that the next time he plays Team USA it will be while playing for Canada, at the Olympics.
With or without the MVP award, Wiggins, the No.1 overall pick in the 2014 draft, has gotten his share of attention this season, even if he's not in the all-star game Sunday night and chose to sit out the dunk contest.
---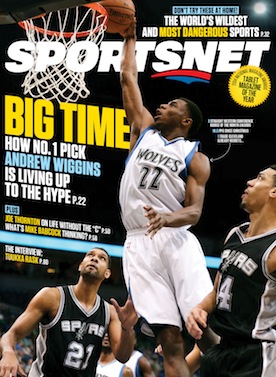 ATTENTION Rogers and Shaw customers.
Already enjoying Sportsnet ONE? Now get access to digital editions of Sportsnet magazine at no extra cost.
---
"He's getting better every game. He's going to be a star," said Golden State Warriors head coach Steve Kerr, who will coach the Western Conference all-stars. "I really like his demeanour and obviously his talent and size. He's come a long way since the first month of the season [and] I like how composed he always seems. He's very athletic but he's always under control. It seems like he's absorbing everything."
And of course there's the Toronto Raptors' Kyle Lowry, who finished with 10 points, eight assists and threw down a rare slam dunk in his all-star debut – voted in by the fans as a starter, thanks to a significant push from all of Canada, a fanbase that provides the Raptors one of the NBA's largest markets.
"You're not just playing for one city in Toronto," said Lowry, who was knocked out of the Skills Challenge in the second round on Saturday. "You're playing for Vancouver, Montreal, Edmonton. You're playing for the whole country."
There is even a distinctly Canadian angle to the NBA's MVP race, where Steph Curry – who led the all-star voting — leads on most ballots to this stage of the season as the likely winner of the league's most prestigious individual award.
Dell Curry, the former Raptor, says his son's time in Toronto contributed to the path he's on now where he's the lynchpin of perhaps the best team in the NBA and on pace to be the best 3-point shooter the NBA has ever seen.
It was while in Toronto that the elder Curry remade his son's shot, getting him to move his release point higher, and even the experience in living in another city after a 10-year stint in Charlotte may have helped nudge his oldest son along in his basketball career.
"He [Steph] loves Toronto," said Dell. "His wife is from Toronto. It was great. He was old enough to realize that this is what he wanted to do. Going to school, the weather toughened him up a little bit. I still remember the first day of school he came home and said 'man, we go outside, regardless of the weather.'"
On Saturday night Curry was at the heart of what may have been the most anticipated element of the entire all-star weekend, the 3-point contest, which has surpassed the dunk contest in prestige and featured all-stars James Harden, Klay Thompson, Kyle Korver and Kyrie Irving as well as Curry.
He predicted victory – "a shooter's always confident," he said – and was right, edging out Thompson and Irving in the final with a score of 27.
"When you look at the field there's eight guys in it and five of them are all-stars," said Los Angeles Clippers sharp-shooter J.J. Reddick. "I think if the dunk contest had two or three all-stars in it, that event would have as much hype, [but] some of our greatest players are in the 3-point contest, so there should be a certain amount of hype about it. I really do believe that Kyle , Klay and Steph will go down as three of the greatest shooters in NBA history and to have them all in the same contest [was] awesome. "
And fitting. The first 3-point contest was held in 1986 when defending two-time MVP Larry Bird walked into the dressing room and casually asked who was playing for second. But back then 3-point shooting was a minor aspect of the NBA game. The average team took just 3.3 triples a game. Last season the average was 21.5 and finding ways to create open 3-point attempts and defend the 3-point line is integral to every team's game plan.
Curry stands out in the modern game because he can defy any defence, taking and making threes at rates that Larry Legend could only dream about. Curry is on pace to lead the NBA in 3-pointers made for the third straight year and no player with at least 1,000 career triples has ever made them more consistently that Curry's 43.3 career mark.
"One of the things that makes him such a great shooter is his ball handling and the way he's able to create space and separation using his handle," says Reddick. "There's not a lot of guys who can do that. It really makes him unique."
Not entirely. Who does Dell Curry say his son reminds him of?
How about two-time MVP Steve Nash, for that precise reason: a point guard who is equally as skilled shooting as creating off the dribble.
If Nash is the acknowledged forefather of the Canadian basketball explosion, the Golden State Warriors star played his own small part. During Dell's last season in Toronto as a reliable veteran floor stretcher on teams driven by the star power of Vince Carter he bought his family to live with him. Steph Curry played his Grade 8 season for a small Christian private school in the west end and his club ball there too.
From that vantage point the 13-year-old Curry could see the Canadian basketball wave coming.
"I played for a team called Toronto 5-0 and we travelled around Ontario," Curry said. "… It was definitely great competition. They're obviously on the right track with top draft picks and big-time talent on the D1 scene as well. It wasn't a cakewalk when I played up there, there was a lot of competition and it's cool to see Canada represented in the league all over the place."
While Kevin Durant often gets credit for being a Raptors fan, and LeBron James always makes time to come to the city in the off-season, among the league's superstars Curry's Raptors roots run deepest.
"I remember running around the Air Canada Centre and eating Maynards candy and Pizza Pizza and all that stuff and enjoying how much they rallied around that team with Vince and Tracy McGrady and all of that stuff," he said. "It was a lot of fun."
"It's special being in the league now and going back there to play and enjoying the atmosphere."
Presuming Curry is an all-star next year he'll get a chance to run around the ACC again in circumstances even he probably could never have imagined back then; possibly sharing the stage with Raptors stars Kyle Lowry and DeMar DeRozan in a city that will almost certainly be gaga to have the league's combination of celebrity, athleticism and sizzle wash over it for a winter weekend.
For Curry it will be a trip home.