SAN ANTONIO — He was the other guy. The throw-in. The contract needed to balance the books in an off-season trade that rocked the NBA and altered the trajectories of two franchises, two conferences and maybe a league.
But what a guy. What a throw-in. What value Danny Green has provided to the Toronto Raptors in the 'Season of Kawhi.'
The Raptors' visit to San Antonio Thursday has been circled on the calendar for months. It promises to be among the most electrifying moments anywhere in the NBA this season, with the kinds of sub-plots a wrestling show would strive for.
It is the first game Kawhi Leonard will play at the AT&T Center in anything other than a San Antonio Spurs uniform. It follows a season of mystery, intrigue and potentially hard feelings after Leonard removed himself from the team as he sought his own counsel for a troublesome thigh injury that limited him to nine games. The Spurs' image as the NBA's model franchise, the one where family drama never becomes public, took a blow. Leonard and the Spurs split and the Raptors thought the prize was rich enough that they in turn parted with DeMar DeRozan, a franchise icon who was headed for statue status outside Scotiabank Arena.
But more pieces needed to be included to make the salaries match up.
As the leagues' tectonic plates shifted, Green — Leonard's teammate for seven seasons with the Spurs — was relaxing in the off-season after what had been a trying year for him too in San Antonio.
His phone rang.
"I was with my family, my girlfriend was with me, it was like eight in the morning when I got the news," he said in a recent interview. "…I had a couple of missed calls from Pop (Spurs president and head coach Gregg Popovich) and my agent so at that point I knew something was up."
What was up was he was out.
It ended a fantastic run with the Spurs where he went from being waived in his first go-round with the team in 2010-11 to a starting spot a year later.
He set a record for three-pointers made in an NBA Finals in 2013 when the Spurs lost to the Miami Heat, was part of their last championship in 2014, and earned an all-NBA defender nod in 2016-17.
No wonder Popovich's famously grumpy public façade crumbled when the time came to deliver the news to one of his favourite players.
"It was a sad day for him. It wasn't just me but [Leonard]," Green said. "I don't think he wanted to let either of us go, we were family and we'd been there so many years."
Toronto Raptors vs. San Antonio Spurs
Toronto Raptors star Kawhi Leonard returns to San Antonio to take on DeMar DeRozan's Spurs Thursday. Watch the game on Sportsnet Ontario and Sportsnet One with coverage starting at 7:30 p.m. ET.
Green has no trepidations about coming back to San Antonio as an opponent. He's eager for a chance to check in on his house, which he hasn't figured out what to do with yet, and he's looking forward to seeing all manner of familiar faces.
He doesn't expect a special tribute — "I doubt it… I think they do it for retirement times, guys who have their jerseys retired. Maybe when I'm done and I comeback or something" — but it's guaranteed he'll be greeted warmly by a crowd that watched him grow up.
Leonard? Well, consensus is he'll get booed, although one might think the championship he brought to the city in 2014 as the Finals MVP might help smooth things over.
But Green isn't emotional or bitter, and he doesn't feel like collateral damage in the split between his superstar teammate and the Spurs. He knew the Raptors were good, he knew the city was a good place to visit from the handful of stops in his NBA career. He'd also spent time working at Olympia Sports Camps in the Muskoka region north of the city, so there was a little more familiarity.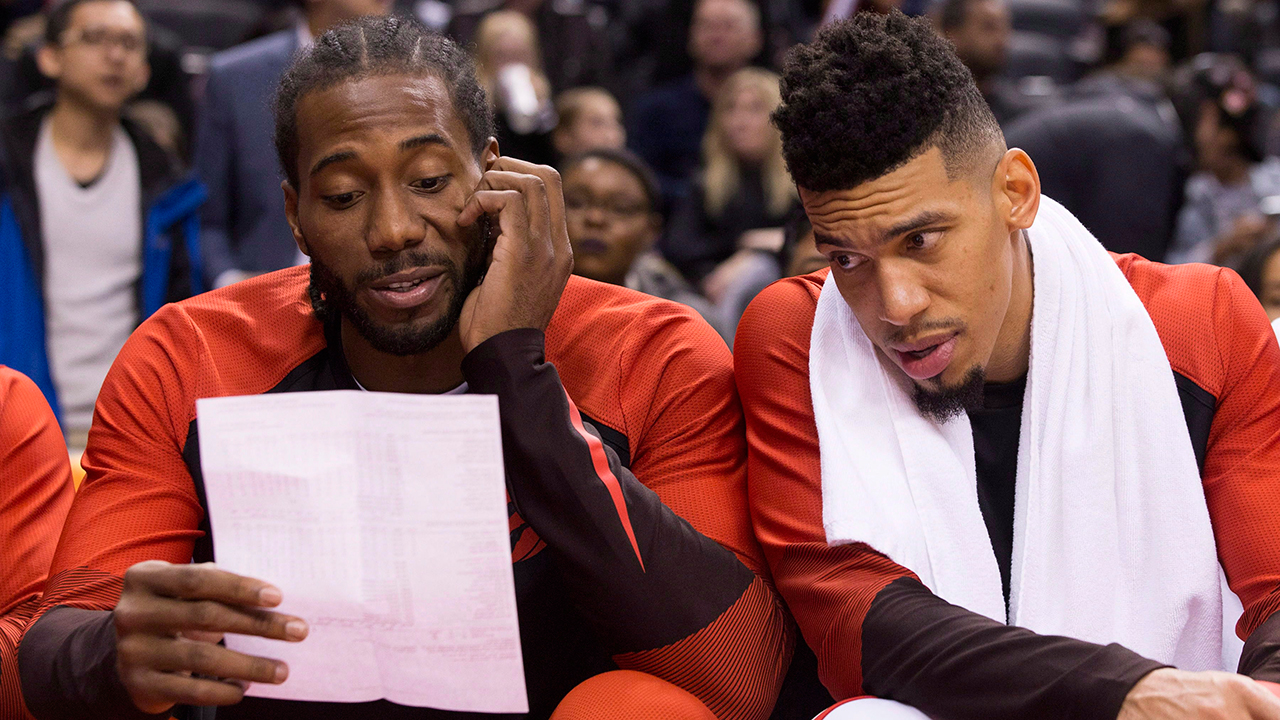 But mostly he was a veteran who had seen others in the orbit around the Spurs' superstar mainstays get shuffled around to keep the enterprise pushing forward. Everyone has their time.
"You know how this league is," he said. "…I saw how it was going; things were changing. Nobody's really safe."
In an instant, he was looking ahead.
"I'm a positive person. I look at things in a positive light, that's human nature, or my nature anyway," he said. "I already knew how (the Raptors) played… the more I watched and the more I studied I thought: 'You know what? This could be a really good fit.'
"And the fact I was going with (Leonard) helped even more."
While Green and Leonard came as a package, there is no guarantee they remain one after this season. Both former Spurs are heading into free agency this summer and while Green is open to anything, last summer proved anything can happen.
"Obviously we don't know what's going to happen after this year," he said. "I would love to still be here (with the Raptors), obviously, but we don't know. We don't know where [Leonard's] going to be, we don't know a lot of things (that) are going to happen.
"In terms of decision making, (Leonard's future) affects everybody."
All the more reason to appreciate Green in the present as he flourishes in a Raptors uniform.
As San Antonio transitioned from an offence predicated on ball movement and cutting to a more post-driven, isolation heavy attack, Green's three-point shooting percentage dipped to an average of 35.7 per cent over his last three years with the Spurs — still respectable but a drop from the 42.3 per cent he averaged in the four seasons prior which included his two NBA Finals appearances. Over those years Green was beyond elite as he trailed only Steph Curry and Kyle Korver for accuracy among shooters with at least 1,000 attempts.
But in the Raptors' up-tempo offence with the ball flying inside and out, Green is at his best again. He's shooting 41.2 per cent from deep — fourth in the league for shooters with at least 200 attempts — and according to basketball-reference.com is a part of all eight of the Raptors' most successful five-man lineup configurations; six of their seven best four-man configurations; six of their best three-man combinations and four of their top five two-man groups.
He's proving that the nagging health issues that troubled him last year — he battled with what he thought was a groin strain but was revealed to be a sports hernia after the season — were not chronic by any stretch or a sign of a 31-year-old slowing down.
"Last season we asked him to do a lot on the floor," Leonard said of his former Spurs, now Raptors, teammate. "Now he's able to get the shots he works on. He's confident. He was banged up last year; he was injured. That always plays a role, when you're coming to games hurt."
If there is a podcasting odd couple, this might be it. Donnovan Bennett and JD Bunkis don't agree on much, but you'll agree this is the best Toronto Raptors podcast going.
Leonard considers Green one his closest teammates from San Antonio. As uncertainty about Leonard's health and availability dragged on throughout last season a rift seemed to develop between some of the veteran Spurs — including Manu Ginobili and Tony Parker — and Leonard. Green was able to walk to the line and support Leonard even as others were questioning his commitment.
Leonard and Green have lockers on the same side of the Raptors' dressing room, separated only by Fred VanVleet. As the two were getting used to a new system and language offensively and defensively, Leonard would often look instinctively to Green in the early going — confident they would be on the same page.
"It's been good to have someone here that has been in the same battles as you and just having that playoff experience and having a winning background," Leonard said. "He's been great. Keeping focused in those games where we're down or up 10, he understands what we need to do and what type of mindset we need to have to get the win."
While Leonard's feelings about returning to San Antonio may be mixed and the reception waiting for him is uncertain — he's expected to speak to the media Thursday morning in San Antonio — Green is returning with no hard feelings and only good memories.
"It was the organization that groomed me," he said. "It's kind of where I grew up in this league, became professional and learned how to be one… spending so many years with Timmy, Tony, Manu and Pop, of course, I learned how to win, how to be successful and played in some very fun games, battles, big stages, so it was a blessing all around. It was a great part of my career, great stage and it helped me get to where I am today and hopefully I can carry that on to wherever it is I'm at."
Which is the multi-million-dollar question facing the Raptors and Green as he works toward finishing a four-year, $40-million deal on a high note. As Green returns home with a new team, he's realistic: his post-Spurs journey may be only beginning and he's not calling all the shots.
"If [Leonard] stays they might want to bring everybody back, if he leaves they might want to change, who knows?" Green said. "We're both grown, we can make our own decisions for our own families. We might sit down and talk about it to see what page he's on and how he feels about something and how I feel, but at this point we're not thinking about that or talking about it. We're trying to play good basketball… and get everybody healthy and winning games.
"Hopefully at the end of the year we can celebrate somethings, outside of free agency."