When Masai Ujiri inked Norman Powell to that four-year, $42-million contract extension last October he was mostly praised for locking up a young wing player who fills a large need for the team.
And then he played the season and looked nothing close to the player the Raptors were committing long-term to with a three-point stroke that seemed to have abandoned him and a confidence that appeared to plummet further with each minute of floor time Dwane Casey reduced.
At 25-years-old, the jury's still out on Powell, but given where the team's at competitively at the moment, you can't blame the Raptors for losing patience on him, which is why the inclusion of Danny Green within the Kawhi Leonard blockbuster could be so huge for the club.
For all the boxes Leonard checks off for what the Raptors have been missing from a star player standpoint, Green does the same from a role player perspective and can immediately pick up the slack that Powell wasn't able to last season.
Cliché as it may be, 3-and-D is as important as it ever has been and Green has forged an exceptional NBA career because of it.
Here's a closer look at how Green will help improve the Raptors next season and why he could end up being every bit as important as Leonard already is.
If there is a podcasting odd couple, this might be it. Donnovan Bennett and JD Bunkis don't agree on much, but you'll agree this is the best Toronto Raptors podcast going.
He will instantly help with the Raptors' spacing issues
Last season the Raptors took serious steps towards modernizing their offence, dramatically increasing the amount of threes they took over the previous season and finishing fourth in the league in made triples.
Increasing the volume was but the first step, however, now the club must find a way to increase its three-point efficiency.
The Raptors only shot 35.8 per cent from three-point range last season (18th overall), and that's mainly because of the personnel on the roster, with Kyle Lowry, C.J. Miles, Serge Ibaka, DeMar DeRozan and Fred VanVleet taking the most attempts last season.
Lowry, Miles and VanVleet can be fearsome three-point shooters, but between those three only Miles fits the classic mold of a specialist, and it's here where you can see the value of Green's three-point ability.
A career 39.5 per cent shooter from deep, Green is an absolute sniper from the corners shooting 42.6 per cent combined from the most efficient spots on the floor. And when you combine that with Miles' 43.1 per cent mark from the corner spots you have a tandem that opposing defences simply can't leave unchecked in the corners.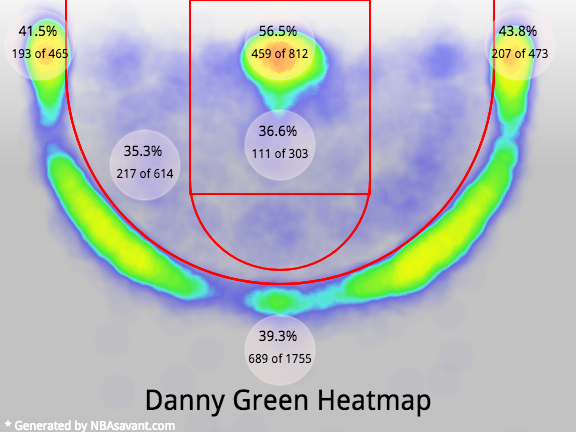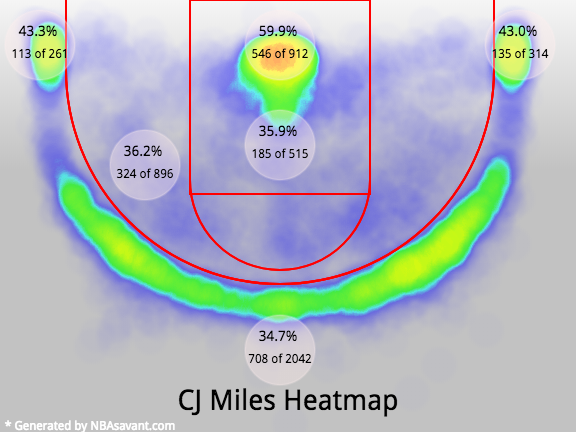 This means a lot more space for the likes of a Lowry to operate and run pick-and-roll out of, more room for Jonas Valanciunas post-ups and more cutting lanes for OG Anunoby and Pascal Siakam to filter into.
It's true that Green hasn't shot the three over the last three seasons as he did from 2011-15, but, as he revealed in his podcast Tuesday, he played through most of last season with a groin injury, which could at least reasonably explain that dip.
And even if Green shoots only as well as he did last season, that 36.3 per cent was only eclipsed by Lowry's 39.9 and VanVleet's 41.1 marks for Raptors players who attempted more than 200 threes last season anyway.
He's a natural fit within the team's offence
This may seem obvious given the kind of three-point shooter he has proven himself to be over the span of his career, but Green should fit in perfectly into the kind of offence the Raptors want to run, and it's because of the kind of shots he likes taking.
A big part of the new-look attack the Raptors introduced last season wasn't just threes, but quick ones in catch-and-shoot situations set up by ball or man movement within the flow of the team's offensive sets.
New Raptors coach Nick Nurse is the man who has largely been credited for the Raptors' revamped offence while serving as an assistant under Casey and should be looking to expand on this concept of a pass-and-shot heavy assault, something that plays very well with Green's game.
Looking at last season, the Raptors attempted 2,377 shots that NBA.com defines as "catch-and-shoot," good for third most in the league. With data only available as far back as the 2013-14 campaign, Green has attempted 1,564 such shots himself and 1,453 of them from three-point range, alone.
In that span, since 2013-14, 57.4 per cent of Green's shots have come in catch-and-shoot sitiuations. So, taking into consideration how favoured catch-and-shoots were within Toronto's offence last season, Green should have no problems getting his game to mesh with his new team.
He's an exceptional wing defender
Outside of the offensive contributions Green can bring to the table, similarly to Leonard, defence may be his greatest asset.
An All-Defensive Second Team player in 2017, Green is among the NBA's best wing defenders, capable of keeping the game's best ball-handlers in front of him and making hard closeouts and shot-contests without fouling.
If there was going to be any way for Powell to win back his starting two-guard spot again it was going to be because of his defensive chops but that likely isn't happening anymore because of how similar the pair are as defenders, as evidenced by their defended field goal stats last season.
| Danny Green | | Norman Powell |
| --- | --- | --- |
| 768 | DFGA | 271 |
| 45.4 | DFG% | 45.0 |
| 253 | D3FGA | 105 |
| 34.0 | D3FG% | 38.1 |
Because of Green's offensive contributions he should be the starter over Powell, but that isn't to say there won't be room for the UCLA product. Similarly with Miles and shooting, a defensive combo with Powell at shooting guard and Green at small forward when Leonard and Anunoby are both off the floor (or even one of them at power forward) could be very intriguing and has the potential to stymie teams when they decide to go small.
This is all enabled, however, because Green is a strong defender, and is a player whom Nurse should have confidence matching up against ones, twos and threes.
A simple throw-in piece to make the salaries work in a trade, he definitely is not.