SAN FRANCISCO – Delon Wright's path to the NBA and a vital role on an NBA team has been a winding one. It just so happens that the Toronto Raptors' monster six-game, early season Western Conference road swing takes him on a journey through time to all the important stops.
There's Los Angeles, where he grew up the younger brother of 11-year NBA veteran Dorell Wright, and where he very nearly saw his NBA dreams scuttled before they ever got off the ground. The Raptors will be there on Friday.
There's Salt Lake City – just down the road from where Wright established himself as the best point guard in college basketball at Utah before the Raptors drafted him 20th in 2015. The Raptors will finish off their trip against the Utah Jazz on Nov. 3 – like we said, monster trip.
But in between the Raptors are spending some time in San Francisco.
And there may be no more vital spot on Wright's path to becoming an NBA player and an increasingly vital member of the Toronto Raptors rotation than the two years he spent here at the City College of San Francisco, where – as coincidence would have it – Wright and the Raptors were practicing Tuesday in advance of their game Wednesday across the bay against the Golden State Warriors.
It will be a tough test. The defending NBA champions always are and the Raptors will be without Jonas Valanciunas (ankle) and potentially Lucas Nogueira (ankle) although they are optimistic DeMar DeRozan (thigh bruise) will be able to play even though he didn't practice on Tuesday.
Reason for optimism is the play of Wright and the bench unity. Wright has been valuable to the Raptors that he even got them a spot to practice.
Normally the Raptors practice at the Olympic Club downtown when they are in the Bay Area to play Golden State, but it wasn't available. As CCSF's only NBA alum Wright had some pull and got them a place to train.
He owes the school much more than that.
"This is where I was able to redefine my basketball career and my student athlete career," Wright said while holding forth at Brad Dugan court, where he was twice named conference player of the year and where Brad Dugan himself – then a revered retired former head coach at CCSF – would meet him every morning at 7 a.m. for individual workouts.
It was that kind of one-on-one attention that Wright needed. When he was younger he had a knack for slipping through cracks at school as easily as he slips through defences now. His high school grades were so poor as a freshman and sophomore that it put his college eligibility in jeopardy. He tried to recover at a prep school in Philadelphia with a dubious reputation and that didn't work.
His dreams of playing Division 1 and beyond were teetering.
Livestream the Raptors and other marquee NBA Playoffs matchups, including Games 2, 3 and 6 of the Raptors-Cavaliers series. Plus, get coverage of the NBA Finals, NBA Draft & NBA Awards.
"Pretty much in high school, my grades, I just let them slip," he says. "Just being lazy. School wasn't really a big focus of mine at the time. My parents were on me all the time and I took a lot of summer classes, but it was just too much for me to make up at one time so I had to come to the junior college route."
By that time his brother was playing for the Warriors and was lamenting his younger brother's situation with either his driver or his barber – Delon says it was Dorell's driver. CCSF head coach Justin Labagh says it was a local barber who did private work for Warriors players – who in turn told him that he should get Delon enrolled at CCSF.
It was an easy sell.
"They had just won the state championship and they had a point guard who had just gone to UCLA the year I was looking for a school so that was a big factor in why I decided to come here," Wright says. "I thought it was a place where I could get to the next level."
He did in a big way, going on to earn the Bob Cousy Award at Utah as a senior and leading the unheralded Utes to the Sweet 16 before the Raptors drafted him two summers ago. And he got his degree at Utah as well.
But it all started in San Francisco.
If there is a podcasting odd couple, this might be it. Donnovan Bennett and JD Bunkis don't agree on much, but you'll agree this is the best Toronto Raptors podcast going.
By the time he arrived at CCSF, he had all the prodding he needed to turn things around every time he flipped on the television to watch some college basketball
"It was embarrassing," he said of how he'd let himself fall behind. "It's crazy, I didn't graduate from high school but I have a college degree. That's a testament to [CCSF] helping me and me figuring out that I have to get the school work done. I was looking at guys from my grade who were playing at college and on TV and I was stuck in junior college, so that was also added motivation to make it to the next level."
He found a partner in CCSF head coach Justin Labagh, who was happy to help provide the structure Wright needed.
"Let's face it, 70 per cent of the kids who end up playing at junior college are here because they weren't held accountable elsewhere," says Labagh, who took in the Raptors practice Tuesday. "So our job is to change that."
A small example? Wright had worn No. 1 throughout high school and wanted to wear it at CCSF. Small problem: CCSF didn't believe in having anyone wear No. 1.
"That was the number he asked for and I went into this thing: 'that's an AAU thing. You don't want No. 1. You don't want to be on a team with a guy who wants No. 1 or needs it," says Labagh. "You shouldn't care. So that's when we gave him 55. It's kind of cool that he's still wearing that number."
That his former player is now thriving in the NBA is no surprise to Labagh.
"When Delon came in he wasn't a typical NBA prospect because he wasn't a scorer," he says. "But you could tell he was the kid with the older brother who played in the NBA who would get to play with his buddies in the summer and his job was to get the good players the ball, get rebounds, steals – it wasn't to score. It was: 'don't screw up.' That was his game walking in the door.
"His stats were crazy except for points. He scored more when he was at Utah, but here he would have deflections up the wazoo. He would stop guys dribbling by just faking at them. He did all the little things so well that you knew someone would see value in it."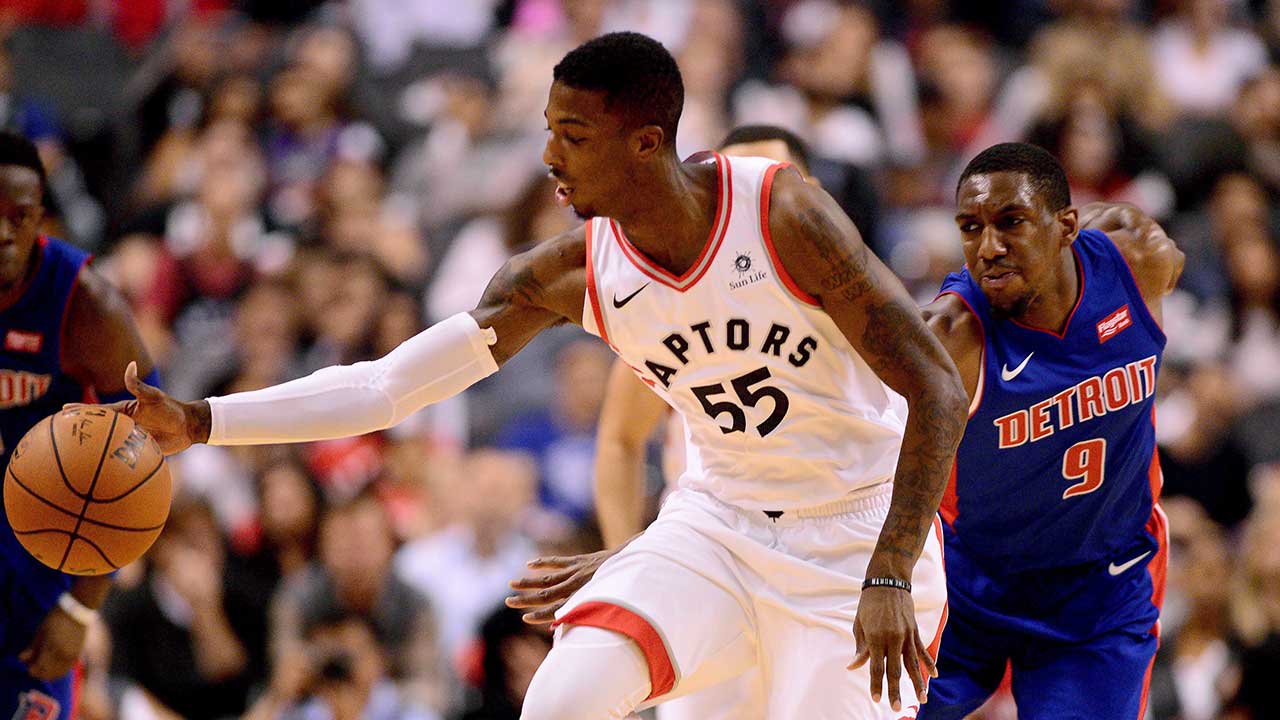 So far this season Wright his shown exactly the attributes that gave the Raptors the confidence to trade former reserve point guard Cory Joseph to the Indiana Pacers, and in so doing, create the cap space the team needed to sign C.J. Miles. Wright can push the pace with the ball, using his seemingly elasticized body to stretch and twist and create passing angles no one else can see. Defensively, his quickness, smarts and hands – he's been known as 'Sticky' in Los Angeles pick-up circles since he was a ball-thieving 12-year-old – make him a threat to turn any opponent's careless moment into a Raptors fastbreak.
It's only been three games, but Wright's per 36-minute averages – 14 points/4.5 assists/4.5 rebounds, a steal and a block — compare favourably to the departed Joseph's, while his +22 net rating is the best among the Raptors rotation regulars. The Raptors bench that he commands is fifth in the NBA in scoring and second in efficiency, according to hoopstats.com.
"I'm getting more comfortable each game," says Wright. "Just having the coach allow me to stay out there with the first team sometimes, that gives me confidence. I'm getting more comfortable with the offence and being a better defensive player."