It was a pure basketball decision that led to DeMar DeRozan being traded last summer, and one that was nearly impossible to argue against. By bringing Kawhi Leonard and Danny Green to the Toronto Raptors, Masai Ujiri and the Raptors' brass made their team instantly better and immediately raised the ceiling for this season.
But in the wake of the biggest move in the franchise's history, you couldn't help but feel for DeRozan, if only because he had so clearly wanted to remain in Toronto and finish what he and Kyle Lowry had started.
But it was impossible to ignore that, all things considering, he had lucked out in a major way by being relocated to San Antonio of all places to play for the Spurs under Gregg Popovich.
It's hard to imagine a better landing spot. The Spurs bring consistency and a proven track record of getting the most out of their players.
Through seven games this season, DeRozan has been no exception.
The 29 year-old is playing the best basketball of his career right now. He's finding that delicate balance between control and aggression, and after an off-season spent wondering how his game will mesh with fellow mid-range specialists like LaMarcus Aldrdige, has proven to be a terrific fit with the Spurs, who currently sit fourth in the West at 5-2 on the season.
Stream all Sportsnet games of the NBA Finals as the Toronto Raptors take on the Golden State Warriors for the Larry O'Brien Trophy. Plus, get the Stanley Cup Final, MLB, IndyCar and more.
Before diving into the on-court specifics of what's working so well for DeRozan, it's worth noting that he entered his 10th NBA season — and first for any team other than the Raptors — extremely motivated. And this is a guy who had already adopted "Prove 'em" as a mantra years ago.
"I definitely was extremely hurt," he told ESPN on Wednesday when asked about the trade. "I'd be lying if I told you I wasn't. I always made it clear that Toronto was where I wanted to retire. You never heard a player say that. No star player. Nobody. My whole objective being there was fighting against the stigma that guys didn't want to play there," he continued. "As it happened to me, when I gave everything I could on the court and off the court, it definitely hurt. It definitely hurt. To feel like, 'Damn, I wasn't nothing? I wasn't this? All right, cool. Now, I'm going to show you.'"
So are we really surprised that he's planting the roots for a career year?
The early results speak for themselves. He's fifth in the NBA in scoring at 28 points per game, which would be a career-high, while shooting over 52 per cent from the floor — also a would-be career-high if he sustains anything close to that mark. He's the league leader in minutes played at 37.3 on a depleted Spurs team that is relying on him as much as any Raptor team did.
He's also fifth in the NBA in assists, and entered the week ranked even higher.
"What's something new that I can find in myself to bring out from my game?" DeRozan said of the types of questions he's being encouraged to ask of himself under Popovich.
One clear answer lies in his playmaking, and during his hot start it's the assists that are most impressive.
If there is a podcasting odd couple, this might be it. Donnovan Bennett and JD Bunkis don't agree on much, but you'll agree this is the best Toronto Raptors podcast going.
DeRozan is currently averaging 7.3 assists per game, and you don't need to watch more than a handful of offensive possessions this season to see that there's a greater emphasis being placed on his ability to set up shots for teammates than ever.
That can partly be explained by the circumstance in San Antonio. Presumptive starting point guard Dejounte Murray, one of the more promising lead guards in the league, tore his ACL in the pre-season. Already thin at the position after the departure of Tony Parker, the Spurs' point guard woes continued when Murray's backup, Derrick White, suffered a heel injury three days later. So the Spurs have a major hole at the position, and it's left more responsibility on DeRozan's plate as a result.
But it was reasonable to expect DeRozan to take on a greater playmaking role this season regardless. "He's turned out to be maybe the best passer on our team, frankly," Popovich observed in the pre-season, so it shouldn't come as a huge surprise that the coach is taking advantage of his new star's expanding abilities.
DeRozan often initiates the offence in San Antonio, either bringing the ball up the floor or receiving it at the top of the three-point line. Most often, the Spurs work to isolate him in one-on-one situations on the perimeter by utilizing the pick and roll, something that worked extremely well in their blowout win over the Phoenix Suns on Wednesday night.
With Aldrdige screening for DeRozan, and the other three Spurs spacing the floor, on Wednesday he was able to dice through the weak Suns defence for easy look after easy look at the rim. He finished with 25 points in 28 minutes on 8-of-12 from the floor, and when the Raptors visit Phoenix on Friday night you can expect Nick Nurse to look to exploit the Suns' poor perimeter defence using Kyle Lowry in a similar fashion.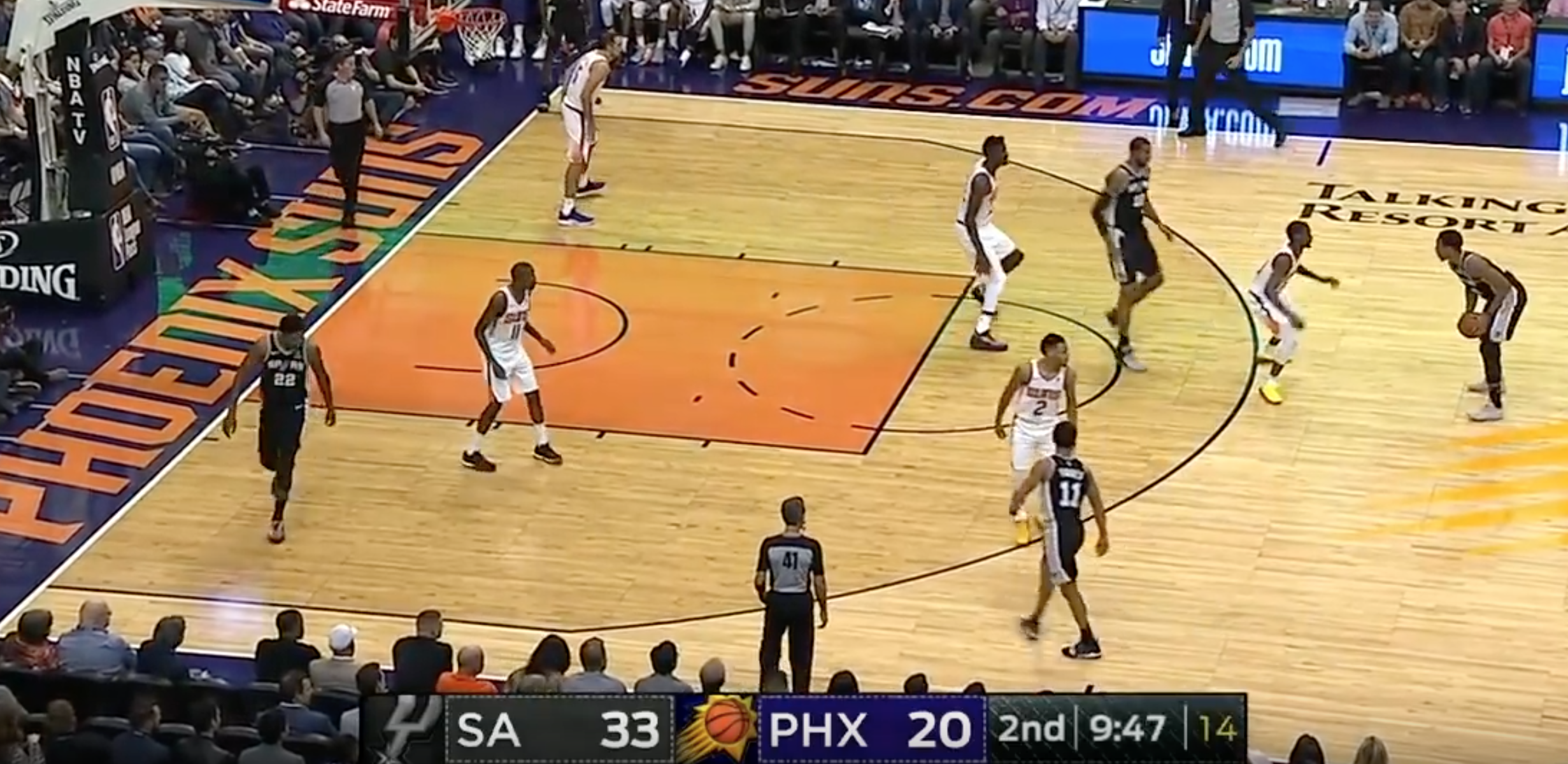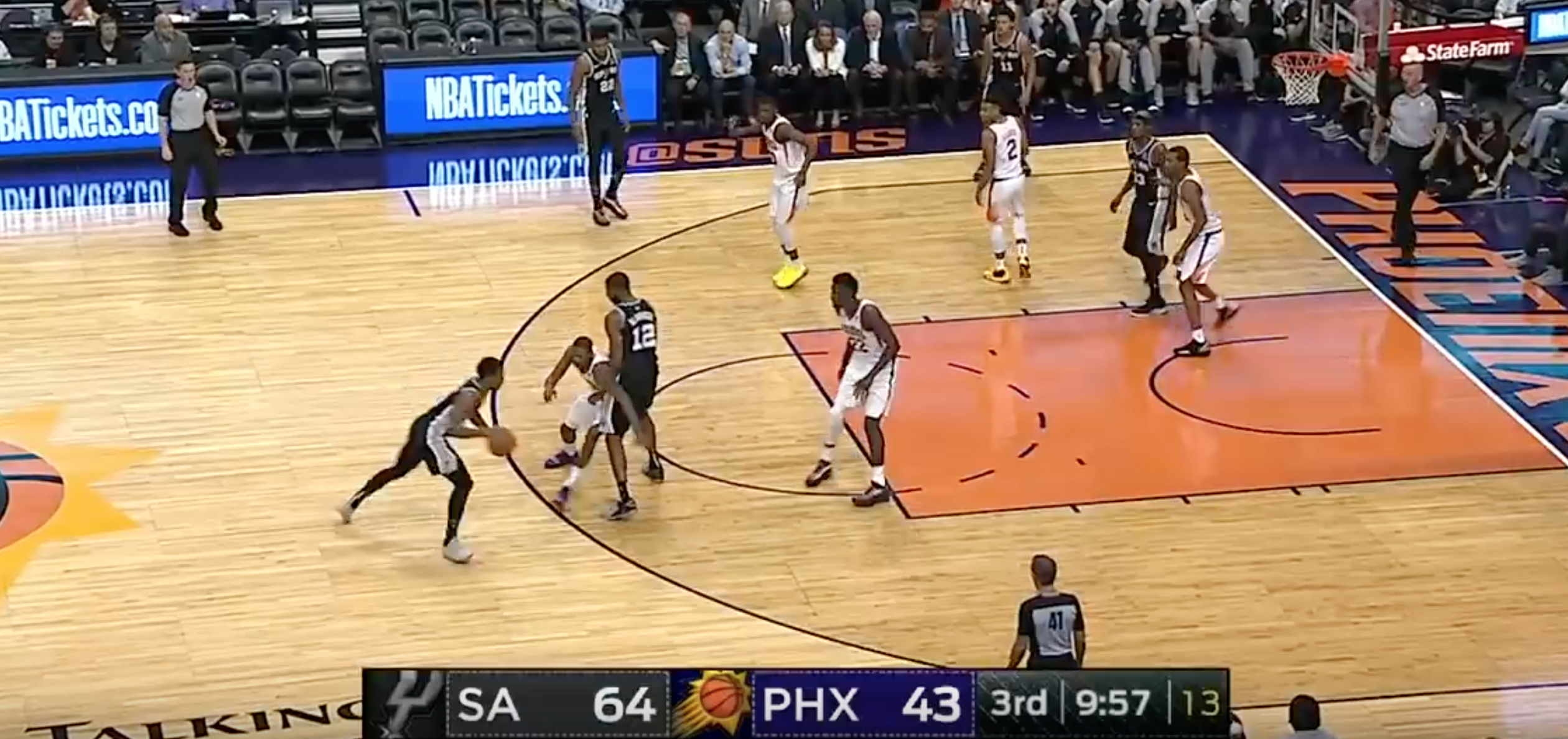 DeRozan had a season-low three assists on Wednesday night, but against better defences that would be able to guard the Spurs' pick-and-roll more effectively — DeRozan seemingly had free reign each time once he used the screen to slip his primary defender — that number would surely be higher.
It's worth noting that this is part of a long-term evolution. DeRozan showed major improvement as a passer during his time in Toronto. In his second NBA season — his first as a full-time starter — he averaged 1.8 assists per game. By last season his average was up to a then-career best 5.2, and the confidence in his passing skills seemed to be rising each night.
No look, no problem! @DeMar_DeRozan's behind the back pass leads to a @sergeibaka slam! pic.twitter.com/vhyBzooT48

— NBA Canada (@NBACanada) December 21, 2017
DeRozan's ability to draw double teams from the high post leads to assist opportunities, and so far in San Antonio he's been taking advantage of that. Most of his passes have come from driving into the lane, drawing multiple defenders, and kicking it out to shooters. The majority of his passes find one of the Spurs point guards, Bryn Forbes or Patty Mills, and Forbes in particular has benefited, knocking down over 46 per cent of his three-point attempts that result from a DeRozan pass.
While his assists have been a revelation, Raptors fans are familiar with another area in which he's been helping his new team: clutch shot-making.
The Spurs are putting the ball in DeRozan's hands when it matters most, and he currently leads the NBA in field goal attempts in the fourth quarter and overtime with 52, narrowly edging LeBron James in the category.
When it comes time to manufacture a clutch basket, DeRozan's tendencies are almost identical to what we saw in Toronto. He's working to create turnaround shots near the high post — still his bread and butter — only his added threat as a playmaker makes it harder for opposing coaches to justify collapsing multiple defenders on him.
The result is one-on-one opportunities that he's been able to take advantage of, like this signature jumper that iced a recent win over James and the Los Angeles Lakers — a game in which he also posted a career-best 14 assists.
.@DeMar_DeRozan put up 30 points, 12 rebounds, 8 assists and this clutch shot to ice the game pic.twitter.com/AukfoRYmAP

— NBA on ESPN (@ESPNNBA) October 28, 2018
That DeRozan is thriving in San Antonio should come as no surprise. He's playing for a coaching staff as equipped to maximize his skills as any, is being encouraged to push the boundaries of his abilities, and is as motivated as ever to prove his doubters wrong. It's a lethal combination, and explains how the Spurs can lose one of the NBA's premier talents in Leonard, and not skip a beat.
Few star players in the league have evolved their game as much year after year more than DeRozan. After a decade of NBA service there are no signs of him slowing down. As DeRozan himself put it: "Every day is getting better."