DeRozan's confidence not wavering
The Toronto Raptors may have coughed up a home game and shifted home-court advantage to the Indiana Pacers with a 1-1 split at home to start the series, but considering the shooting performances of their two All-Stars, that's not all that bad an outcome.
Kyle Lowry responded from a rough Game 1 showing with a tough, gritty performance in Game 2, one is 4-of-13 shooting line didn't do justice. His partner in crime, DeMar DeRozan, wasn't quite as effective shaking off the bad night.
After shooting 5-of-19 in Game 1, DeRozan delivered on his belief that he wouldn't shoot 5-of-19 again, instead shooting 5-of-18. Most notably, DeRozan was held without a free-throw attempt, and the league's third-leading foul-shooter by volume is stuck on six attempts at the charity stripe through two games. To his credit, DeRozan remains eminently confident that the story will soon change, and he's appreciating the challenge at hand.
"I really, honestly haven't tried to put too much into it, wondering why I'm not getting the calls," DeRozan said at practice at the BioSteel Centre on Tuesday. "That's the beauty of the game. Everything's not always gonna go your way. The best part about it is when you can make that adjustment next go-round and understand you still can be effective the same way if you don't get to the free-throw line. So that's all good."
It's a challenge DeRozan's still navigating. Not only has he not gotten to the line, he's shooting 5-of-16 in the restricted area, his jumper hasn't been falling, and he hasn't been able to shift into facilitator mode like he often did during the regular season. At least, not yet.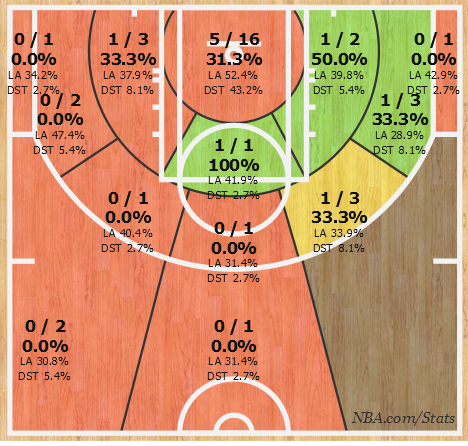 Maybe DeRozan would be signing a different tune if the team were down 0-2 in the series, but they're not. The Raptors managed to answer the call in Game 2 in a serious way, and a victory while DeRozan struggled offensively may serve to actually increase the team's confidence level.
"I feel like it's nothing to be frustrated about. I really do," DeRozan said. "Once I get going, once the shots start falling, and everything getting going, it's going to be a scary sight for whoever we're playing, honestly."
DeRozan's not alone in keeping the faith in himself. Cory Joseph was steadfast in his belief in DeRozan, Jonas Valanciunas' play could tilt the Pacers' strategy in a way that favors Toronto's ball-handlers more, and even Paul George has conceded DeRozan won't shoot this poorly for long. And head coach Dwane Casey thinks the right adjustments – namely, a more decisive trigger on jump-shooting opportunities off of pindowns – are on their way.
"If they're not gonna call it, you've gotta go to Plan B," Casey said. "And I think DeMar is smart enough to do that, and he's trying. He's gotta to do that."
Depth steps up in DeRozan's stead
For the Raptors to win a playoff game with a poor night from their top scorer, several key players had to step up. Joseph turned in yet another strong game, Norman Powell provided a great energy off the bench, and Valanciunas was dominant once again.
The biggest key may have been an early-fourth quarter run from one of the Raptors' best lineups, a Lowry-led reserve unit. Powell slotted in for Terrence Ross, who was sidelined for precautionary reasons after bumping heads with DeRozan, and the group didn't miss a beat, promptly turning an eight-point lead entering the quarter into a 17-point lead just four minutes in.
It was enough that Casey rolled with that group— with Valanciunas eventually back in for Bismack Biyombo— until the Pacers waived the white flag with 3:16 to go.
"It worked. We had it going down the stretch," Casey said. "It was more the defensive presence that that group had going down the stretch…It wasn't a benching, it was just an adjustment we made. We felt the matchups were good."
It's a tiny sample through just two games of playoff action, but whether it's Ross or Powell, Valanciunas or Biyombo, the Lowry-Joseph-Patrick Patterson groups have outscored Indiana by 14 points in 17 minutes. That's nothing new for this group.
"It's just a deadly combination when our starters go out and that group comes in," DeRozan added. "To still feel confident, it's big."
Patterson gets a single 6th Man of the Year vote
Despite the strong play of the bench unit all year long, the Raptors received just a single vote in 6th Man of the Year voting. It was a third-place vote for Patterson, who would have been in contention for the honor if voters could look past raw points per-game without consideration for context or efficiency.
"It's definitely surprising because without Pat, I don't think we would be as successful a team as we were this year," DeRozan said. "Pat does so much. There's been plenty of games where Pat scores 4 or 6 points but he impacts the game so much and helps us pull away victories."
Of the Raptors' 15 best lineups that played at least 25 minutes together during the season, Patterson was a part of 11 of them, and the team was 10.5 points per-100 possessions better with him on the court. That's jumped to plus-32.2 so far in the playoffs.
Ross still undergoing concussion protocol
There was no official update on the status of Ross, who is following the league's concussion protocol after knocking his head against DeRozan's on Monday. "He made the mistake on the play," Casey said of Ross. "I told him that's why, that was a punishment for making a mistake on the play, getting knocked out or whatever, knocked down." Ross had a headache Monday and was set for further testing after practice Tuesday.