The NBA Finals are months away but already the most compelling potential showdown in sports is looming out there — the kind of theatre that only sports can provide.
No, not the third consecutive meeting of the Cleveland Cavaliers and Golden State Warriors, although that will be appointment viewing.
But how about a potential White House visit by LeBron James and the Cavaliers should they defend their 2016 title?
James has been at the forefront of athletes who have taken sides in the most polarizing United States election in recent memory and when he stood in front of a crowd in Cleveland alongside Hillary Clinton on Sunday, he was definitely not siding with president-elect Donald Trump, who will be nearly a year into his term by then.
James, along with the Cavaliers, is scheduled to visit with President Barack Obama at the White House on Thursday, something he's excited to do for the third and final time.
"It's going to be special for the simple fact that not only am I going to be there with my Cleveland teammates, but I'm there when Barack is on his way out," James told reporters recently. "Like I said, he's been a great role model, especially to African-American kids. What he did was something that you never thought could be possible. Being a black president, for me to be there when he's on his way out and his last term is ending, I think that's pretty significant as well."
The idea of James meeting Trump couldn't present a greater contrast.
And if the Warriors win their second NBA title in three years? Don't expect them to be jumping for joy about visiting Trump at the White House. Golden State head coach Steve Kerr summed up his and his team's reaction to Trump's win this way when talking to reporters on Wednesday: "The whole process has left us feeling disgusted and disappointed. I thought we were better than this."
White House visits for champions have been part of the sports landscape for decades, but no president has embraced the tradition with more enthusiasm than Obama, a huge fan of all teams from his native Chicago and a basketball fan above all.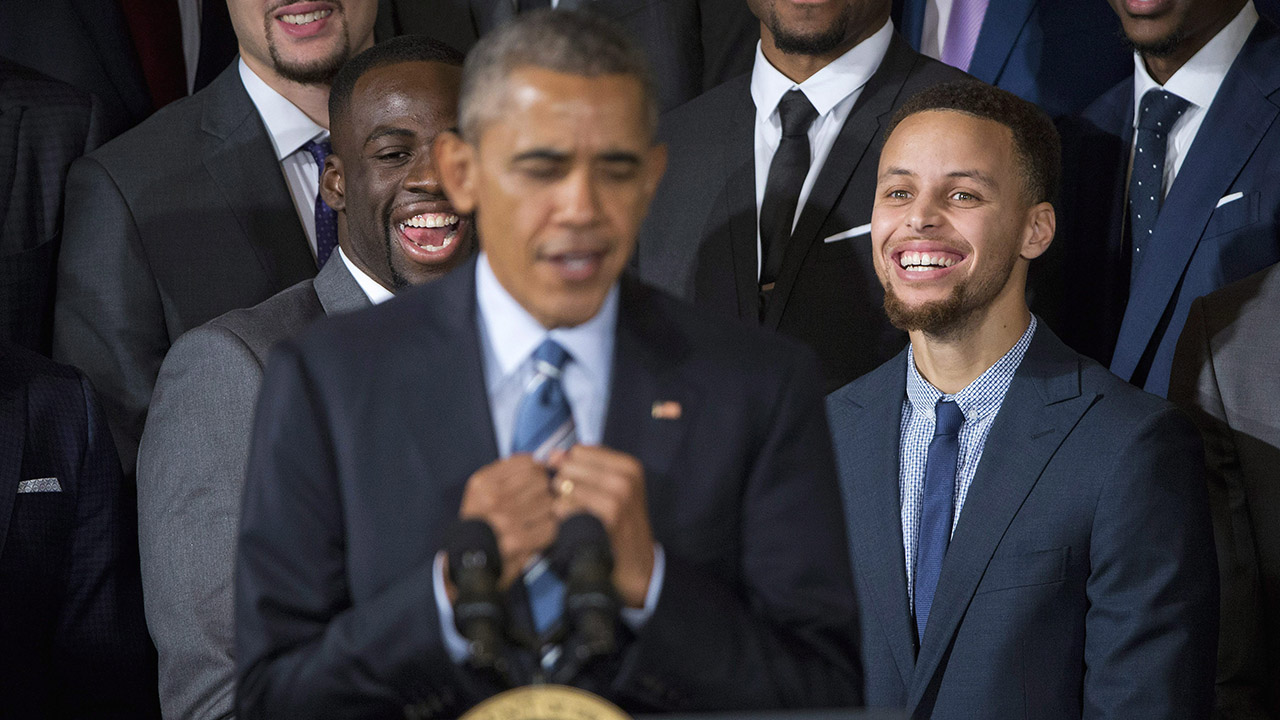 Obama speaks during the Warriors' visit to the White House in February. (Pablo Martinez Monsivais/AP)
They are uniformly jovial affairs — harmless photo-op eye candy. Obama has teased Peyton Manning about his ubiquitous commercials and dropped the bomb on a former Toronto Maple Leaf:
"It is wonderful to be here, and welcome to the White House," the President said when the Pittsburgh Penguins visited on Oct. 6. "We are here to celebrate an extraordinary achievement … Phil Kessel is a Stanley Cup champion."
They aren't always without incident. Boston Bruins goalie Tim Thomas skipped his chance to meet Obama in 2012: "I believe the Federal government has grown out of control, threatening the Rights, Liberties and Property of the People …" was the opening line of the statement he released on Facebook explaining why he chose not to attend the White House with his team.
Thomas has slipped from public view in his retirement, but the betting is he did not vote for Hillary.
Several members of the 1993 U.S. Ryder Cup team, mainly staunch Republicans frustrated about high taxes, put up a stink about having to meet then President Bill Clinton. Michael Jordan once passed on meeting George Bush in order to play golf.
But a Trump presidency, which has seemingly divided or at least exposed divisions in the U.S., promises to make the intersection of sports and politics more fraught than ever before.
After decades in which prominent athletes using their platform to express their political and social views seemed like a relic of a bygone era, tensions in the U.S. have emboldened some members of the current generation to speak from the heart of their mind.
James is at the forefront, but San Francisco 49ers quarterback Colin Kaepernick has driven conversation and debate with his decision to kneel during the playing of the Star-Spangled Banner to protest mistreatment of African-Americans and other minorities in the U.S., a topic that is a surrogate for all manner of other politically charged issues.
Had the Boston Red Sox won the World Series it would have been interesting to hear from slugger David Ortiz, who used the final weeks of his professional career to make clear his opinion of Trump's demonizing of many immigrant communities, Ortiz' fellow Latinos in particular:
"Latin people here in the United States are the spark plug of the country's economy. Whoever opposes that is going to lose," he said in a Spanish interview with USA Today. "All those people come here with one goal, to realize the American dream, and you have to include them in our group."
Or what if the U.S. Olympic hockey team wins gold during a Trump presidency and gets a White House invite? Auston Matthews is the son of a Mexican immigrant mother. That could make things awkward if Trump asked about his family given his plans to build a border wall to keep Mexicans out of the U.S.
Trump has his supporters among sports figures. New England Patriots head coach Bill Belichick most prominently, with Trump reading a letter of endorsement at a rally on Monday. Trump also claimed the support of Patriots quarterback Tom Brady, although Brady has never confirmed that.
Who else? Renegade golfer John Daly was pleased about the election, as was a cross-section of NASCAR drivers.
Former MLB pitcher Curt Schilling, a failed ESPN commentator who's now a potential future Republican Senate candidate, stumped for Trump in New England.
But it's hard to imagine a Trump presidency being viewed positively by a wide range of professional athletes or a visit to the White House as eagerly anticipated as those visits seem to have been when Obama was hosting.
There were plenty of athletes who made sounds on election night like meeting Trump would be a penalty rather than a privilege. Milwaukee Bucks second-year forward Jabari Parker was passionate and unapologetic in his views about a Trump presidency, tweeting:
Several members of the Toronto Raptors — watching the election results roll in while in Oklahoma City — a state where 65 per cent of votes were cast for Trump — suggested that that playing in Canada has suddenly become a safe haven.
It's flattering, but let's hope it's unnecessary.
Sports have generally been perceived as being ahead of the general population on many social issues. While not always elegantly, the major U.S. sports leagues have pushed ahead on inclusivity and tolerance. Teams in particular — when done right — can be nurturing, inclusive and accommodating of individual differences. Perhaps it's because in a competitive environment there is an understanding that the success of the group requires differences be put aside in pursuit of a common goal; that looking for the best in the person next to you helps bring out the best in both of you.
It doesn't always work that way, but it's an expectation worth fighting for.
It makes you hope that somewhere, at some level, president-elect Trump is a sports fan.