TORONTO — "Listen, listen — we have the best player, we have the best fans, in the whole, in the whole NBA, in the whole world. Look around. Look around you. Look at this. We created this. This didn't exist before we were here. Look around at the square. I promise you right now — we did this. It doesn't matter what anybody says. They can say it's disrespectful. They can say it's this and that and that. Everybody's within — everybody's within the rules. Everybody's doing their thing. All we are is proud and passionate. We are like a college sports team. The Toronto Raptors are a college sports team, I promise you. I love Toronto. I love this team. And we're going to the NBA Finals. Let's go!"
Sir, this is an Arby's.
That was Drake, of course — Torontonian, artist, entertainer, bon vivant. You probably already knew that. Surely, you've already seen it. The police officer's grin at the end really makes it:
Thursday night, after the Toronto Raptors seized Game 5 of the Eastern Conference Finals from the Milwaukee Bucks, moving to within a win of the NBA Finals for the first time in franchise history, the Raptors global ambassador held court at Jurassic Park, where he'd taken in the game.
He wore a throwback, green-and-purple Nike Supreme pull-over. An entourage of security guards and friends surrounded him. In his right hand, he clutched a phone, which appeared to be broadcasting an active FaceTime call. In his left, a white cup. Channelling Tupac circa 1996, dude just rolled up and went off for 30 impassioned, fiery seconds.
Drake, as he tends to be, was excited. And Drake, as he tends to be, was right in the middle of everything. He's a protagonist in all this now. His celebrating, his jeering, his unforgiving support of his team and admonishment of its opposition — it's all as much of a discussion topic as Kawhi Leonard's brilliance or Giannis Antetokounmpo's struggles to get to the rim. If you'd come across any nationally-televised sports talk show in the United States this week, you'd have been force-fed a few dozen opinions on Drake's behaviour. On his antics. On whatever's going on up there.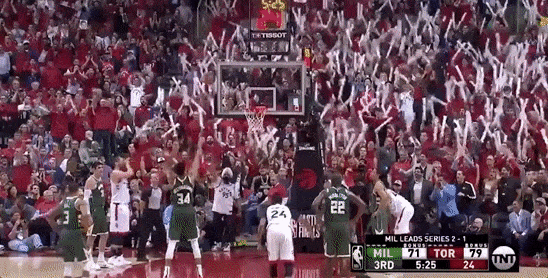 Oh, they're so rattled. A Milwaukee radio station banned Drake's music from its airwaves. An executive at Antetokounmpo's agency tweeted about how he'd "never seen anything as disrespectful as this before." Mike Budenholzer, the Bucks head coach, a man who has, conservatively, a bajillion more pressing matters to be concerned about, was asked three — three! — separate questions about Drake's sideline presence in Toronto during an off-day conference call between Games 4 and 5 of the series. And he actually bit on the third one.
"I don't know of any person that's attending the game that isn't a participant in the game — a player or a coach — that has access to the court," Budenholzer said. "I don't know how much he's on the court. It sounds like you guys are saying it's more than I realize. There's certainly no place for fans and, you know, whatever it is exactly that Drake is for the Toronto Raptors, you know, to be on the court. There's boundaries and lines for a reason. And, like I said, the league is usually pretty good at being on top of stuff like that."
And it's not only Budenholzer fielding these questions. Friday, on the opposite side of the continent, where the Golden State Warriors are currently waiting a week-and-a-half to begin their fifth consecutive NBA Finals, even Draymond Green was asked how he'd handle Drake if the Raptors were to win the East. Like, not even as a joke. The question is entirely earnest:
Here, straight from a page deep within the Raptors media guide, is the closest thing you'll find to Drake's job description as the team's global ambassador: "The Toronto native and Raptors season seat holder assists the team with a number of marketing and basketball initiatives in an effort to raise the team's profile." Considering all of the above, it's tough to argue he hasn't done his job.
Someone had to. There are only so many times the team's president can get up in front of the fanbase, in front of a city, and yell, "f— Brooklyn!" One time, to be exact. Someone else has to be the franchise's public id. Someone else has to speak for a young, hungry, diverse fanbase that feels it's been overlooked, under-respected, and disregarded for far too long. Someone has to give the rallying cry.
And the actual Raptors love it. About 30 minutes after they secured their biggest victory in franchise history since the one they secured last week, and the one they might secure Saturday, Kyle Lowry's phone started to buzz in his locker at the far end of the cramped visitors dressing room at Fiserv Forum. It was a FaceTime call from The Boy himself, not long before he gave his impassioned monologue.
Lowry answered, and the enthusiastic bellows that immediately ensued were so loud he had to turn down his phone's volume as he looked back over his shoulder, sheepishly cracking up. You could hear it from across the room. Fred VanVleet, sitting in the locker next to Lowry's knew right away who it was. And he had a message to deliver, leaning over Lowry's shoulder to look into the phone's camera.
"Next time you use a picture of me on Instagram and don't tag me, it's on sight," VanVleet said, approximately, with some choice obscenities redacted. "On sight."
From another corner of the locker room, Norman Powell nodded his head in agreement: "Dude's out here using my likeness with no credit. Can't have it." (Pascal Siakam, from the locker next to Powell's: "Hey, at least he follows you.")
The mock dispute was over a series of photographs Drake posted to Instagram Wednesday, not long after Toronto's inspired Game 4 victory. And, fair play. The polite thing to do is to tag your friends. Of course, VanVleet — who bears a resemblance to the rapper, first fan, and, this week at least, talking point — has a more legitimate beef than Powell. His face appears in one of the photos slapping hands with Drake above the Spiderman meme. Meanwhile, it's only the back of Powell's head that can be seen in the background of another photograph.
View this post on Instagram
But, really, that's all beside the point. The takeaway here is the players are just as caught up in all of this as you. They're watching the GIFs, they're following the Instagram comments, they're eating up everything Drake does. It's what's great about the NBA. It pulls in stars from other worlds. It crosses over. It transcends.
For fans, that part of the Toronto Raptors experience involves getting to watch a global celebrity throw back mixed drinks, pace the sidelines, react demonstratively to every event, unrelentingly taunt the opposition, interact with the team's broadcasters on live mics, and, on occasion, give a head coach a shoulder rub, is objectively awesome. Are you not entertained? Is this not why you are here?
This is fun. It's a game — it's supposed to be fun. Mallory Edens, the daughter of Bucks owner Wes Edens, gets that. Thursday, the occasional model took her Game 5 courtside seat at Fiserv Forum wearing a white t-shirt featuring Pusha T, the Clipse alumnus and long-time Drake rival. Drake and Pusha have been trading public insults for going on eight years now, starting with subtle messages buried deep within lyrics and ultimately escalating into a series of messy, vitriolic diss tracks. It's a long story.
Anyway, Edens wears that shirt to Thursday's game. And Drake's near immediate response is to add her to his Instagram story saying, "All is fair in war and war," while offering her tickets for OVO Fest, deploying the heart eyes emoji, and changing his profile photo to one of Edens.
Oh, you've gotta love it. Part of the appeal of the NBA is that it's the best soap opera going. Heroes, villains, disputes, feuds, betrayals, melodrama — and that's just the off-season. In the face of the NHL's personality-void wash of vanilla, MLB's stuffy commitment to archaic unwritten rules from hoary times best left in the past, and NFL's many problematic ethical dilemmas, stumbling upon the NBA is like finding a taco truck in an airport food court. It's like going from standard to high definition. It's hot sauce on your scrambled eggs. It's just so much more enjoyable.
Drake's energy, his passion, his sheer lack of regard for your hurt feelings, is fun. The NBA Playoffs are fun. Watching the Raptors overcome a string of progressively more imposing challenges — losing Game 1 to Orlando, down 2-1 to Philadelphia, down 2-0 to Milwaukee — to reach never-before-seen heights is unbelievably fun. Saturday night at Jurassic Park, thousands are going to scream and yell and jump around, enjoying something they love any way they so please. Drake will do the same courtside. And you should enjoy it, too.