BURNABY, B.C. – For all the talk about Kawhi Leonard's personality or long-term plans, what has sometimes been overlooked as the Toronto Raptors get on with the business of trying to compete for an NBA title is that they've dropped a hefty boulder into what had largely been a still pond for the past few years.
In the Dwane Casey and DeMar DeRozan era, the pecking order on offence was well-established: It was DeRozan and then everyone else. Or, perhaps more accurately, it was everyone else and then DeRozan, as the Raptors swing man was often counted on to bail out possessions when nothing else went right.
Even as the club underwent the offensive makeover that helped Nick Nurse earn his promotion to head coach, DeRozan remained at the head of the pack with a healthy usage percentage (an estimate of the number of plays used by a particular player when on the floor) of 29.9 per cent, which was 17th in the NBA, per basketball-reference.com. That mark was well off his career-high of 34.3 the previous season, which was third in the league, behind only Russell Westbrook and DeMarcus Cousins.
Breaking the Raptors addiction to DeRozan and the predictability that made them so easy to defend in the playoffs was a significant focus of their emphasis on a more egalitarian attack last season.
What will be interesting to follow as Leonard gets integrated to a new team for the first time is that the image most have in their head of the former San Antonio Spur is the monster season he put up in 2016-17 before he sat out 73 games last year with a thigh injury.
Leonard finished third in the league in MVP voting while putting up 25.5 points, 5.8 rebounds and 1.8 steals while playing just 33 minutes a game.
He was the focal point of a Spurs attack that was weaning itself from holdover veterans Tony Parker, Manu Ginobili and Tim Duncan, who was in his final season. His usage rate of 31.1, which was eight in the NBA, reflected his role.
The Raptors practiced for the first time on Tuesday morning at their training camp at Fortius Sport and Health and it was Leonard's first 5-on-5 action since January, which is to say, it's early.
The early returns are promising.
"It felt great," said Leonard. "Just talking to the guys, I told them I haven't played a 5-on-5 since January, the last time I played. It felt great to just run up and down and compete."
A player with Leonard's resume isn't about to change his game all that much and who would want him to? He said he played Tuesday the way he always has or at least since he turned himself into one the league's top-five players.
"Everything I did before: bringing it on the offensive end, defensive end, being a leader, letting guys know what to do on the court and keep pushing, bringing energy."
Nurse, in his first day in his new job, was suitably pleased.
"He looked good," he said. "You can certainly see his level at times. He's a little rusty out there but you can certainly see his strength, his vision, his ball-handling, those kinds of things. He looked good."
No one was arguing.
Said Norm Powell: "[Leonard] looked good, he looks in shape, he's locked in, made some big plays, still trying to find his rhythm and everything like that, but he looks good, first 5-on-5 being back, he looked good, good chemistry, so I'm excited."
Said Pascal Siakam: "I think he was good. Obviously, like he said it was his first 5-on-5 since January so he has to get used to it again. The more he plays the better he is going to look, but yeah, I thought he looked good."
So Leonard, who played just nine games last season, looked good, it seems safe to conclude.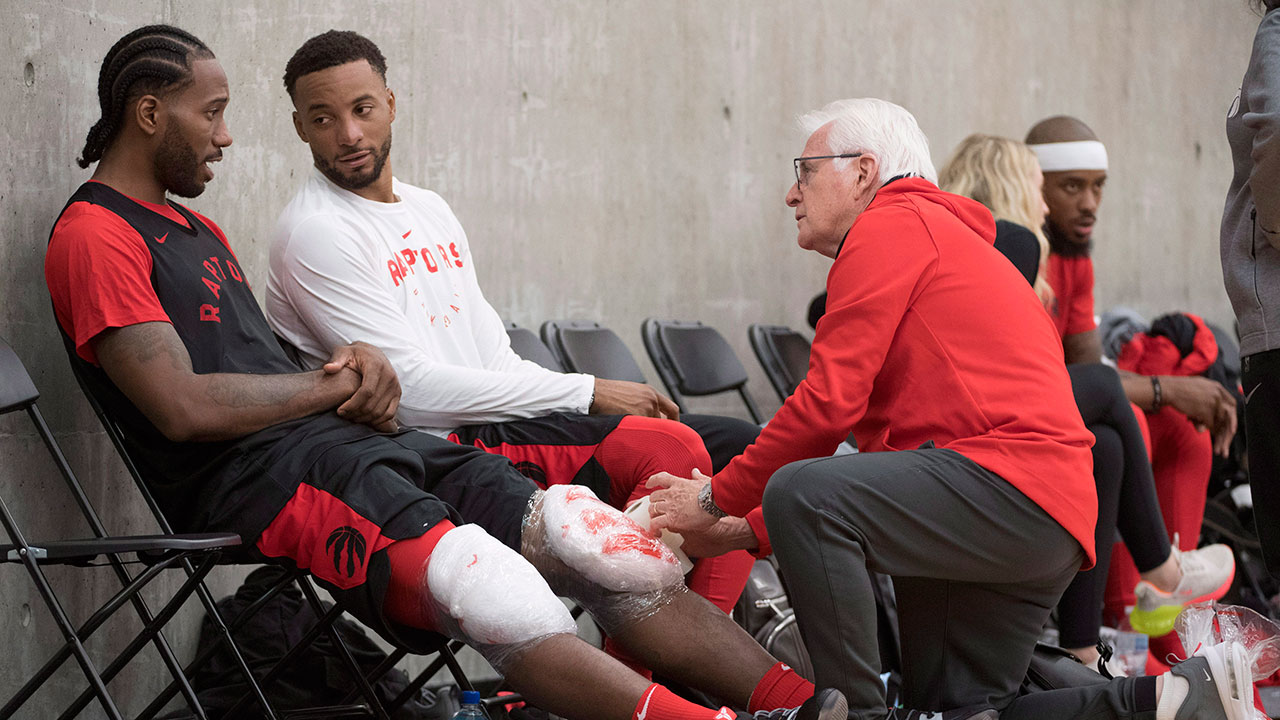 Now it's Nurse's job to figure out how to best implement his philosophies while also finding the right way to use Leonard, not to mention newcomers Danny Green and Greg Monroe, while also finding proper roles for the likes of third-year forward Siakam and second-year wing OG Anunoby, who each seem to have picked up their games from a year ago.
In recent years the Raptors could rely on training camp and pre-season to get comfortable; continuity was a big part of their success. But this September things are different and making sure it doesn't take too long to find the proper fit for everyone on a deep and talented roster will occupy a significant part of the rookie coach's thoughts in the coming days and weeks.
"I think I kinda look at this whole pre-season and training camp as us trying to search for some different combinations just for the sake of it," he said. "We gotta get to know them. They gotta get to know me a little bit and we'll see a lot of learning and a lot of growth going on here that I'm looking forward to it."
While Nurse loves ball movement and fervently believes that the more players involved on a given possession the better, he's not going to look a gift horse in the mouth when it comes to Leonard, who had a healthy effective field goal percentage of 44.3 on 2.9 isolation possessions a game (DeRozan was 46.7 on three possessions a game last season).
The Raptors have a lot useful pieces, but Leonard would qualify as the best and most likely end-of-shot-clock option. It's one area they lag behind a team like the Boston Celtics, who can turn to any one of Kyrie Irving, Jayson Tatum or Gordon Hayward to generate offence when things break down.
"Well our offence is kinda equal opportunity, right, but it always kinda tends to gravitate towards the guys who can score," Nurse said. "That's the really neat thing about it. You guys have seen the way it's rolled out. The ball's gonna find [Leonard]. He's gonna have a lot of chances. Now, usage, percentages, minutes played and all that kind of stuff, that will work itself out."
Leonard isn't forcing anything and sounds prepared to take a wait-and-see approach to his first training camp with a team other than the Spurs and a coach other than Gregg Popovich and without the security blanket of long-term, Hall of Fame bound teammates. He's also developing a good early rapport with Nurse.
"He's open-minded, ready to adjust on the fly," said Leonard. "Just a brilliant mind, loves the game of basketball. I've got to talk to him more. It's just my first practice. We've got to develop a good relationship.
"We're building a new team this year," he said. "It always takes time to create that chemistry. Knowing where guys are going to be, me knowing where their spots are, them knowing where my spots are, that stuff takes time, it takes practice and game playing.
"[It's] just positioning yourself on the floor, getting your rhythm down, remembering your steps to get to the basket, remembering your spots, your wind, just everything."
The good news for Leonard and the Raptors is he can do pretty much everything, on both sides of the ball.
Providing for good health, all that is required for the Casey-DeRozan era to slip into the background and the Leonard-Nurse era to rise to the forefront is time.