INDIANAPOLIS – If you've come this far, you might as well go all the way. If your season is a seven-month exorcism of past sins, and an effort to quiet ghosts, why stop short?
Might as well stare it all down at once.
Can the Toronto Raptors ever win a playoff series? Can they ever win a Game 7?
So far in their sorry history they've won one and none. Sunday night (8 p.m. ET on Sportsnet) at Air Canada Centre they get to change both of those stories in front of a building full of diehard fans that will likely spend most of it watching between their fingers.
It's scary stuff. The Raptors claim they're not scared. It's getting harder to simply nod and agree.
"It means everything for us to advance, you know," said DeMar DeRozan, who has known only failure in his post-season career and needs to change that narrative more than anyone. "The season would be a failure if we don't make it out of this first round, give ourselves a chance to play in the second round. We understand that. It's basketball. We love to play this game. It comes with highs, it comes with lows, but you've got to be ready for the challenge at the end of the day."
But the Raptors earned their right to host Game 7 for the second time in three years on the basis of the 56 wins that earned them the second seed in the Eastern Conference – a regular season that is seeming more distant all the time.
They also earned it by failing once again to finish off a team when the opportunity presented itself, the story of the Raptors pained history in one sentence.
The Raptors' 101-83 loss in Game 6 to the Indiana Pacers dropped the franchise to 1-4 all-time in such contests and 0-2 when leading 3-2 heading into them.
The series tied, they get a chance to change history on Sunday but will be doing it with the weight of it firmly on their back. And if this group of Raptors doesn't want to deal with the past 20 years of disappointment, the core of this group will have to deal with their own shortcomings, now on the verge of three straight seasons.
And if that's too much? They'll have to answer for this series or even just Game 6, when their chance to put an end to all this madness slipped through their fingers.
Make that torn from their grasp. They led at the half and trailed by one with 1:49 left in the third quarter and not even 11 minutes later they were trailing by 26.
"Our compete level was low for whatever reason, our lack of offensive execution, our shot-making carried over to the defensive end," said Raptors head coach Dwane Casey. "This game was about will, who was going to impose their will on the other team and they got us."
Casey had tried to tap into the same energy that worked so well down the stretch in Game 5, the only problem was that when he rolled out Terrence Ross, Norman Powell, Kyle Lowry, Bismack Biyombo and Cory Joseph there was no offence to be found.
Joseph was in the midst of a brilliant effort – he started the third quarter with 13 points on just four shots and perfect on three attempts from deep.
But that was it. The other four were a combined 5-of-22 for the game prior to that point and played like a group that didn't know where the next bucket would come from.
It's a fair question. Ross is 12-of-37 for the series although three of those field goals came in the last three minutes of garbage time. Powell hasn't hit a three in two games and just three for the series. By the time Casey went to his starters the damage was done as the Raptors were down 19. The Raptors made six fourth quarter turnovers and missed seven of their first eight shots. Meanwhile the Pacers ran their mistakes down their throats.
The Raptors shot just 36 per cent from the floor and gave up 20 points on 17 turnovers. Can't win doing that.
"We couldn't score and that gave them the opportunity to get out in transition, and then catch a rhythm," Raptors guard DeMar DeRozan said. "They caught a rhythm."
Lowry and DeRozan have carried the Raptors this season and teammates and coaching staff alike continue to express their faith, but the pair who earned the title of the Eastern Conference's best backcourt in the regular season (averaging 22 and 23 points a game, respectively) combined to shoot just 7-of-27 from the floor for 18 points on the night are now 60-of-190 for 31.5 per cent for the series.
It looks bleak, but the protagonists would argue otherwise.
"It's not hard to stay positive," said Lowry, who scored 10 points on 14 shots, although he did add 10 assists. "You've just got to make sure you stay level-headed. We've been level-headed the whole season. We've had rough patches thoughout the season, and we've had great win streaks, and we've just been level-headed, and grinding it out. We've got one more game to stay positive, and grind it out. And after that, we'll see. Hopefully we'll be playing more games."
Lowry is shooting 30.9 per cent for the series and 18 per cent from the three-point line. His struggles date back to the regular season when he was treated for bursitis in his shooting elbow. He shot 32.1 per cent in the final 10 games of the season, but said after the game Friday that his elbow wasn't limiting him.
"The Pacers are doing a great job on me," he said. "Simple as that. They're all over me, they're mixing coverages up, and give them credit, they're playing me extremely well and George Hill is really playing good defence right now. Give them credit, their team defence is forcing me into tougher shots."
DeRozan? His 34 points in Game 5 suggested he may have cracked the Pacers' code. But then he looked passive and short of confidence in Game 6, failing to attack even when covered by Pacers other than the spider-like Paul George. He moved the ball but often only after a jump pass – passes made as a last resort than with purpose.
He too remains optimistic.
"We'll respond like we're supposed to," said DeRozan, who was 3-of-13 from the field. "Simple as that, man. We've got an opportunity. Like I said, man, we love to play the game, we love the game of basketball. You can't make it seem like a funeral. It's a chance for us to go out and compete at the highest level, which we love to do, and an opportunity for us to do it on our home court."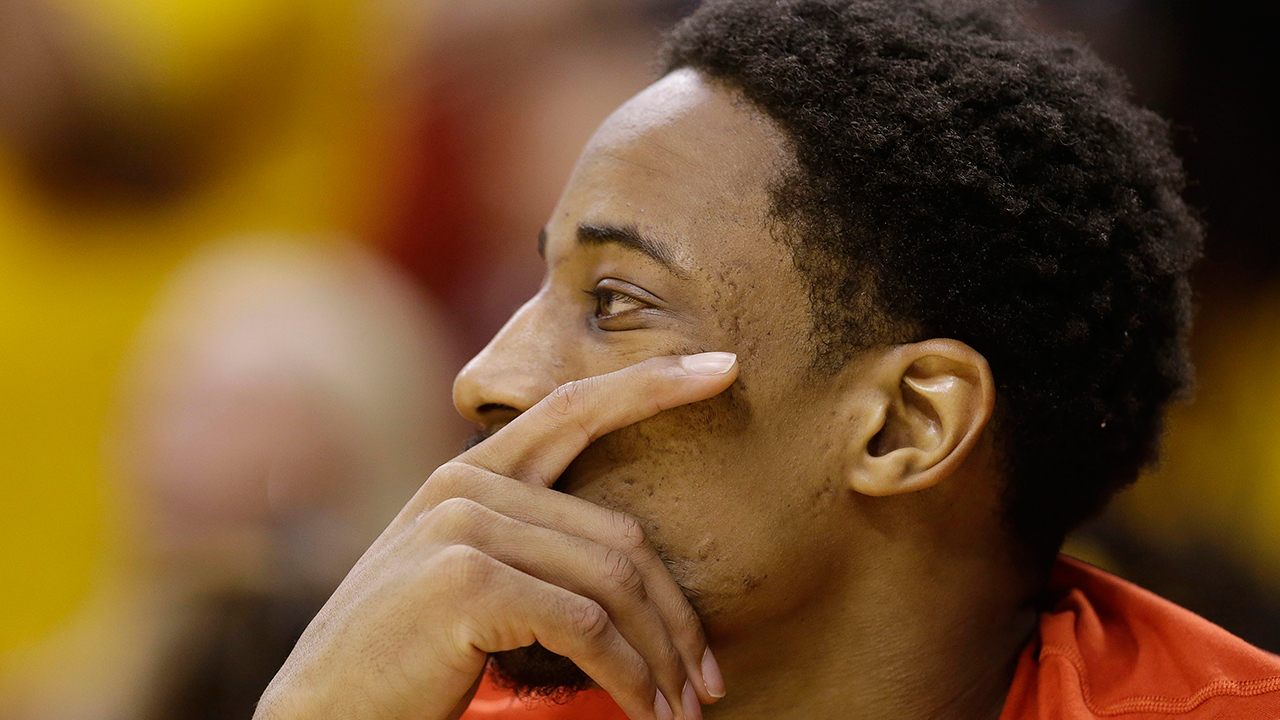 (Darron Cummings/AP)
He wasn't wrong, and the frustrating part was that for the first half the Raptors brought a good dose of what they were looking for.
The Raptors led 44-40 at end of a ferocious first 24 minutes in which the Pacers held the Raptors to 37.2 per cent shooting, which was tolerable because the Raptors held Indiana to 32.6 from the floor and out-rebounded them 28-21. Let's face it – it's tough to make shots when you're defending within an inch of your playoff life.
The effort in the opening minutes was something close to peak, it had to be. If anything there was almost too much juice flowing, with two Raptors leaping out to contest shots at times and rebounds getting bounced around frantically. But it worked as the Pacers with forced to call timeout after 3:29 having hit just 1-of-8 shots.
Before the game, Casey was stressing that he believed in the team that had won him 56 games.
"The key word is trust, I trust our guys. We've been together for 82 games, won 56 of them; we adjust some things in the playoffs but the bottom line is we trust who we are, our identity," Casey said. "We trust how we play. We just have to come out and do it when the bell rings."

(Darron Cummings/AP)
But trust what? Trust that DeRozan and Lowry would finally play a good game at the same time?
The Raptors had chance to quiet their critics. To do things the easy way; to be home and cooled while Miami and Charlotte, their potential opponents in the mythical second round, fight it out in their own Game 7.
They fumbled it. And now they have choices to make.
"We have to have a long, hard look in the mirror at ourselves and realize what basketball team do we want to be," said Patrick Patterson, who started his second straight game for the Raptors, finishing with five points on seven shots in Game 6. "Do we want to be the team that won 56 games, do we want to be the team that got two all-stars to the all-star game and all the accolades, set new records, went on long winning streaks, played great defence the first half of the season, or do we want to be this team that's come in Indiana the past two times and got blown out of the water? We have to decide what we have to be. We have to decide what team we want to be and that's it."
On the bright side the Raptors have a chance to make their history their past on Sunday. They can put to rest their Game 7 ghosts and their first-round ghosts and every other ghost in their collective attics.
But they have to beat the Pacers first.