It took Xavier Rathan-Mayes less than five minutes to become a household name. It wasn't the Florida State guard's first time in the public eye—and it won't be his last.
By Dave Zarum
"When that happened it almost felt like a dream. I don't think I slept that night, it just kept replaying in my mind."
A little more than three hours before the most famous performance of his life, Xavier Rathan-Mayes had that feeling.
It had crept up a couple of times already during the 20-year-old's first year of eligibility at Florida State. There was the game against Citadel, scoring 26 points on 8-of-9 shooting (a perfect 5-of-5 from deep) in just his second start. And, of course, the 35-point outing on the road against the storied North Carolina Tar Heels, which made him one of just five ACC freshmen to ever reach that mark.
By the time this night wraps up he'll be the only one to do it twice.
The last year and a half has been tough treading for the six-foot-four guard from Scarborough, Ont. Last season, while his close friends—"brothers," he'll amend—and former teammates Tyler Ennis and Andrew Wiggins excelled as one-and-done freshmen, Rathan-Mayes was forced to the sidelines, ruled academically ineligible by the NCAA. But after a year of rediscovery, this season he's not wasting any opportunities.
Today, ahead of a much-anticipated conference game against the in-state rival Miami Hurricanes, that thought continues to drive him.
The Seminoles arrived in Miami early and went through their usual pre-game routine, sitting down for a meal as a team before heading to the arena to get a feel for the gym. Wrapping up shootaround with the same drill as always they gathered behind the free-throw line. Rathan-Mayes's turn came and he stepped up to the line and drained his first shot. When the drill cycled back to him, he promptly drained another. And then another, swish after swish echoing through the hollow arena. Like Wilt Chamberlain hitting every 'free play' on the pinball machine before his 100-point game nearly 53 years to the day, Rathan-Mayes couldn't miss if he tried.
An hour before tip-off, he phoned his mom, Marilyn, who was back home in Scarborough where she lives with "X's" two younger brothers.
"Mom, I'm feeling something special tonight," he told her. "I think it's going to be one of those nights."
"Like North Carolina?" she asked, having heard it before.
"No," he answered, "Even better."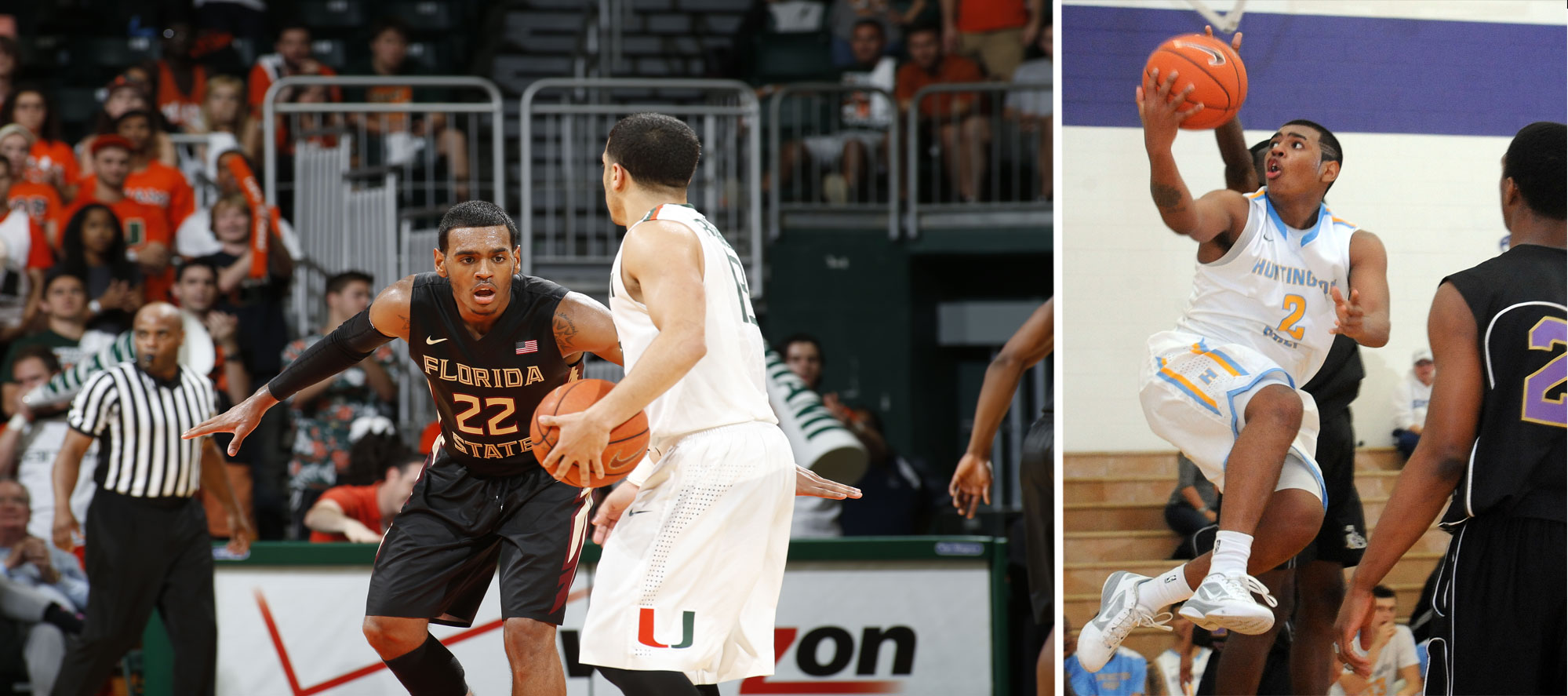 A close-packed, restless crowd endures the stale heat inside the Waddell Language Academy gym for what promises to be a worthwhile show. Sprinkled throughout the stands are coaches decked in the familiar colours of Kentucky, North Carolina, Florida State and other major NCAA programs. Earlier, Michael Jordan himself made an appearance.
Like the fans, the basketball heavies are here to see Huntington Prep—or, more specifically, they're here to see Huntington's much-hyped star Andrew Wiggins, the No. 1-ranked player in the United States. But first they have to sit through a game between two local high schools.
Partway through the second half, Huntington enters the gym and all eyes turn to catch the main attraction. As the team makes its way to a nearby bench, Rathan-Mayes, who has already committed to Florida State, breaks away from his spot at the head of the pack to acknowledge his future Seminole coaches. Later, a reporter from USA Today asks to conduct an interview. Rathan-Mayes gladly obliges. It's mainly spent talking about his gifted teammate.
Once Huntington Prep hits the court, though, it's Rathan-Mayes who demands attention, putting on a show from beyond the arc. He nails his first three triples and barely misses a fourth. It's another blowout win for Huntington, and Rathan-Mayes is named the tourney's MVP. None of that makes it into the USA Today piece.
Rathan-Mayes is used to standing just outside the glare of Wiggins's spotlight—even when he's the one going home with a trophy. "Andrew has always been the main guy and X has been in his shadow," says Marilyn Rathan. "But that never bothered X. He never showed resentment."
Whenever Rathan-Mayes got an opportunity to step out of the shadow, he seized it. Like during a game when Wiggins was out with the flu and Rathan-Mayes's coach told him the team would need him to step up. He scored 55 points in a win.
Rathan-Mayes, no stranger to playing on star-studded teams, feels he performs best when expectations are at their highest. He and Wiggins, along with Ennis, first-overall pick Anthony Bennett and D-League standout Sim Bhullar helped turn Brampton-based summer club CIA Bounce into a powerhouse on America's competitive AAU circuit. He has also been a big part of Canada's national program, helping lead his country to bronze at the 2012 U-18 championships (Rathan-Mayes was Canada's leading scorer in the medal-clinching game).
When the possibility of teaming up with Wiggins, Bhullar and Canadian underclassman Montaque Gill-Caesar at Huntington Prep in West Virgina arrived, the decision was a no-brainer. If only the chance had come sooner.
Rathan-Mayes joined Huntington halfway through his high school career after transferring from Christian Faith Center Academy, a North Carolina program that has become known as much for its string of academic eligibility issues as for the long list of talented names that enrolled. Rathan-Mayes and his family saw the writing on the wall early, as the NCAA cracked down, declining to accept academic credits accrued at programs like Faith. Yet even though his family was pro-active in avoiding future penalty, the year in North Carolina eventually came back to bite Rathan-Mayes—forcing him to sit out what would have been his freshman college season.
The move to Huntington may not have saved him from the NCAA's wrath, but it still proved fortuitous, giving him a proper stage to showcase his abilities. Unranked by most scouting services heading into his senior high school season, Rathan-Mayes impressed week after week in front of crowded gyms like the one in Charlotte. By the time he graduated, he was ranked inside the top 30 of his class and ready to take his game to the next level.
As far back as he can remember, Rathan-Mayes always dreamt of making it as a basketball player, following in the footsteps of his father, Tharon Mayes, who parlayed a standout career at Florida State into an NBA gig.
Marilyn recalls a picture of her son at four years old, one that still hangs on the wall in her Scarborough home. "He's sitting on the curb and pouting, because he couldn't play with the older kids. And I still remember he said in that moment 'Mommy, one day I'm going to be a college player, and I want to play in the NBA.'"
There were subtle signs to suggest that wasn't exactly a pipe dream. At a Raptors-sponsored three-on-three tournament, a seven-year-old Rathan-Mayes was coached by Toronto forward Jerome "JYD" Williams. During one game, the Junk Yard Dog turned to Marilyn and told her, "This kid's got something special, mom."
Marilyn nurtured her son's passion, enrolling him in every basketball league, camp and event she could. So it's no surprise that for the first few days, the New England Invitational seemed like any other basketball camp—even at eight years old, Rathan-Mayes had already seen his fair share.
There was something different about it, though, and not just the fact that it was run by a close friend of Tharon's._Unlike any camp Rathan-Mayes had been to previous, the Invitational featured a one-on-one tournament.
Rathan-Mayes knew he had an edge in the format. He'd grown up playing countless hours head-to-head against his father, who made a point of not taking it easy on him, so he wasn't exactly surprised when he made the finals. But as that closing battle got underway, he got the shock of his young life, confronted with a trash-talking opponent from New York City with the game to back it up.
"It was me against the entire gym," Rathan-Mayes, the lone Canadian at the camp, remembers today. "I was getting no calls. I was getting fouled and he was just talking all this smack to me the whole game—relentless."
Marilyn remembers it, too. "This kid was talking so much to Xavier that during the game you could see [Xavier] had tears running down his face. His father and I just kept telling him, 'Keep playing, go hard.'"
But Rathan-Mayes was too shook up, and after losing the game, the tears continued into the night. "I broke down," he recalls. "That really introduced me to how basketball was played in America, and taught me that I had to adjust if I wanted to make it."
Rathan-Mayes returned home, he says, with a new approach that's since developed into his on-court identity. "I took that mentality from that kid and the way he played. It was a great learning experience because it made me tougher—a better player; a better person."
He's needed that toughness this season at Florida State, his steepest learning curve yet as injuries to the Seminoles' starting backcourt have forced Rathan-Mayes into starting point guard duties. "My whole life I've been a two guard," he says. "In AAU, I played with great point guards like Tyler [Ennis] and I haven't really had to do much in the past except go out and score. But I know that if I want to have a future in this game at my size, I'm going to have to play the point guard position."
Rathan-Mayes admits the adjustment has come with "plenty of growing pains, a lot of turnovers and not knowing where guys are supposed to be." But with the ACC tournament around the corner and a trip to the NCAA tourney up for grabs, he's embracing his newfound role.
"As a point guard, the most important relationship to have is with your head coach. I've really taken that to heart," he says. "Now Coach [Leonard] Hamilton and I are really seeing eye to eye. I can come out of timeouts and be able to tell him what I see on the floor and what plays we can run and he trusts me with that. Now it's about the fine-tuning."
Still, you can't get rid of those scorer's genes easily, something the thousands who packed the University of Miami arena in late February—and the millions who have seen the highlights since—can attest to.
After phoning his mother to share his big game premonition, Rathan-Mayes erupted for the most impressive hot streak in recent memory. With his team down 18 (and despite having scored just five points during the rest of the game), he poured in 30 points in four and a half minutes—including 26 straight. The Seminoles ultimately fell just short of the comeback win, but in the wake of one of the most jaw-dropping he's-on-fire moments in recent memory, Rathan-Mayes was front-page news. ESPN called for an interview and featured him on Sportscenter the following morning, and his mom's phone rang off the hook with media requests.
Thinking back on all those years her son spent with his talent hidden in the shadow of others, Marilyn had one message for him: "Honey, this attention is well-deserved."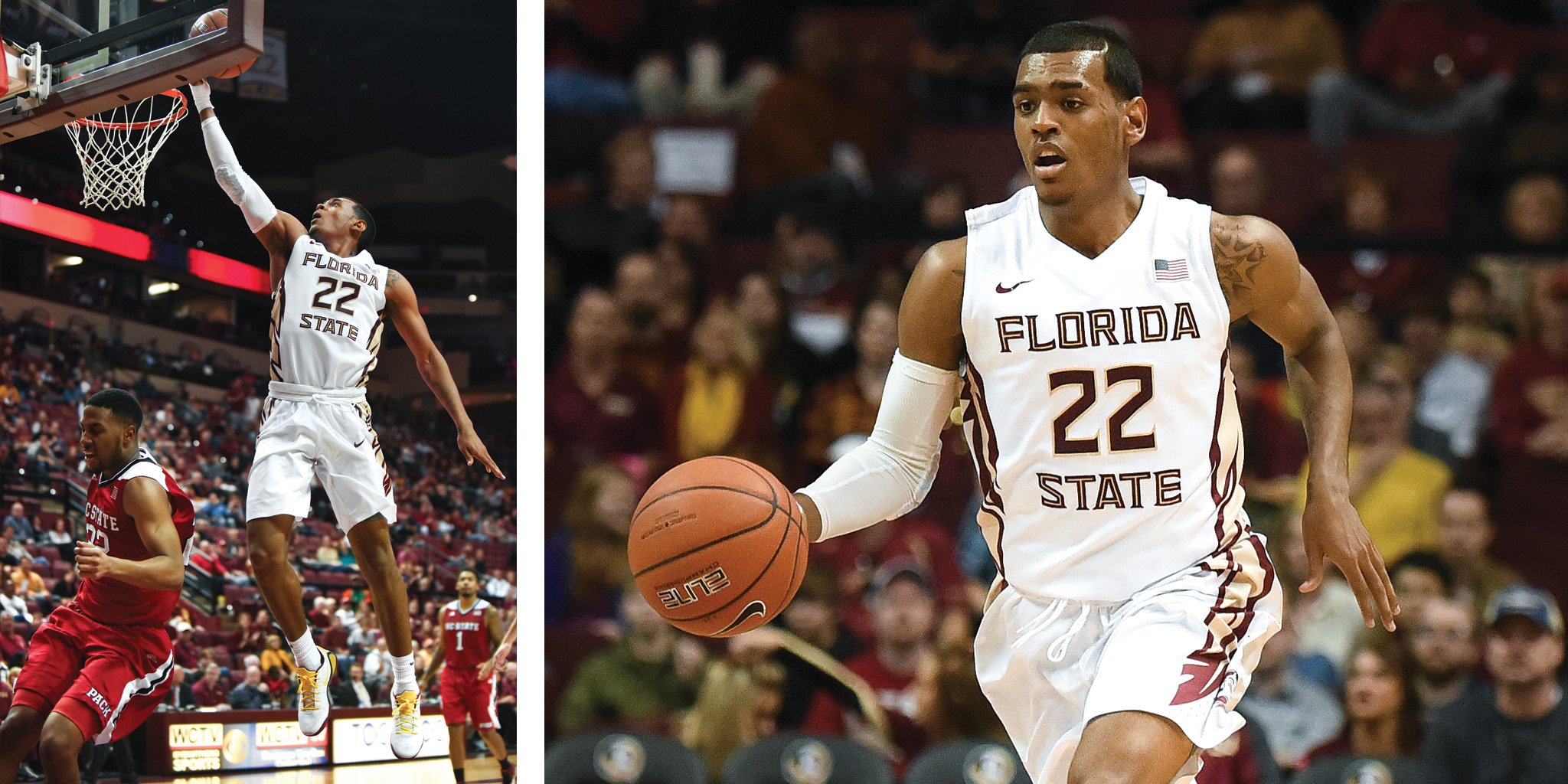 "Find the one thing you love the most in the world and completely take it away, and see how it feels. That was my life last year," says Rathan-Mayes, splayed across a therapy table on the second floor of Florida State's treatment facility. It's only been a week since he became the biggest story in sports, but back on campus he chooses not to bask in recent glory, instead reflecting on how a long year away from the game helped bring him to this moment.
"Last year was the toughest year of my life," he reiterates. "Not being able to play basketball in a team setting, not to be able to compete the way I love to…" He trails off.
Unable to even practice with his team during his NCAA-enforced absence, Rathan-Mayes dove deeper into the game than ever before, his mother's words playing on a loop in his mind. "She always tells me that I'll get through the tough times, that every person who gets somewhere in life has to go through trials and tribulations," he says. "I got the chance last year to sit back and reevaluate myself—to break down my game and me as a person and build it all back up—and I wasn't going to waste it."
He worked out every day, as many as four times, showing up to the gym before the sun rose. "I just kept telling myself that if I keep working hard everything will fall into place," he explains.
With his first NCAA regular season in the rearview mirror that's exactly how things have played out. Rathan-Mayes has already scored more points than any freshmen in Florida State history, and is proving that he's ready and willing to support his team on broadening shoulders. It hasn't been easy, but nothing worthwhile ever is.
"I would ask my son, 'What are you going to do?'" says Marilyn. "'Are you going to work harder now or are you going to fold?' X was that kid that said, 'I'm going to prove myself.' A minor setback becomes a major comeback."
With that comeback complete he's ready to embrace his next challenge.
Last week, sports fans across the continent learned the name Xavier Rathan-Mayes. Today, he's doing everything in his power to make sure they won't forget it.
__________________________________________________________________________________________________________________
Photos courtesy Phil Kelly, Richard Lewis, and Marilyn Rathan.
UpNext video produced by Jason Thom (@UpNext_JayT)