Just one more win and the unimaginable will become a reality.
The Toronto Raptors are a single win away from their first-ever NBA championship and will have three kicks at the can to do it after going up 3-1 over the Golden State Warriors in the NBA Finals on Friday night with a 105-92 Game 4 victory in Oakland.
Toronto rode a remarkable 37-point third quarter to take a lead and never looked back after a start where offence was hard to come by.
Here's a look at four plays that best showed just how the Raptors have positioned themselves on the brink of immortality.
Third-quarter Kawhi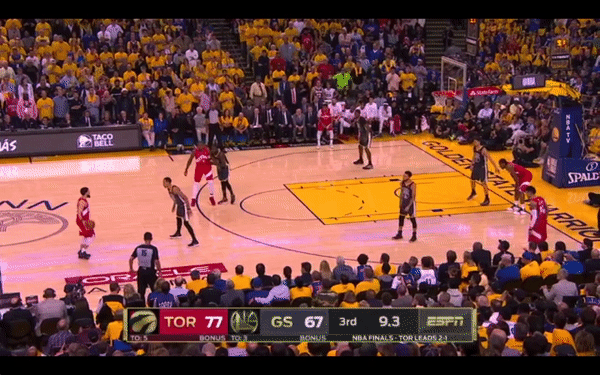 Game 1 of these Finals saw Pascal Siakam introduce himself to the world with an outstanding performance. In Game 3, it was Kyle Lowry's turn to let everyone know what 'KLOE' really means.
And then in Game 4, Kawhi Leonard, the key component to this entire Raptors season, showed out with a signature performance for the ages. He finished with 36 points and 12 rebounds on 11-of-22 shooting from the field and an even better 5-of-9 from deep while also going a perfect 9-for-9 from the free-throw line.
This is the kind of game that will not only be remembered forever by Raptors fans but by the NBA as a whole because of the way Leonard crushed the Warriors in what may have been the final game ever played at Oracle Arena.
Between the second and fourth quarters combined, Leonard only scored five points total, but was an absolute monster in the first and third.
He scored 14 in the first quarter, a desperately needed boost to a Raptors offence that looked completely out of whack in the frame with everyone not named Leonard shooting an abysmal 1-for-13 for three measly points.
Luckily for the Raptors, the Warriors weren't anything special in the first quarter either, and after a grinding second quarter, Toronto only found itself down four, something that set the stage for Leonard to enter again after a scoreless second period.
There's been a lot said about the "Third-Quarter Warriors," but over these last two games, it's been the Warriors who've had no answer for "Third-Quarter Kawhi" as he followed up a 15-point third in Game 3 with a 17-pointer Friday and was the catalyst and the capper to a remarkable third quarter, in general, from the Raptors that ultimately sunk Golden State.
Leonard set the tone of the third by hitting back-to-back triples and, as the clip above shows, finished the job for the Raptors with a sneaky mid-range jumper with less than three seconds to play in the period. It put an exclamation point on a 20-6 run by Toronto over the last 4 1/2 minutes that saw Leonard score 11 points during the run.
Ma Fuzzy Chef cooks in Oracle's kitchen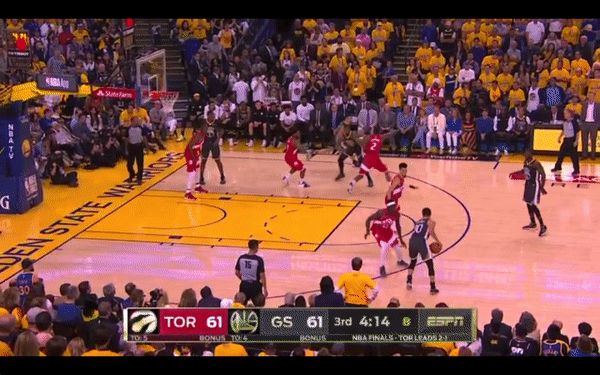 Staying with that pivotal third-quarter run that Leonard capped off with that baseline J, Serge Ibaka helped it off the ground with this remarkable help block, and three-point bomb coming down as the trailer you see above.
This sequence was the main spark plug that ignited the 20-6 run and was also indicative of the kind of game Ibaka had on Friday.
Twenty big points on 9-of-12 shooting and two blocks coming off the bench for Ibaka on Friday as he provided Toronto with some much-needed secondary scoring and continued his shot-blocking tear after swatting six shots in Game 3.
The man with an actual cooking show fittingly roasted the Warriors with his all-around play on Friday.
Steph Curry: Pro brick-layer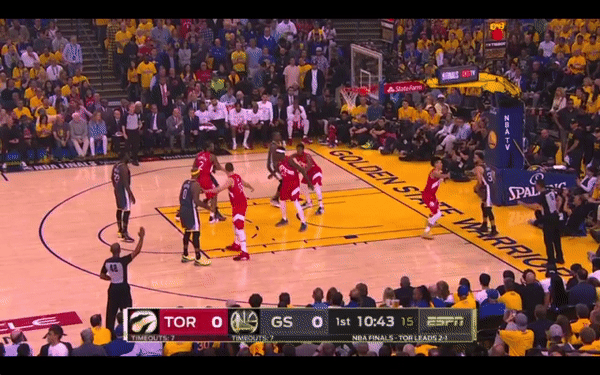 This is how Stephen Curry's night started Friday: A good look from outside that failed to make the mark.
After a historic, Jerry West-esque 47-point-effort-in-a-losing-cause Game 3, Curry scored 27 on an inefficient 9-of-22 shooting, including a horrendous 2-for-9 mark from outside. His shot was so dreadful that it was like he was trying to build a sacrificial brick house that would be torn down instead of Oracle Arena.
Obviously, it would be asking too much for a repeat performance from Game 3 by Curry, but a superstar's gotta be able to hit his open looks – especially when he's the greatest shooter in the history of the game.
Still though, it wasn't as if Curry was alone in the freezer from deep, the entire Warriors team excluding Klay Thompson shot a miserable 2-for-17.
That simply isn't going to get the job done, particularly for a jump-shooting team like Golden State.
Klay looking healthy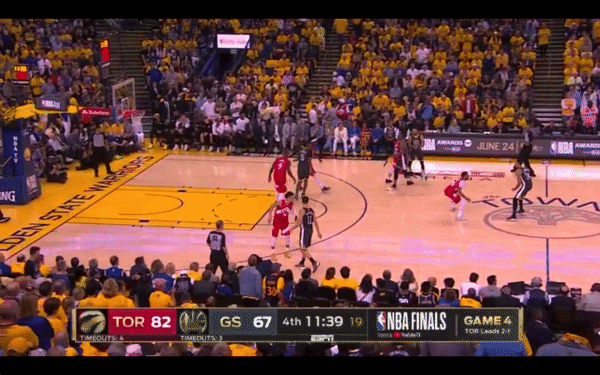 There's only been one team in NBA Finals history that has rallied from a 3-1 deficit, and the Warriors were on the wrong side of history when LeBron James and the Cleveland Cavaliers did just that to them in 2016.
This is no easy task for the Warriors to recover from, but they have to start somewhere and need look no further than the strong performance of Thompson who was by far Golden State's best player: 28 points on 11-of-18 shooting and 6-of-10 from beyond the arc.
More importantly is the fact Thompson didn't look to be suffering any ill effects from the hamstring injury that kept him out of Game 3 as he appeared to be moving well without the ball and was able to free himself up for good looks from deep, as the clip above demonstrates.
The Warriors are going to need a lot more than just Thompson if they're going to beat this Raptors team which looks like they simply can't be beat at the moment, no matter what. But seeing him healthy and playing well just might be the kind of encouragement Golden State needs to psych itself up for the near-impossible test it now faces.