DeMarre Carroll took less than a day to make his mark in Toronto. Weeks before training camp began, the Raptors' marquee off-season acquisition suited up for his first informal scrimmage with his new teammates and played the only way he knows how—all out. He chased loose balls, hit the hardwood and locked guys up full-court, but something was missing: He wouldn't shoot the ball.
Trip after trip up the floor, Carroll passed up good looks, leaving his fellow Raptors incredulous—after all, this was the guy who half-jokingly vowed to become "the African-American Kyle Korver." "DeMarre, shoot the ball!" cried his teammates, most of them the handful of Raptors returning from last season's club, which set a franchise record for wins only to be swept in the first round of the playoffs. The demise of the 2014–15 Raptors was a ball-stopping habit and generally uninspiring defence—two weaknesses Carroll is expected to help address. "Shoot the ball!" they urged again. "No," Carroll responded, "I've got another pass." By the end of that first pick-up game, the ball was moving for everybody else, too.
"I'm going to try to be an example," says Carroll three weeks later, leaning his six-foot-eight frame on an empty rolling cart in the lower concourse of the Air Canada Centre. Earlier in the morning, he'd taken his first team photos—the bleach-blond tips of his signature dreadlocks reaching past the shoulders of a No. 5 white Raptors jersey that looked like he'd been wearing it his entire six-year career. Now, waiting to a catch a flight to training camp in Vancouver, the 29-year-old is talking about how he wants to impact his new team. A pair of workers setting up a concert pass by, wheels of electrical wire hoisted over their shoulders. Carroll dips his head, greeting each as they pass—"Hey boss"—before getting back to the subject at hand: "I'm going to lead with my actions and be a true professional. My mom and dad were big on that. When I left for school, they'd just say, 'Act right,' and I knew exactly what that meant. It stays with you; it becomes a part of how you go about your life. I want that to rub off on those around me."
So do his new bosses. In Carroll, the Raptors hope they've found the missing puzzle piece for a club with visions of a deep post-season run. A true two-way player with big-game experience, Carroll will be a mainstay at small forward, a position that has seen more turnover in Toronto than any other—21 starters in the past decade.
Still, it's the things you can't measure that set Carroll apart. Ahead of the Raptors' first-round matchup with the Washington Wizards last season, then-Wizards vet Paul Pierce said he wasn't worried about Toronto because his opponents didn't have "it"—the mysterious blend of intangibles that allows a team to be at its best when it matters most. Four games later, it was clear Pierce was right.
In their newest star, though, the Raptors have found someone whose journey to get here has taught him exactly what "it" takes. As Carroll says: "I've lived it."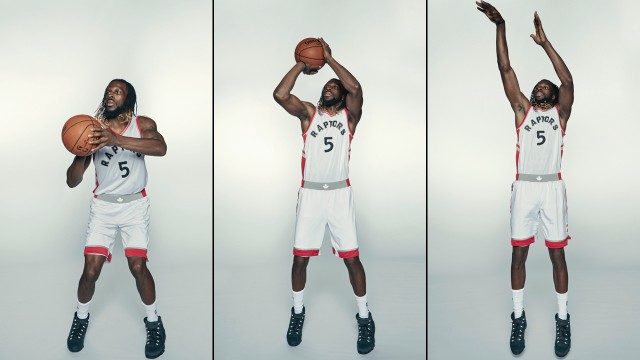 ***
Birmingham, Ala., is a football town, but the Carroll family has long been an exception. Carroll's father, Ed, grew up playing hoops, as did his uncles and cousins. It wasn't until Carroll's older brother DeLonte began to play that he developed an interest in the sport. Both were under the age of 10, but DeLonte picked the game up quickly, and his younger brother followed suit.
When Carroll was five, DeLonte, nine, was diagnosed with a brain tumour. He passed away within the year. "He meant everything to me," Carroll says. "I know he wanted to play basketball at a high level, so every time I check into a game, I draw a heart on the court and blow a kiss to him, just to let him know that I'm not the only one going into this game—he's going in there with me."
Determined to honour his brother's memory, Carroll fought to make the most of every opportunity. In high school, he led his team to two state titles, and when he earned an NCAA scholarship, he fulfilled one of his brother's dreams. Over the next two years, he suited up for Vanderbilt before eventually transferring to the University of Missouri, where he'd have a better shot at impressing NBA scouts.
But on July 5, 2007, just months ahead of his first season with the Tigers, he was at home when he got a call from a small group of teammates who had spent the evening at a local Columbia, Mo., establishment, Club Tropicana. "They were drunk and needed a ride home," recalls Carroll, who owned a GMC Suburban at the time and had gotten used to giving teammates rides. "My uncle always told me to be a leader, so I went to get them to make sure they got home safe."
As Carroll arrived at the bar, he noticed his teammates had gotten into an altercation with another group. He parked, turned off the ignition and rushed to break it up. As he stepped between the two fighting groups, a gun was fired. Carroll didn't see the shooter but felt a sudden burning in his leg. He tried to take a step and crumpled to the ground. "I looked down and saw it was my ankle. You could see the hole through my jeans and the blood coming out," Carroll says. "It was one of those things, man: wrong place at the wrong time." He smiles at the understatement.
A millimetre to the left or right and the bullet would have severed his Achilles tendon. "He's got praying parents," says his uncle, Mike Anderson, a reference to Carroll's mother and father both being ministers. "I always said DeMarre's got angels watching over him."
Carroll healed in time to suit up for Missouri that fall, but the incident had a lasting impact. So, too, did the diagnosis of a rare liver disease that came the following year. Doctors told Carroll it wouldn't affect his playing career, but that he could need a liver transplant later in life. "I go out and play every game like it's my last," he says, "because I've been in a lot of situations where it could have been."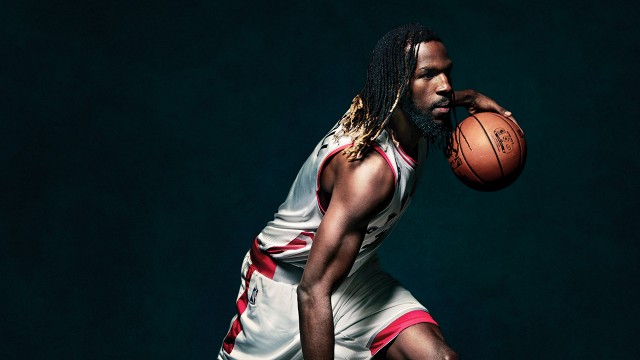 ***
When asked to describe himself, Carroll uses the phrases "blue-collar" and "grit 'n' grind" with roughly the same frequency a cashier asks, "Cash or credit?" They're descriptors that play into his on-court identity, the "Junkyard Dog," a nickname Carroll has come to embrace even though initially he wanted no part of it.
The name was given to him in college by Anderson, who was also his head coach at Mizzou. "I wasn't into that," Carroll says. "When you think of that, you think nitty-gritty, dirty, but that wasn't my game. I was one of the best players on the team."
Carroll made his skill abundantly clear during an exhibition tour in southern Ontario in 2007, influencing the game on both ends of the floor as Missouri blew out their Canadian counterparts—a pair of all-star teams and a squad from Brock University—by an average of 35 points. The success carried into the regular season, where Carroll emerged as Missouri's star. But even then, it was the glue-guy qualities he brought to his team that seemed to define him. Missouri's best player played like a walk-on; each game was a new tryout. The nickname stuck.
After carrying the Tigers to the Elite Eight as a senior in 2009 and playing the best basketball of his life at the Portsmouth Invitational—an annual camp for America's top 64 college seniors—Carroll was a lock for the NBA Draft's first round. He was selected by the Memphis Grizzlies at 27th overall, but in his first two seasons in the league, he barely left the bench. "I thought I knew it all," he says, his eyes narrowing. "I had a smart mouth, and sure enough, it came back to haunt me. If I listened better coming out of college, I probably already would have gotten this opportunity I have right now."
Passed around the NBA—playing for four teams in his first two and a half seasons—Carroll landed in Utah in February 2012. He spoke regularly to Anderson, who told him to use the experience as motivation and to remember the qualities that led Memphis to take a chance on him in the first place. "I went back and thought about it," Carroll says, "watched some tapes, saw the little things I did to affect the game and realized, 'Yeah, that's kind of what junkyard dogs do: protect the yard.' It brings you back to reality, that name. Everyone who's used to being the best player comes into the NBA thinking they'll be a star. But you realize pretty quickly that only a select few reach that level, so you have to learn to understand your role, and for me, that name helped me do that."
In an early March game against San Antonio that year, Carroll scored 16 points in 17 minutes while locking down his man, Kawhi Leonard, who managed just six. He started every game for the rest of Utah's season. "I started on a bumpy road in the NBA. After sitting back and examining myself, realizing who I am, that's when the Junkyard Dog came into full effect."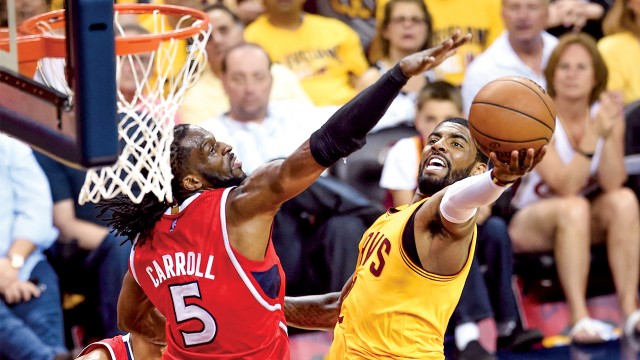 ***
In 2013, Carroll signed with Atlanta and got a chance to show off his expanding game. The Hawks had just hired Mike Budenholzer, a Gregg Popovich disciple who valued the toughness, defensive pride, shooting and high basketball IQ Carroll brought to the table. On the Hawks, he earned his first starring role in the NBA and never looked back, becoming an integral part of a team that went on to earn a conference-best 60 wins last season. In the 2015 playoffs, Carroll turned his game up to 11, raising his scoring average and anchoring the Hawks' defence. After failing to see significant floor time for most of his pro career, suddenly he was the kryptonite Atlanta brought out to try to stop LeBron James.
Masai Ujiri was watching, and Carroll climbed up the Toronto GM's summer priority list. An impending free agent, Carroll could fill a crucial hole for the Raptors: a defensive-minded, starting-calibre wing player just entering his prime with the versatility to adapt to a number of lineups. It was no surprise, then, that on the first day of free agency, a small Raptors contingent, including Ujiri and Dwane Casey, was the first to meet with Carroll, practically waiting by the front door of his Atlanta home.
For Carroll, leaving the Hawks was far from a foregone conclusion. He'd married his wife, Iesha, the day before his meeting with the Raptors, and Budenholzer had flown in for the wedding, the coach already talking about plans for next season and assuring Carroll that Atlanta would do what it took to re-sign him. The Hawks were one of eight teams that scheduled meetings with Carroll, but he ended up agreeing to a deal with Toronto immediately, excited by the promise of a larger role and the opportunity to be a crucial part of the team's next step.
In Carroll, the Raptors aren't just getting a contributor on the court, they're also getting a public figure looking to make a difference. "I've been through a lot, man," Carroll says. "But if one person can hear my story, one person who may have been through similar hardships—been shot, lost family members, been on the verge of giving up in whatever they do…" he trails off. "A lot of people talk [about helping others] because they think it sounds good, or it helps their public image," he says, regaining himself. "But I do it because it's my purpose in life. My concept is: I got through it. And as bad as I had it, there's always someone who's had it worse. I go to hospitals all the time. You won't see or hear about it. It goes unnoticed, and that's kind of the point. But if just one of those kids I visit can take something from spending time with me… I'm just trying to help people, man."
This summer, Carroll started his own charity to help kids with liver disease, and he continues to set an example for those around him. "Forget basketball," says Anderson, "it does my heart good to see that we've raised a productive citizen."