July 9, 2015. One of the biggest days of Cory Joseph's professional life. Turned out in a grey suit, a crisp white shirt and no tie, his beard trimmed just so, he looked out on a sea of cameras and onlookers and saw his mother, Connie, and his brother, Devoe, as well as his long-time girlfriend, Stefanie. He had just signed a $30-million contract and was being welcomed at the Air Canada Centre as the first member of Canadian basketball's great talent wave to come home for the prime of his NBA career, completing the hard-to-believe trip from the Sprite Zone to centre court. It was a celebration. Joseph called it surreal. The only person missing was his father, David.
Now, don't get the wrong idea. It's not like it sounds. This isn't one of those stories.
David Joseph missed his youngest son's big day because he was in the gym, teaching basketball to kids. He saw the texts: "Are you coming? Where are you?" And he wanted to be there. He likes to say that it takes a village to raise a basketball player, but David is the village elder, the guy who put the Nerf ball in his sons' hands and has shared their basketball journey every step of the way. David was in the gym, and there were kids waiting to be taught. The choice was simple. "I was going to go, but I said, 'If I go down there, too many people are going to be after me—too many interviews,'" he says. "And if I went, the gym would be packed with kids and I wouldn't be there, so I had to make a decision. I couldn't let the kids down. Cory and Devoe know: When we had basketball, nothing got in the way of it. We loved basketball, but if we had the choice to watch a game or play, we'd play."
By any reasonable standard, Cory Joseph surpassed his father on the court a long time ago. He and Devoe won two provincial titles at Pickering High School in Ajax, Ont. Joseph then left home to attend Findlay Prep in Las Vegas for two years—carving a path for Toronto ballers to follow—and won consecutive national invitational tournaments there while running with Tristan Thompson before they both went one-and-done at the University of Texas. He was a first-round pick by the San Antonio Spurs in 2011 and an increasingly valuable reserve who earned an NBA championship ring in 2014. And now he's home, answering the Raptors' need for both defensively sound backcourt depth behind Kyle Lowry and championship experience in the locker room.
But sometimes Joseph feels like a guest in the basketball house that his dad helped build. It's always been thus. He's never been able to go anywhere without hearing about his father, a legend from the generation of Toronto players judged by what they did locally before local basketball talent became an export commodity. "My dad knows more people in the city than I do, still, to this day," says Joseph. "I think people know him more than me. Everyone comes to me, 'Man, where's your dad, where's your dad?' And I'm like, 'Are you so-and-so?' I can't keep track."
David arrived in Canada from Trinidad when he was 12, dropped soccer, his father's sport, and picked up basketball—as many did in the 1970s and early '80s—through a neighbourhood friend. The Raptors hadn't even been thought of yet, so the most riveting basketball Toronto had to offer was played in the high-school tournaments throughout the winter and at the city championships held at Jarvis Collegiate, where David become a star, trekking in from Scarborough. Later on, it was the George Brown summer league, featuring a smattering of returning overseas pros, national-team players and Americans who ventured up looking for competition. The names—Norman Clarke, Leon Bynoe, Simeon Mars, Joe Alexander and many others—can be rattled off at will by those who were there. And though playing in the U.S. was little more than a dream for him, David was known to many as a supremely athletic guard who topped out at a shade under six feet but had the hands and arms of a much taller man and hops that would have made him Twitter famous today.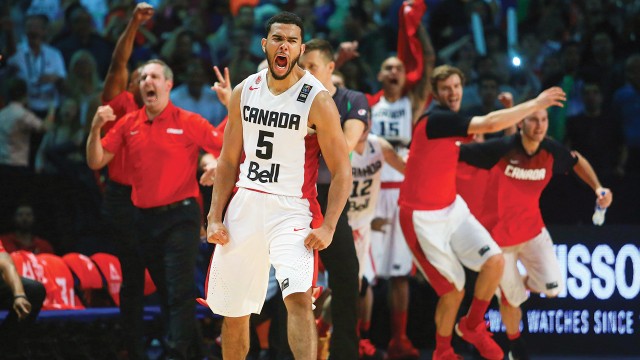 Cory Joseph grew up hearing the stories about his dad. How he won a dunk contest while wearing his church shoes, stuffing two balls down at once. Or how he dropped 50 in a college game. Or how he and some pals from Toronto travelled to Harlem to take on the famed Riverside Church Hawks—the most powerful AAU club in U.S. basketball at the time, one that was churning out Div. I talent in the 1970s and '80s—and beat them by 25. "Man, if you know my father, you know he could talk about himself," says Joseph, laughing. "I probably know more stuff than he knows about himself from all the stories he's told me and probably forgotten. People call him a legend in this city, and I always tell him: 'They didn't have video cameras back then, so how would I know?'"
But Joseph did some sleuthing—some independent fact-checking. "Some stories he told me, I'd ask around to see if they were true or not, [to make sure] he wasn't fabricating them, and they're all pretty accurate."
The scouting report: "He was a smart player, a good defensive player, a scorer," says Toronto Raptors broadcaster Paul Jones, who grew up playing against David in high school and with him on men's teams and in pickup runs, and represented Canada internationally. "And he had this athleticism. I joke with my brother, Mark: As good as Cory and Devoe are, I'm not sure they could have beaten their dad [in high school]. And there were lots of guys like that. You see guys in the NBA now and you look back and there were a lot of guys who could have played professionally in Europe or made an NBA roster had the times and circumstances been a little different. And now you look around and a lot of times their legacies are their kids, the next generation."
In that context, Joseph's story isn't simply "local boy makes good." It's validation for an entire era of players from Toronto who believed they were capable of playing at a higher level, but couldn't know for sure because they never really got the opportunity to venture out and test themselves. A few decades later, the rosters of Canada's national teams at all age levels are filled with the sons and daughters of players who were at the forefront of what Canadian basketball has become.
Of course, that's not why Joseph was signed by the Raptors or why Masai Ujiri pursued a trade for him almost from the moment he became the team's GM. Joseph is a Toronto native, but he brings back lessons learned in the crucible of the game, with Gregg Popovich at San Antonio Spurs U. Fresh off the Raptors' playoff flameout last spring, Ujiri made signing Joseph a priority as he tried to remake the character of a team he judged lacking in grit and too willing to fall into selfish play. "The education he got in San Antonio—you're playing for one of the greatest coaches ever, you're playing with three future Hall of Famers," says Ujiri. "And the way he kept that poise, that composure, and [managed to] be ready whenever they needed him, it was telling."
Playing at home can be a distraction for some players, but Ujiri's confident it won't be for Joseph. "It's all basketball with him," Ujiri says. "He's got the right demeanour and he's mature for his age. You can tell what his focus is and what his purpose is."
But if San Antonio provided his degree in NBA basketball, for Joseph, the lessons began at home. And they didn't come just from David. His mother, Connie, was a player ("I get [my] toughness from her," says Joseph) and she was more than pleased when her sons (who have two older sisters) threw themselves into the game. Even after she and David split up, basketball kept the family together. "Connie was real good. She never locked me out or anything," says David, laughing. "You have to give her props. I could come in and take them any time I wanted. There was none of that 'You have them this week, I have them next week.' I picked them up every day for basketball. I coached their high-school team, their public-school teams. There were no problems."
All that help gave Joseph what he needed to go out into the world, and now that he's back, he wants to pass along some of the same. One of his first initiatives after signing with the Raptors was to launch Key Hoops, a program aimed at using basketball to "open the door" to larger opportunities in the sport and beyond. Of course, David will be coaching the program's top team.
And when the Raptors play their season opener at home, David will be there. "Back in those days, we all wished we were in the NBA, right?" says David. "Imagine your kid in the NBA. For the Raptors? It's a dream come true."
This story originally appeared in Sportsnet magazine