OAKLAND, Calif. – Two of the most dangerous offensive players in the history of basketball are engaged in a simple shooting game after practice. They are partners, the goal is to make as many consecutive three-pointers as possible.
One of them starts at the three-point line in the corner, the other is stationed just above him on the wing.
When one makes the corner three, the one on the wing shoots, while the one who shot from the corner runs to the top of arc to shoot after his partner shoots from the wing, and so on, around the three-point line.
They keep going until one of them misses, at which point they start again.
The two players are Steph Curry and Kevin Durant of the Golden State Warriors. As you might imagine, the game goes on for a while. Knocking down five in a row is no big deal, but the owners of the NBA's last three MVP awards are into degree of difficulty. They get the tally up to 12 or 13 in a row and want to keep going. The tension builds as the streaks extend and when there is a miss it's often announced with a loud curse, and the game begins again. Neither wants to let the other down, each wanting to keep pushing the envelope.
Which is the problem facing the Cleveland Cavaliers as they get set to face Durant, Curry and the rest of the Warriors in Game 2 of the NBA Finals on Sunday evening, looking to tie the series before it heads back to Cleveland for Game 3.
Not only do Curry and Durant represent a seemingly impossible-to-contain two-headed monster already – they combined for 64 points, 18 assists and just two turnovers while connecting on 9-of-17 triples in a Game 1 blowout – the fruits of their pairing may only just be starting to show.
Regardless of what happens in this series – and even one game in it's hard not to view the Warriors as locks to win their second NBA title in three years – the problem the Cavs are facing along with the rest of the NBA is that the Curry-Durant partnership could just be starting to hum.
Tasked with getting them the ball on time and on target is Warriors assistant coach Bruce Fraser. Bit by bit, practice by practice, drill by drill, he can sense Curry and Durant beginning to click.
Can greatness be contagious?
"I don't know if contagious is the right word," said Fraser, who has worked with Curry for years and has recently included Durant in their post-practice routines. "But when talent like that is around you and you see the way they work, it makes you work.
"And maybe there is something contagious about it. It doesn't mean if a player's a good shooter and I join the team I'm going to be a good shooter, but there is something about seeing that sort of brilliance, seeing people that are that good at their craft – it doesn't matter what it is – there is some inspiration within that."
Not that either man needs much inspiration, they've each done just fine without the other. Curry is the two-time defending MVP. He has a championship ring. He has the record for most three-pointers made in a season three times over. His 2015-16 season, when he made an NBA-record 402 threes and averaged 30.1 points a game while shooting 45.4 per cent from three and 50.4 per cent overall – is among the greatest seasons ever played.
Durant is a four-time NBA scoring champion who reached new heights for offensive efficiency this season, his first as part of the Warriors' multi-pronged, ball-sharing attack, setting career marks for offensive rating (125 points per 100 possessions) and true shooting percentage (.651), leading the Warriors in each category.
The Jeff Blair Show
NBA Finals looking like showtime for the Warriors
June 02 2017
The Cavaliers' problems defending the Warriors don't end with them, but in trying to account for each player's ability to shoot from deep range while also being able to score at the rim, their defence broke down in Game 1 like every other defence the Warriors have encountered during their 13-0 post-season.
The scary part is neither Curry nor Durant is satisfied, and being around each other could bring out their best basketball yet as they share best practices, like a pair of world-class neurosurgeons comparing trade secrets few others can appreciate.
From the moment he arrived in Golden State, Durant set out to study Curry, who has proven himself able to score so efficiently without the height and length advantages Durant has as his difference-maker.
"Well, you want to know why Steph is one of the best players in the world, one of the best players ever," Durant said when I asked him about what he's learned from working with Curry. "You just want to know how hard they work. You want to know their approach to the game. You want to know how serious they take it. So Day 1, when I came in, I see his work after practice, after shootarounds and how regimented it is. He's like a robot."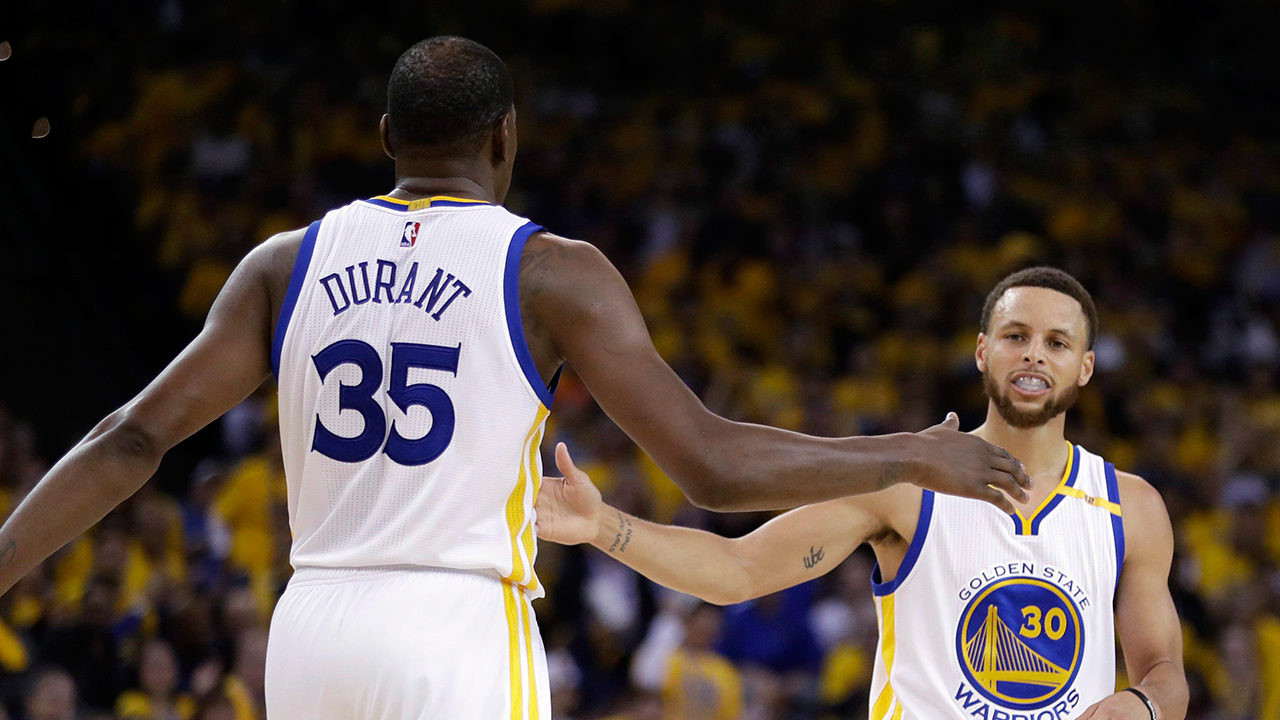 Neither Curry nor Durant is satisfied with where they are, and being around each other could bring out their best basketball yet. (Marcio Jose Sanchez/AP)
---
This is a good thing, according to Durant.
"I think in order for you to be good in this league, it has to be an everyday thing," he said. "And it is with [Curry]. So that's the first thing I wanted to see. And I just wanted to see how he became so good, the techniques, the methods that he used to work on his game. I definitely learned a lot from him as far as his base of his jump shot, his balance in the pick-and-roll, his ball handling, just all the skills that you see within the player.
"I wondered where he got it from, and I see it every day, the stuff that he works on … the unorthodox movements that you really can't try in the game, but stuff that it works on his body … I think that he's taken it to another level in just trying to challenge himself. And I try to do the same things. We challenge each other as well, so it's been a great dynamic."
It works both ways. In the early going Curry had to work to figure out how to mesh his game around Durant's – his scoring average dropped by nearly five points a game from his MVP season in 2015-16, but in the playoffs he seems to have struck the perfect balance. Curry is averaging 28.5 points a game – up three points from the regular season – while shooting 50.2 per cent from the field and 44 per cent from three. All marks would represent career playoff highs.
"Day 1, when I came in, I see his work after practice, after shootarounds and how regimented it is. He's like a robot."
Curry credits Durant for inspiring him to keep reaching for new levels in his game, too.
"Most guys are self-motivated, self-driven," Curry said when I posed the question about what working with Durant has meant to his game. "We understand what it takes to elevate our game, get better every single year, how to use our practice sessions, our individual sessions, whatever it is, to stay sharp. But when you have a culture of guys that work, guys that want to be great and want to put the time in and not cheat the game, it's huge because you can feed off of that energy.
"Even though it's an empty gym after practice [or] Game 36 of the regular season, it's the same process. We finish practice, guys get their individual sessions in, some guys come back late at night, get shots up. It's just kind of the status quo around here. We're going to work and you're going to do whatever you can to get yourself ready for a big moment throughout the course of the season. That identity and that kind of expectation has been established from Day 1. So it's huge."
And while the six-foot-three Curry can't approach scoring the ball the same way Durant can at nearly seven feet, it doesn't stop him from trying to steal tricks from a world-class attacker who just happens to come to work with him every day.
If there is a podcasting odd couple, this might be it. Donnovan Bennett and JD Bunkis don't agree on much, but you'll agree this is the best Toronto Raptors podcast going.
"[KD does] a lot of different footwork drills and stuff that I've never done before, that he has learned along the way; that I just sit and watch and I try, from time to time, just to kind of shock your body a little bit and see if you can do it and how it may help you," said Curry. "I do a little Karate Kid-type balance drill on my pre-game warmups that I got from KD and [Warriors player development consultant] Steve Nash, just talking about it one random practice and just trying to add that to my repertoire.
"It's a long career that you want to have, and you have to find different ways to challenge yourself," said Curry. "Whether it comes from KD, whether it comes from Steve Nash, other great shooters, any of my teammates, all that input is very valuable for me as I go forward."
Which is why the Cavaliers and the NBA should be afraid. Very, very, afraid. Durant and Curry are two of the most lethal scorers in league history and at age 28 and 29, respectively, still have several prime years remaining. After reaching the peak of the game individually they're now working together to reach new heights.
This is Cleveland's problem in Game 2 and the rest of the series, but it's going to be the rest of the league's issue for years to come.