MILWAUKEE — On Friday, after suffering through what was quite literally the second-worst performance of his 870-game NBA career, Marc Gasol wasn't most upset with the eight shots he missed versus only one made. He wasn't particularly displeased about his two turnovers, or his uncharacteristically inaccurate passes, or the way he forced things offensively practically every time the ball touched his hands.
He was pissed, absolutely fuming in the moments after his team's loss in Game 2 of this Eastern Conference Final, about what he did at the other end.
"I allowed my frustrations offensively in that game to impact my defence. And that really threw me for a spin," Gasol said Tuesday night in a lively Toronto Raptors dressing room after his team evened its series with the Milwaukee Bucks at two games apiece. "Whatever happens offensively, you can't let it affect your defence. That was what really got me frustrated — allowing my offence to mess up my defence. Because that's where your team relies on you the most. That really threw me for a spin. But it's life, right? You get knocked down, you get up, and you try to do better."
Gasol's ability to do just that is one of the elemental reasons the Raptors have been able to fight their way back into this series. He's converted 11 of his 22 attempts over the two games since, including 7 of 14 from beyond the arc. After the Raptors lost Gasol's 19 minutes in Game 2 by 14 points, they've won his 76 minutes since by seven. A brutal minus-35.9 net rating in Game 2 has given way to positive marks of 7.2 in Game 3 and 5.2 in Game 4, as Gasol's asserted himself at both ends.
He's done exactly what a veteran of 11 NBA seasons is meant to. And exactly what he told his coach, Nick Nurse, he'd do during a quick chat a day after the disappointment of Game 2. He's responded.
"I said, 'Listen, you're a great player. Because my definition of a great player is you make all the other people around you better. And there's nobody else I'd rather go out there with than you,'" Nurse remembered. "And he said, 'I'm going to play great the next game.' So, his confidence didn't waver. He's been around a long time. He knows he can play and impact this game and impact this series in a big fashion."
Part of the reason Nurse had that conversation with Gasol may have been the speculation that was beginning to swirl about a potential starting lineup change in the wake of Toronto falling into a quick two-game hole. One idea was to replace Gasol with Serge Ibaka, the back-up centre who had looked more comfortable and dynamic in those two losses. Another was to shift Pascal Siakam into the centre position and replace Gasol with Norman Powell in order to get the surging wing more involved in the series.
But none of it came to pass, as Nurse stuck with his veteran centre and was rewarded for it. Gasol scored 16 with 12 rebounds, seven assists, and five blocks over 45 hard minutes in Game 3. Only 48 hours later, he followed it up with 17 points and seven more assists over 31 minutes in Game 4. After his primary defensive assignment, Brook Lopez, went off in Game 1, Gasol's managed to keep Milwaukee's stretchy centre mostly contained since, while providing plenty of help defending the barrelling drives of Giannis Antetokounmpo. And, perhaps most important of all, he's played with a confidence and decisiveness that was curiously absent from his game earlier in the series.
"What I've seen is him being aggressive, being assertive, catching-and-shooting, shooting the trail threes," said Raptors guard Kyle Lowry. "Not worrying about it. Just catching-and-shooting. He watched the film. He sees the shots that he has available — and he's been taking them."
It can't be stressed enough how important it is for Gasol to shoot his shot. A 36 per cent three-point shooter since he incorporated it into his game three seasons ago — as any NBA centre who wants to continue receiving bi-weekly direct deposits should — Gasol has the ability to open the floor right up by taking, and making, his open looks from beyond the arc. If Gasol's defender is forced to play him closer at that range, rather than sagging off him into the paint and letting him shoot, it creates lanes of attack for Toronto's guards and wings to cut into.
And that's when the exceptionally gifted playmaker and passer can really go to work. Gasol's 22.2 per cent assist rate this season ranked third among NBA centres, the seventh consecutive year he's placed top-five in the category. Standing at one of the elbows, Gasol operates less like a plodding NBA big man and more like a quarterback, reading defences, directing traffic, and dropping dimes into space.
Watch his anticipation here, as he sees a play develop one step ahead of everyone else, leading Lowry in motion for a relocation three: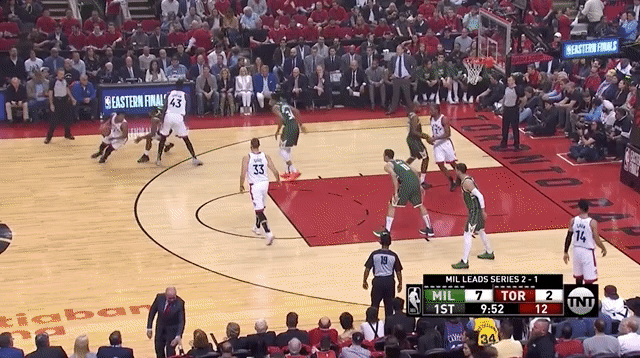 Look at the little head nod he gives Kawhi Leonard here, before splitting a pair of defenders with a bounce pass and initiating one of Game 4's most indelible moments:
He uses the head nod with Leonard again here before lacing an absolute bullet into open space the instant Milwaukee's rim protectors stray a little too far away: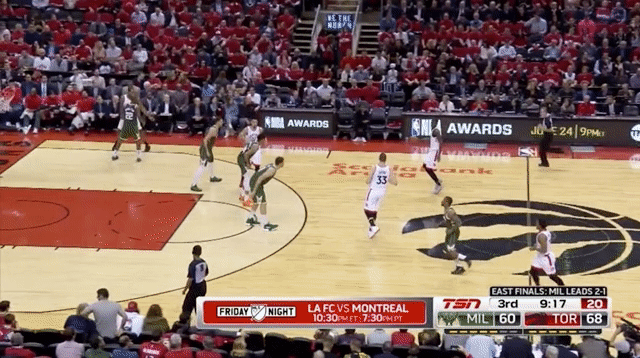 "Marc did a phenomenal job of breaking down the defences when he had the ball up top on cuts, on screens," Powell said. "I think we're just playing for one another. Everybody is talking about what we see and how we can get better looks and try to get a shot up every time. We're staying confident in one another. We're talking to each other about different shots, different reads that are there."
It's hardly a coincidence that the Raptors are 8-2 in games this post-season in which they notch 21 assists or more, and 2-4 in games with 20 assists or less. Tuesday, they had 32 assists on 41 made buckets, their second-highest total of the playoffs. The result was a commanding victory, once in which the Raptors averaged 125 points per 100 possessions, also their second-highest mark of the post-season.
When your roster has a player as transcendent as Leonard — and particularly when he's playing at the all-world level he has been — it can be tricky not to fall into a pattern of simply handing him the ball and letting him go. But the Raptors' offence clearly functions best when the ball is moving, whizzing from station to station, cutter to shooter, elbow to post to corner, finding open looks for shooters with the confidence to take them.
"That's really kind of our true system — that we create opportunities and everyone's involved, everybody's touching the ball, and everybody's moving and cutting. It's kind of a free-flowing, open system," Nurse said. "It was a good night last night, one that we needed on that particular night. It was great to see the ball moving and sharing — the 32 assists. And a lot of people making the ball move and getting it to the guys who were open. And those guys that were open were willing to take those shots."
So much of that applies to Gasol — whether it's his willingness to shoot from beyond the arc, his vision to find cutting teammates in space, or the sheer amount of offence that flows through him. In each of the last two games, Gasol's finished second on the team in touches and first in assists. No Raptor has thrown more passes in the two victories. After being at his worst in Game 2, Gasol's response has been to show everyone his best.
"It's team basketball," he said, simply. "It's everyone's job to do whatever's necessary to win the games."