The matchup is set. The Toronto Raptors will face off against the Milwaukee Bucks in the post-season in a matchup that is destined for NBA TV and early weekend time slots.
It's #WeTheNorth vs. #FearTheDeer.
If you don't think the Raptors get much love from the mainstream media the Bucks are beyond an afterthought playing in the NBA's third-smallest market. So, if you haven't been watching the Bucks on NBA League Pass you probably don't know much about the team that you are inevitably going to muster up a reason to hate over the next two weeks.
Here's a complete guide to the Raptors' first-round opponent.
Season Series:
Toronto won the season series 3–1.
Tale of the tape:
The Raptors score more points per game (107) than Milwaukee (103.7) and have also fared better defensively on a per-game basis (102.9) even though the Bucks' calling card is defence (103.7). The three-seed Raptors (50-31, .617) take on the six-seed Bucks (42-39, .519).
Experience:
Tony Snell is the only Bucks starter to have played double digit games in the post-season. Snell has played 16 playoff games and never started one. The Raptors' five starters of Kyle Lowry (44), DeMar DeRozan (31), DeMarre Carroll (47), Serge Ibaka (89) and Jonas Valanciunas (23) have all started in the playoffs and combined for 234 post-season appearances.
The Good News:
Toronto has Milwaukee's number. The Raptors' record versus the Bucks over their last 15 meetings is 13-2. During that span, which dates back to the start of the 2013–14, season they are 7-1 against the Bucks at the Air Canada Centre.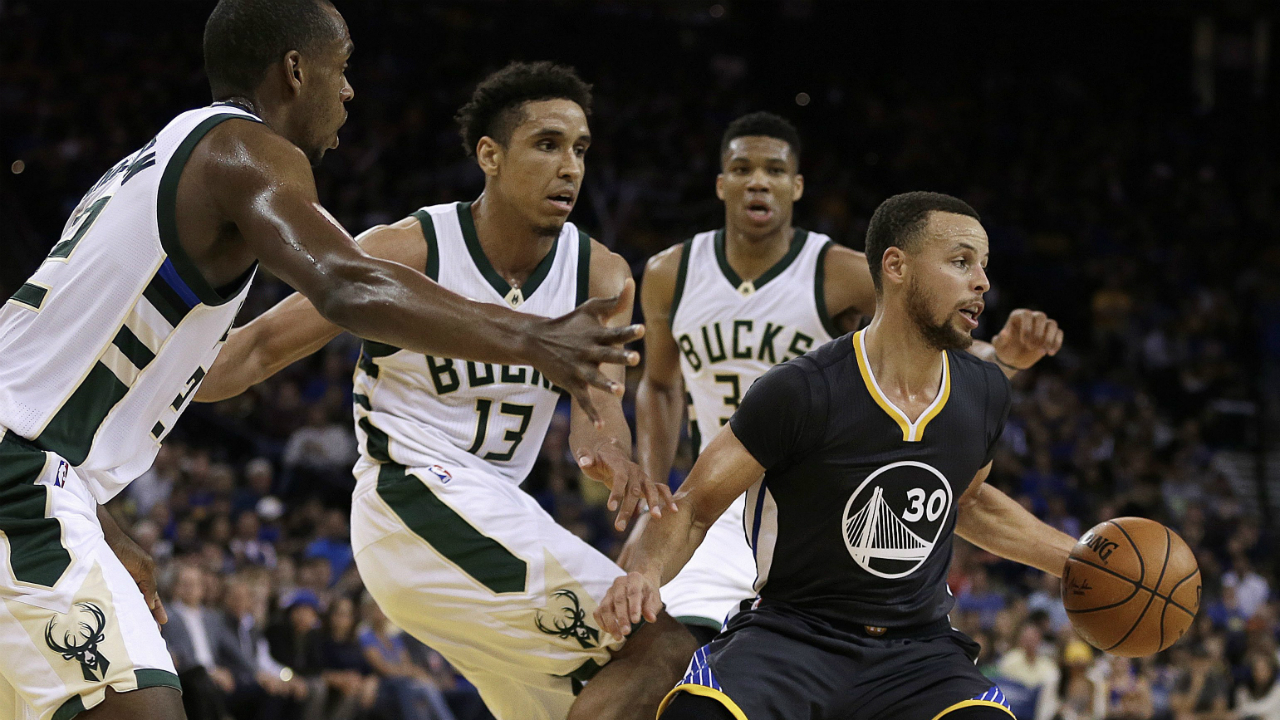 The Bad News:
The strength of the Toronto Raptors is that they have two backcourt players who can kill teams in isolation. Most teams have to choose which all-star they use their elite perimeter defender on. The beauty of the Bucks is they have multiple bodies with length they can throw at the Raptors' all-star backcourt.
Both the six-foot-five Malcolm Brogdon and the six-foot-eight Khris Middleton can bother the six-foot Lowry and challenge his patented step-back jumper. Giannis Antetokounmpo — at six-foot-11 and with a seven-foot-four wingspan — can stay in front of the six-foot-seven DeRozan and recover to disrupt his mid-range game while staying down on his pump fakes.
Canadian Content:
Rookie Bucks forward Thon Maker, who played his high school basketball at Orangeville Prep, surprised many when he declared for the 2016 NBA draft straight out of high school. The bold move paid off. After starting the season as a DNP-CD candidate, Maker has been a big contributor for Milwaukee down the stretch and is starting at centre.
His younger brother, Matur Maker, is still in high school in Canada and recently won the MVP award for his team at the Biosteel All-Canadian Game.
Current Form:
The Bucks recently lost three straight by an average of 17 before righting the ship against a tanking Philadelphia 76ers team and the slumping Charlotte Hornets. They'll be resting their stars in the season finale versus Boston to get ready for the playoffs. Antetokounmpo, Snell, Middleton and Matthew Dellavedova all did not make the trip to Boston.
Match-up problem:
Antetokounmpo is a match-up problem for nearly every team in the league. He could win most improved player this year, but he'll also get MVP votes and it isn't out of the question he could win the award next year.
This season he put up a career highs in points, rebounds, assists, steals, blocks, field-goal percentage, minutes played, three-point percentage, free-throw attempts, player efficiency rating, win shares, usage rate, offensive rating, turnover percentage, true shooting percentage and, most importantly, team wins. The Greek Freak made the leap from budding star to franchise player and he is only 22. By the time his career is done he could easily be the only player to have won MIP, MVP and Defensive Player of the Year.
He leads the Bucks in all five main box-score categories (PTS, REB, AST, STL and BLK), becoming only the fifth player in league history to do so. It would be one thing to do that for a team in the lottery, but to dominate the stat sheet on a playoff team is arguably as impressive as Russell Westbrook averaging a triple double.
His rare combination of size, speed and athleticism on display during this series will be a constant reminder for Raptors fans of what they hope Bruno Caboclo could one day approximate. So don't celebrate because Toronto escaped a series against Raptor killers Jimmy Butler or Paul George — best-of-seven with Antetokounmpo will be a beast.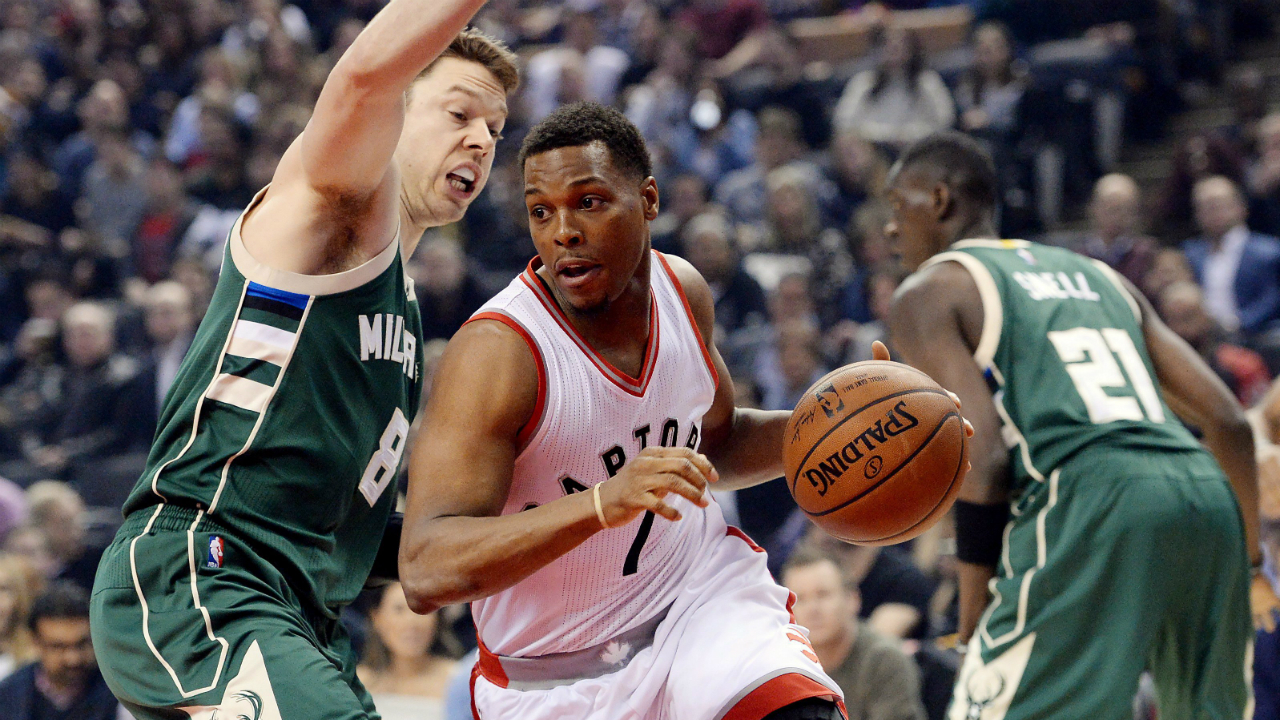 Series Villain:
This is hard because the Bucks are a rather vanilla team. Jabari Parker is a villain candidate because it is easy to hate any player who went to Duke, but he is done for the year with yet another knee injury.
The answer has to be Dellavedova. As Canadians, we are accustomed to getting along with Australians. But Dellavedova can be a Sean Avery–type pest without the fashion sense. He also has a history of randomly injuring players he plays against and pleading ignorance, saying he lost control of his body.
Delly even got under Steph Curry's nerves and Steph is literally the most easy-going superstar the sport has ever seen.
How long before Lowry wants to throw the ball at his face after being undercut under the basket? How long until P.J. Tucker stands over him after setting a blind screen on him at half court? I'm setting both lines at 1.5 games. I'm secretly rooting for an incident so bad that Don Cherry decides to address his pest nature during Coach's Corner.