They've done it. The Toronto Raptors have acquired the power forward they've long coveted, swinging a deal with the Orlando Magic for Serge Ibaka.
So what does this all mean? Let's take a closer look:
FOR THE RAPTORS:
Toronto desperately needed help in its frontcourt rotation. This was made abundantly clear each and every time Patrick Patterson has stepped off the floor— the Raps were relying on rookies Pascal Siakam and Jakob Poeltl, and (a wildly disappointing so far) Jared Sullinger and suffering for it.
In Ibaka the Raptors receive a bona fide starter who fills a number of needs for this team. The Raps' defensive rating is in the bottom half of the league (and falling during the current losing spell) and, to put it mildly, they've had issues defending the basket. Ibaka may not be a great rebounder (career average of 7.3 per game, and 6.8 per game this season, the lowest total since his rookie season in 2009-10), but he is only a few years removed from being, quite literally, the best rim protector in the NBA. He led the league in total blocks for four straight years between 2010-2014, becoming the only player in history other than Dikembe Mutombo who can make that claim.
In 2011-12 he posted a career- and league-best 3.7 blocks per game, and the following season led the NBA again with an even three blocks per. His block totals have dropped significantly every season since— that can be attributed to his aging (listed as 27…) as well as the fact that he spent the last three seasons splitting time with the likes of Steven Adams in Oklahoma City and Bismack Biyombo in Orlando. But he should still have a noticeable impact on the defensive end of the floor.
Offensively, Ibaka is a versatile player who can stretch the floor to the three-point line — shooting nearly 40 per cent from deep this season — and exhibits an elite mid-range game for a big man to help spread the floor and create room for players like Jonas Valanciunas: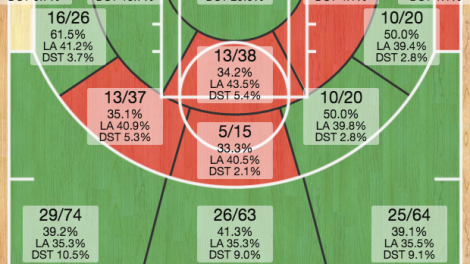 (NBA.com)
Perhaps the best part of bringing Ibaka into the fold, where he'll almost surely be inserted into the starting lineup from Day 1, is that he projects to be a great fit alongside Valanciunas, where he offers a complimentary scoring touch while being able to help cover up JV's deficiencies on the defensive end of the floor. Ibaka's addition also gives the Raptors a ton of breathing room should Patterson be out of the lineup. The Raptors star reserve has been battling injuries all season, and the team simply hasn't been able to cover up his production on either end of the floor with him out.
Ibaka also brings a ton of playoff experience to this club, having played a major role in the Thunder playoff runs of recent years, including three trips to the conference finals and one to the NBA Final in 2012. It's hard to ignore that he hasn't quite been the player he once was in his Thunder heyday, but we're about to find out how much of that had to do with situation as opposed to deteriorating skill.
Ibaka earns $12.5 million this season and is in the final year of his contract. For now, he's considered a rental, but the Raptors acquire his Bird rights in the deal, making it easier to re-sign without hurting their cap situation as much, something Masai Ujiri reportedly wants to do this off-season.
With two first-round picks in this year's draft and a crowded depth chart at the wing, the Raptors had clear assets to move: one of Terrence Ross or Norman Powell, and either or both of their picks.
The picks are coveted because the 2017 draft has been exceptionally hyped, but with a ton of young prospects already on the roster and an eye on another deep playoff run the team isn't really in a position to add more future pieces while trying to win now.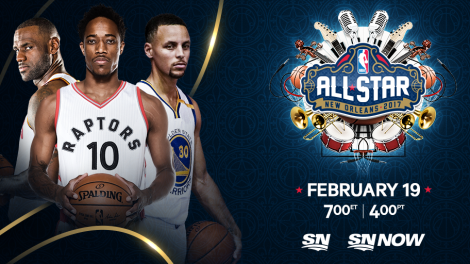 Giving up Ross hurts a bit given how well he's played at times this year and because of his attractive contract that pays him "just" $11 million per year for two more seasons after this one. But it opens up more playing time for Powell, who is a safe bet to take full advantage of the opportunity he's been waiting for for two years.
FOR THE MAGIC
Orlando is a mess. They traded Victor Oladipo and the 11th pick in the 2016 draft for Ibaka, who has now turned into Ross and a pick expected to land somewhere in the mid-20s. They're surely looking to hit the reset button, so adding picks is hugely beneficial.
As for Ross, they get a talented scorer on, as mentioned, a very reasonable contract. Much like Powell, Ross is about to get the biggest opportunity of his career, joining a team that desperately needs offensive firepower from the wing position.