SAN FRANCISCO — Now you see them, now you don't. Blink and they're gone.
This is the problem facing the Toronto Raptors as the NBA Finals shift back to the centre of power for the Golden State Warriors — Oracle Arena, where so many teams with aspirations of knocking them off have been humbled and often crumble.
'See ball and man' is the fundamental precept of defending away from the ball but Warriors guards Klay Thompson and Steph Curry thrive in those moments — split seconds really — where their defenders have to turn their head, attend to a distraction or navigate around an obstacle.
It's the source of the Warriors' magic. And why the news that Thompson is questionable for Game 3 with a hamstring strain could be a series-shifting development for the Raptors.
"Their offence is built off that basically," says Raptors guard Danny Green, who defends both Curry and Thompson. "Our offence at times is … you try to make a play for yourself or a teammate at the rim, kicking it and then finding space on the other end, and hopefully they fell asleep, just non-stop moving.
"But their offence is based on that [movement]. All they do is try to find those two guys and run off screens and make sure if they don't got the first shot, they're going to try and get a second or third look somewhere on the other side of the floor."
At peak efficiency it's two incredible shooters, running around, pausing, sprinting, setting up screens, looking for moments when the defence is distracted by the ball and relocating to a spot where the ball can find them and where all they need is a sliver of daylight to launch a three with a higher degree of accuracy than any backcourt in NBA history.
Through two games in the NBA Finals the Raptors have had a taste of what they can do
"They're keeping everybody's head on a swivel. They create so much space without having the ball. It's not very many people that can do that," says Warriors guard Shaun Livingston. "A lot of players in this league, including myself, we create our value based on having the basketball. Those guys are able to do it off of the ball. That's kind of what makes us go."
The term that gets tossed around a lot is 'relocate' and it means just what it sounds like it means — Thompson and Curry especially start with the ball and the entire defence's undivided attention, then give the ball up and use that instant when the defence has to reset to find some open space where the ball can find them.
When it works well it looks like this: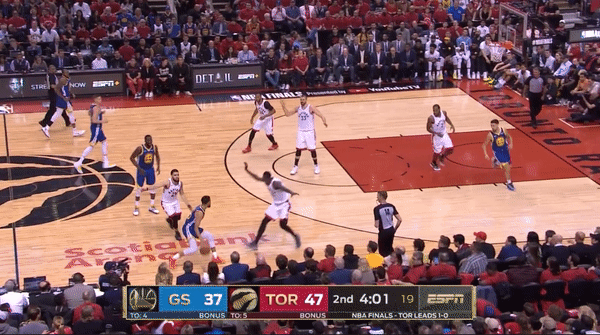 Or this: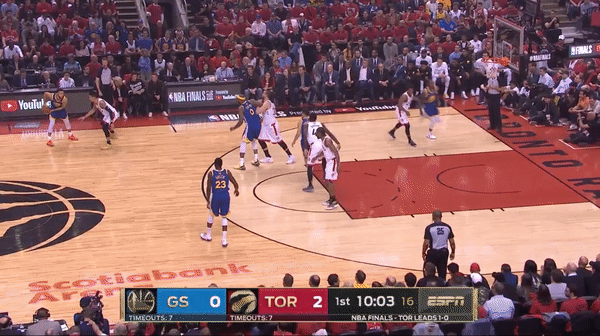 Or this: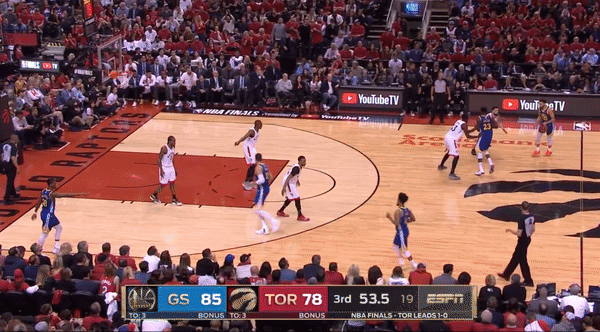 "With shooters like that, that's what it's about: relocating, finding your spot on the floor and getting to it," says Kawhi Leonard about Curry, although he could be speaking about Thompson also. "He plays with some talented players, smart players that know how to give him the ball in his spots. He's a crafty player. What I like to do is try not to relax. Stay locked in on him. Chase him as hard as you can. Put a hand up and see where it goes from there. That's pretty much it."
On the whole the Raptors have more or less held their own against the so-called Splash Brothers through two games. Curry is averaging 28.5 points a game but is having to work for it as he's shooting 36.8 per cent from the floor and 40 per cent from three, both well below his regular-season marks. Thompson is averaging 23 points a game but has been in a good rhythm, shooting 52.9 per cent from the floor and a scorching 58.3 from three.
In particular, Fred VanVleet has proven himself able to stick with Curry as he sprints from side to side on the floor, typically through a maze of screens — in Game 2, VanVleet held Curry to just 1-of-4 shooting on 38 possessions and for the series Curry's averaging 19.1 points less per 100 possessions when VanVleet is his primary defender.
But all that effort and focus to press up on Curry and Thompson leaves a lot of space elsewhere on the floor and the Warriors are no less lethal in taking advantage of those opportunities also, as their teammates can find easy scoring opportunities with smart off-the-ball cuts into spaces left open as the defence gets pulled away from the basket.
For example: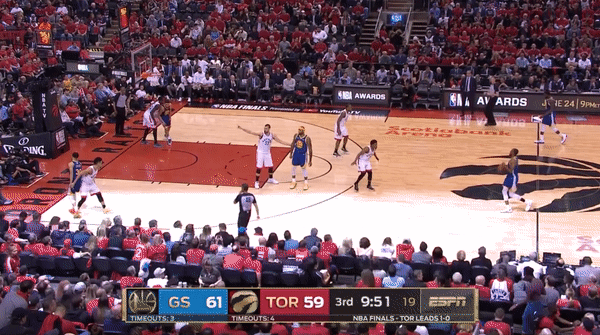 On this play Draymond Green gets a lay-up because Curry sets a screen and no one wants to leave him in case he relocates for a three
Or: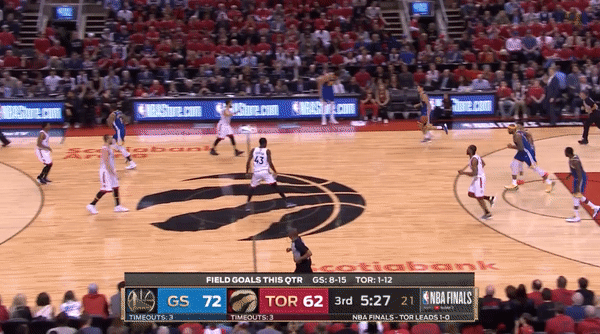 In transition, typically, the focus is on defending the rim first but in this instance Kyle Lowry gets distracted by Curry drifting to the three-point line and allows Green a clear path for a lay-up.
Or: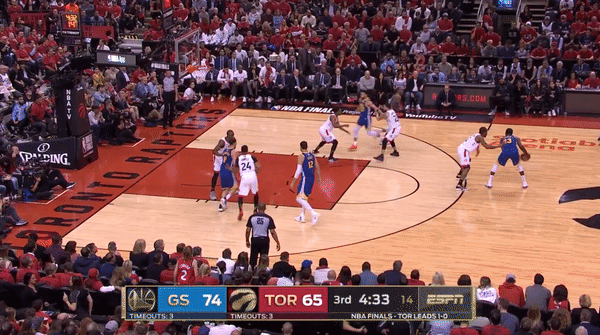 Curry draws two defenders, leaving the paint wide open, and he finds Andrew Bogut for the first of three dunks in his brief minutes subbing for an injured Kevon Looney.
It works because the defence has to respect the omnipresent threat of Curry and Thompson from deep.
What they do isn't easy. This is not spot-up shooting or easy pull-ups in transition.
"[It] takes a lot of [energy]," says Thompson. "It takes a lot of patience as well. You just have to know when to use your energy. You don't want to be sprinting around the whole time, but you have just years of knowing how to rub your man off a screen or familiarity with the offence we're in. It's really an inexact science, but just to keep it simple. Go where the defence isn't and make a decision from there, whether it's rise up and shoot, hit your teammate.
"But, yeah, it takes a lot of energy and it takes a lot of patience, because teams can do whatever they can to run me and Steph off the three-point line. You just have to adjust and make the right play."
But what happens when there is only one Splash Brother, and the defence's attention isn't divided?
There were signs in Game 2 as Thompson didn't play the final 7:59 of the game after straining his hamstring. The Raptors went to an unconventional 'Box-and-one' with VanVleet following Curry wherever he went and the other four defenders playing a zone, with the nearest defender doubling Curry when he did get the ball.
Without the additional gravitational pull provided by the threat of Thompson, the Warriors' offence stalled. The Raptors held Golden State scoreless for the 5:33 before Andre Iguodala knocked down his game-icing triple off a broken play with six seconds left. If the Raptors could have manufactured more offence than five free throws, Toronto might have been able to steal the game.
Will Thompson be available in Game 3? If Thompson is out the Warriors aren't quite the Warriors and the Raptors will need to strike. Blink and their best chance may be gone.