The Canadian men's basketball team will continue their qualifying campaign for the 2019 FIBA Basketball World Cup Friday evening with a matchup against Venezuela at 5:15 p.m. ET.
TORONTO – "Shocking." "Crushing." "Devastating."
Those were the words some of the men involved used to describe one of the most infamously memorable games in Canada Basketball history.
On Sept. 11, 2015 in Mexico City, the Canadian men's basketball team met Venezuela in a semifinal game at the 2015 FIBA Americas Championship with the stakes as high as they could possibly be in this scenario.
Win and you're off the to the Olympic Games. Lose, and you're forced to participate in a last-chance gauntlet taking place just a month before the Games start with a weaker roster.
The choice was clear.
All Team Canada had to do was beat Venezuela, a team it had smoked earlier in the group stage by 20 points, and everything the program was building up to with this new "golden generation" of Canadian basketball would finally be realized.
And then they lost, 79-78.
This is the story of the most gut-wrenching loss in recent Canadian basketball history:
Chapter 1: Something amiss
As the lineups were being announced it looked like business as usual. The Canadian squad looked loose and poised, as they had been all tournament long.
Coming into the contest, Canada had only lost once, to Argentina in the group stage, but was riding a seven-game win streak with an average margin of victory of 26.3 points per game, including the group-stage 82-62 victory over Venezuela, so confidence was fairly high.
"At that point we had been playing very well," backup point guard Phil Scrubb told Sportsnet over the phone last week. "We had won a bunch of games in a row and we were feeling pretty good."
Those good vibes wouldn't last very long, however.
Early in the first quarter, Venezuelan forward Windi Graterol — he of an abysmal 25.5 per cent from deep for his international career — took a pass near the left wing and drilled a three.
Then, with just a little over two minutes left to go in the frame, Graterol drew a foul on Cory Joseph by driving to the basket as Joseph attempted to recover onto him, putting the Canadian captain into very early foul trouble with his second of the game.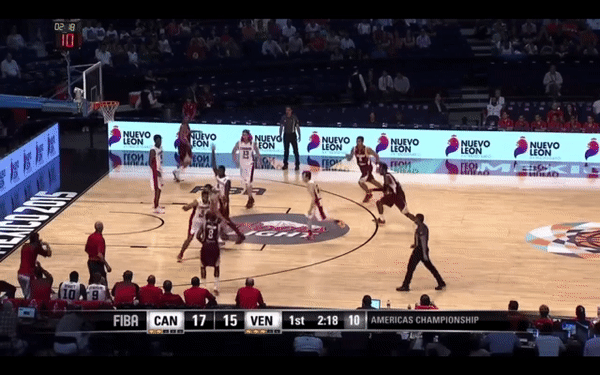 The first quarter would end with Canada trailing 20-19, much different from the 25-15 advantage it held in its first encounter with the Venezuelans.
Something was amiss.
From guys who never hit threes suddenly nailing them, to early foul trouble, it looked like the opening period was foreshadowing the impending pain to come.
"Venezuela came out very aggressive and they kind of put us on our heels a bit and we didn't respond to it that well," said Scrubb.
Chapter 2: Dragged into the mud
By the time the second quarter rolled around, it was pretty clear what was missing in Canada's game: pace.
The Canadian roster that was in Mexico at the time had an average age of just 23.8 and as such, head coach Jay Triano took advantage of his team's youth and athleticism to essentially run teams out of the gym during the tournament.
This strategy worked perfectly until Canada played Venezuela that second time.
Partially a case of learning from past mistakes, Nestor Garcia, the Venezuelan coach, had a game plan to slow Canada down and drag the young squad into a slow, trench-like affair that played to the Venezuelan strengths. And boy did Garcia's players execute.
Unless they had a clear fast-break opportunity, Venezuela would consistently run the shot clock down to at least five seconds before they took a shot. This, coupled with offensive rebounds that just ate even more clock, and well-timed timeouts from Garcia when it looked like Canada was building some momentum to break the game open, are probably the biggest reasons for the team's ultimate downfall.
Canada got completely sucked into Venezuela's pace and style of game in the second quarter, and it led to them rushing and making bad decisions on offence, such as this Andrew Wiggins play call out of a timeout that led to a questionable spin right into the heart of the defence and a turnover: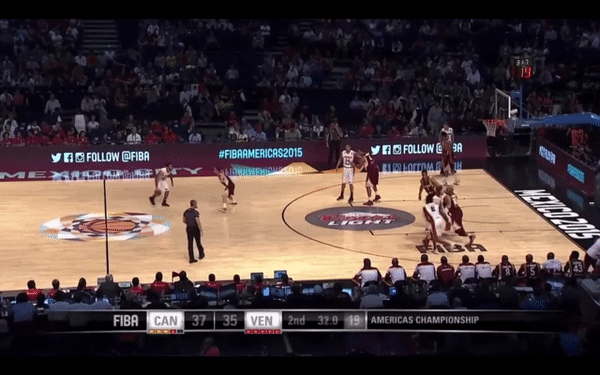 Canada was pressing, and it was showing.
From watching Venezuela just hold onto the ball, to poor offensive possessions of their own when they did have the ball, the frustration was setting in for the young Canadians, and was only compounded by Venezuelan guard Heissler Guillent (more on him later) hitting a buzzer-beating three with Scrubb draped all over him to give Venezuela a 38-37 advantage at the half.
"It was just that game that we didn't respond well to their pressure," Scrubb said. "They were a good defensive team and their coach had them ready to play and we came into the game expecting to win and didn't expect it to be as tough of a game as it got."
Chapter 3: Olynyk and no one else
The third quarter was unquestionably Canada's best in the contest – and was the only one that the Canucks won – and Kelly Olynyk was a large reason why.
The seven-footer from Kamloops, B.C., scored 10 of his game-high 34 points (on 11-for-13 shooting) in the third and nearly single-handedly proved to be the difference for Canada with plays like the following: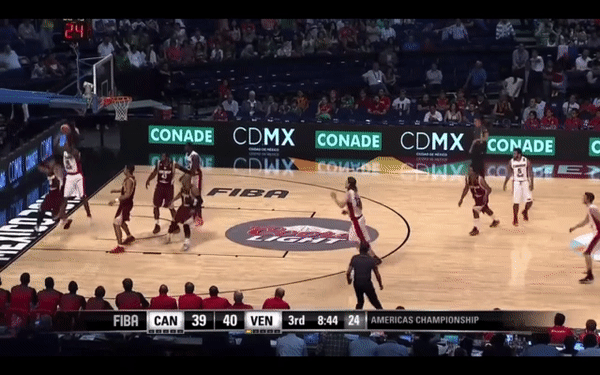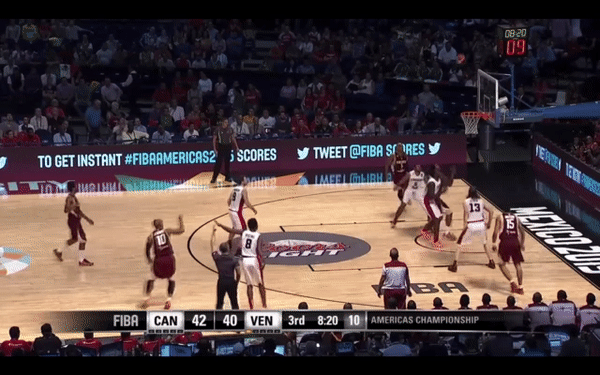 "I felt really good that game. I was in the zone," Olynyk said of that contest before his Miami Heat took on the Toronto Raptors at Scotiabank Arena last Sunday.
"Our trainer Sam Gibbs had me meditate before that game," he added laughing. "In the game I felt great. Maybe I should've just shot more."
Olynyk made that last comment sarcastically, but he makes a good point, particularly from three.
As a team, Canada shot a respectable 48.3 per cent for the game, but that still didn't prove to be enough because of its dreadful 5-of-17 mark from outside, with many of the shots being wide-open looks such as this sequence from Nik Stauskas that saw him fail to make good on two excellent opportunities in a row: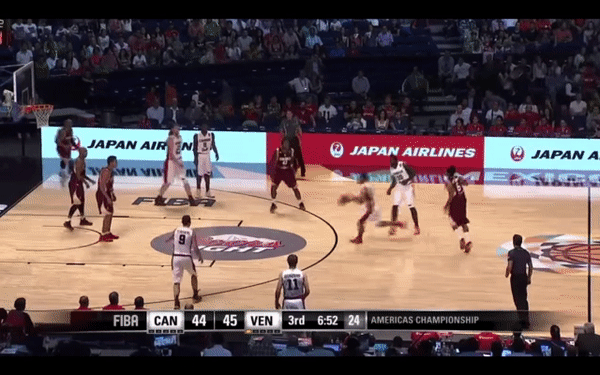 In comparison, Venezuela went 10-for-28 from behind-the-arc, and proved to be the better big-shot makers.
"They played physical, they played tough," said Olynyk. "We didn't really make shots, they made big shots down the stretch."
Chapter 4: Recipe for an upset
And now we head to the fourth quarter where all the ingredients were present for an upset to happen.
Entering the fourth only up two with Garcia's game plan in their heads, three-point struggles, and Olynyk, really, the only guy who had it going, Canada was in trouble.
All that would be required was some luck, a hero to emerge and a little controversy, and Venezuela's Cinderella story would be complete.
Cue Guillent (remember him?) with the shot clock running down with a little under three minutes to play and Canada up 75-68.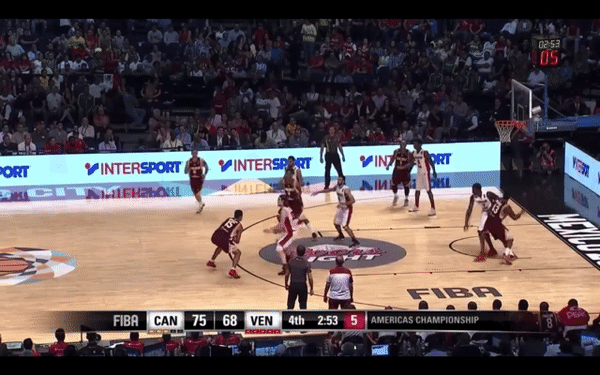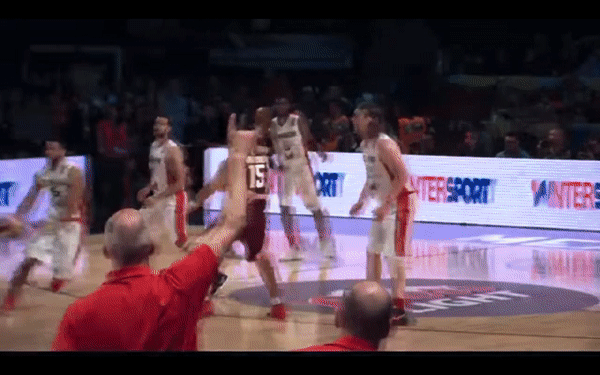 And again with 1:10 left to play to pull Venezuela within one.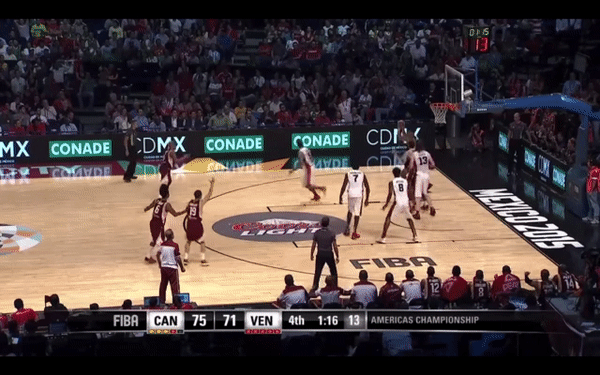 Olynyk followed up by taking a slide at centre court to turn the ball over before fouling Guillent and putting him at the line, where he gave Venezuela the lead.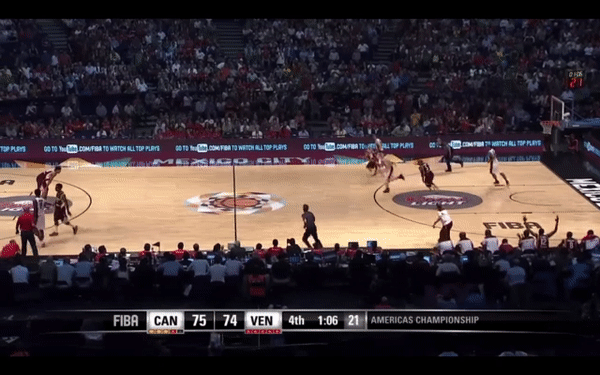 So we have our hero and the sprinkling of luck needed to make this upset happen, now what about that controversy?
Following a brilliant play by Wiggins to feed Olynyk for a layup that restored Canada's lead with 50 seconds remaining, Guillent responded with a tough layup to move Venezuela back up by one. Canada took its last timeout with 35.5 seconds on the clock and ran a play that ended up getting Andrew Nicholson fouled off the ball and heading to the line with a chance to take back the lead with 24 seconds remaining.
Nicholson steps up to the line and misses the first free-throw, but then calmly hits the second. Tie game. Venezuela takes its final timeout and then controversy rears its ugly head.
From the timeout, the ball lands in Guillent's arms at the top of the wing as he waits to go. He holds onto the ball until the nine-second mark and then makes his move, going to his right trying to get around Canada's Joseph. He gets cut off at the top of the three-point line with five ticks remaining and in desperation he puts up a turnaround, fadeaway jumper. It clanks out and time expires. The game is going to overtime.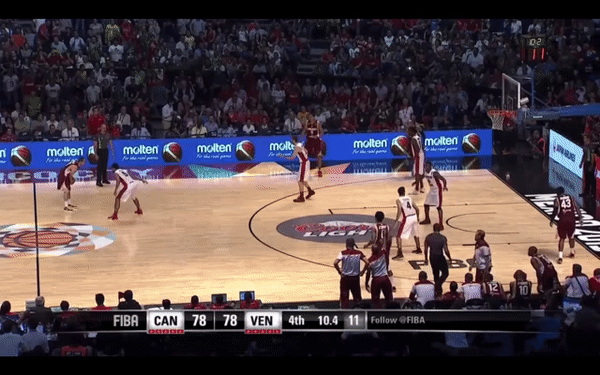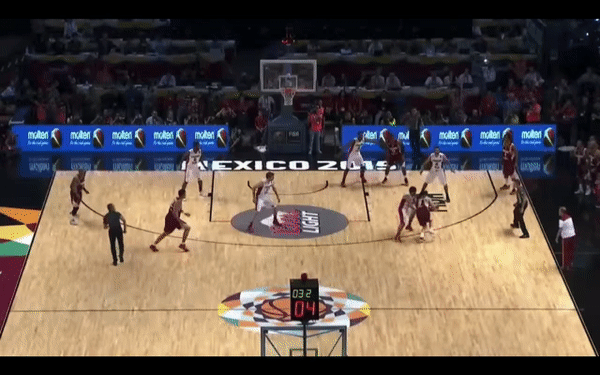 Or is it?
A loose-ball foul gets called on Canada's Aaron Doornekamp as he was reaching for the rebound, putting Venezuela's Gregory Vargas on the line with five-tenths of a second to play. Vargas nails the first free-throw and intentionally misses the second one. The clock expires. Canada loses 79-78.
Final chapter: The aftermath
In the immediate aftermath of that game and, specifically that call at the end, the members of Team Canada were absolutely shell-shocked.
"In our minds that was a crucial and, not to be overlooked, but a first step in a long journey of reaching our goal of medalling at the Olympics, so that was just shocking and devastating," said Dallas Mavericks forward and Toronto native Dwight Powell in a telephone interview last week. "That was a tough moment."
Added Olynyk: "It's one of those things that's really tough to swallow, especially after everything [the team's] been through with that foul and knowing the magnitude of the game. Especially putting someone on the free-throw line with no time remaining to go to the Olympics, that was a little shocking."
"It stuck with all of us. I think it's something that's still at the back of our minds is that missed opportunity."
There's little doubt the final call of the game was a determining factor, but looking back at the game as a whole, as Scrubb says, it's not like Canada lost the game right at that moment.
"You look back and realize we didn't lose that game at the end there," said Scrubb. "We lost it when we weren't ready to play at the beginning and you can't look to a single play at the end there as the reason why we lost."
Still though, that was a particularly stinging loss. As mentioned off the top, losing that game cost Canada an immediate berth into the 2016 Olympic Games and forced it into a last-chance qualifier tournament just a month before the Games began. Canada was short-handed in that last-chance qualifier and ultimately fell short there, but the real culprit behind its failure, again, to reach the Games was this defeat in 2015.
"That was a crushing loss. There was a lot of expectation, there was a lot of build-up, we were very excited at the potential of what would happen should we come out victorious in that tournament and, yeah, that was a very, very tough loss," said Powell. "It stuck with all of us. I think it's something that's still at the back of our minds is that missed opportunity."
If there is a podcasting odd couple, this might be it. Donnovan Bennett and JD Bunkis don't agree on much, but you'll agree this is the best Toronto Raptors podcast going.
Now, three years later, that missed chance has come around again. Canada resumes its 2019 World Cup qualifying campaign with a match against Venezuela on Friday. This will be the first the time two nations will meet with real stakes on the line – they played against each other previously in the exhibition-like 2017 FIBA AmeriCup – since that fateful 2015 game.
At the moment in qualifying, the two nations are tied for tops in Group F with 15 points each so the winner of that game will go a long way in determining the winner of the group.
More so than just trying to finish No. 1 in World Cup qualifying, however, there should be more at stake for Team Canada. For anyone in the program who ever played in or watched that game, Friday will be personal.
"I know I use it as motivation, especially when I'm with the national team," said Powell. "I know a majority of the people that were there — all of them that are still in the program that experienced that loss — they carry that with them because that was really tough."