TORONTO — A few hours earlier, his head coach Dwane Casey had put away the whip hand for a few minutes and reminded everybody – media, fans and mostly his players – to have a little fun. Yet there was Terrence Ross after another strong game off the bench, defensive and abrupt. "Just making shots," he repeated. "You're asking me what's different? Just making shots."
Some cautionary notes: just because a guy doesn't go all Shakespeare in post-game interviews doesn't necessarily mean he's a Gloomy Gus. You watch Ross interact with his teammates in the Toronto Raptors locker room and it's pretty clear they have no issues with him. That will be the case again on Thursday, when the Raptors play the New York Knicks in a game that has been put on a tee for the locals.
A win and the Raptors set a franchise record for consecutive victories, at 10. A national television audience on TNT means Chuck and Shaq and Ernie and Kenny The Jet will at least mention the team at halftime and it's no Canadian inferiority complex to say that's cool. And — fingers crossed — the very good chance that before the game DeMar DeRozan will be announced as one of the reserves on the Eastern Conference team for next month's All-Star Game at the Air Canada Centre. In some ways, tonight might be the unofficial start of All-Star Weekend.
But back to Ross. As always, the rule of thumb is it's how a player treats his teammates, support staff, coaches and fans that is important. Media? We're not so important, to be honest. We're designed to be unloved; it's why God created the job.
So my guess is Ross still isn't past the stage where he just assumes that every question carries an unspoken reference to the three-year, $33-million contract extension he signed in November — that he feels as if he still needs to apologize for it because he knows this city still lives in perpetual fear of the multi-year contract. Any multi-year contract.
Blame Andrea Bargani. Or Vernon Wells. Or Phil Kessel. Or Dion Phaneuf. It's a Toronto thing: we desperately want players to sign up for the long term and show us they love us, and then as soon as they hit a dry patch or get injured, here it comes. "Knew they shouldn't have signed him to a long-term deal," is the refrain. "Never works out." Seriously, had David Price re-signed with the Blue Jays you know what the reaction would have been to his first losing run. Hell, this city is still petrified of spending money on a closer because of B.J. Ryan's contract. Cripes, people — let it go already. It's not even your money.
I never understood the concern over Ross's deal. It's the NBA — the place is going to be rolling with stupid, silly money when the new TV deal kicks in. This is a cost of doing business; you can't keep investing in the development of players and then tossing them away after three years because somebody else catches your eye.
I thought about this after watching Ross and the Raptors beat the Washington Wizards on Tuesday night, yet another game where Toronto's bench came on to administer the coup de grâce. As Casey said afterwards: "If we had to ride our starters, we would have been in trouble."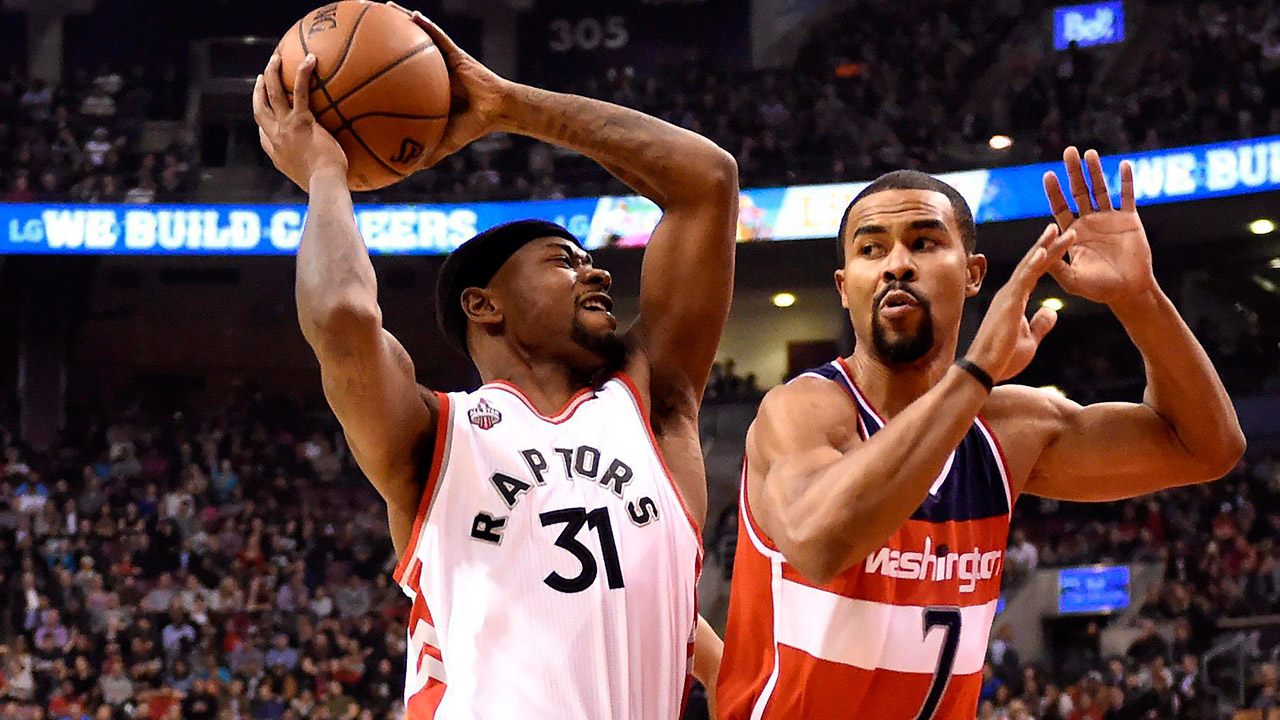 Much of the credit for the improved bench production goes to guard Cory Joseph. And rightly so. When the Raptors put a team away in a game, it is often with Joseph and Lowry on the floor; having Joseph alongside him gives Lowry someone who can share or even assume ball-handling and defensive duties. Yet don't overlook the contributions of Ross and Patrick Patterson, who are fourth and fifth in the league this month in three-point shooting and have combined to hit on 43.8 per cent of their treys. That success has allowed Joseph more opportunities for dribble penetration, since opposing teams must open up to respect the three-point shot. Making Joseph more effective presents teams with something (and someone else) to think about when Lowry's on the court. And if Lowry's sore wrist, which makes him questionable for Thursday's game, emerges as an issue? The resulting alteration in Casey's rotation will likely test Ross's utility even more.
I think you can win with Ross. Win games, at least. As for winning a title … well, let's be realistic here: the NBA is not a league of parity. The same teams take turns winning the thing over and over and over again, or at least making the Finals. The Raptors are the same as about 90 per cent of the league: they're playing for that sliver of hope that likely won't amount to much; they're playing for the possibility that some time the planets will align and they'll win the Eastern Conference title and get a shot at the championship. How often do the planets align? Just this side of never, frankly.
Which brings us, in a roundabout way, to DeRozan, because as much as Ross's deal had people twisted in knots, well, that's nothing compared to the debate over DeRozan's imminent opting out and seeking of a max contract. And while I get that fans in this city look back at last year's disappointing playoff exit as reason not to fully give themselves over to this team, I'm puzzled by the reluctance to embrace the idea that DeRozan is a max player.
People, you can't keep investing in players and then throwing them away because the money scares you, or because you think the grass is greener and somebody better is just around the corner. At some point, you grow up and commit and with a core of DeRozan, Lowry, Jonas Valanciunas, DeMarre Carroll and — yeah – Ross coming off the bench, you have a chance to position yourself for that elusive aligning of the planets. Unless you believe Kevin Durant's coming here like that other free-agent — you know, what's his name — did back in … well, you get the picture.
Look, this is a savvy basketball market — smart enough to see wins over tired teams or teams without key players (such as the Miami Heat) during this streak and think back to losses to the Cleveland Cavaliers and Chicago Bulls. Smart enough to know that this is a star-driven league — that you need a transcendent player to get the calls late in a game or get the carte blanche of guys like LeBron James whenever messiness happens. The odds are long without that commodity, but they're longer still without DeRozan. Time to go all in, then, and forget about looking over the fence for the next dalliance.