Canada's road to Olympic qualification begins in late June, and on Monday the senior men's national team (SMNT) released it's list of 18 training camp invitees.
The roster includes a host of household names for Canadian hoops fans and should give Canada a chance to compete for a spot in the World Cup in 2019.
"We're excited to continue the positive momentum that has been created through the first two windows as we look to take another step forward in our goal of qualifying for the FIBA Basketball World Cup 2019," head coach Jay Triano said via press release on Monday.
While the Canadian senior women's team has been stellar over the years, ranked fifth globally, coming off two straight Olympic appearances, and winning gold in the last two FIBA America Championships, the same can hardly be said of the men's team.
On the junior side, Canada is making waves, winning gold at the Under-19 World Cup thanks to breakout international performances by standouts like R.J. Barrett and Abu Kigab.
But it's been a struggle for the senior men's team, who are currently ranked 23rd in the world and eighth in the FIBA America's group. Their best finish at the FIBA America's championship since 2000 was their third-place result in Mexico City in 2015. Canada did not qualify for the 2014 World Cup and scored their best finish — sixth place — all the way back in 1982. Despite a rise in overall talent across the country over the past decade-plus, the team has not appeared in the Olympics since 2000.
The SMNT will look to get back on track and return to the World Cup (and hopefully the Olympics in 2020) with arguably it's most talented roster yet.
The group of players who will attend training camp features eight active NBA players, headlined by Denver Nuggets guard Jamal Murray, Miami Heat big man Kelly Olynyk, Memphis Grizzlies star rookie Dillon Brooks, and Cleveland Cavaliers centre Tristan Thompson, who will be competing in the NBA Finals beginning on Thursday.
Among those joining them will be former 1st overall pick Anthony Bennett, Raptors 905 backcourt mates Aaron Best and Kaza Keane, former Carleton Ravens stars Philip and Thomas Scrubb, and EuroLeague standouts Kevin Pangos and Melvin Ejim.
Here is the complete list of training camp invitees: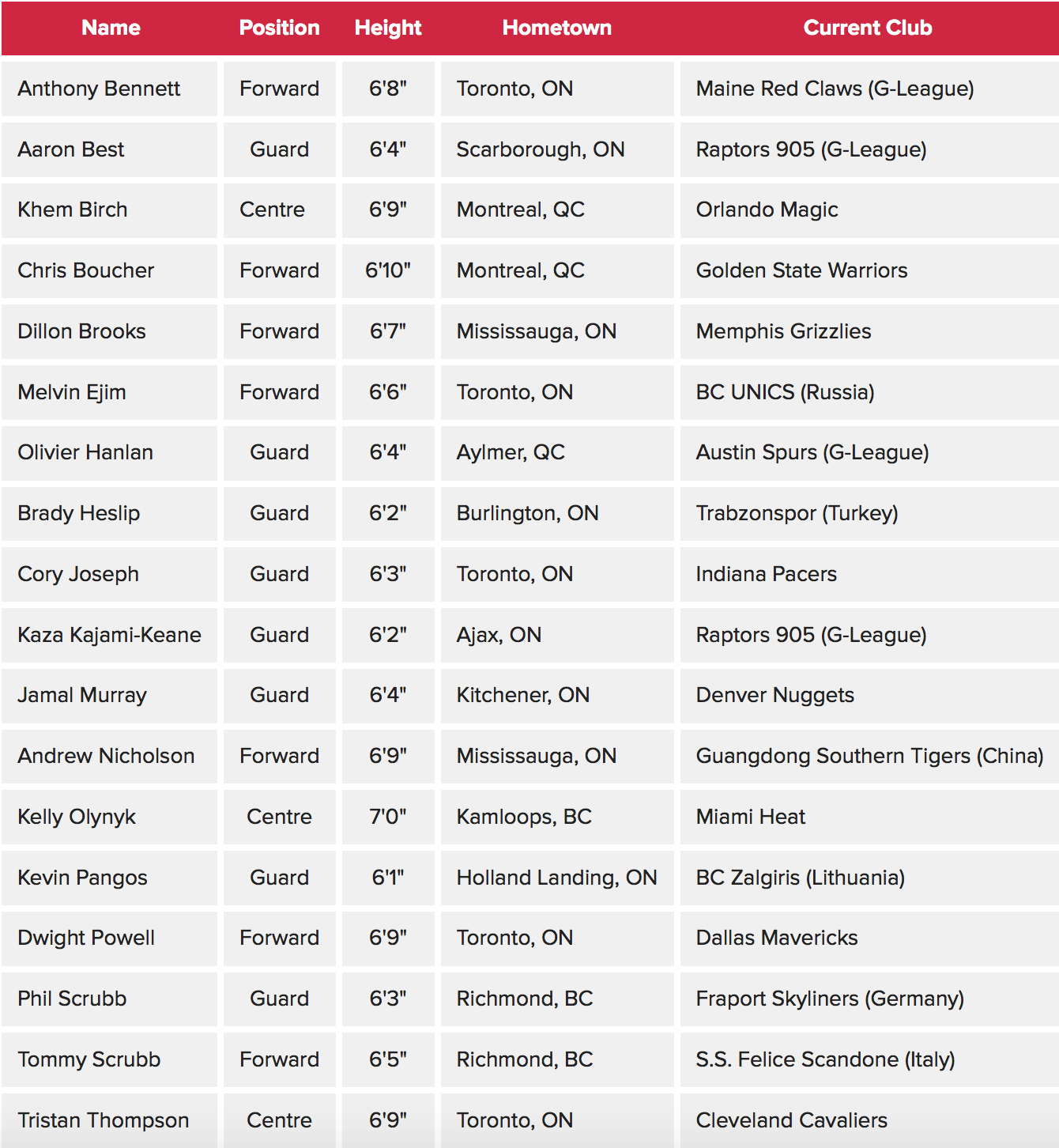 Not included on the training camp roster are NBA homegrown standouts Andrew Wiggins, Tyler Ennis, Trey Lyles, and Nik Stauskas — all of whom Canada Basketball says are unavailable in June.
Training camp begins June 20 in Richmond, B.C.
Canada will tip-off exhibition play in Vancouver versus China on June 22nd. Qualifications will officially get underway on June 29th in Toronto in a much-anticipated matchup with the Dominican Republic.