As an NBA champion, Pickering, Ont. native Cory Joseph is allowed to spend a few days with the Larry O'Brien trophy. On Wednesday, the San Antonio Spurs point guard brought it back with him to Pickering High School, where he played as a kid.
Joseph and the trophy have a busy agenda all over the Greater Toronto Area this week. He'll be making public appearances at Sick Kids Hospital and the CN Tower, and throwing out the first pitch at Friday's Blue Jays game against the New York Yankees.
In the midst of that hectic schedule, I caught up to Joseph at the Sportsnet studios and talked to the 23-year-old on a variety of topics including returning to his old stomping grounds, Andrew Wiggins and a little soccer.
Sportsnet: What was it like to go back to your old high school as an NBA champion?
Cory Joseph: It was good. It was definitely an experience to remember. I had a blast. A lot of people showed up—a lot of kids, a lot of old coaches, a lot of my old teammates, teachers. Very fun. I had a blast.
---
For a limited time get Sportsnet Magazine's digital edition free for 60 days. Visit Appstore/RogersMagazines to see what you're missing out on.
---
SN: Having won the title with the Spurs this season, you know what it's like to reach the top of the NBA mountain. What was that climb like?
CJ: It was crazy. It's definitely super hard to get there, super hard to accomplish this, and that's why we're celebrating and taking the time to not take this for granted. The climb was unbelievable. Going after last year [when the Spurs lost in the NBA Finals to the Miami Heat] to this year, staying as focused as we were, it was definitely a long hill to get over. But now that we're over that hill, I'm very, very happy [laughs].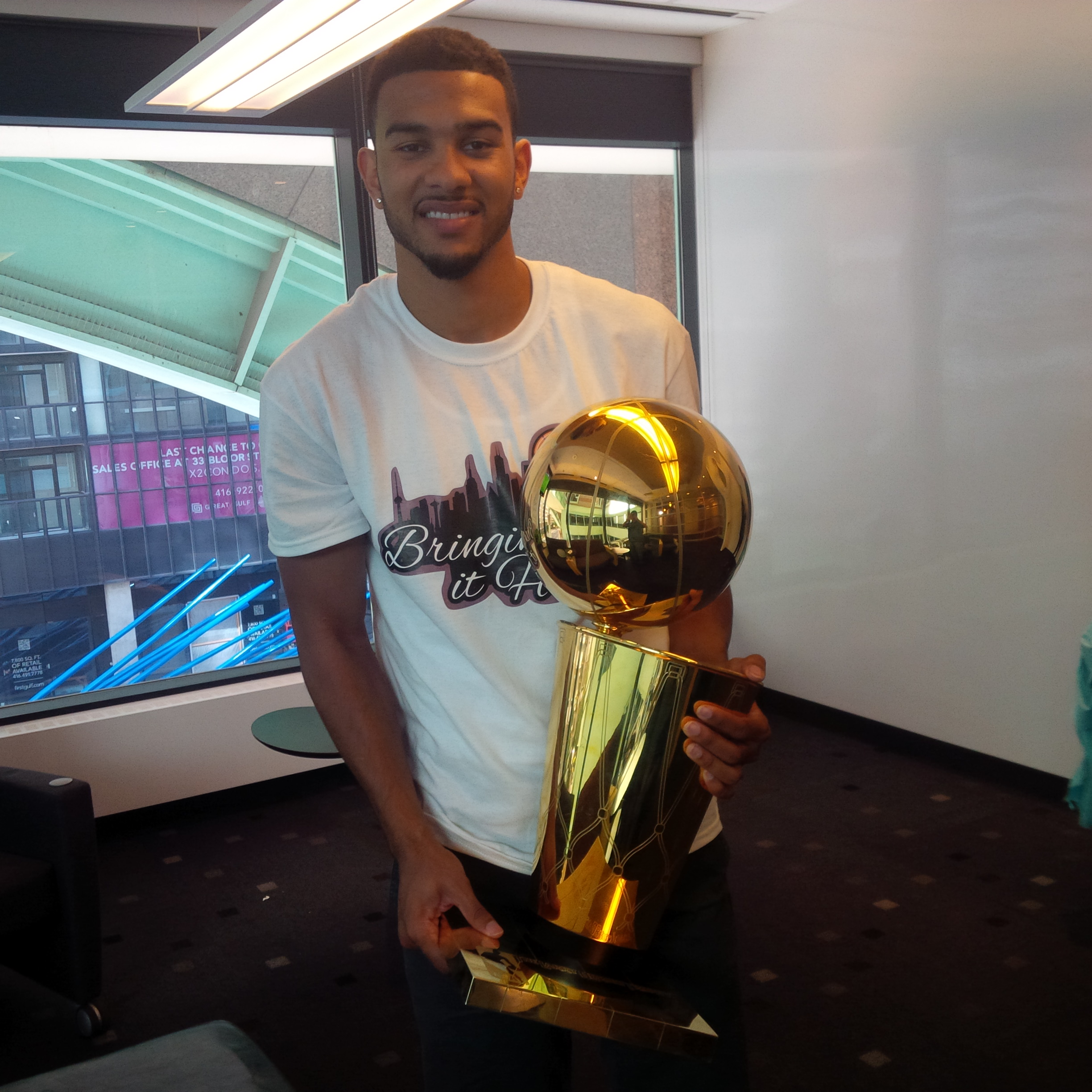 SN: This summer, you and the rest of Team Canada went on an 11-game European exhibition road trip where you finished 5-6. What are your thoughts on how the team progressed from training camp to the end of the trip?
CJ: We were definitely getting better as the road trip was going on. We were playing five men on and five men off, just getting everybody experience, so that's going to help us out in the long run. I feel like once we have all of our guys next year, then we'll definitely be able to make the right strides to qualify for the [2016] Olympics and, hopefully, medal at the Olympics—that's our goal.
SN: Do you think all of Canada's big players—like Andrew Wiggins and Anthony Bennett—will be there with you and the rest of the team next summer for the Olympic qualifying tournament?
CJ: I think so. I mean, I can't predict the future but I've talked to them and I know they definitely like the idea and definitely want to play. But, again, I can't predict the future and you never know what could happen.
SN: On the topic of Wiggins, what are your thoughts on how that entire situation shook out this summer?
CJ: It's a business. Teams are going to do what they feel is best for the organization and [Wiggins will] be fine. He's a good a kid. He's a good player, as everybody already knows. He's got a good head on his shoulders, a good family and he'll be fine no matter where he's at.
SN: Other than basketball, what's your biggest hobby or passion? Is it video games like a lot of other NBA players?
CJ: I haven't played video games for a long time, and when I do play video games I play [EA Sports] FIFA. I like the soccer. I actually started with the soccer and I played growing up until I had to choose [between it and basketball].
SN: Do you still play from time-to-time?
CJ: Yes, I try to play whenever I can. It has been a long time, and I don't know all the rules, but I try to play and I was talking to [Los Angeles Lakers point guard and Canada Basketball GM Steve] Nash to hopefully join his charity [soccer] game next year.