Hours before tip-off on a brisk spring day, I decided to head down to Maple Leaf Square to see what all the Jurassic Park fuss was about. The Ford Fan Zone has become synonymous with the Toronto Raptors in the same way Drake has. To my surprise there are already people in line. In the shadows of the Air Canada Centre, I find a congregation of Canada's most boisterous basketball fans.
To me the whole thing is illogical at best. Why congregate outside to watch a game accessible from the comfort of your own home (or anywhere you happen to be thanks to Sportsnet Now)?
During the 2016 NBA All-Star Game, the first thing American media members would mention to me in conversations about Canada's only franchise was those crazy fans outside the building. When I spoke to Villanova head coach Jay Wright recently, he couldn't help but mention "those fans outside on the street, how great is that! Where else would that happen?" He was shocked when he learned it happened for home and road games and even for the Maple Leafs when they are in the post-season.
The Raptors fan base has become a part of the brand of the team. The 'We the North' branding campaign done by Sid Lee gave an already-established but growing movement a rallying cry. Jurassic Park gives them a meeting place.
The irony is, as the team continues to improve and advance in the playoffs and ticket prices continue to rise, many of the diehard fans get priced out of going to the games. Jurassic Park becomes the next best thing. Although I'm dismayed that those who stuck with the franchise during the lean years over the past two decades don't get to fully experience the current honeymoon, these fans seem to prefer to brave the weather while watching. I quickly learn projecting my own sensibilities on these fans is fruitless because they are cut from a different cloth.
I did go into it with a preconceived notion that the square would be full of teenagers looking for a reason to congregate somewhere other than their parents' basement. To my surprise I met a group of faculty watching together, a Doctor still in scrubs after rounds, a group of Catholic clergy men and nuns, multiple people still in suits after the office and an elderly couple who came fully prepared with lawn chairs and packed snacks. Does it skew young? For sure, but so do malls and movie theatres; that doesn't mean they aren't for everyone.
The final score wasn't what the local masses were hoping for but the scene wasn't entirely about the result or even the game at all. The fans worshiping at the altar of everything Raptors are in attendance for the communion and the fellowship with other hoops heads.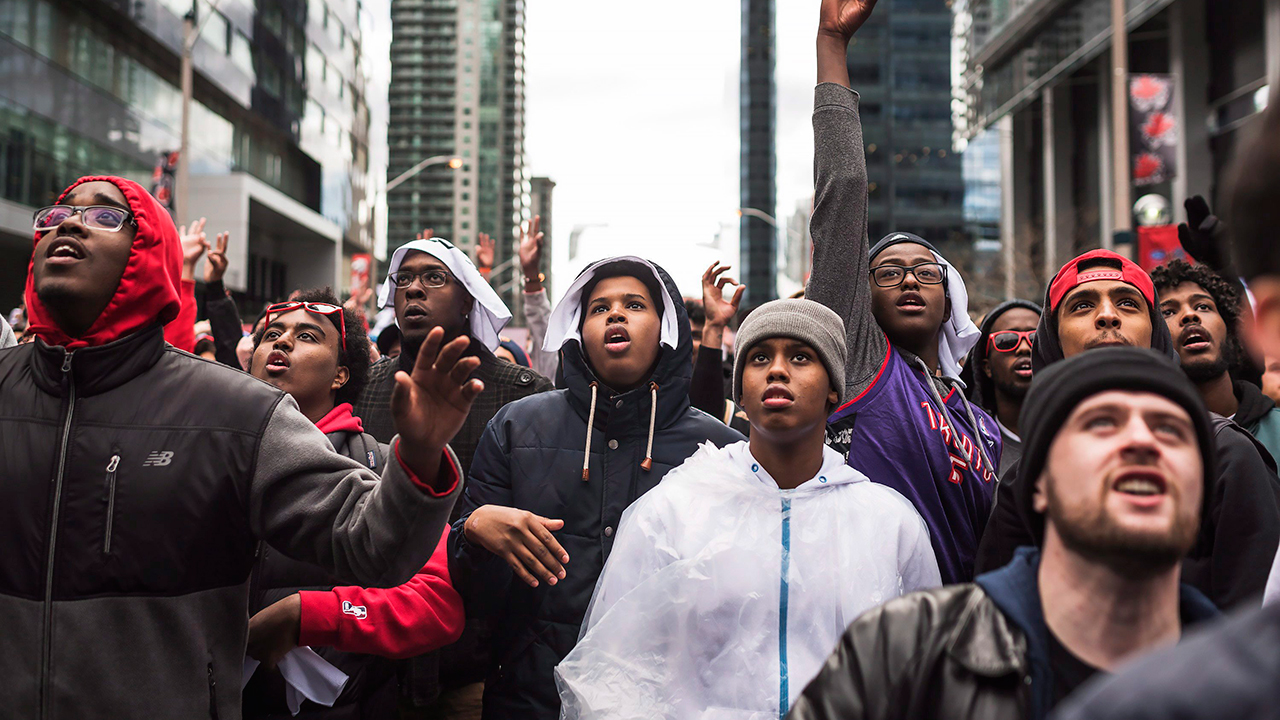 Impromptu conversations all around the park take place. Is Kyle Lowry hurt or mentally hindered? Should DeMar DeRozan be maxed out by Masai Ujiri? How would the Raptors fare if they were in the Western Conference? All incite raised voices and point-counterpoint debates. It's part barbershop banter, part think tank on cap ramifications and roster construction.
They irony was Jurassic Park was going down with the backdrop of a Justin Bieber concert happening inside the ACC. Wherever I looked, all I saw were pre-teen girls screaming adoration for Bieber a few feet away from grown men screaming encouragement for Bismack Biyombo.
The 'Beliebers' are a movement of their own. The arena security guards fill garbage bags of sweat pants from teenagers who discarded them upon entry to the ACC because their preferred concert outfit is not something they were allowed to leave home wearing.
Meanwhile, Raptors fans left home in head-to-toe Raptors OVO collection gear, yet still create a mini mosh pit just to be the intended receiver for free t-shirts being dished out by the Raptors Dance Pak. However, the two groups are more alike then they are different because their rabid reputations can't be quantified without witnessing it in person. Raptors fans have similar belief to 'Beliebers' but also wear the pride of being a strong and growing fan base as a badge of honour.
It's something that doesn't go unnoticed as Patrick Patterson penned a love letter the fan base in the Players' Tribune. Biyombo has talked repeatedly about loving the fans' playoff atmosphere.
Cory Joseph told me earlier this season "I had pride for the 'We the North' movement from afar when I would see the fans on TV because I knew that would have been me when I was in Toronto. Now that I get to come back home, it's beautiful. We've got to keep that 'We the North' movement going strong."
It matters so much that Dwane Casey has piped a live stream of video of fans assembling in the fan zone pregame in the team's locker room.
---
Fort McMurray Fire Relief:
Help support those affected by the Fort McMurray fires. You can make a contribution at
redcross.ca
or by texting FIRES to 45678 to donate $10.
---
Can these fans actually impact how the team takes the floor even though they aren't' in the same building? Possibly. Could it help attract potential free agents? Probably. But more importantly, it is a resounding indication to sponsors, corporate partners and television executives that basketball is not a fad in Canada. Nor is it for a specific genre or demographic. Rather it brings Canadians together from both sides of the aisle and all sections of the city and country.
I ran into onlookers from six provinces and probably 60 ethnic backgrounds all in the '6ix' to watch the Raptors. Even vacationers from other countries considered Jurassic Park a must-do excursion. The party in the park has become a tourist attraction to marvel at the same way the CN Tower is. If nothing else, Jurassic Park is a great advertisement of how diverse and organic Canada is. In this case, sport in the form of Jurassic Park is yet again the force multiplier that brings different people together for a shared cause with shared understanding. It's not only clear why they come, it's clear basketball in this country is in good hands.