TORONTO — The guards vs. bigs formula for this year's edition of the NBA skills challenge was amusing on paper, in much the same way it was enjoyable to imagine and then witness noted pugilist and man mountain John Scott featuring in the NHL All-Star Game. Putting aside the legitimate worry that doing so is somewhat malicious and mean, it's undeniably fun to watch professional athletes who are not physically or dexterously suited to succeed in a certain competition attempt to do so.
So, sure, it would be intriguing. But most figured whoever the eventual guard was in the competition's final round would crush whatever tall, lumbering big man got there from the opposite bracket. But it didn't go down like that.
"I like proving people wrong, so I'm glad I was able to make a lot of people wrong tonight," said rookie Minnesota Timberwolves centre Karl-Anthony Towns, who defeated Boston Celtics speedster and heavy-favourite Isaiah Thomas in the final. "I'm glad I was able to help the bigs come out with this trophy. This is bigger than me. This is for all the bigs out there, with the game changing the way it is, to show that bigs can stand up with guards skill-wise."
Portland's CJ Mccollum defeated the Lakers' Jordan Clarkson in the first guard matchup, before Thomas smoked Denver's Emmanuel Mudiay, who looked like he was trying to get his night over with early. To begin the big-man bracket, Towns came from behind to steal a first-round victory from Golden State's Draymond Green before Sacramento centre DeMarcus Cousins did the same to New Orleans Pelicans centre-slash-cartoon-character Anthony Davis, earning a victory despite losing his ball out of bounds literally the moment he began dribbling it.
The semifinals weren't much of a competition as Thomas, rocking his jersey untucked, crushed McCollum before Towns blew Cousins out of the water. But the finals provided high drama as Towns kept pace with the much more agile Thomas through to the three-point shot where he hit his third attempt before being mobbed by his fellow bigs who had all run out to centre court to get a closer look at the seven-footer's triumph.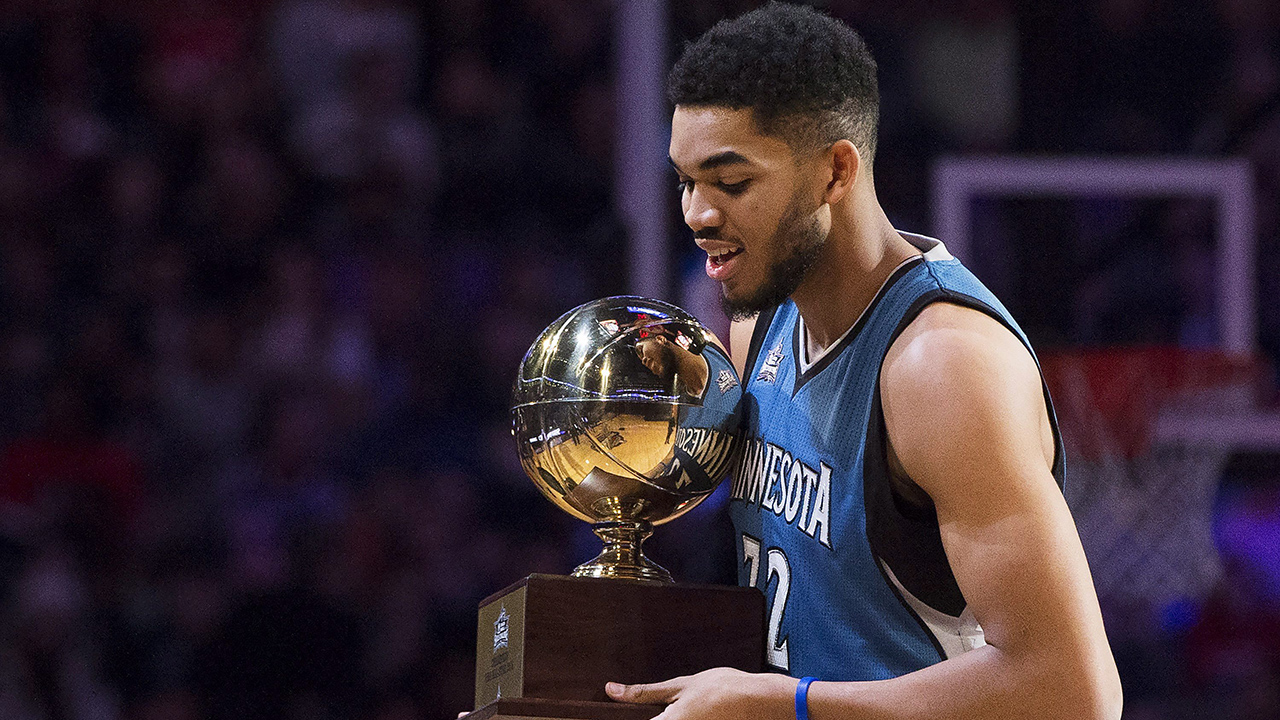 Karl-Anthony Towns holds the trophy after his win. (Mark Blinch/CP)
"My heart was beating out of my chest. I'm usually never nervous for anything," Towns said. "I came in today at 11 in the morning and got a practise run, but it doesn't translate to what it is when you have millions of people watching, thousands of people in the stands and also your heart racing like mine was. Plus, Isaiah Thomas has a great feel. He was playing in it last year, so a much better feel than all of us together."
According to Towns, his Minnesota teammate Ricky Rubio didn't give him much of a chance in the competition. He's looking forward to seeing him at practice. "I'll definitely be talking some trash to Ricky," Towns said. "He doubted me since the beginning."
---
NBA All-Star Toronto LIVE: One-stop shop for latest news, videos, photos & more
---