What happens now?
It's the question that has likely hit the Toronto Raptors brain trust like a Marc Gasol hangover in the hours and days since Kawhi Leonard and his teammates secured the 'Larry OB' in Oakland last Thursday.
The last formal event of the 2018-19 NBA season was the draft which wrapped up in the wee hours of Friday morning, moments after the Raptors selected Dewan Hernandez out of the University of Miami with the 59th pick, a prospect who has little likelihood of altering their short-term trajectory.
But what shape that trajectory takes is still in doubt, mainly because what Leonard decides to do in free agency remains in doubt.
Leonard's every move remains open to interpretation. His citizen documented, post-parade tour – a trip to Niagara Falls with the family; dinner at the Cactus Club Café in downtown Toronto; a visit to a Home Depot in Yorkdale (were those moving boxes or staying boxes?) and a trip to Rogers Centre to catch the Blue Jays game (or was it the Los Angeles Angels he was there to see?) – could suggest he's eager to make himself at home or he's seeing a few sights like any other tourist on his way out of town.
As far as we know, the Raptors don't know and in an NBA environment where rumours and leaks disperse like spores, there have been none of consequence attached to Leonard and his camp.
But until Leonard lets them know he's staying, the Raptors have to contemplate what their roster might look like if he's gone.
It's a good news, bad news kind of deal.
The good news is the Raptors would remain a competitive team that could convince themselves they could compete for a top-four spot in the Eastern Conference. They were 17-5 in 22 games without Leonard (a better winning percentage than they had in games with him in the lineup) which isn't to suggest they're a better team without their best player, just that they're would remain a team could win more than their share.
The bad news is that without Leonard they won't have a realistic shot at an NBA title and even with his $32.7-million – what his first-year salary would be on a new deal – off the books, they don't have a wide-range of tools at their disposal to add the kind of high-impact starter that could conceivably replace what Leonard brings.
That is mainly because the list of players that could provide what Leonard can doesn't get past four or five names on the planet, but also because even if they don't re-sign Leonard the Raptors cap crunch will remain.
Barring a trade they project to have about $112-million of salary on their books which puts them over the $109-million salary cap. Since (other than some prescribed exceptions) teams need have room under the cap to sign players, the Raptors options to build-out their post-Leonard roster are limited.
What would their needs be?
While both Marc Gasol and Danny Green said their decisions in free agency would depend on Leonard, their cases are different.
Green is a free agent who offers a premium skill (elite three-point shooting and quality wing defense) that would make him attractive to multiple competitive teams. He turns 32 on Saturday and coming off a career-year – he was second in the NBA in three-point shooting with a career-best 45.5 per cent — would likely be looking for one more lucrative deal.
Since his value figures to start at the $10-million/year range (or more if he's willing to go shorter term) almost every team in the league could be in the conversation since the full mid-level exception – four years at $9.2-million a year – would likely get Green's attention. With Leonard leaving it's hard to imagine the Raptors making that kind of investment with Green, so Leonard's departure likely means two starting spots to fill.
Gasol's situation is different because he has an option to be a free agent or pick up the last year of his current contract, which would pay him $25.5-million for 2019-20. Given he turns 35 in the middle of next season it's unlikely there is a new deal in the marketplace that would give him enough long-term security – say three years at $60-million – to make it worth his while to pass up the excess value his current deal provides.
So most likely Gasol stays whether Leonard does or not.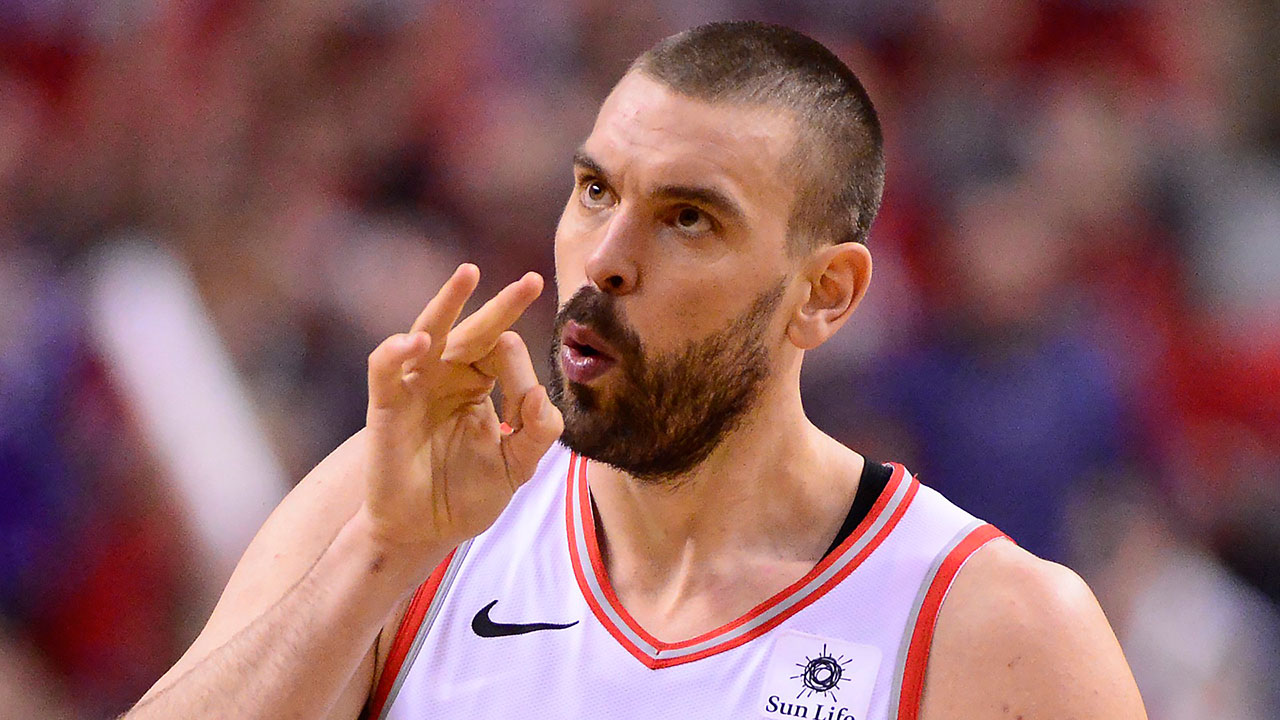 In that case the Raptors starting lineup would project to be Kyle Lowry (who would be entering the final year of his contract); Gasol (same); OG Anunoby (in Leonard's spot); Pascal Siakam (who will be in the market for an extension that would kick in for the 2020-21 season that could max out at about $158-million over five years) and whoever ends up taking Green's spot – let's say it's Norm Powell for the sake of argument.
Serge Ibaka (entering the last year of his deal) and Fred VanVleet (entering the last year of his deal) would round out a solid, experienced, defensively sound, seven-man rotation.
The primary roster-building chip the Raptors would have is the mid-level exception ($37-million over four years) which is available to teams that are over the cap and can generally yield a starter-quality role player. There's also the bi-annual exception ($7.2-million over two years) which can provide quality rotation depth. Roster depth players can be added at the league minimum at any point.
Making the investment to upgrade the roster would make sense because the Raptors don't have many realistic options other than to try and make an unlikely title defense. There is little argument to jump-start a rebuild since the market for their big-ticket expiring contracts is likely limited — though stranger things have happened — and if they spend wisely with their exceptions, those new players would in turn become trade chips if or when a rebuild kicked in.
Another compelling argument for Leonard to stick around? The Raptors could do a LeBron-like coast to the Eastern Conference Finals and beyond because of what looks like the potential for a weakening of the upper-tier in the East. The Milwaukee Bucks are capped out and at risk of losing Khris Middleton in free agency; the Boston Celtics seem destined to lose Kyrie Irving and Al Horford in free agency and have already said good-bye to valuable depth big Aron Baynes. And the Philadelphia 76ers are unlikely to be able to keep both Jimmy Butler and Tobias Harris, and will likely lose JJ Reddick as well.
Elsewhere in the East, it's not evident any other teams are in position to make big leaps just yet, although the Brooklyn Nets could shoulder their way into the top four depending on how they do in free agency.
So what to do now?
Staying the course even without Leonard makes sense. The Raptors competitive window would remain wide open for at least one more year, even if their championship window would likely be closed.