They say stars are made in the playoffs, and the NBA's second round featured an incredible number of signature performances from the game's established greats. But the spotlight of the post-season also illuminates those teams and players who, for whatever reason, wilted under the pressure.
Here are some notable winners and losers from an incredibly entertaining Round 2:
…Needless to say.
Leonard came to the Toronto Raptors with a loaded resume and a well-earned reputation as one of the best in the game. He also took the title of "best player to ever wear a Raptors uniform" (if we ignore the Hakeem Olajuwon era) before we ever saw him in a jersey.
Despite the injury concerns stemming from last season, expectations were high. As in, if all goes well, the Toronto freakin' Raptors can compete for a spot in the NBA Finals.
But nobody expected this from Leonard. Scoring at a rate we've only seen Michael Jordan and Kareem Abdul-Jabbar accomplish in the modern era. A 41-point performance capped by the only Game 7 buzzer-beater in NBA history?  
Leonard further entrenched his name among the top three or so players on the planet — a spot he occupied without argument prior to missing all but nine games last season and being somewhat forgotten in the process. Even before the shot that has the sports world buzzing Monday morning fell — the fadeaway heave and the four bounces that will live on forever in the memory of Raptors fans — Leonard, the unstoppable scoring machine and defensive savant, was the big winner from Round 2.  
Winner: Toronto Raptors fans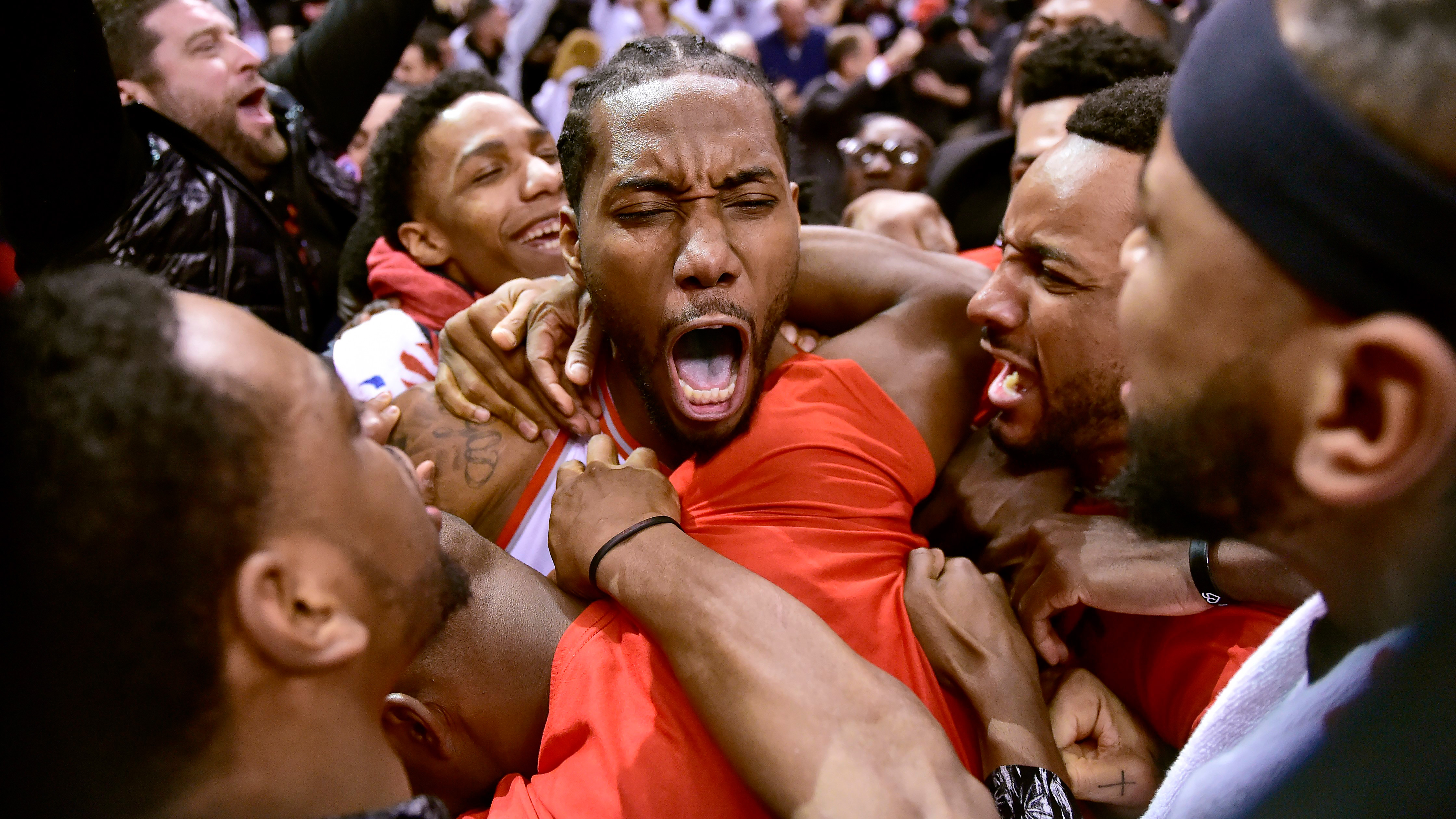 He's staying.
The only top seed that failed to advance in a playoff series thus far in these playoffs is the Denver Nuggets, who dropped their own Game 7 at home Sunday afternoon to the Portland TrailBlazers.
Nuggets star and MVP candidate Nikola Jokic had a superb series, and 22-year-old Canadian rising star Jamal Murray impressed in his first post-season, but it was painfully clear Sunday that Denver needs to surround their pass-happy big man with reliable shooters if they're going to establish themselves as a team-of-the-future in the West.
The Nuggets shot 2-19 from deep Sunday, which, um, isn't ideal.
You already knew about Damian Lillard, the NBA's most underappreciated superstar, who hit a walk-off, series-winning buzzer-beater of his own in Round 1.
But it was Lillard's co-star, McCollum, who had a coming out party in Round 2. He averaged over 26 points per game in the series vs. Denver, but was flat-out unguardable during three of Portland's wins. Most notably in Game 3's triple-overtime win, the shooting guard played 60 minutes and scored 41 points, including several clutch makes down the stretch.
McCollum netted 37 points in Game 7, including the put-away shot with time expiring. With McCollum playing at this level, it sets up a fascinating shootout between Portland's backcourt and the Golden State Warriors' Steph Curry and Klay Thompson in the next round.
Winner: Steph Curry and the original Warriors dynasty
When Kevin Durant was forced to skip Friday's Game 6, it signalled alarm bells for the Warriors. After all, the Houston Rockets had played them tight all series, and it had been Durant's brilliance that proved the difference, establishing himself as Golden State's best and most important player.
The man who previously held that title, and the key player in the Warriors championship dynasty, Steph Curry, had struggled all series long, averaging 22 points on just 27 shooting from deep. In the first half of Game 6, with an opportunity to end Houston's season for the fourth time in five years, Curry got into foul trouble and was scoreless in the first half. Scoreless.
But the fourth quarter? Curry dropped 31, including several daggers as he and a hot-shooting Thompson helped to remind us all of how incredible the Warriors' backcourt is, and how potent the team is with or without Durant.
Draymond Green, the Warriors leader and true clutch performer, was a big winner too for impacting the series as only he can.
Loser: Ben Simmons
Look, Simmons was pretty good during Sunday's Game 7, and his 21 points made an impact in Philly's Game 6 win. But the former No. 1 pick and one of the supposed faces of the 76ers franchise was a disappointment in the second round, averaging 11 points and five assists in the seven-game series.
He's clearly ultra-talented and at six-foot-10 poses several matchup problems, but ultimately he's more a liability than he is a weapon. This series showed the many pitfalls of having a lead ball-handler who not only can't shoot but outright refuses to. It's too much of a detraction to make up with his other tools and, at least on this Sixers roster, makes him relatively ineffective as a result. It's definitely not what Sixers' fans are looking for from one of their all-stars.
We knew about Giannis Antetokounmpo, who, even in a post-season with Leonard rising, is the most unstoppable force in the game right now. But it's his teammates that stepped up in a big way during the Bucks' smashing of the Boston Celtics in Round 2.
GIANNIS.@Giannis_An34 | @Bucks#FearTheDeer | #NBAPlayoffs pic.twitter.com/ouieLZjtyq

— NBA Italia (@NBAItalia) May 7, 2019
While the Raps shooters – Lowry, Green, Gasol – struggled, Milwaukee's supporting cast provided consistent support for their superstar, and the team got a surprising performance from guard George Hill, a mid-season acquisition who was Milwaukee's third-leading scorer against Boston.
Along with Hill, point guard Eric Bledsoe has been playing out of his mind and is helping the Bucks look like the team to beat this post-season — and not just in the East.
Milwuakee's plus-minus of +8.6 is the best of any playoff team. For context: The Raptors are nearly tied for third, with +2.2. Sure they ran into a dysfunctional Boston team, but that's not enough to overlook the fact that the Bucks haven't just been winning, they've been wiping opponents off the floor.