MILWAUKEE — Nick Nurse gave Kawhi Leonard the option: want to skip Thursday morning's shootaround? Get a little more sleep, a little more treatment, a little more time off your feet? Your call.
After all, in rounding out his sixth week of high-intensity, high-leverage, high-usage basketball, Leonard was starting to show the effects. He'd dominated these playoffs through 15 games, but in his 16th, only 48 hours after a 52-minute shift in Game 3's double-overtime thriller, he looked like his knees had cemented. Sometimes it was his left leg bothering him, sometimes his right. He was constantly grimacing. He walked away from a couple of hard landings with the fluidity of one of those Boston Dynamics robots.
Yeah, by all means, take a morning. But Leonard didn't want it.
"He said, 'No, I'm going.' He wanted to come. He wanted to get out and do some stuff," Nurse said a few hours prior to Game 5. "So, I think we'll be okay."
It's certainly a reassuring feeling for a head coach. And a reassuring sight as Leonard, whose shootaround energy level typically hovers somewhere between subdued and comatose, was actually pretty lively, joking around with staff and teammates, and graciously providing a foam-rolling demonstration while cameras ran:
So, in hindsight, we all should have seen it coming. Leonard's latest transcendent, commanding, can't-take-your-eyes-off-it performance. A comprehensive 35-point, nine-assist, seven-rebound, two-steal takeover in the other team's building. A further escalation of the indelible standard he's set for himself. Just another night at the office, when you trade in domination and your business card reads destroyer of worlds.
"You're watching a superstar. You have a superstar on your team," Norman Powell said after the Toronto Raptors snatched Game 5 of the Eastern Conference Finals from the Milwaukee Bucks Thursday, 105-99. "It's amazing what he's doing. We follow behind him. Everything he's doing from on the floor to off the floor. His leadership. His voice has been amazing for us. It really helped us stay focused on the task at hand."
Thursday, Leonard was that steadying presence from the start. Energized on their home court and determined not to lose a third-consecutive game for the first time all season, the Bucks came out hot, and pieced the Raptors up over the game's first five minutes. But in between absorbing those blows, the Raptors found an effective method for staying in the game by simply putting the ball in Leonard's massive hands.
Down 14 after Eric Bledsoe's third bucket in the first five minutes? Just run a couple of actions, get Milwaukee's defence in rotation, and find Leonard in the corner, where he drilled a three, his second — and Toronto's second — bucket of the game.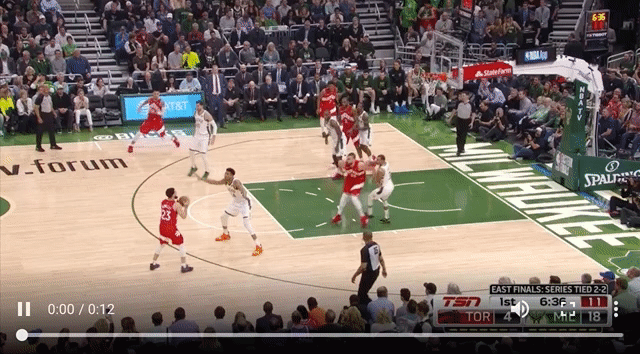 Still reeling after Giannis Antetokounmpo drills a jumper for Milwaukee's 19 and 20th points midway through the quarter? Just play a little two-man ball with Marc Gasol at the other end and watch Leonard step-through into the paint, where he got a bucket and the foul.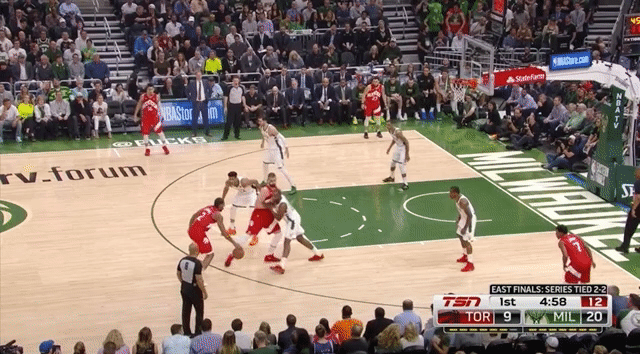 Feeling discouraged after George Hill sneaks behind the defence for an uncontested lay-up at the rim, pushing Milwaukee's lead back up to double-digits? Just jog up the floor, give Leonard space to drive and draw help defenders, and be ready when he kicks it out, as Powell was for a big three.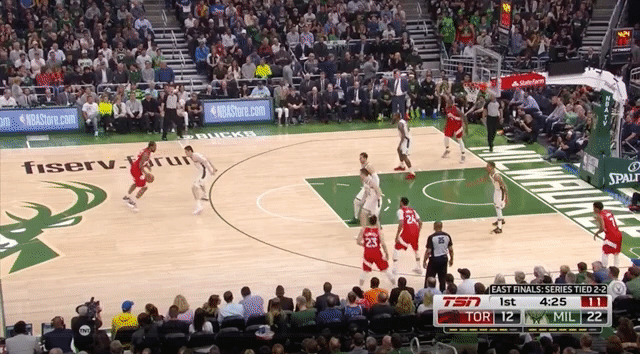 Leonard scored nine crucial points in that first — the rest of Toronto's starters combined for two — to help keep things from spiralling out of control. And he might have had more had he not picked up a second foul eight minutes in and headed to the bench.
But it was on that bench where Leonard kept making his impact, talking to his teammates, encouraging them to stand firm in the face of Milwaukee's blistering start.
"At timeouts, he's walking back to the bench saying, 'Play through the adversity, weather the storm,'" Powell said. "Guys were really locked in and not getting out of themselves because of him."
From the end of the bench, where he had to go sit after picking up two fouls only 90 seconds into the game, Pascal Siakam soaked up everything he could.
"He's been there. He's won a championship before. He knows what it takes. And I think that experience definitely helped us just calm down," Siakam said. "When we're in the toughest situations, he always comes out and he's always cool, calm, collected. It's definitely something that I'm watching. It's inspiring."
In nearly 11 second-quarter minutes, the Bucks endeavoured to take Leonard's offence away, throwing double-team combinations of Antetokounmpo, Khris Middleton, and Brook Lopez at him, collapsing his space. So, Leonard started passing, dishing out three assists in the quarter — remember, playmaking for others is supposed to be his weakness — while Toronto's defence stiffened at the opposite end. That the Raptors got into halftime down only three was a victory in and of itself.
"I've got to give credit to my teammates — they knocked down shots tonight when I gave it to them," Leonard said. "I'm not a guy that really controls the ball the whole game. I pretty much play off the ball and just try to give other people opportunities. I try not to be, like, a dominant ball player."
So, what would it look like it he did try? Maybe something like his fourth quarter, which was immense. Four of Toronto's first five possessions ended with a Leonard attempt, as he slowly seized the game. Four minutes in, he hit a pull-up three in Lopez's face that vacuumed the life right out of the building. On Toronto's very next possession, he stepped back and did it again.
Leonard ended up with 15 of his 35 points in the fourth quarter alone — only nine fewer than Milwaukee scored collectively. He played all 12 minutes and had an absurd usage rate of 44.2 per cent in the period. He was everywhere.
"It's incredible, man. The guy is up there with the greats. Just seeing how he operates and the way he plays the game, it's amazing," Siakam said. "His level, man — his level just keeps rising. Every day you see something new."
That Leonard was primarily guarding Antetokounmpo through this all should not be overlooked. He funnelled the marauding Bucks forward left and right towards help, preventing him from picking up heads of steam and helping force him into a pair of turnovers.
Antetokounmpo now has 23 turnovers in the series. And, after shooting 58 per cent during the regular season, and 52 per cent over the first two rounds of the playoffs, he's hitting only 46 per cent of his attempts from the field over five games with Leonard primarily in front of him.
[relatedlinks]
"As impressive as his offence is — and it's impressive — I get more impressed when he's down there guarding and making plays and blocking shots and flying in for rebounds," Nurse said of Leonard's defence. "My favourite thing is when he just decides once or twice a game to just go take it from somebody and go the other way. Those are huge momentum plays.
"He's just super competitive, man. He couldn't wait for the playoffs to get here. And I think he's played a lot of minutes and he's banged up. And he says, 'Everybody's banged up but I want to play. I'm going to play and I'm ready to play.' I, again, give him a lot of credit for that."
You really have to. The load Leonard's carried this postseason is considerable. You know he's not feeling great physically. You know he's tired, run down. But he just keeps taking the floor and raising the bar. He keeps being a source of inspiration for his teammates — a calming, inspiring presence on the court and off. He just keeps going. He won't even skip a shootaround.
"You've just got to have fun with it and enjoy it. Like I told [my teammates] tonight — we were down 10, I told them to enjoy the moment and embrace it. Let's have fun and love it. This is why we're here," Leonard said. "It's the same mindset I've been having throughout the playoffs: just come in, have fun, try to execute the best I can, and play confident. Whatever happens after that is what happens. I know that I put the work in. I can live with the results because I'm having fun and I'm putting my all out on the floor."