After trading for Kelly Olynyk on draft day, the Boston Celtics, who boast one of the deeper front courts in the NBA, are hoping he'll be more than just another body in the rotation. They want him to help lead the charge.
Lofty expectations for a player with only 134 games of NBA experience and just 9.4 PPG over that stretch? Perhaps. But according to those who know Olynyk best, taking his game to the another level is par for the course for the 24-year-old.
"I'm waiting for him to take the next step in the NBA," says Del Komarniski, Olynyk's high school coach at South Kamloops Secondary School, "because he's done it at every level."
Olynyk's rise to basketball's biggest stage has been both steady and improbable. And by bucking convention and remaining loyal to his roots, he's leaving a lasting impact developing the game for future generations of young players in British Columbia.
When Kelly Olynyk was drafted in 2013, many were surprised to learn the seven-foot Canadian was not a direct product of the Toronto basketball scene.
"With the 13th pick in the 2013 NBA Draft," called then-commissioner David Stern, "the Dallas Mavericks select Kelly Olynyk from Kamloops, Canada and Gonzaga University."
Kamloops, Canada? Google Analytics probably noticed a swift rise in searches on that late June evening. If the basketball world was surprised that the town of 90,000 could produce a first-round pick it should be noted that it's a reaction once shared by Olynyk himself.
When Kelly was in the seventh grade his family uprooted from Toronto and settled in Kamloops after his dad, Ken, took a job as the athletic director at local Thompson Rivers University. At 12 years old, Olynyk had already developed a budding interest in basketball and unmistakeable talent. Yet because, unlike back home, B.C. elementary schools lasted until Grade 7, his height proved to be a bigger advantage than he could have ever anticipated.
"They play on eight-and-a-half-foot hoops," he says, noting that in Toronto the rims were 10 feet. "We won an elementary school championship," he says, chuckling.
In Grade 10 Komarniski decided to play his biggest player at point guard — with the approval of Olynyk's father.
The raw skill was there, as was a strong understanding of the fundamentals of the game but even those closest to him at the time didn't believe Olynyk was the type of player who seemed destined for the NBA.
Hardly typical of most prospects, he was approached by just three universities in that Grade 10 year: Cornell, Northeastern and BYU-Idaho. By his senior year of high school the number was between 40-45.
***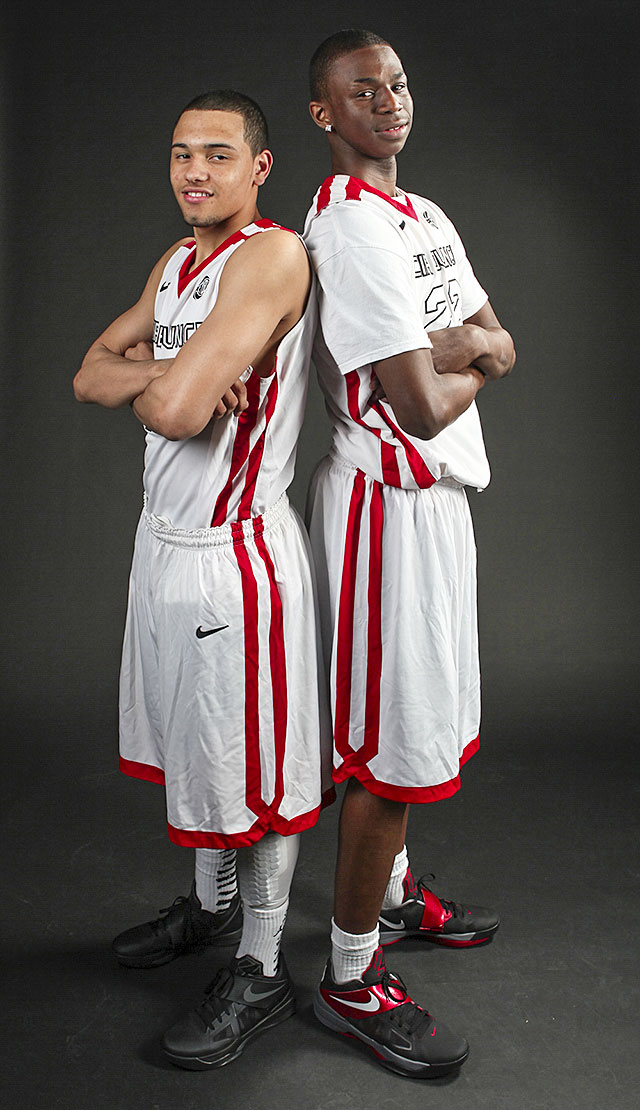 Tyler Ennis and Andrew Wiggins
Four thousand kilometres away, while Olynyk rose to prominence in the B.C. high school scene, a basketball boom was going down in his native Toronto as a generation of young players, heavily influenced by Vince Carter's time with the Raptors, were making headlines. The collective head of the basketball world craned upwards and was looking directly at the Greater Toronto Area as a potential new mecca of elite talent.
They would've had to look quickly though.
Anthony Bennett, Tristan Thompson, Cory Joseph, Andrew Wiggins and countless others all called the GTA home before leaving to play for U.S.-based high schools. Increased opportunity, more eyeballs and stiffer competition all drove the process.
Olynyk, aware of his talents and potential, stayed at South Kamloops.
"He was concerned," Ken Olynyk admits. "He'd ask, 'Who will ever see me play?'"
There are but a handful of high schools in Kamloops and Komarniski admits that his team could only play the local competition so many times before the games became "meaningless."
But Olynyk wasn't going anywhere. "I wanted to finish out high school with all those guys that I'd grown up with and spent countless hours in the gym with, basically my whole life," he says. "I owed it to them to come back and play with them."
In his final year of high school, Olynyk underwent a massive growth spurt. His father always believed that instead of being a traditional post-playing big man, he had to expand his toolbox, part of why he was on board with his son playing the point. He led his team to a third-place finish in the province. In the semifinal against St. George's (Vancouver), the SKSS Titans went down by 27 in the first half. Olynyk led the team back to a two-point lead with only seconds remaining. St. George's quickly scored to tie it up. The big man dribbled to centre and was about to attempt a shot when a collision occurred just as the horn sounded.
Olynyk was assessed a fifth and disqualifying foul. The Titans lost in overtime without their star; it was the first game they lost in Canada that season and only the second altogether.
Kelly would go on to win the MVP of the Provincial Tournament despite his team finishing third. It was the last game he played for South Kamloops.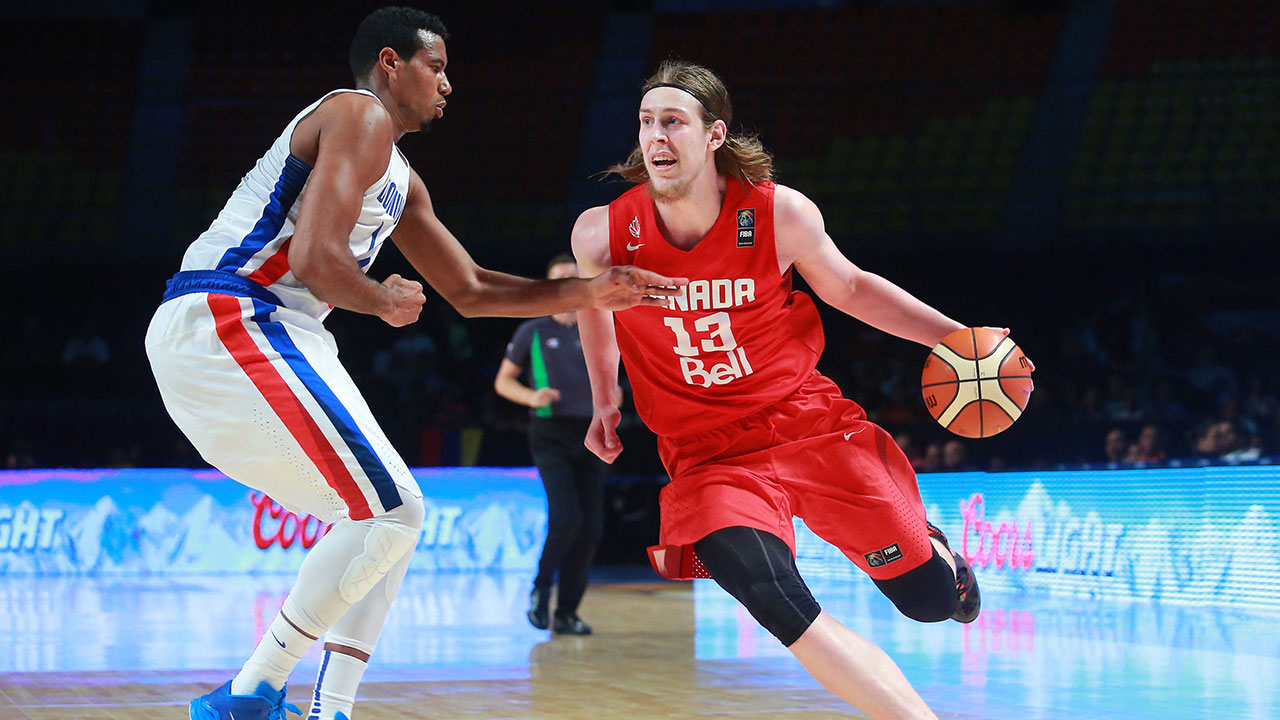 Kelly Olynyk dribbles past Orlando Sanchez of the Dominican Republic during a FIBA game this year.
Before moving to Kamloops, Ken Olynyk had been the head coach of the University of Toronto's men's basketball team and Canadian men's junior national team. His involvement in the national program provided him experience learning the international game.
"I thought for him to be a good player he should play like a European player plays," he says, noting an important dinner he once shared with what was then the Yugoslavian National Team.
Their idea was that the best players were the ones that could get 15 points, 15 rebounds and 15 assists.
"So that was the premise we always worked with Kelly on: we wanted him to be a player that would make everyone else on the court better."
Lawrie Johns, executive director at Basketball BC, first saw Olynyk play when he was in Grade 7 and immediately noticed that Olynyk was different. Sure, being 6-foot-3 would set anyone at that age apart. But the vision his father had for him as a multitooled player was already coming to fruition.
"He wasn't the typical big man that you stick in the middle of the key and throw him the ball with his back to the net and hope he does something," Johns says. "He could shoot, he could dribble, he could run and that's a product of the coaching he had. He could do all that stuff but still play like a seven-footer in the key."
Olynyk's talent was unmistakable. And surely, with more development in the province there will be more high-end prospects. Olynyk stayed in Kamloops despite worries that he wouldn't be recognized by scouts. Other players might not be as patient and loyal.
Johns admits that it is tough to keep highly touted players in the province and not have them go south of the border.
If Olynyk helped break the mould by not attending U.S. prep schools, that they stayed represents a Canadian basketball catch-22: those American programs will become that much more hungry when seeking out players and will likely extend more offers to players, fearful of being the school that misses out on the next Olynyk, or Steve Nash.
"Is there a time when a coach has to say, 'It's time to move [a young player] to the next step?'" asks Johns. "That's a really gutty, really professional decision to make."
But the battle to keep B.C.'s best basketball stars in the province isn't the only one they're currently fighting.
It's a simple notion: kids want to be stars and need to see stars they can model themselves after. Bennett, Wiggins, et al had Vince Carter. In B.C., Olynyk is the new hope.
It's why Olynyk makes regular trips back to Kamloops to run the Olynyk Klynyk, a camp for young players in the area; the seven-footer is the first role model that a new generation of basketball youth in B.C. have. Unsurprisingly, as he further establishes himself in the NBA, Olynyk sees a rise every year not only in enrolment numbers, but in interest in the sport in general.
Yet Olynyk understands how and why young players in B.C. could feel second fiddle to their Ontario counterparts. "Growing up in Toronto," he explains, "there were a lot of opportunities: house leagues, rep leagues, summer leagues, schools, everyone was playing the game. In Kamloops, it wasn't like that."
What's more, Canada being the geographical behemoth it is, young players not based in large cities have to travel that much farther for quality competition.
But Olynyk won't let that be an excuse for those following his path. "My dad always told me that if you were good enough, it didn't matter where you were playing," he says. "They'll come find you. That really resonated."
With a strong support system, his father and Komarniski held the (literal) key to his success in high school: both would open their respective gyms for him after hours to allow him to work on his game.
"I knew I was going to have to do a lot to get better and keep improving. You can't put your development in someone else's hands."
Is Kelly Olynyk the model type of player that budding basketball stars in B.C. can aspire to?
Johns, of Basketball BC, thinks so.
"He became a Canadian Dirk Nowitzki," he boasts. "Kelly is to the big man in B.C. and now the rest of Canada what Steve Nash was to the little man in Canada. Steve transformed things and made the assist a really sexy thing. Kelly has made the seven-footer shooting three-pointers a pretty important thing."
That emphasis on versatility and playing for your team epitomizes what Komarniski believes needs to happen for basketball in B.C. to thrive.
If players stay, perhaps everyone around them benefits.
"That permeates outwards and makes everyone around you better," says Komarniski. "We can't be losing our best athletes to the South because they're the only place that can offer a quality program."
Kelly Olynyk has never purported to be something he's not. He's a player with diverse talents from a surprising background. He plays the game with a chip on his shoulder, born out of the years of coming to terms with the reality of his isolated basketball upbringing.
Far away from big cities, one of Canada's best and brightest young basketball stars had to make a name for himself on his own. If he's the new role model for basketball in B.C., he believes in the process.
"It's going to be tough to put out volume," Olynyk says, "but in terms of quality, I think we can rival Toronto. The more we work at it, the better players can get."
And in the long run, forging a new basketball mecca in Canada outside of Toronto may be what really surprises people.