Toronto Raptors star Kawhi Leonard is among the toughest players in the NBA to defend one-on-one and this is because of the work he's put into his jump shot.
Leonard has the special ability to take his six-foot-seven, 230-pound frame going full speed to a sudden stop and pull-up to create separation from his defender and still be in control enough to shoot accurately.
This is a trait that retired NBA superstar Kobe Bryant took notice of in the latest episode of his basketball breakdown series "Detail" on ESPN.
Using a clip from Game 1 of the Raptors' first-round playoff series against the Orlando Magic, Bryant explored a play that saw Leonard isolate against Aaron Gordon at the top of the left wing, make a move on him and then hit a step-back, fadeaway jumper to give the Raptors a 101-99 lead with 1:02 left in the fourth quarter.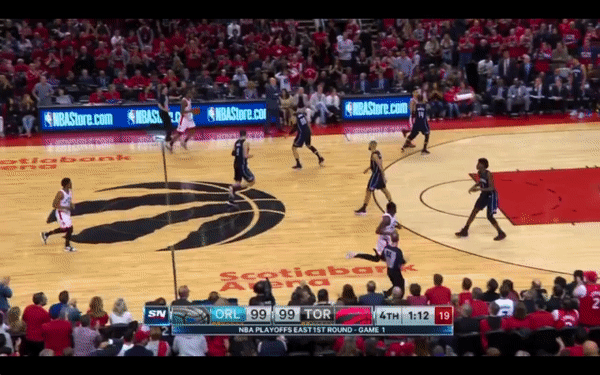 "This is an amazing shot. A pull-up going left, taking the contact," Bryant said of the play. "Most players on pull-ups don't lower their shoulder. They kind of do a vertical pull-up where the shoulder stays square to the rim and they want to do a pull-up that way."
Bryant notes that it's because of Leonard's bull-like strength that a shot like this is even possible in the first place.
"Kawhi has a way to disassociate his movements, and what I mean by that is his legs can continue to move in one direction and his upper-body can drop – see how he drops that shoulder down? He drops that shoulder down to keep the defence at bay and he still has the leg strength – look at all that power going into those legs right there," Bryant said.
"That's a lot of strength to be able to stop there and through that momentum going full speed to be able to then slide away from the defence.
"Those are tough shots. That's why it's important when you lift, you've gotta lift real weights – you've gotta get strong. That's the only way to be able to take shots like this, you've gotta have great leg strength."
As much as Leonard was able to show this strength of his in Game 1, it was best illustrated in Game 2 as he helped the Raptors even their first-round playoff series with a remarkable 37-point effort on an outrageously efficient 15-of-22 shooting.