TORONTO – People like Kyle Lowry don't come around very often. Anyone who has been paying attention to the Toronto Raptors for the past seven seasons can tell you that. But that doesn't mean he has to look very hard to find someone just like him, if in miniature form.
At any given moment they're running around his North Toronto home, or bouncing around the customized, chauffeur-driven van he uses in part so he can give them his full attention while making his way around his adopted city, or climbing over his locker at Scotiabank Arena after another one of their Dad's all-out nights at work.
They're his kids, Karter and Kameron, aged seven and three, and they're a lot like him: smart, tough, talented and competitive, sometimes to a fault.
"My kids are going to be way better than me," Lowry told me in a relaxed moment before the playoffs heated up. "The problem I see with them is they're too competitive. That's the problem I see. That's not [always] good, but it's great."
Stream all Sportsnet games of the NBA Finals as the Toronto Raptors take on the Golden State Warriors for the Larry O'Brien Trophy. Plus, get the Stanley Cup Final, MLB, IndyCar and more.
And … no surprise. Nature? Nurture? It hardly matters. Lowry has spent most of his professional career trying to harness an ultra-competitive drive that can push teammates and coaches to the limit, but has helped him become one the best all-around guards in the NBA.
Cosmic jokes being what they are, now he's seeing it from the other side.
"… Running down the steps, tag, finishing dinner, who showers first, they are way too competitive. I will not lie to you," he says, laughing. "That is a problem in my household right now which I truly appreciate but I have to figure something out."
He will. It has taken Lowry 33 years and 13 NBA seasons but he may never have had a better handle on how to best channel his own impulses for the good of the team.
"With Danny [Green] and Kawhi [Leonard] and Marc [Gasol] the role has changed in the sense of leadership and more selflessness," he said Friday after the last practice before the second-round series against his hometown Philadelphia 76ers starts Saturday night at Scotiabank Arena. "Not shooting 20 times a game and having to be more efficient is probably the better word … but there are a lot of different things that have happened this year."
His mindset remains the same as always.
"Win," he said. "That's it."
Lowry knows Raptors-Sixers playoff history all too well
There are countless ways to dive into the Raptors-Sixers series. On the floor will be two of the best teams in the Eastern Conference and some of the biggest stars in the league representing franchises that have made massive bets that they can squeeze through the window to the Finals LeBron James left open when he moved to Los Angeles.
But one way is to examine where Lowry is now compared to where he was the last time the Raptors met the 76ers in a second-round series, back in May of 2001.
Vince Carter vs. Allen Iverson? Matching 50-point games? Carter leaving the morning of Game 7 to attend graduation ceremonies at the University of North Carolina? Iverson sprinting down the floor, his arms spread wide in victory after Carter's miss?
"I know that series like the back of my hand," says Lowry.
He was 15 years-old and had just finished his freshman season as a rising star at Cardinal Dougherty High School. He was the always ornery point guard whose father had disappeared from his life just a few years earlier and who carried that boulder-sized chip and others — too small, not athletic enough — on his shoulders at all times. They fuelled a drive that has made him arguably the most important player in Raptors franchise history and a not-so-apologetic pain in the butt whose two boys may not have fallen too far from the tree.
C'est la vie.
"If you're driven, yeah, it can be nasty and looked at the wrong way," Lowry says. "… It's hard to be who you are if you're driven, but I want my kids to be driven too.
"If they want world peace, I want them to be driven to achieve world peace. Excellence will always remain important in my life and who I am and my family. That's my legacy."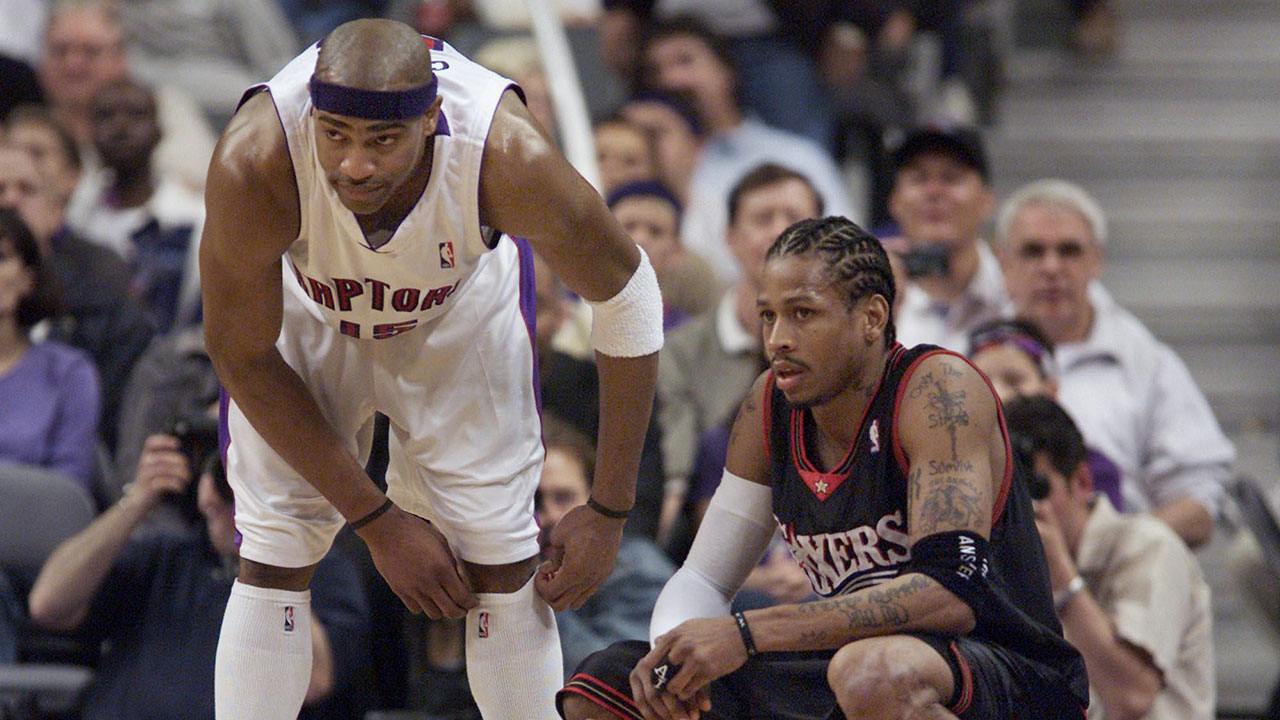 Lowry's basketball legacy is secure, but it's not finished yet. The Sixers series will be another chapter worth reading. He has maintained his hometown roots. When he grew up, Iverson meant everything to him, a role model for under-sized guards everywhere. He stayed in Philly to attend Villanova and makes his off-season residence there his wife Ayahna Cornish-Lowry — another Philly native and basketball star, though she was a slashing two-guard at Saint Joseph's. A series against the Sixers can only be special.
But perhaps more special is where Lowry is as a person, a father and a leader now.
Lowry has spoken often about wanting to win a championship, that after signing $150-million worth of contracts, making five all-star games and winning an Olympic gold medal, it remains the one professional goal still out there.
His motivation has never run deeper. Lowry has lasted long enough as the No. 24 pick in the 2006 draft that a championship at this stage of his career offers the possibility of sharing it with his two Mini-Me's.
"Karter's known for a couple of years," says Lowry. "And I think they know who we are as individuals and what I mean to, I guess, basketball … so I think about it.
"I think if can get a championship sooner or later and they can be there and take pictures with me, holding the trophy, just being around, that would be awesome."
Daddy Lowry has changed all-star Lowry
As the only member of the roster bearing scar tissue from five years of playoff disappointments during the Masai Ujiri era, Lowry's personal growth can't be overlooked in the Raptors rise, and fatherhood has been as big a factor in that as any.
Still, Lowry has never shied from his reputation as a bit of — well, pick your adjective.
As Jonas Valanciunas who played six-plus seasons with Lowry before being traded to Memphis in the Marc Gasol deal told me: "He's a hard motherf—-r. He's always hard. He's hard on everybody. He's hard on himself. That's why he's Kyle … he's going to die on the court and if you're not doing something he's going to get on your ass and yell on you. It's never personal. He wants to win. That's what he is."
But Lowry himself acknowledges that in recent years he's been better able to balance what he calls his "pursuit of excellence" with a more accommodating side.
Refereeing Karter and Kameron has helped him evolve at work too:
"Being a father has helped me as a basketball player. The patience, the understanding, not holding on to things," he says. "You can't hang on to things when you got kids. You can be mad at them one second, give them a little tap and a half-second later you're hugging them, kissing them. Fathers all over the world know that.
"Basketball-wise, man, I could be mad at Serge [Ibaka] for not blocking a shot but I'm like, 'f–k it, whatever.' Next play.' Right? You have to.
"That's how relationships work."
These things don't happen overnight. And Lowry's hard-headed nature — the quality he sees every day in Karter and Kameron — can still bubble over. He has been known to halt a practice or shootaround in its tracks if he didn't like a scheme, coverage or game plan or call in a scrimmage. He can be unyielding.
"He's a fiery guy, man. That's his personality," says fellow Raptors point guard Fred VanVleet, who gladly counts Lowry as a mentor and friend. "He's an incredible person … but when it comes to basketball he's fiery, he's passionate, he hates to lose and he always thinks he's right, so those combinations add up to a little bit of being a jerk, a bit of an asshole, a bit being grumpy. That's the just the way he's built."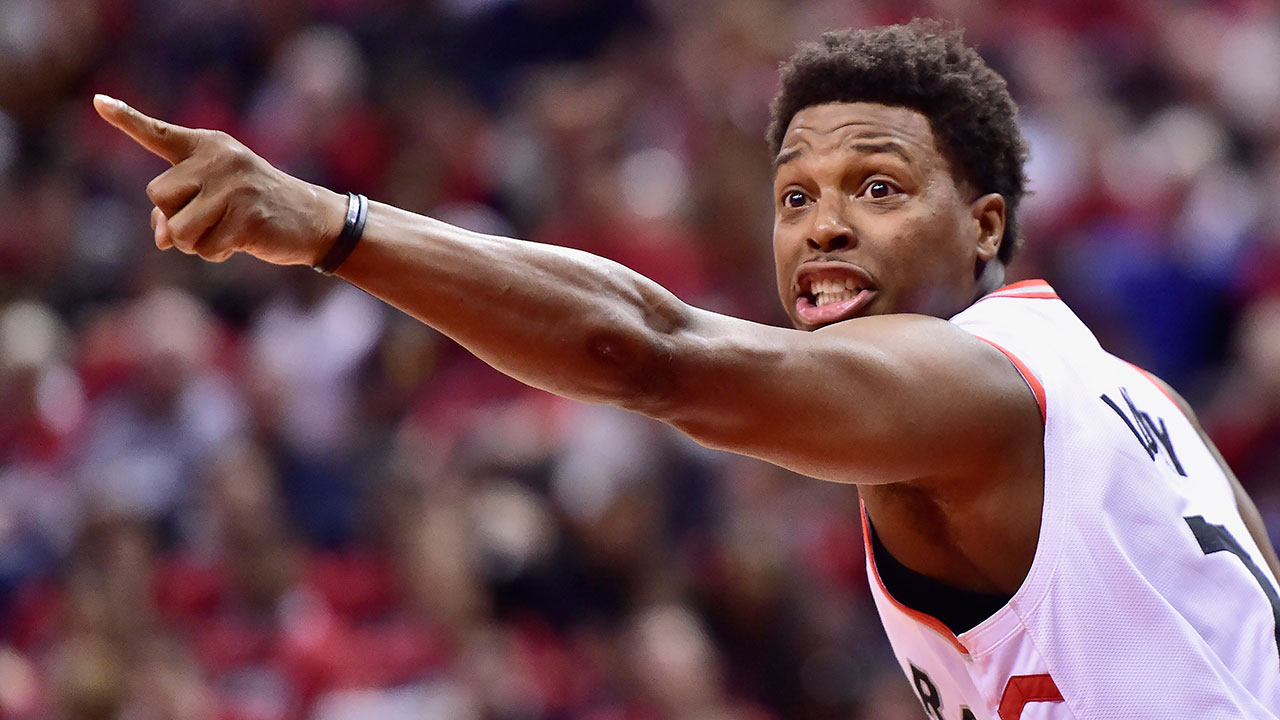 Lowry is aware of his reputation as the Raptors' resident grump. He doesn't mind. He's got his family, his boys, his teammates and the charitable foundation he and Ayahna run in Toronto and Philly. Outside of that, perceptions are just that.
"The people that need to know [what I'm really like], know," he says. "I don't post my 'Holiday Assists' or Thanksgiving stuff or the school giveaways. I do it out of the kindness of my heart. It's about being a human being.
"I put my teammates before myself, that's all. People don't want to see it. They can find [what I'm about] but I won't put it out there for them to find it. If they want to know who I am, they'll figure it out."
And here's the thing. Grumpy Kyle is part of an act anyway. Some people in the public eye put more effort into being seen as a good person than actually being one.
Lowry just gets straight to the good person part.
He didn't have to change how he carried himself when he became a father at age 25. There were no skeletons to sweep away or social media history to scrub.
"I've never had to change who I am. I don't do dumb s–––. I don't Tweet dumb s–––, I don't Instagram dumb s–––." he says. "I don't put myself in situations where I'm like, 'Unfortunately this happened'.
"I've never had to worry about that. I don't drink, I don't smoke, I don't have that type of stuff to worry about so it's easy for me. My kids aren't going to hear 'Kyle Lowry arrested for DUI' — that's never going to happen.
"Yeah, they may hear — 'Kyle Lowry and the coach got into it' — but I can explain that, 'Hey I was trying to figure what was best for the team and we disagreed.'"
Born to be a leader at home, and on the court
Without off-court baggage to sweat about, Lowry could throw himself into being a Dad, the role he never experienced first-hand, but which he was seemingly born to play.
"He embraced it, he was excited, you know?" says Alvin Williams, another Philly point guard-turned Raptor who has served as a mentor to Lowry. "Kyle is someone who is very loyal, he's very determined and he's very smart. He has a lot of ingredients to be a great parent, a great father. When he had his first child, Karter, that was his man, his little man. He brought him around everywhere … it made me look at my situation a lot of times and think, 'Man this is what a person is supposed to be like.'"
But Lowry will acknowledge he can be a different person on the job. From a distance it was always going to be interesting to see how he connected with Raptors head coach Nick Nurse, the veteran minor league head coach who was handed the keys to a Ferrari for his first NBA job.
Failing to earn the respect of his veteran point guard could have had the thing heading into the guard rail before Halloween.
Lowry signalled his intentions early on. After the Raptors won their season opener against the Cleveland Cavaliers at Scotiabank Arena on Oct. 17 it was Lowry who had the presence of mind to retrieve the game ball. He called for everyone's attention, made a quick speech and presented it to his new head coach in the locker room, much to Nurse's surprise.
"It was very nice. He didn't have to think about that stuff. I certainly wasn't," says Nurse. "I haven't been in any leagues of significance where getting a game ball was probably appropriate, to be honest.
"So it was cool. It was nice for him to get every one's attention and say some things that came from his heart."
From a distance, Kyle Lowry, Type-A competitor and contrarian might be all you ever know. That and his tireless, selfless high-IQ brand of floor-burn basketball. It's plenty.
But the closer you get, the hard-edged teenager from Philly who lived life as an argument is so much more. Ages ago when Lowry was briefly (well, it lasted about six months) sour with me over a line of questioning — the list of Lowry's held-and-then-forgotten media grudges isn't particularly exclusive — I asked a team support staffer who had been around for decades who his favourite player to deal with was; the one who treated him the best.
"Kyle Lowry," he said, without hesitation.
Good guy Kyle Lowry is a secret to everyone except those who know him best, and his teammates. When Pascal Siakam was a guest on Adrian Wojnarowski's ESPN podcast, he gushed about the veteran point guard's impact and influence on him a player in his breakout season. Kawhi Leonard never uses two sentences to answer a question when one will do, but when asked about playing with Lowry after the Raptors pushed aside the Orlando Magic in five games, Leonard offered up a full paragraph and called playing with Lowry "a blessing." VanVleet calls Lowry his 'plug' — the first guy he turns to on questions well beyond basketball.
"Finding a chef, buying a house, managing your money, wills and deeds and estates and that stuff," says VanVleet. "… If he doesn't know he knows someone who knows. He's been a great help for me in life in general.
"…That little façade of him being a jerk? I laugh at it. I see through it," says VanVleet who Lowry took under his wing as a rookie free agent three summers ago. "…He's not fake, but I don't take that part of him that seriously."
Why not play up those qualities more publicly, Kyle?
"I keep my circle small," he says. "I keep it tight, but if you work with us and you're on my team you'll see it."
As if on cue, long-time Raptors equipment manager Paul Elliott comes by while FaceTiming with his toddler. Lowry grabs the phone:
"Look at you," Lowry scolds, gently. "You should be asleep, get your finger out your mouth…"
Lowry turns back to our conversation: "The people who are around me know who I am."
Lowry is around his kids a lot and he can see himself in their eyes and the plan is they will see themselves in him. He can give them the world, but what he really wants to give them is his love and daily proof that if they give their full effort, incredible things can happen.
"It's not about money, it's not about gifts, it's about teaching lessons," he says. "'Hey Karter, help me with this, do a chore, take out the trash' and bringing them to the gym, letting them watch me work out and practice. You can teach a kid a lot … by showing them how I put food on the table."
And life being the circle it is, the edgy kid who grew up fatherless while his mother Marie Holloway often worked two jobs to make ends meet is now a hands-on Dad trying to figure out how to raise a pair of headstrong boys who have everything.
The kids are into chess and swimming and basketball and soccer and everything else he and Ayahna can sign them up for. Williams has two older daughters and a two-year old son. When he told Lowry he was having a boy his inbox was flooded with links to various programs and camps and any other kind of resource Lowry had found useful for Karter and Kameron. Williams wasn't surprised. The Philly kid he used to have to suspend from his summer league team for breaking the offence or moping or some other infraction has come miles.
"He's matured," said Williams. "It's like anything. He has a sense of himself. He's not trying to find or be something. He's come into his own … it's being a father, being a husband, being a leader on the team, being a community leader. As a whole, as a person, his approach is more calm than it used to be."
Lowry wouldn't claim to have it all figured out — no parent worth his salt ever would. "There will never be an expiration date on me learning as a Dad," he says. But as he does as a player he's putting in the sweat equity and has seen the rewards.
Lowry the athlete informs Lowry the father.
"That's why I've gone through these trials and tribulations, so I can teach [his sons]," he says. "They won't have to do it the hard way because I did, and I'll teach them the right things."
Lowry's learned countless lesson since he was that 15-year-old with an ever-present chip on his shoulder, watching AI and the Sixers sink the Raptors. Now his kids are watching him lead the Raptors and hopefully sink the Sixers.
It's the playoffs and the Raptors are playing Philly, but now it's Lowry playing for legacy and history.
He's not the kid watching, it's his kids watching him.
This time the memories are for them.